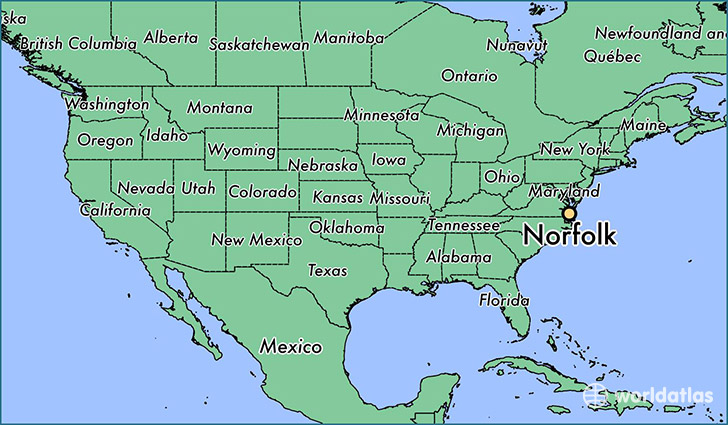 Norfolk is a city found in Virginia, The United States Of America. It is located 36.85 latitude and -76.29 longitude and it is situated at elevation 15 meters above sea level.
Norfolk has a population of 242,803 making it the 2nd biggest city in Virginia. It operates on the EDT time zone, which means that it follows the same time zone as Virginia Beach.
Quick facts
Description
Located in the metro area called Hampton Roads in the state of Virginia, Norfolk is home to the Norfolk U.S. Naval Base, the largest in the world. A Navy town with a long strategic military and transportation history, Norfolk is bordered to the west by the Elizabeth River and to the north by Chesapeake Bay.
One of the oldest of the Seven Cities of Hampton Roads, this Virginia town is also considered to be the historic, cultural and financial center of the area.
A diverse and vibrant city with beautiful warm summers, Norfolk has gone through a major renaissance in recent decades. It boasts world class museums, fine restaurants and a botanical garden that comes to life with springtime azaleas.
Town Point Park, a waterfront park area located downtown, is a green oasis for cultural events, concerts, and recreation. The Virginia State Symphony, Opera and Stage Company adds even more to the level of culture and history this mid-Atlantic city has to offer.

Did you know?
The movies Navy Seals, Rollercoaster, and Mission Impossible III were all filmed in the Norfolk, VA area.
Norfolk's new cruise, terminal built in 2007, has made the city one of the top cruise ports in the U.S.
Joseph Jenkins Roberts, born and raised in Norfolk, became the first President of Liberia.
Attractions
Check out these great things to do in Norfolk on your Virginia vacation:
Spirit of Norfolk Harbor Cruises
Welcome to a floating world of entertainment, beautiful views and festive surroundings. The Spirit of Norfolk is alive with great music, mouth watering food, bountiful buffets, all to be enjoyed while cruising along Norfolk's historic waterways, including the Elizabeth River.

Learn about Norfolk and view the United States Navy's Atlantic Fleet in all its glory.

Nauticus
A museum dedicated to the US Navy and the seas over which it rules, Nauticus features an excellent children's museum, with a wealth of hands-on exhibits and movies. A definite highlight is the exhibit of the Civil War battle between the ironclads USS Monitor and CSS Merrimac.

The top attraction is the actual battleship USS Wisconsin, berthed along the Elizabeth River, with plenty of opportunity for exploration.

Chrysler Museum of Art
Virginia's finest museum of art, the Chrysler Museum houses artistic exhibits spanning from ancient Egypt to present times and includes one of the finest collections of art glass in the world.

The Chrysler is home to ancient Indian, Islamic, African, Asian and Pre-Columbian art, with numerous sculptures and paintings focusing on the Italian and Baroque masters.

Famous Impressionist works by Monet, Matisse and Renoir offer plenty of reasons to return often. TThe museum also houses a unique collection of Art Nouveau furniture.
Maps
This page was last modified on October 2, 2015.