Travel
The 10 Most Visited National Parks in US and Canada
A List of the Most Visited Parks and Protected Areas in Canada and the United States.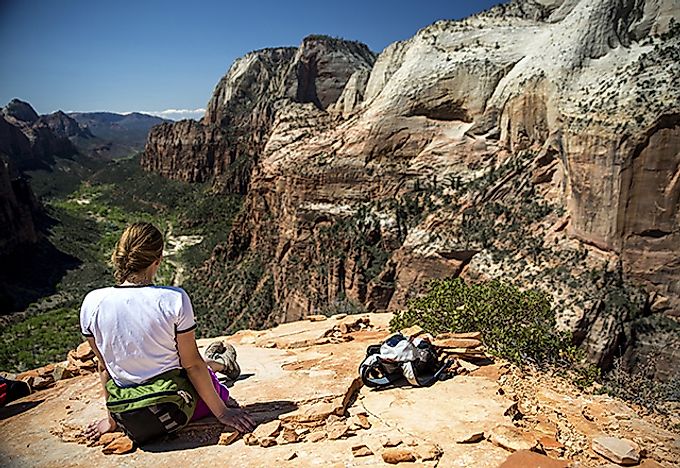 Whether to commune with nature or merely escape the monotony of city life, national parks and protected areas are a key fixture in exploring the outdoors – and the numbers confirm that.
Countless national parks and protected areas in the U.S. and Canada have high volumes of visitors. In fact, 19 parks in the US and Canada record over 1 million visitors each year.

So how many people, exactly, visit these vastly unguarded, untrampled areas within the USA and Canada every year? In a paper entitled "Walk on the Wild Side: Estimating the Global Magnitude of Visits to Protected Areas," a group of scientists compiled several years of data to determine just how many people walk (or ski or hike or swim) through these areas.
Each park is incredibly diverse in terms of ecosystem, plant and animal life, and geographic visage. With often hundreds – if not thousands – of years of history, each park is also home to amazing historical landmarks and strange features that have visitors returning year after year. If you want to see wild ponies roaming the beach or famous prisons, fantastically gigantic sequoia trees or iconic architecture, you'll – perhaps surprisingly – be very pleased with North America's most visited parks and protected areas.
10 – Yellowstone National Park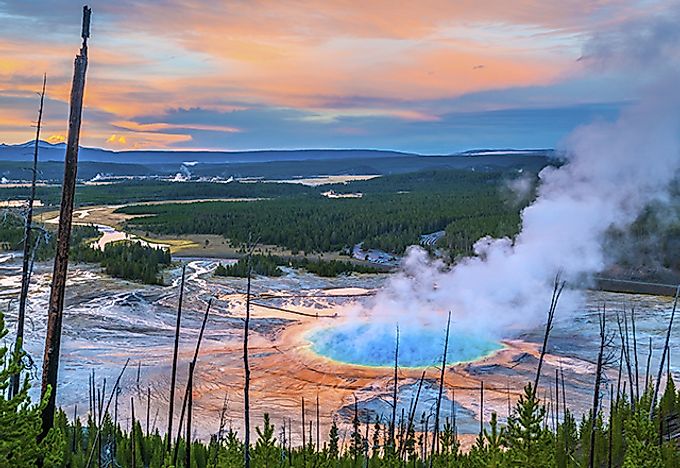 A UNESCO World Heritage Site, Yellowstone National Park was established in 1872 and is one of the first national parks in the U.S, receiving about 2,956,763 visitors a year. Located primarily in the state of Wyoming, the park is notorious for its geothermal wonders, including the Old Faithful Geyser.
While parks are often considered serene spaces of tranquil nature, Yellowstone has a more tumultuous history. It sits atop a gigantic underground volcano that has seen three explosions in the last 2 million years, changing the geographic landscape of the park and surrounding areas. The volcano is a constant source of heat – and perhaps a constant thrill for visitors, who wonder when it may explode next.
Aspiring paleontologists will also find something to love, as fossils have been discovered in the area dating back to the mid-to-late Jurassic period. With some of its features deserving of new names such as Jurassic Park and Volcano Park, it's no surprise that visitors flock to Yellowstone.
9 – Rocky Mountain National Park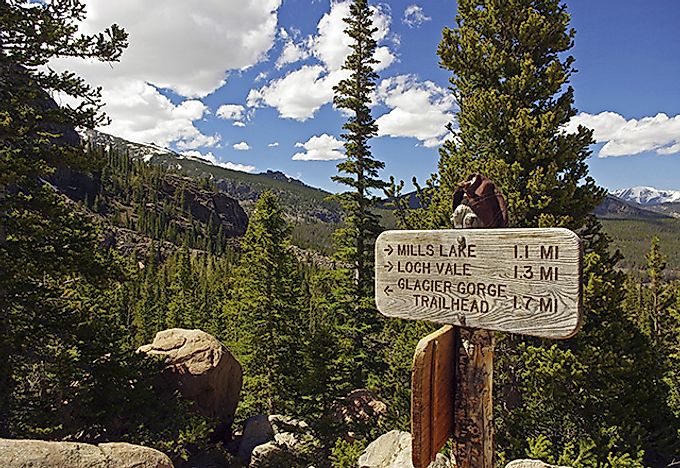 The geological beauty of the Rocky Mountains makes any park located nearby a popular spot – for example, Colorado's Rocky Mountain National Park, which receives approximately 2,982,188 visitors a year. Despite being only 1075 sq. km, it contains an abundance of ecological variety.
Rocky Mountain had an interesting visitor in the 19th century – the Earl of Dunraven (Windham Thomas Wyndham-Quinn). He visited Estes Park (the town where the park's headquarters are located) in 1872 for the purposes of hunting and returned for two consecutive years before deciding he had to have it. He acquired the land by legal (and perhaps illegal) methods to turn it into his own private hunting space. While things didn't work out for him, he did open the first resort in the area, the now-defunct Estes Park Hotel, opening the gates for the park's tourism industry.
8 – Assateague Island National Seashore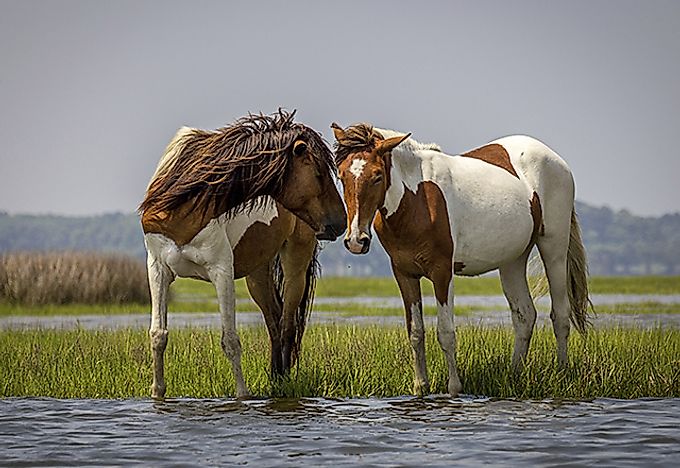 The Assateague Island National Seashore takes up a large portion of Assateague island, which is located on the Atlantic Ocean just off the shore of Maryland, and receives about 2,021,938 visitors a year. The Seashore is comprised of two districts, a Maryland District and a Virginia District. The island is unique geographically: despite being about 60 km long, in no place is it over a 1.7 km – or one mile – wide. Visitors can get perfect ocean views from nearly every part of the island. The seashore is well-known for white sand beaches and a specific type of animal species – feral horses, the Chincoteague or Assateague Ponies.
These wild ponies have called Assateague Island home since the 1600's. As opposed to regular horses who chow down on hay, the ponies have become accustomed to their environment and enjoy dune grasses, rosehips, persimmons, and salt marsh cord grass. They've become such an integral part of park life that the National Park Service and Fish & Wildlife Service have taken measures to ensure the pony population is maintained at a sustainable level.
7 – Cuyahoga Valley National Park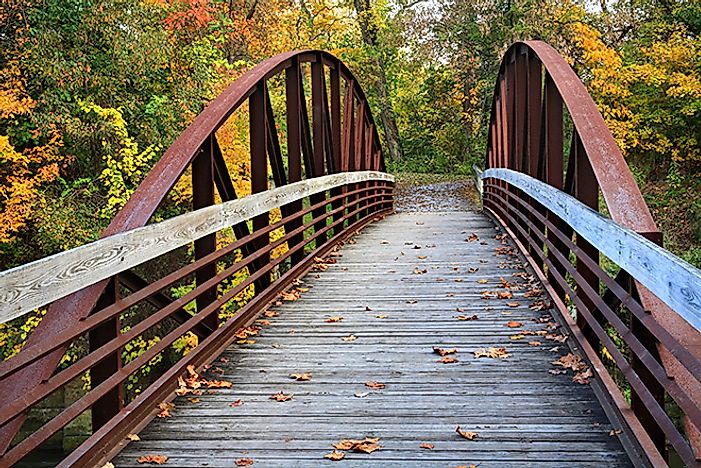 Cuyahoga Valley National Park, which holds the distinction of being the only national park in Ohio, is over 81 sq. km., stretched across the Cuyahoga River. It receives an average of 3,013,266 visitors a year. There are over 900 plant species, 194 bird species, 43 fish species, and 32 mammals on park grounds. Many tourists visit Cuyahoga for the hiking and bicycling trails that cover the park.
Additionally, the park is dotted with several displays of 19th- and early 20th- century farming or rural living that have been restored, providing insight into what life was like in earlier times. One of these locales is Stanford House, a structure built by George Stanford in the 1830's. Visitors to the park can get a glimpse of what life was like by visiting the preserved Stanford House – and, as it's been transformed into lodging for Cuyahoga Valley visitors, they can even experience what it would have been like to stay there.
6 – Banff National Park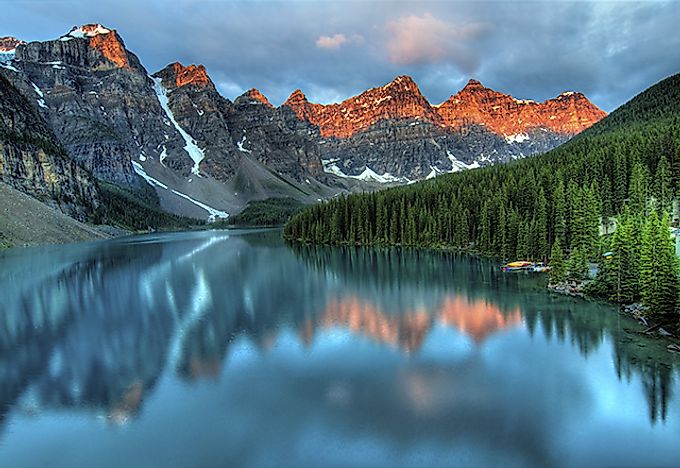 One of the few Canadian parks or protected areas that comes near U.S. visitor stats, Banff National Park in the Canadian province of Alberta sees an average 3,155,724 visitors a year. It's known for its mountains and is comprised of glaciers, icefields, and coniferous forests. There are also many animal species within the park, including Grizzly and black bears, wolverines, wolves, elk, deer and more.
Getting into Banff is almost akin to an exclusive night club – if you're visiting the park (not just driving through), you are required to purchase a permit at the park entry gates. You can't just saunter into such a high-demand park. The town of Banff, located within the area of the national park, is the highest town in Canada at an elevation of over 1,372 m – perfect for all the skiers that have flocked to the area since introduction in 1909 by Swiss and Austrian mountain guides. It continues to be a ski and snowboard destination for visitors from around the world.
Even its name is international, rather than derived from local history as many parks' names are – it is an abbreviated form of Banffshire, a town in Scotland where two of the Canadian Pacific Railway's original directors were born.
5 – Yosemite National Park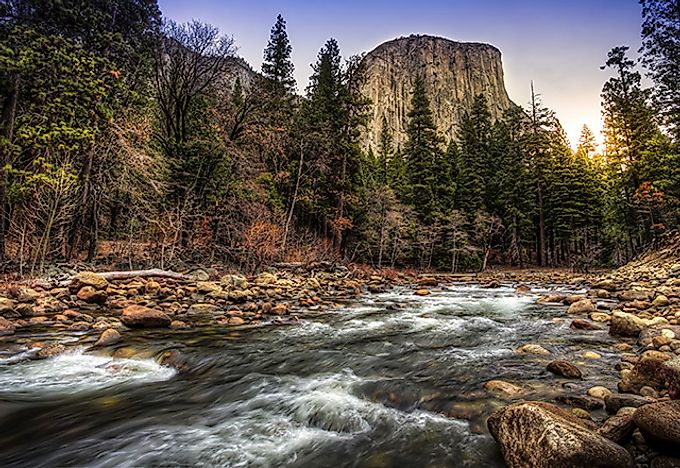 Yosemite, a UNESCO World Heritage Site, receives an average of 3,399,203 visitors a year. Though the park is over 2,833 sq.km., the majority of visitors are concentrated in the mere 18 sq. km. that make up Yosemite Valley. Archaeological discoveries have revealed that people have been living in the Valley for almost 3,000 years, dating back to the indigenous tribes known as the Ahwahneechee.
Located in California, one of its biggest draws is its waterfalls. While many often rave about Niagara Falls, Yosemite's Ribbon Fall dwarfs Niagara in size and holds the title of the tallest continuous waterfall in the U.S. Another huge draw is the Mariposa Grove, which contains approximately 500 giant sequoias that may be up to 3,000 years old.
4 – Cape Cod National Seashore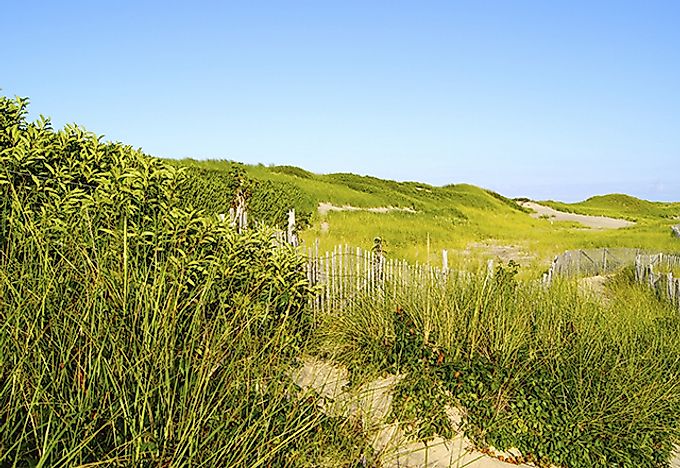 Cape Cod National Seashore receives an average of 4,145,068 visitors a year. The protected area was created by
Massachusetts
native and former President John F. Kennedy and totals 176 sq. km. on Cape Cod. It has nearly 64 km of seashore as well as several geographically and culturally significant sites, including Marconi Station, the Highlands Center for the Arts, and Doane Rock.
While the idyllic seashore has typical Cape Cod structures such as lighthouses, there's another draw for architecture lovers. In the 1960's, the infamous Walter Gropius (founder of the German Bauhaus school of design) wrote a piece entitled "On the Desirable Character of Design for the Cape Cod National Seashore." Gropius urged the Cape Cod National Seashore Advisory Commission to consider a more modern design rather than the typical cabins found in other national parks. Due to the uniqueness of the seashore environment, Gropius advised, park structures should be modern, modest, and with a light footprint. If you walk around the park now, you'll see about 50 houses from that time period that have the trademark modern features Gropius was advocating for.
3 – Grand Canyon National Park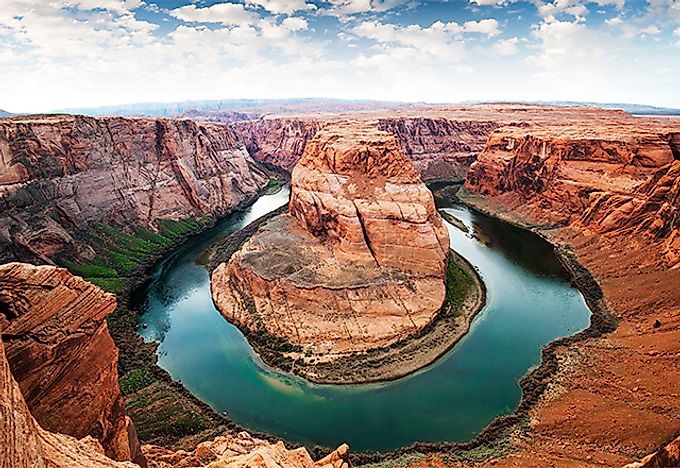 One of the most well-known parks in the world, Arizona's Grand Canyon receives 4,292,758 visitors a year. The park, over 4,047 sq.km., was named a UNESCO World Heritage Site in 1979. The most significant attractions is the Grand Canyon, an endless, stunning natural feature.
The park contains Grand Canyon Village, a small full-service area that provides everything from food to lodging for travellers wanting to stay within the park. For those more interested in the park's animal life, Grand Canyon National Park is renowned for the radiotelemetry mountain lion research study it undertook. Starting in 2003, National Park Service biologists tracked information about mountain lions, including their reproductive activity, habitat, interactions with other animals, predation habits and more.
2 – Lake Mead National Recreation Area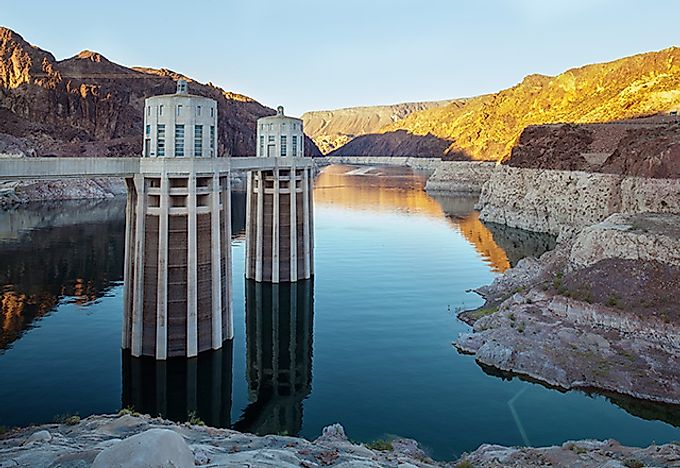 Lake Mead stretches across more than 4,000 sq. km. of southeastern Nevada and northwestern Arizona and has an average of 7,765,579 visitors a year. The area houses countless animal species including the Bald Eagle and Burrowing Owl, many abandoned mines, as well as several bodies of water including Lake Mead itself.
Lake Mead, which has the distinction of being the first official National Recreation Area in the U.S., has a fascinating railroad trail for history lovers. In addition to providing panoramic views of some of the park's geographic features, it packs a lot of the lake's history into its tunnels. In 1931, the Lewis Construction company began construction of the Hoover Dam, and the railroad was used to lug materials around the park. While the railroad stopped functioning in 1961 and the tracks were dismantled in 1962, hiking the trails provides a wonderful peek into the past.
1 – Golden Gate National Recreation Area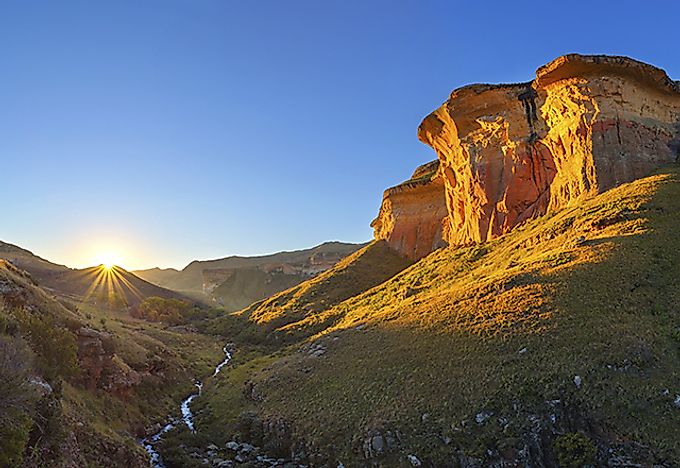 By far the most visited park in North America, San Francisco's Golden Gate receives an average of 13,722,413 visitors every single year. The area protects over 324 sq. km. of land that is significant for historical or ecological reasons. In addition to housing nearly half the bird species of North America and one third of California's plant species within its boundaries, it is also known for having housed another type of visitor once upon a time – prisoners.
One of the park's historic structures is Alcatraz, the infamous island prison known for holding some of America's most notorious criminals, including Al Calpone, James "Whitey" Bulger, Robert Franklin Stroud and more. Part of the reason it housed such dangerous criminals was that its isolated location made for higher security. However, that didn't stop criminals who wanted out – prison records show 36 prisoners made 14 escape attempts. Most were caught, some were shot and killed while trying to escape, two drowned, and five were mysteriously recorded as "missing and presumed drowned."