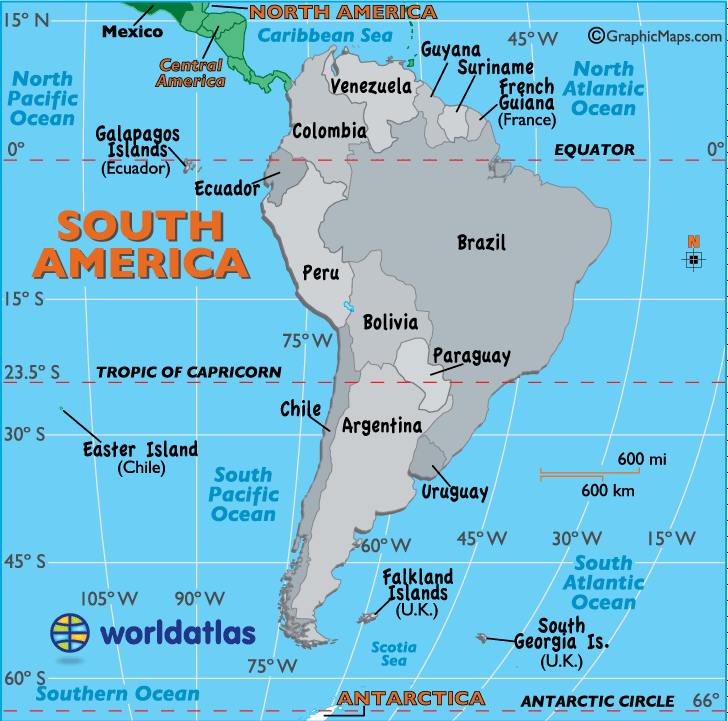 Current Dates and Times
Across South America, both Daylight Saving Time and Standard Time are in effect.
When countries, islands and regions are using DAYLIGHT SAVING TIME it is indicated by a red (DST).
Although variations may apply, and often with little notice, Daylight Saving Time is not observed in Bolivia, Colombia, Ecuador, French Guiana, the Galapagos Islands, Guyana, Peru, South Georgia Island, Suriname and Venezuela.
Time in Brazil is particularly complicated as Brazil spans four major timezones. Sao Paolo and Rio de Janiero are both located in BRST or BRT timezone depending on the observence of DST, putting them either 3 or 2 hours behind UTC.
The small island of Fernando de Noronha, Brazil is 2 hours behind UTC. The two western timezones of Brazil, Amazonas Time and Acre Time are both 4 hours behind UTC and do not observe DST.
Note that Venezuela is 4.5 hours behind UTC.
Additional details on world timezones
UTC and GMT an update
The worldwide standard for coordinated universal time, formerly known as GMT (Greenwich Mean Time), is now abbreviated as UTC (Coordinated Universal Time).
Some sources still refer to it as UTC/GMT and some web browsers, e.g. Mozilla Firefox, still display it as GMT.
The UTC Time (shown directly below) is the standard time zone upon which all other worldwide time zones are based. It never observes daylight saving time.
Falkland Islands in 2012 an update
The government of the Falkland Islands has determined that the country will stay on Daylight Savings Time in 2012. Doing so will allow the country more time to contact the United Kingdom and other countries in Europe during the working day.
Check back in April of 2013 to see if this trial switch is made permanent.
UTC at Greenwich, England

GALT - 6 hours from UTC

Galapagos Islands

VET - 4:30 hours from UTC

Venezuela

SRT, GFT - 3 hours from UTC

Suriname, French Guiana

BRT - 3 hours from UTC

Recife, Brazil

COT, ECT, PET - 5 hours from UTC

Colombia, Ecuador, Peru

AMT - 4 hours from UTC

AMT - 4 hours from UTC

BRT - 3 hours from UTC

SE Brazil - Rio de Janiero

FKST - 3 hours from UTC

Falkland Islands

EASST - 5 hours from UTC

Easter Island

BOT, GYT - 4 hours from UTC

Bolivia, Guyana

PYT - 4 hours from UTC

Paraguay, Cuiaba (Brazil)

FNT - 2 hours from UTC

South Georgia Island

CLST - 3 hours from UTC

Chile

ART - 3 hours from UTC

Argentina

UYT - 3 hours from UTC

Uruguay
Timezone Abbreviations
GALTGalapagos Time
BOTBolivia Time
GYTGuyana Time
SRTSuriname Time
GFTFrench Guyana Time
BRTBrasillia Time
COTColombia Time
ECTEcuador Time
PETPeru Time
PYTParaguay Time
FKSTFalkland Islands Summer Time
ARTArgentina Time
FNTFernando de Noronha Time
VETVenezuela Time
AMTAmazonas Time
CLTChile Time
EASTEaster Island Time
USTUruguay Time
DSTDaylight Saving Time
This page was last updated on September 19, 2016.