Easter Island Travel to



GENERAL INFO:


Easter Island has long been a mystery. Where did its founders come from? And if from the Marquesas Islands of Polynesia, how did they make such an epic and lengthy journey in open boats?

Why and how did they create those heavy, giant Moai statues, and how did they move them to their positions across the island? And then, after many years of war between two island factions, why did they push many of those prehistoric monuments over on their face? Puzzling to be sure.

Like us, you won't find all of the answers if you do decide to visit, but visit you should, as much like the Amazon Jungle, Devil's Islands, Machu Picchu, Robinson Crusoe Island, and the Galapagos, it's one of those South America places that leaps right off the map of must-sees!

Next to Rome, Easter Island is the most interesting open-air museum we've visited. Major points-of-interest obviously include the hundreds of Moai statues scattered across the island. We found the volcanic crater of Rano Raraku most interesting, as it was there that the Moai were carved. Some of the statues are still strewn about in varied stage of carving.

Easter Island is most commonly reached by air from Santiago, Chile; Lima, Peru and Papeete, Tahiti are some other options. Flights are around 6 hours in length, and fares are a bit pricey because of the lack of destination competition.

Before booking your flight, know that many travelers are charged reciprocity fees (considered a multiple entry visa) upon entry. Paid in cash, these fees are subject to change without notice due to currency fluctuations. So citizens of all countries are advised to contact the nearest Chilean embassy for details before traveling.



GENERAL INTEREST:
Electricity: Voltage: 200 V; Frequency: 50 HZ; Plugs: Type C (European 2-pin) and Type L (round pins with round grounding pin in line)
Times to Travel: With the exception of the rains of April, Easter Island is pleasant year-round. Note that local prices are higher and guest houses and hotels are quite crowded during the months of January, February and March.

TOURISM LINKS:
PASSPORTS - TRAVEL VISAS - WARNINGS:
NOTE: Before making your travel plans to any worldwide destination, we strongly recommend you authenticate important details regarding all applicable health, passport and visa requirments. The people at Travel Visa Pro can answer all of your questions!
Easter Island Photographs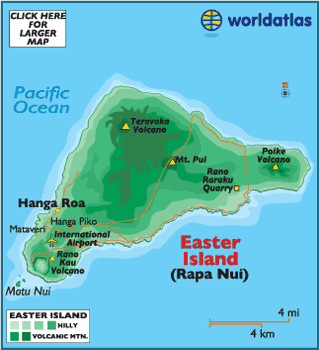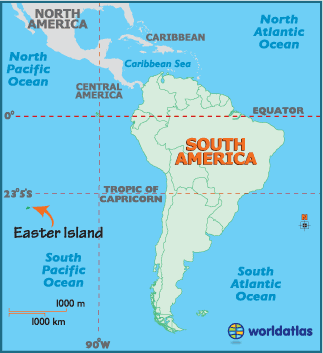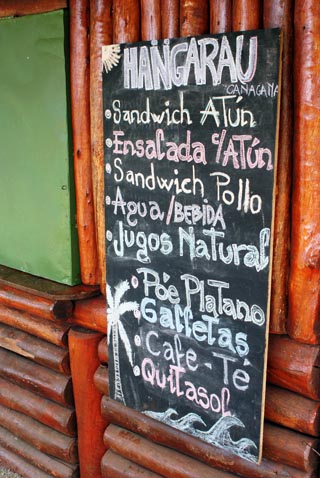 A local menu on Easter Island

World Atlas recommends the Tuna Sandwich