Western Australia Flag
Western Australia Flag: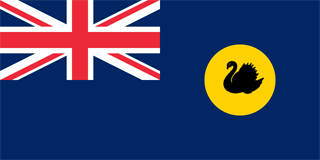 The flag of Western Australia was adopted in 1953.
The Western Australian flag is an adaptation of the national flag of Australia, and features a swan on a golden disc.
Western Australia Coat of Arms: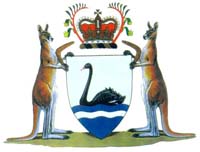 The Western Australia coat of arms was adopted on March 17, 1969, and features two kangaroos supporting a shield and holding onto boomerangs.

The blue shield features a black swan, and above it rests the Crown of St. Edward supported by two sprigs of Kangaroo Paw - the state flower.
States & Territories of Australia
This page was last updated on April 7, 2017.