Martinique Travel to



ATTRACTIONS: (a few major)

Along with exotic and appealing beaches, the French island of Martinique offers some amazing attractions.

It's a Caribbean paradise with majestic mountain landscapes, historical landmarks, art and history museums (including the Paul Gauguin Museum), beautiful botanical gardens and plenty of opportunities for diving and snorkeling.

For the adventurous types, a visit to Mount Pelee, one of the most famous volcanoes in the world, is a must.

Due to the numerous outdoor attractions, eco-tourism is becoming popular. And, the newest craze is canyoning.

No visitor to Martinique will go hungry, as the local restaurants offer delicious regional favorites including calaloo soup, colombo, along with plenty of seafood, fresh fruits and vegetables.
CONVENTION AND VISITOR BUREAUS:
GENERAL INTEREST:
Electricity: 220V, 50Hz
Times to Travel: With its location in the center of the Caribean's eastern archipelago, Martinique is the perfect destination year-round.

There is little temperature variation throughout the year, with summer highs around 85° F (29° C) and winter temperatures around 75° F (23° C).

Unlike many of the Caribbean islands, there is no noticeable rainy season. April is the driest month and September is the wettest, but rainy days are few and the showers generally are scattered.

PASSPORTS - TRAVEL VISAS - WARNINGS:
NOTE: Before making your travel plans to any worldwide destination, we strongly recommend you authenticate important details regarding all applicable health, passport and visa requirments. The people at Travel Visa Pro can answer all of your questions!

TOURISM SITES AND LINKS:
Martinique Photographs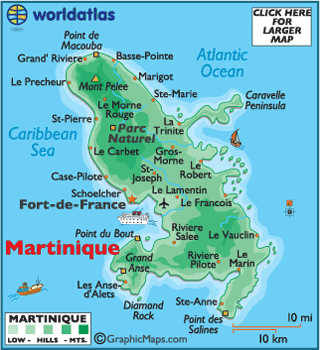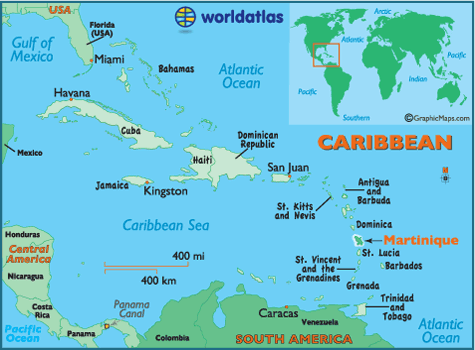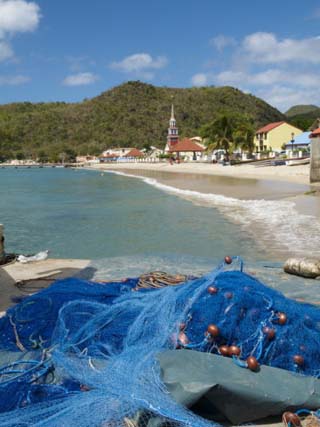 Grande Anse...
Buy This at Allposters.com