Map of the Isle of Man and Isle of Man Map and Information Page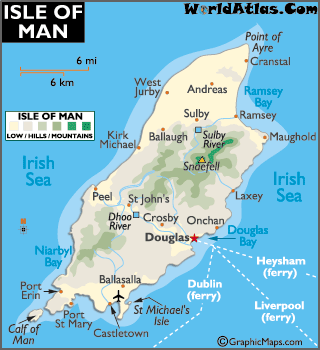 print this map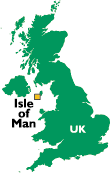 Positioned in the middle of the Irish Sea, the Isle of Man is not recognized as part of the United Kingdom, but rather as a self-governing British Crown dependency.
The island is hilly through its central core and extremely flat in its northern reaches. Picturesque cliffs ring much of its coastline. The highest point, Snaefell Mountain, rises to 2,036 ft (621 m).
This fiercely independent land of legends and long-held traditions of culture was first settled by the Celts. The Vikings arrived about 800 AD, and remnants of that Scandinavian influence remain to this day.
A 2006 mid-year census indicated the island is now home to just over 80,000 people, with about 26,000 living in Douglas, the island's capital city.
The economy is driven some by farming and fishing, but financial, high-tech businesses and tourism are the modern mainstays.
The annual Isle of Man TT (Tourist Trophy) Motorcycle Race is a significant event, as it attracts thousands of visitors. In that regard, the island is well-served by ferry services and by its airport near Castletown.
Tourism Links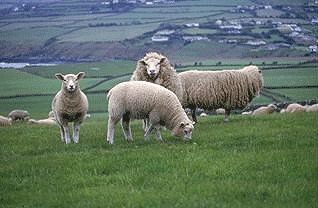 Sheep on a hill, Isle of Man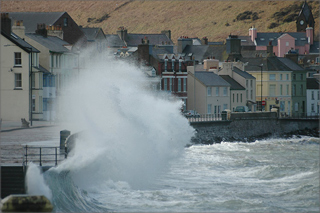 Waves crashing into Douglas Harbor, Isle of Man
Manx Scenes