Dodecanese Islands Map / Geography of Dodecanese Islands / Map of Dodecanese Islands
Dodecanese Islands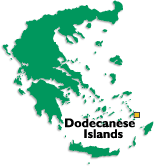 These beautiful islands are located in the southeastern Aegean Sea, directly to the west of Turkey. This group of three dozen or so islands (some too small to show) offer the classic charms of the Greek Isles, including sandy beaches, whitewashed hilltop villages, perfect weather and scenic views almost beyond description.
The most visited islands in the Dodecanese are Kos, Patmos and Rhodes.
Patmos is famed for the Monastery of St. John, one of the most sacred places of worship in all of Christianity. Fringed by sandy beaches, the rugged island of Rhodes (the capital) is literally covered with remnants of the Byzantine, Ottoman and Roman empires.
All of the major islands are accessible by a ferry service from ports in Greece and Turkey, as well as by a wide variety of inner-island ferries. The islands of Karpathos, Kos and Rhodes have international airports.
ISLAND ATTRACTIONS & MAPS