The Gambia, officially the Republic of The Gambia, is the smallest country on mainland Africa. It's an agriculturally rich land, with farming, fishing, and tourism the major industries.
Portuguese claimed the region for themselves.
Antonio, Prior of Crato and claimant to the Senegal, it formed the short-lived federation of Senegambia between 1982 and 1989. In 1991, the two nations signed a friendship and cooperation treaty, but tensions have flared up intermittently since then.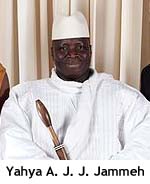 Yahya A. J. J. Jammeh led a military coup in 1994 that overthrew the president and banned political activity.
The establishment of a new constitution and presidential elections in 1996, followed by parliamentary balloting in 1997, completed a nominal return to civilian rule.
Jammeh won re-election in 2001, 2006 and 2011. These days The Gambia experiences relative political stability, however a third of the nation's population lives below the international poverty line.
This page was last updated on April 7, 2017.