Jump To
The United States has no shortage of shopping centers, but not all of them are made equal, and some are particularly outstanding. Nearly all of America's major cities have malls. Malls have always been a popular American pastime because of their timeless combination of retail stores and alluring restaurants. Shopping communities around the United States are expanding and improving, providing more than just retail therapy and shopping sprees by adding malls with a range of entertainment alternatives on top of their already expanding selection of retail businesses. The following article lists the ten biggest malls in the nation that are still bustling and friendly and function as attractions on their own.
1. Mall Of America - 5.6 million square feet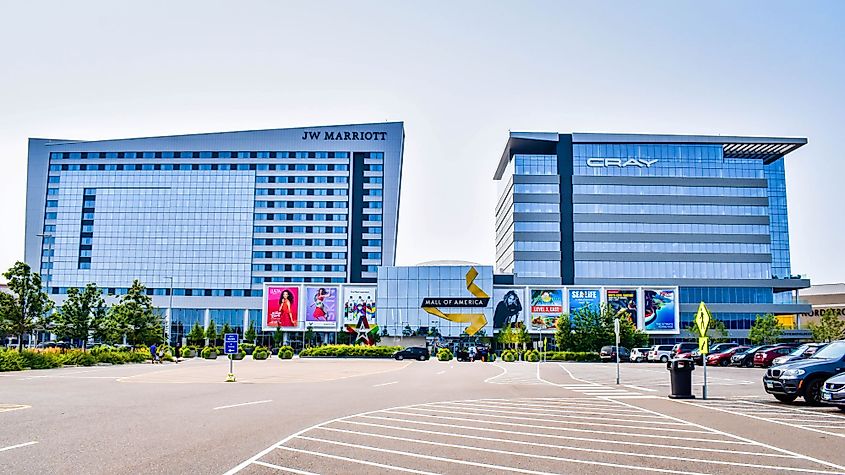 The Mall of America lies in Bloomington, Minnesota, just 15 minutes from downtown Minneapolis and St. Paul. It is undoubtedly the biggest mall in North America and the biggest in the United States. With 40 million visitors annually and being open since 1992, the Mall of America is among the most popular tourist destinations worldwide. With 5.6 million total square feet, it is the biggest mall in the country. The Mall of America currently has more than 520 shops, 50 eateries, the largest indoor theme park in the nation, an aquarium with 100 sharks and 4,500 sea animals, two on-site hotels, and a delectable food scene.
2. American Dream - 3.3 million square feet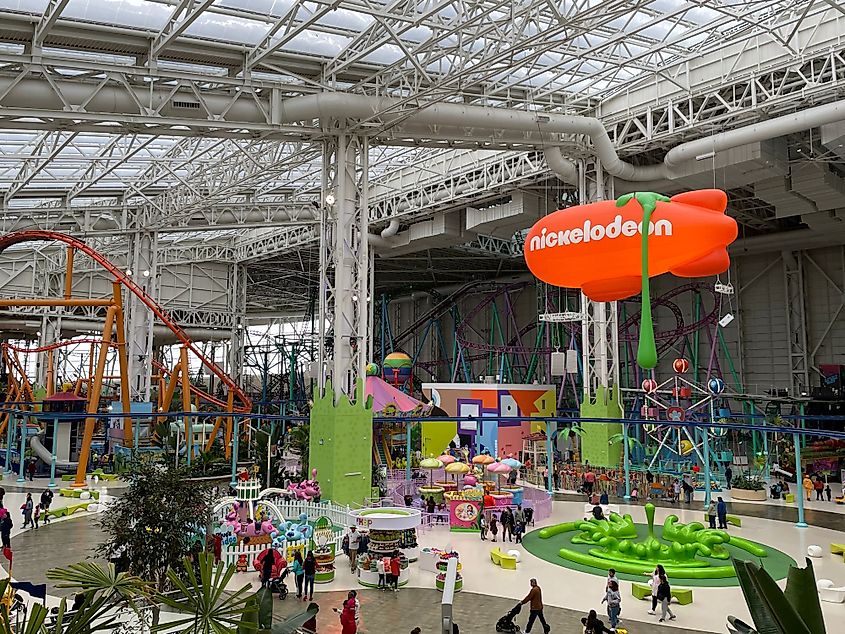 American Dream is a shopping and entertainment complex located in East Rutherford, New Jersey, near the Meadowlands Sports Complex, having a total retail space of 3,300,000 square feet. DreamWorks Water Park, the country's biggest indoor water park, the Nickelodeon Theme Park, a huge Ferris wheel offering a view of New York City, the only indoor all-year-round ski resort in North America, an indoor freshwater wave pool, an ice-skating rink, and of course, 450 shops to shop at are all located here.
3. Eastwood Mall Complex - 3.3 million square feet
The Eastwood Mall is one of the country's biggest mall complexes having a total retail floor area of 3,300,000 sq. ft. This complex offers more than just a shopping experience. The Eastwood Mall is an indoor shopping mall that serves the Youngstown-Warren region and is situated in Niles, Ohio. The mall, which was first opened in 1969, had numerous substantial renovations, the most recent of which took place in late 2006 when a 350-seat food court was added. The Equarium, a 3-tank aquarium, was added to the center court in late 2007. More than 200 department stores, specialized retailers, eateries, motels, and other enterprises call it home.
4. South Coast Plaza - 2.8 million square feet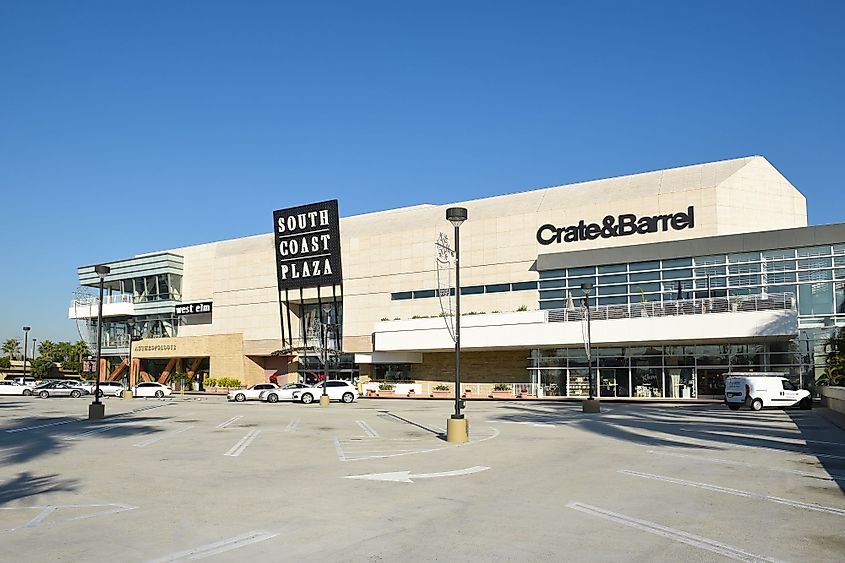 South Coast Plaza is a local shopping center with a gross leasable area of 2,800,000 square feet that is situated in Costa Mesa, a city in Orange County, California. In fact, the title "The Ultimate Shopping Resort" was given to South Coast Plaza in 2004. The mall, which initially opened in 1967, contains more than 250 high-end shops and eateries, as well as the nearby renowned Segerstrom Center for Arts. It is the largest retail mall in California, receiving a total of 24 million people per year. With sales of more than $1.5 billion, which is the highest in the US, it is the biggest mall on the west coast. 
5. King Of Prussia Mall - 2.67 million square feet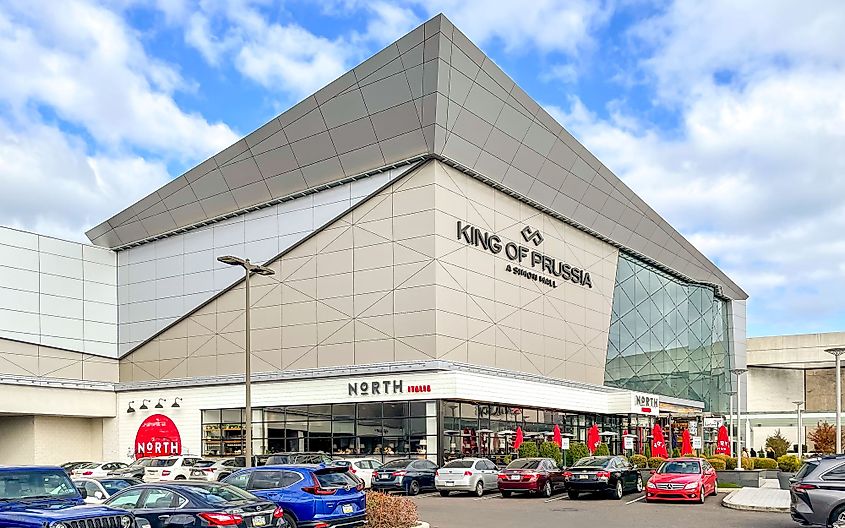 The King of Prussia Mall stands apart from the rest since it emphasizes shopping rather than theme parks as its primary form of entertainment. Around 20 million people visit the mall's 2.67 million square feet of retail space each year, which houses 450 shops, cafés, and seven large department stores and is located in King of Prussia, Pennsylvania. Since its debut in 1963, the mall has been a real shopper's paradise, showcasing major department stores like Neiman Marcus, Nordstrom, Bloomingdale's, and Macy's, as well as more than 30 restaurants like Morton's, Shake Shack, and the Cheesecake Factory, as well as hundreds of specialty shops (including Burberry, Apple, Louis Vuitton, and Sephora).
6. Del Amo Fashion Center - 2.52 million square feet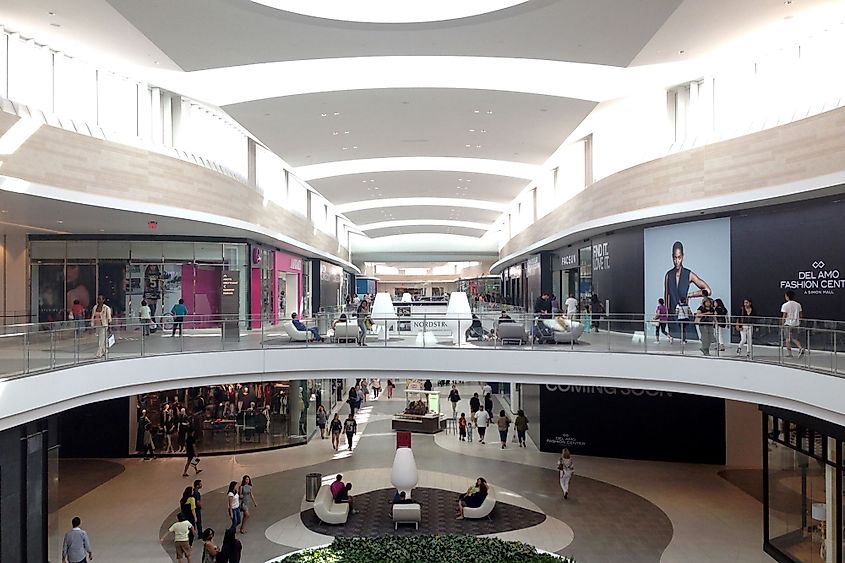 Del Amo Fashion Center is a three-level neighborhood retail center situated in Torrance in Los Angeles County, California. The largest mall in the South Bay area, Del Amo Fashion Center, serves the adjacent cities of Palos Verdes, Lomita, Long Beach, Los Angeles, Redondo Beach, and Gardena, with over 200 retailers. The mall contains more than 200 retailers, including Michael Kors, Hugo Boss, Arhaus Furnishings, lululemon, J. Crew, Madewell, Zara, Adidas, H&M, Express, Forever 21, and Marshalls, in addition to a wide variety of restaurants. Its gross leasable space is 2,520,00 square feet.
7. Destiny USA - 2.4 million square feet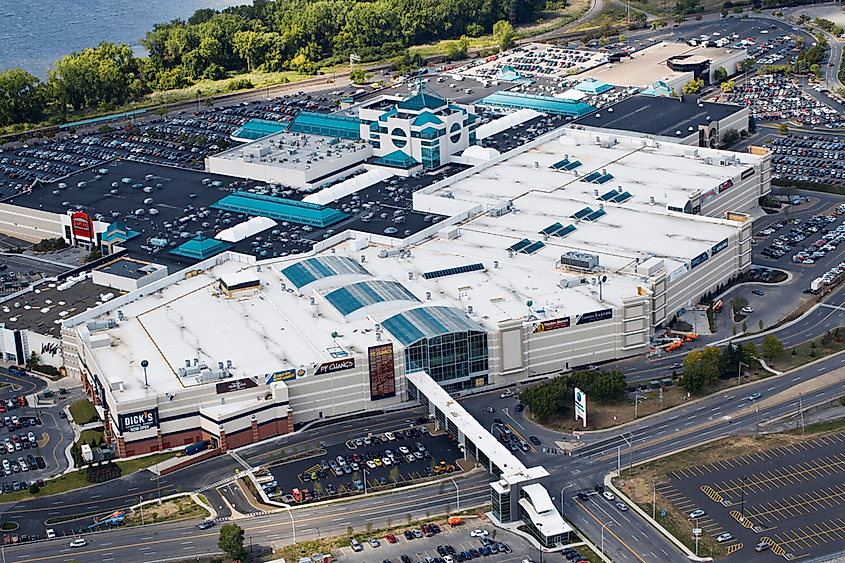 Destiny USA, a shopping center in Syracuse, New York, is renowned for its size and wide range of products. It is the largest shopping center in New York State by retail space, at 2,400,000 square feet. There are 1,976 enclosed parking spots, 9,500 free parking spaces, and six floors in total. Visitors can enjoy various activities, including the largest suspended ropes course in the world at Wonderworks and the world's largest antique carousel and arcade at Dave & Buster's. In addition, it is the location of the first mall with a go-kart track inside.
8. Roosevelt Field - 2.34 million square feet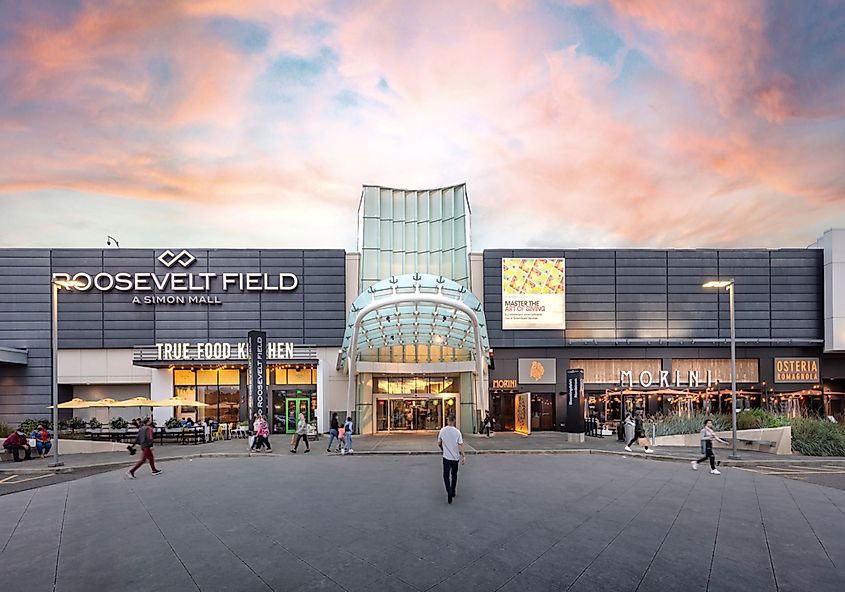 Roosevelt Field is situated next to the Meadowbrook State Parkway in New York's Garden City. The mall was initially constructed over an airport. However, workers converted it into a single-story open-air mall in 1955. Currently, there are two levels totaling 2.34 million square feet where visitors can shop. The mall has over 270 shops, amazing restaurants, and an eight-auditorium movie theater. The renowned architect I. M. Pei was involved in designing the mall, and at present, Roosevelt Field is the state's second-most successful mall.
9. Ala Moana Center - 2.27 million square feet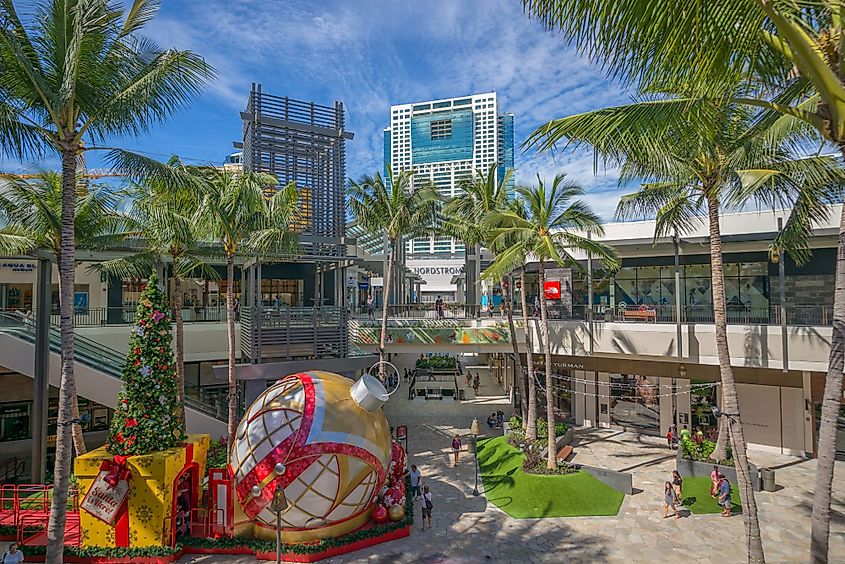 Ala Moana has more than 350 stores and restaurants and 2.27 million square feet of retail space. It is the world's biggest open-air shopping center and the United States' 11th-largest shopping mall. The Ala Moana shopping complex also has hula shows, a kids' play area, live Hawaiian music, and much more. In Hawaiian, "Ala Moana" truly means "by the sea," and that is exactly where it is. The mall is lined with magnificent flowers and has a serene atmosphere because of its design of tranquil koi ponds and native vegetation. 
10. Millcreek Mall - 2.2 million square feet
The Millcreek Mall, situated approximately 5.5km southwest of the downtown of the city of Erie, is an extremely popular vacation spot for people living in Pennsylvania, Ohio, and Western New York. In Pennsylvania's Millcreek Township, 2.2 million square feet of land are occupied by the Millcreek Mall. The second-largest mall in Pennsylvania, this one-story shopping center has 165 retailers selling everything from clothing and jewelry to electronics and recreational goods.
10. Palisades Center - 2.2 million square feet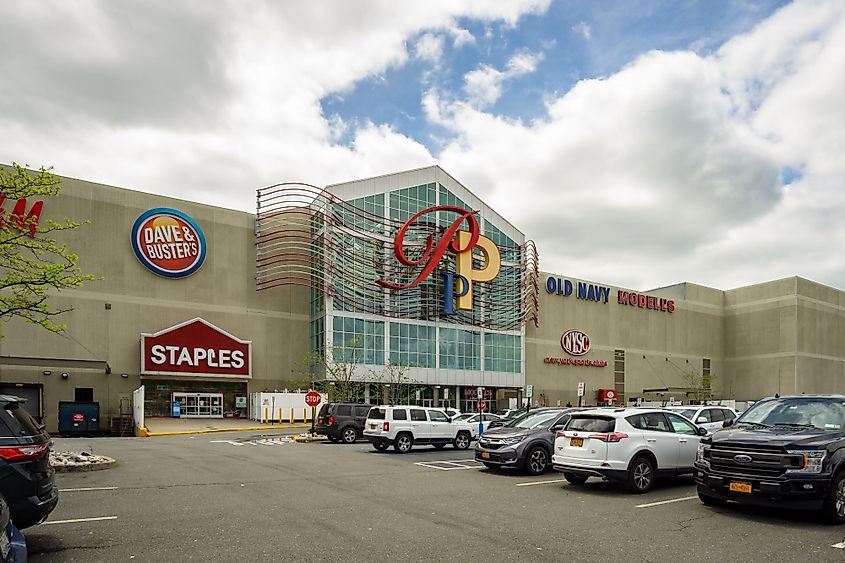 The Palisades Center is one of the biggest malls in the United States. It was built by The Pyramid Companies and inaugurated in March 1998. A four-level retail center with 225 brands, 16 sit-down restaurants, a bowling alley, an ice rink, the world's tallest indoor ropes course, a comedy club, and more can be found at Palisades Center. The mall's name comes from the Palisades, a group of mountains close by that form a border with Rockland County's easternmost point along the Hudson River.
There are undoubtedly a wide variety of possibilities among the ten largest malls in the USA. Try to visit the malls on your next trip, whether you are traveling across the country or have discovered there is a fantastic and enormous mall within driving distance from where you reside. Of course, going to one of the biggest malls in the USA is a terrific way to accomplish all of your shopping in one location, but it's also entertaining to simply observe these enormous structures and take in everything they have to offer for the entire day.