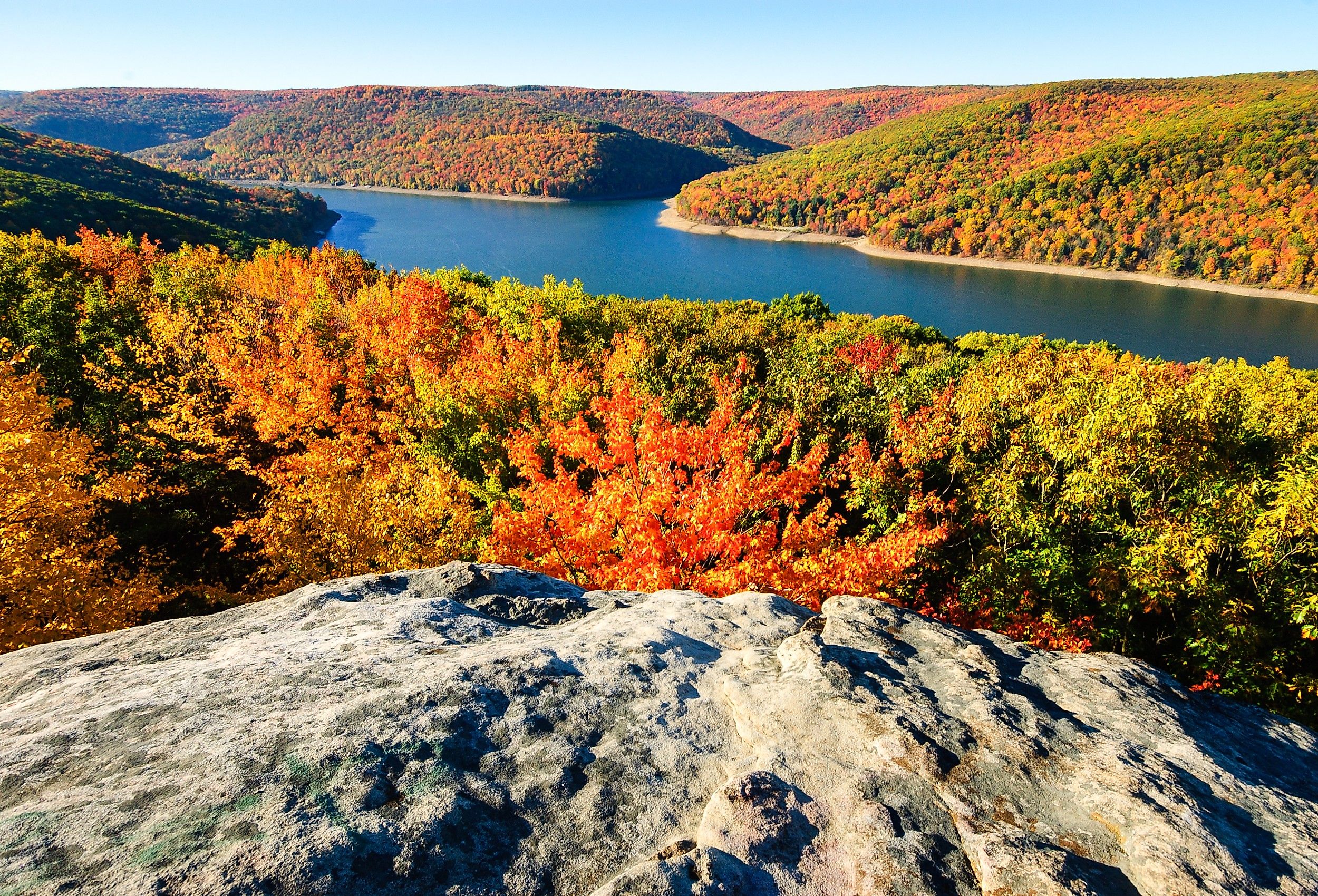 14 Top Places To Visit In Pennsylvania In The Fall
As autumn descends upon Pennsylvania, these are the top places to visit in the fall, where you can witness nature's masterpiece, delve into cultural treasures, and savor the flavors of the season. Pennsylvania's state parks, such as Ricketts Glen and Ohiopyle, become veritable wonderlands adorned with fiery foliage and cascading waterfalls. In these serene settings, hiking trails lead to breathtaking vistas, providing an intimate connection with nature's autumnal splendor. For those drawn to heritage, towns like Jim Thorpe and Gettysburg offer historical immersion amidst fall foliage. Museums and historic sites open their doors, allowing visitors to unravel the state's past against a backdrop of red and gold. As the crisp air sets in, opportunities for hiking, biking, and leaf-peeping abound, ensuring that every moment in Pennsylvania during the fall season is filled with wonder and discovery.
Pine Creek Gorge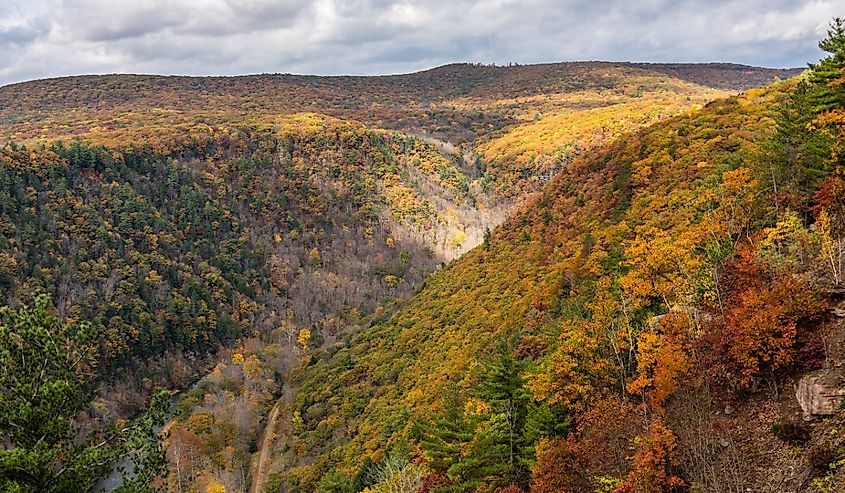 The heart of Pennsylvania gem of Pine Creek Gorge, often called the "Grand Canyon of Pennsylvania," is a top destination for fall enthusiasts. As the leaves begin their vibrant transformation, the gorge transforms into a tapestry of crimson and gold. The highlight here is the scenic Pine Creek Rail Trail, a 62-mile path that winds along the canyon's edge, offering breathtaking vistas at every turn. In the fall, the trail becomes a corridor of color, ideal for hiking or biking. Don't forget to explore Leonard Harrison State Park, where you can peer into the gorge from dramatic overlooks. And you might want to keep an eye out for the protected Timber Rattlesnake.
Gettysburg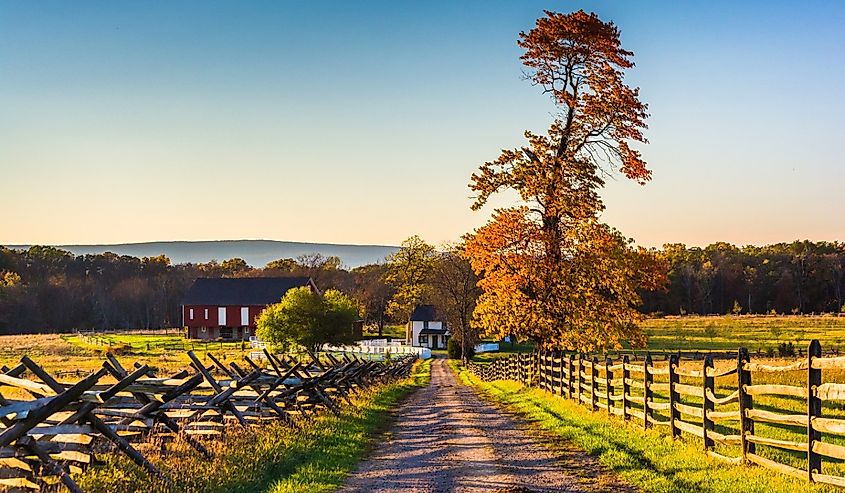 Gettysburg takes on a special charm during the fall season. Beyond its historical significance, this pretty town becomes an autumn paradise with its colorful foliage and crisp air. You should stroll through Gettysburg National Military Park, where you can witness the famous battlefield transform into a sea of reds and oranges. A lesser-known gem is the Eisenhower National Historic Site, where President Dwight D. Eisenhower lived. The fall season offers unique opportunities to explore his farm and admire the changing leaves. Gettysburg also boasts the Seminary Ridge Museum, where you can delve into the Civil War's civilian experience. Here, you will discover the harrowing stories of townspeople during this tumultuous period.
Delaware Gap National Recreation Area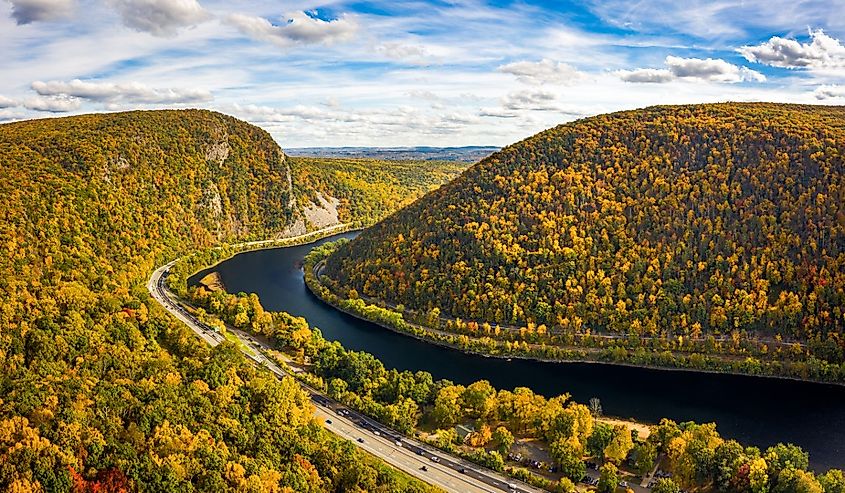 Delaware Gap National Recreation Area, straddling the border of Pennsylvania and New Jersey, transforms into an enchanting landscape in autumn. Start your visit at Dingmans Falls, a charming spot where a boardwalk trail leads to a cascading waterfall surrounded by colorful foliage. You must take a scenic drive along Old Mine Road for panoramic views of the Delaware River and Pahaquarry Mines all the way to Philadelphia. The Buttermilk Falls Trail is a must-visit in autumn, leading you through a forest of fiery reds and gold to stunning waterfalls.
Presque Isle State Park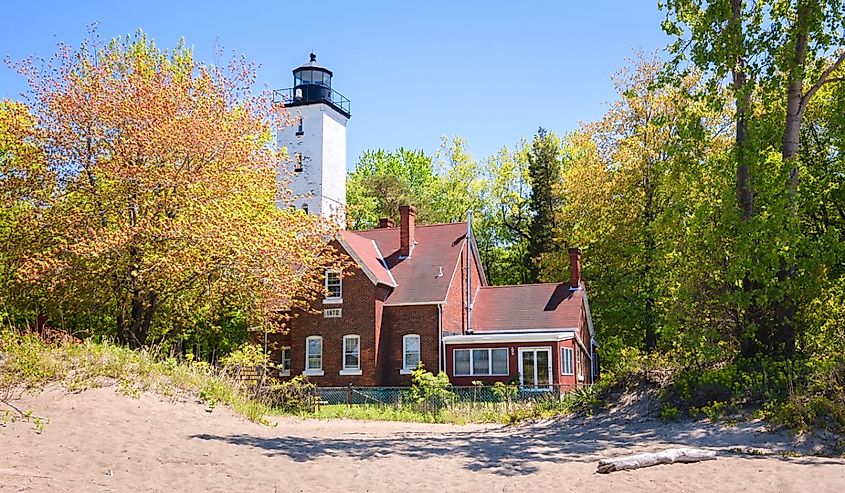 The park, jutting into Lake Erie, offers a unique blend of natural beauty and recreational activities during the autumn months. You can put your focus on the picturesque Presque Isle Bay, where kayaking and paddleboarding become even more enchanting against the backdrop of autumn's palette. And if you are lucky, you might spot some of the park's resident white-tailed deer and foxes amidst the autumn foliage. Keep an eye out for monarch butterflies, too, as they rest here during their journey south. The North Pier and South Pier lighthouses, iconic landmarks within the park, offer panoramic views of the lake framed by colorful foliage. You can also climb the Bicentennial Tower for a panoramic view of the park's fall foliage.
Kinzua Bridge Skywalk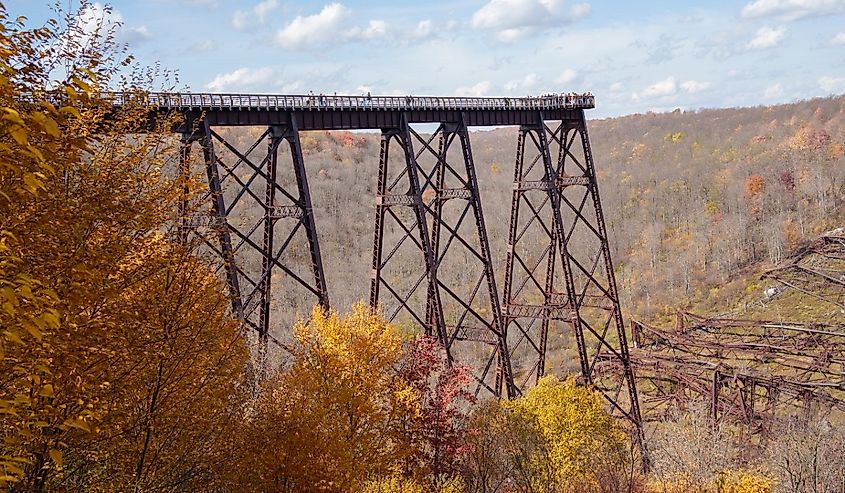 You should venture to northwestern Pennsylvania to discover the Kinzua Bridge Skywalk. This engineering marvel was once a towering viaduct, but now, after 2003's havoc-wreaking tornado, it's a breathtaking skywalk with a glass-floored observation deck that allows you to walk above the treetops. During the fall season, the surrounding forest erupts in a fiery display of red, orange, and yellow leaves. As you walk out onto the skywalk, you will be treated to unparalleled vistas of the Kinzua Gorge, where Kinzua Creek flows below amidst a canopy of autumn colors. For a historical touch, visit the Kinzua Bridge State Park Visitor Center, where you can learn about the bridge's history and the tornado that led to its partial collapse. It's a fascinating story of nature's power and human resilience.
New Hope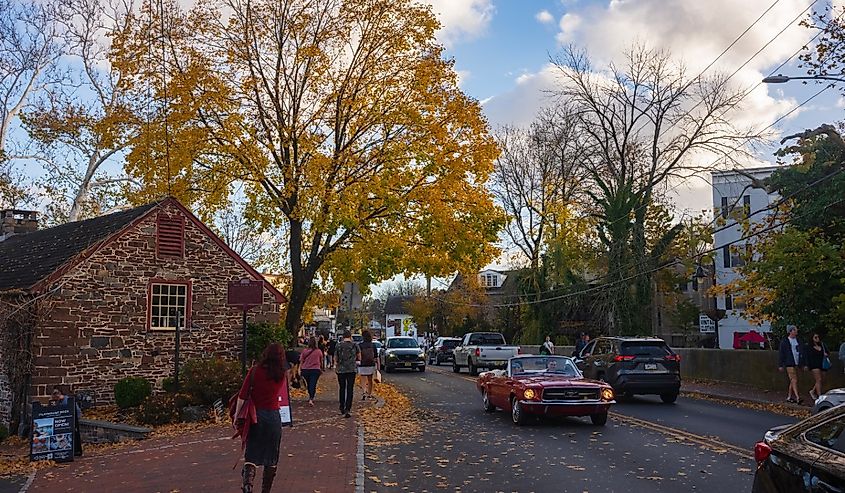 New Hope welcomes fall with open arms and shines brightly. The James A. Michener Art Museum is where you can admire a collection of Pennsylvania Impressionist paintings. The museum's autumn-themed exhibitions add a seasonal touch to the visit. Meanwhile, the New Hope-Ivyland Railroad offers a unique journey through fall foliage, and its vintage trains add to the ambiance. You can go on a scenic drive along River Road, which offers stunning river views framed by colorful foliage. Don't forget to stop at Bowman's Hill Wildflower Preserve, where you can experience a tranquil natural setting bursting with fall flora.
Ohiopyle State Park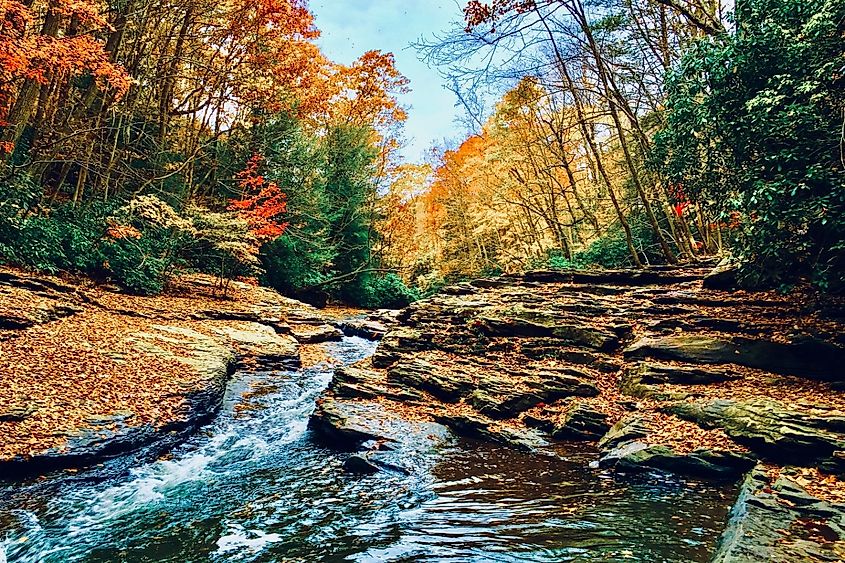 Spanning over 20,000 acres, Ohiopyle State Park stands as a serene fall escape with stunning views over the Youghiogheny River. During the fall season, Ohiopyle's extensive network of hiking trails takes center stage. The trail to Cucumber Falls is a popular route, rewarding hikers with a mesmerizing waterfall framed by fiery foliage. For more adventure, try biking along the Great Allegheny Passage, a scenic trail that winds along the park's boundaries. Don't miss Ohiopyle's beauties like Meadow Run Natural Waterslides, where you can take a refreshing dip in crystal-clear waters, and Sugarloaf Knob Overlook, which offers a breathtaking view of the valley below, bathed in autumn hues.
Jim Thorpe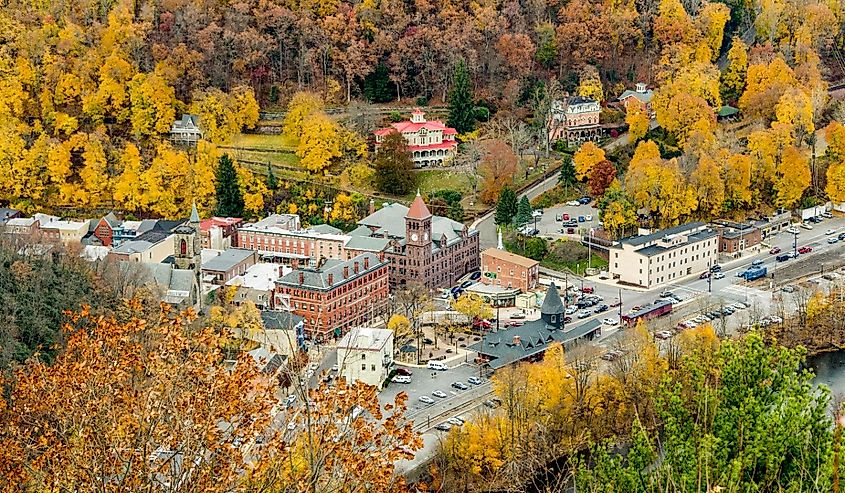 The Victorian architecture of Jim Thorpe seemingly comes alive with a palette of autumn colors in the Pocono Mountains. Outdoors are the highlight of Lehigh Gorge State Park, where hiking and biking trails meander along the Lehigh River, providing stunning vistas of the fall foliage. The Lehigh Gorge Scenic Railway offers a unique perspective, taking you through the wilderness aboard a vintage train. Don't overlook the view from Flagstaff Mountain, where the entire town is painted in autumn hues. Exploring the town's history is a must, and the Mauch Chunk Museum is the perfect place to start. It sheds light on the town's coal-mining past and its transformation into a charming getaway. 
Worlds End State Park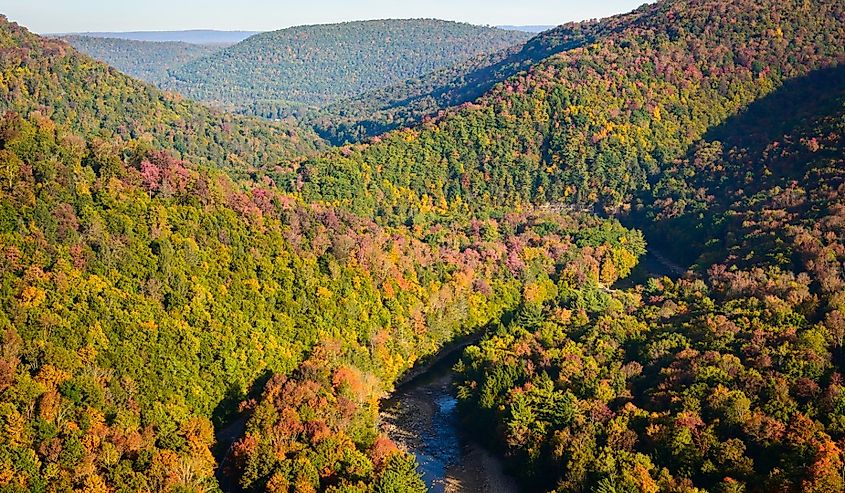 Named for its unique geography, the foliage of Worlds End State Park ignites with color. For a more adventurous experience, explore the Loyalsock Trail, winding through diverse forest scenery. Birdwatchers will find delight in the park's avian inhabitants, while anglers can cast their lines in Loyalsock Creek. It also takes you to stunning overlooks, including High Knob and Canyon Vista, where the vibrant foliage stretches as far as the eye can see. You will be mesmerized by the Dry Run Falls, a serene waterfall tucked away in a quiet corner of the park. Stopping at the Forksville General Store and Museum offers a glimpse into the region's past, with exhibits showcasing life in rural Pennsylvania. 
Ricketts Glen State Park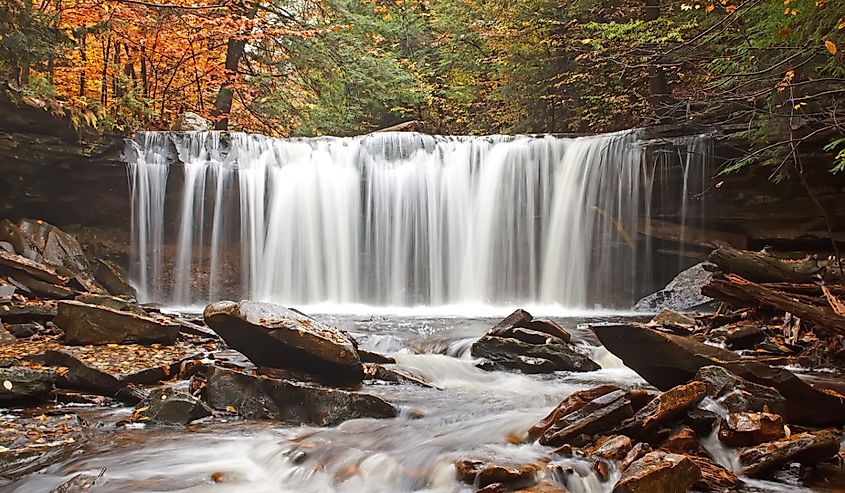 Ricketts Glen State Park is an autumn paradise, particularly renowned for its waterfalls. During fall, the park transforms into a canvas of crimson and gold, making it a must-visit destination. The Falls Trail, a rigorous but rewarding hike, takes you past 21 stunning waterfalls. Notable cascades include the 94-foot Ganoga Falls and the elegant Mohican Falls. The vibrant foliage adds a surreal dimension to these natural wonders. For those seeking a less-trodden path, explore the park's network of forested trails, such as the Highland Trail and the Old Beaver Dam Road.
Inn at Whitewing Farm, West Chester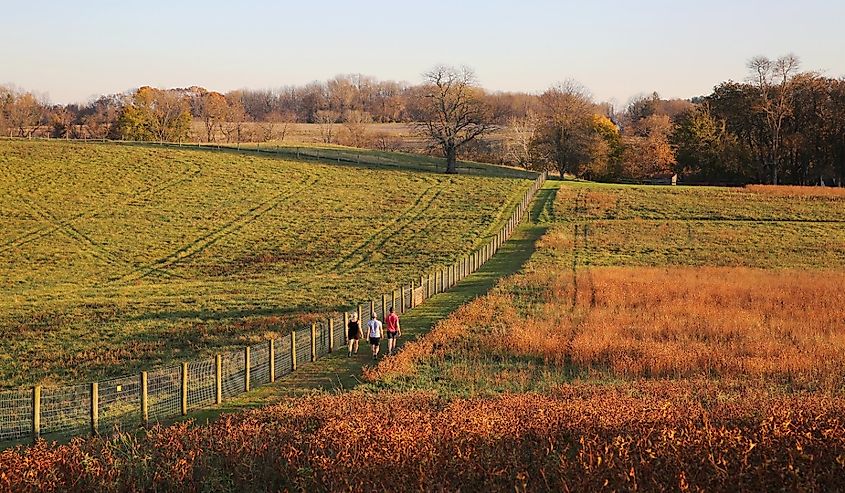 With its quaint charm and serene ambiance, the Inn at Whitewing Farm is a top choice during the autumn season in West Chester. While staying here, you can explore the nearby Brandywine Valley, known for its historic sites and gardens. The Brandywine River Museum of Art is a gem, housing the works of renowned American artists such as Andrew Wyeth. Its collection is a testament to the region's artistic legacy. A visit to Longwood Gardens is another must when in town. This horticultural paradise showcases stunning fall displays, including thousands of chrysanthemums and colorful foliage. The serene meadows and reflective ponds add to the enchantment.
Allegheny National Forest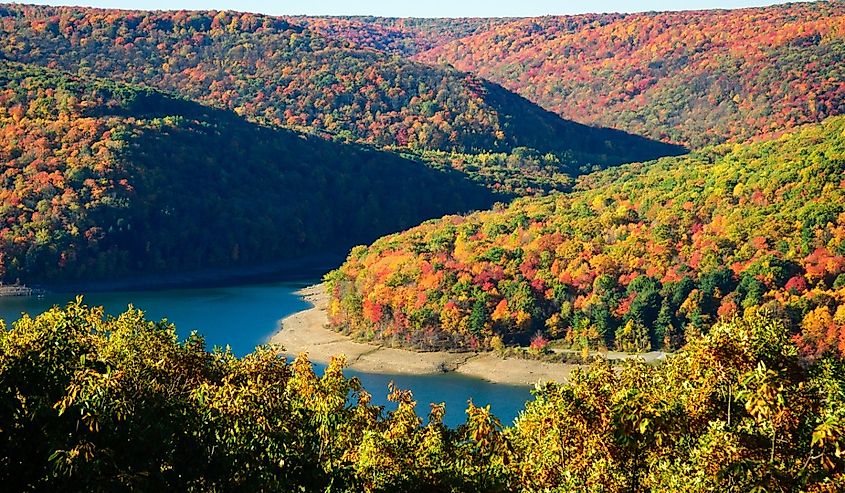 The vast expanse of woodlands, Allegheny River, and scenic byways in Allegheny National Forest beckon nature lovers. The forest boasts the renowned Allegheny Reservoir, where fall foliage is mirrored in its crystal-clear waters. Fishing and kayaking are popular activities here, allowing visitors to dive into the autumnal beauty while enjoying outdoor adventures. The Minister Creek Trail offers magnificent views of the forest's fiery transformation, or check out the famous Longhouse Scenic Byway. The Tionesta Scenic and Research Natural Area is another hidden treasure, providing a glimpse into the ancient forests of Pennsylvania.
Woodloch Pines Resort, Hawley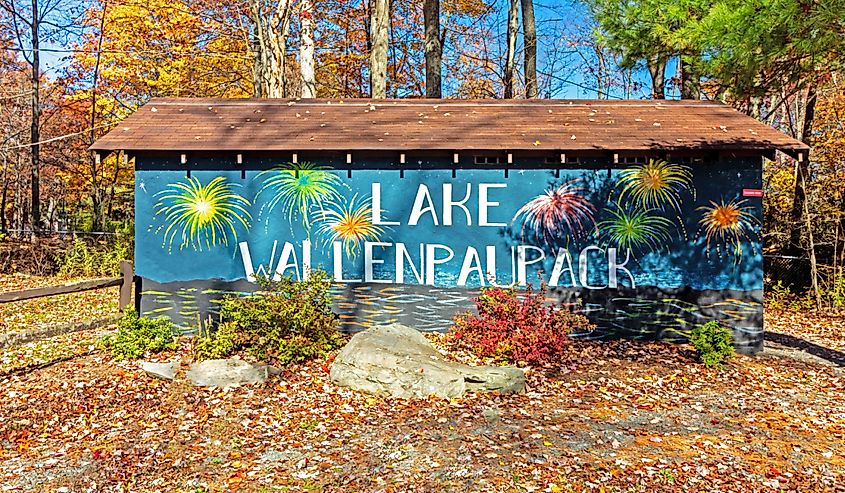 Woodloch Pines Resort in Hawley offers a family-friendly fall escape, blending outdoor activities and cozy accommodations, making it an ideal spot to experience the beauty of autumn. Begin your fall retreat with a scenic boat tour on Lake Teedyuskung, offering breathtaking views of the foliage reflected on the water. The resort itself boasts a range of autumn activities, from hayrides and pumpkin picking to themed dinners. You can also make your way to the nearby Dorflinger Glass Museum, which showcases the exquisite glass creations of Christian Dorflinger.
Cook Forest State Park
Cook Forest State Park stands as a fall masterpiece, known for its towering hemlocks, white pines, tulip tree, red maple, white oaks, and many more, and becomes a top destination for leaf peepers during autumn. The Longfellow Trail, meandering through majestic hemlocks and ancient trees adorned with golden leaves, is an adventure to undertake. The Fire Tower Trail rewards hikers with panoramic vistas of the Clarion River Valley, and the Forest Cathedral is a quiet grove of towering hemlock trees. Don't forget to explore the Clarion River, ideal for kayaking or canoeing amidst the fall splendor. You should also visit the Sawmill Center for the Arts, where you can witness traditional woodworking demonstrations and host exhibitions featuring local artisans and craftsmen.
Pennsylvania's autumn is more than just a visual spectacle. It's about savoring seasonal activities, whether you are hiking, birdwatching, or relishing autumn-themed dinners. From the stunning waterfalls of Ricketts Glen State Park to the tranquil charm of Woodloch Pines Resort in Hawley, the state offers dynamic and authentic opportunities for autumn exploration.