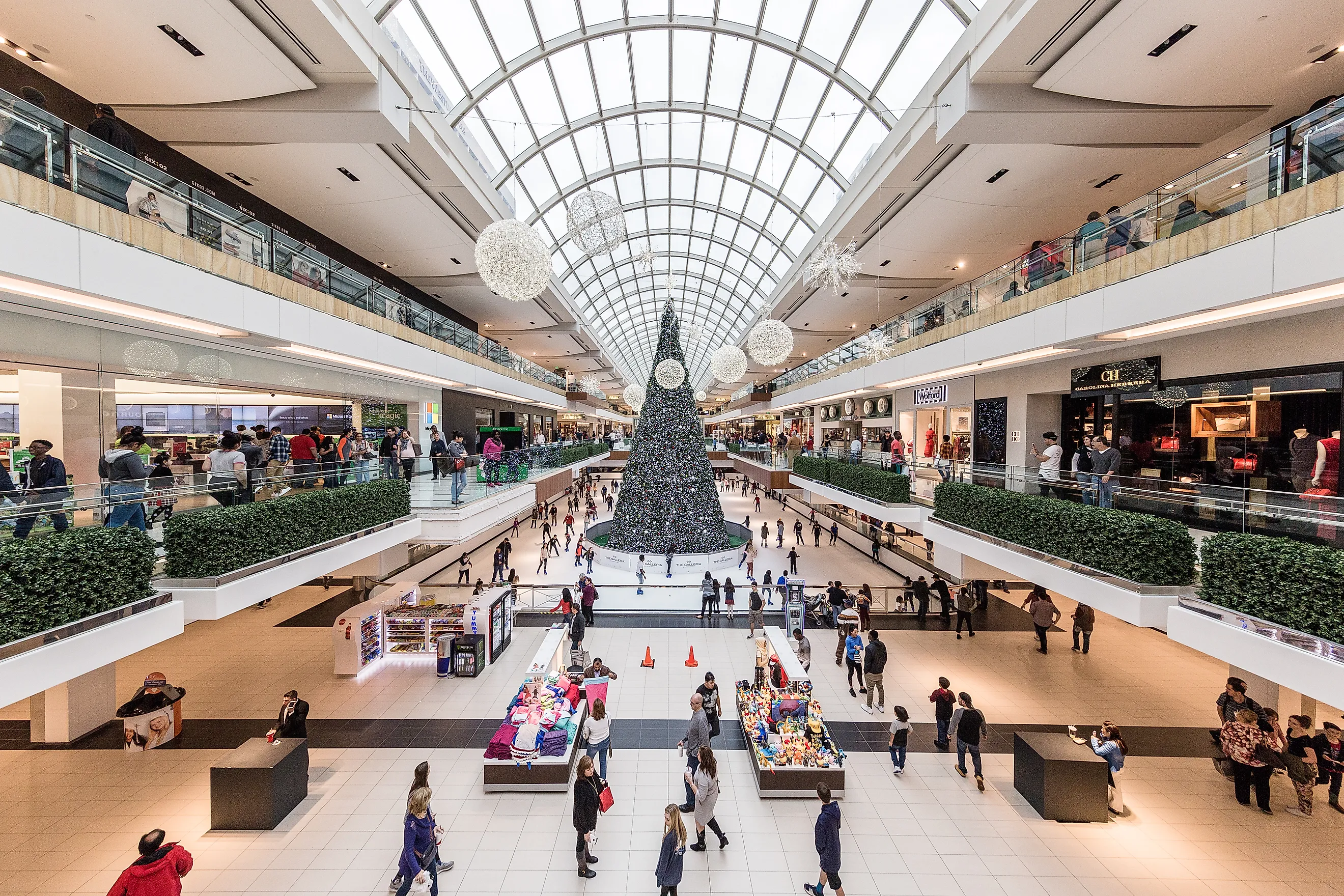 10 Largest Shopping Malls In America
The business world may see shopping malls as present-day dinosaurs that will soon become extinct from Covid-19 and online shopping. Nonetheless, the average American believes in the wholesome time spent that only malls provide through shopping, dining, browsing, and people-watching. America's ten largest malls are architectural masterpieces over impressive grounds with unmatched shopping and other experiences that endure and thrive.
1. American Dream Mall, East Rutherford, New Jersey -  3,000,000 sq. ft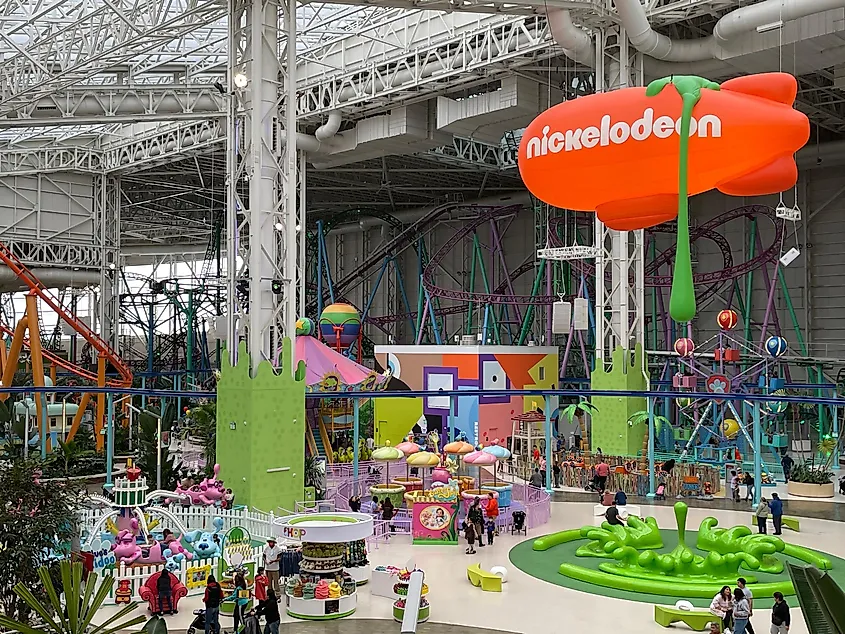 The American Dream is the second-largest shopping mall in America and the most diverse. It is home to another Nickelodeon Universe theme park, the Dreamworks Waterpark, mini golf, a mirror maze, and even a ski slope. There's also the Legoland Discovery Center and characters larger than life traversing the grounds of the immense family-friendly mall, like SpongeBob and Dora. The shiny "toy" in New Jersey is one of America's youngest shopping malls, with millions of admiring visitors each year. It opened in November 2019 in East Rutherford under the ownership of the Triple Five Group. There are fab entertainment and eating venues among 450 stores like Primark, Zara, Hermes, Saks Fifth Avenue, and IT'SUGAR. American Dream Mall also features some 200 tenants for parents' convenience and the best shopping experience. 
2. Mall of America, Bloomington, Minnesota - 2,869,000 sq. ft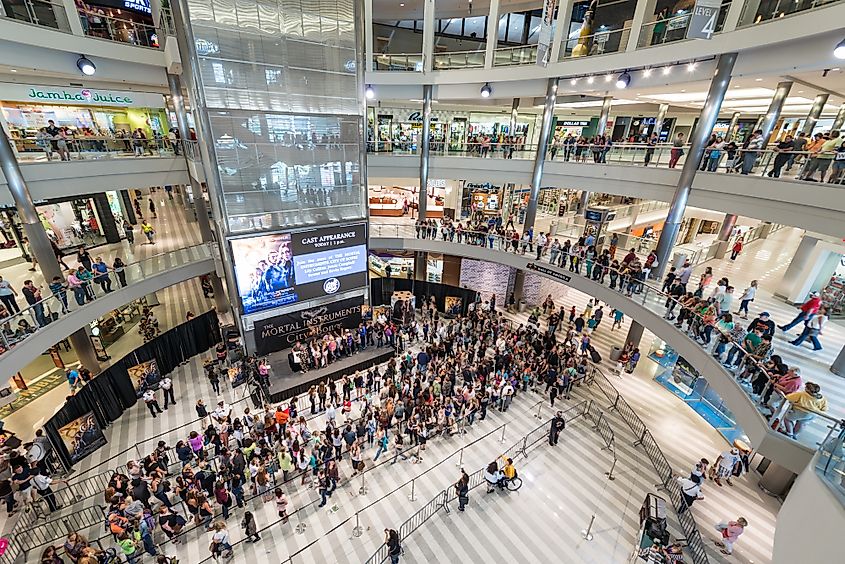 The largest shopping mall in the country has over 520 stores, including luxury stores and fashion boutiques, as well as Marshalls, Macy's, and Nordstrom. One of the world's largest shopping malls is an urban jungle with a yearly average of 40 million globe-trotters and nearly every other visitor, a tourist. It is impossible to explore the whole 5,600,000 square feet of the mall in one day, with a required MOA rendezvous to enjoy all its flair. The mega mall was opened in 1992 under the ownership of the Triple Five Group. The impressive mall is an attraction in itself, just 15 minutes away from downtown Minneapolis and St. Paul, in Bloomington. Aside from the country's best retail therapy, there are over 50 eateries and the largest Nickelodeon Universe amusement park in the US with 24 rides. There is also an aquarium housing 100 sharks among 4,500 other sea-dwellers.
3. King of Prussia, Pennsylvania - 2,793,200 sq. ft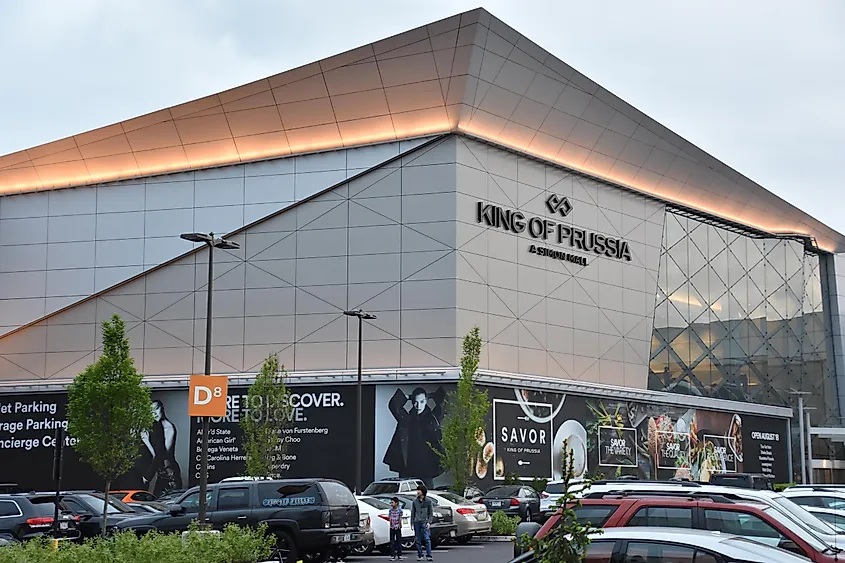 King of Prussia Mall is based in King of Prussia, just outside of Philadelphia. It boasts nearly 3 million square feet of space for shopping and fun experiences. The mall opened in 1963 as two separate and distinct buildings of The Plaza and The Court, under Simon Property Group ownership. Quickly becoming a favorite pastime place among locals, it expanded into one of America's largest shopping malls in 2016.The East Coast's largest mall with over 450 stores sees and treats 20 million visitors like royalty with events, plants, venues, as well as 40 restaurants. King of Prussia is home to luxury retailers, specialty shops, eight major department stores, and three food courts for endless meandering. The shopaholic's wonderland is one of the state's biggest attractions frequented by 20% of tourists in Philadelphia.
4. South Coast Plaza, Costa Mesa, California - 2,738,730 sq. ft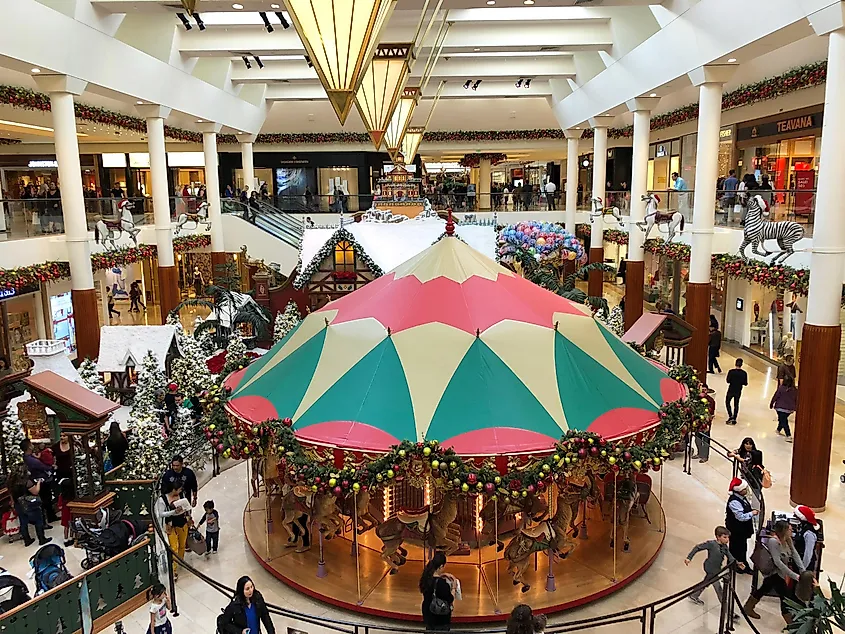 The Segerstrom family's South Coast Plaza in Costa Mesa is the second-largest family-owned mall in the US and the fourth-largest overall at 2,738,730 square feet. It is a shopper's paradise with 280 stores, including Macy's Main, Men's, Home, as well as Nordstrom, Saks Fifth Avenue, and Bloomingdale's. There are also critically acclaimed restaurants, marvelous architecture, authentic art galleries, and mastery gardens. Three concierge services to store purchases and personal shoppers round-up the perfect shopping experience.The West Coast's largest mall is California's go-to for luxury and global fashion brands like Alexander McQueen, Givenchy, Gucci, Miu Miu, and Vuitton. There's great window shopping and 30 restaurants to re-energize for more rack-browsing and card-swiping on designer and brand-name items. It is a "runaway" of shopping, along with the Collage Culinary Experience, to diversify time spent with delicious food and more flair of luxury.
5. Aventura Mall, Aventura, Florida - 2,700,000 sq. ft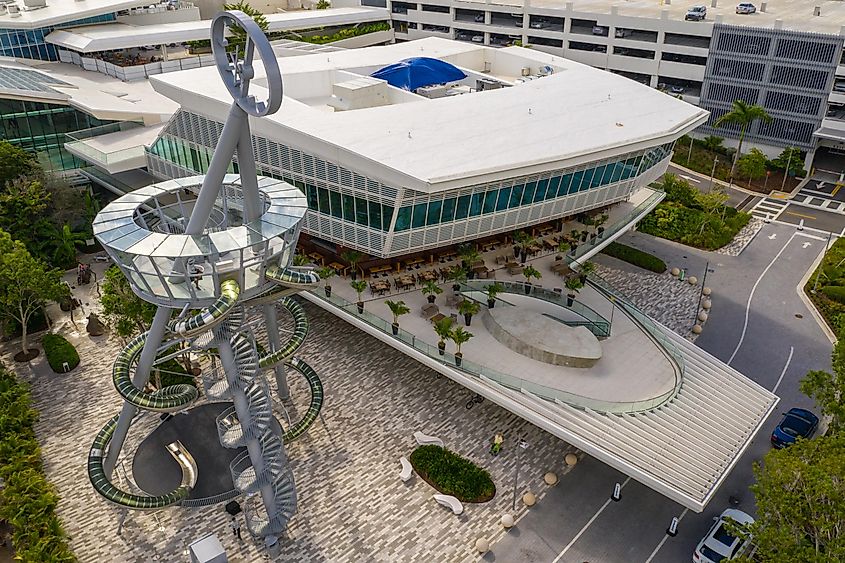 The three-story Aventura Mall is located in Miami's upscale neighborhood. It is a favorite place among the chic locals for high-end designer clothes. The self-branded "Florida's shopping institution" spoils fashionistas with impressive 300 retail stores and six department stores. It is the largest mall in Florida, covering 2,700,000 square feet, with stores like Louis Vuitton, Givenchy, Cartier, Tiffany & Co., and Fendi. Other favorite places to swipe cards include Apple, Anthropologie, and Urban Outfitters, as well as incredible restaurants with fab food. Twenty-eight million people visit Aventura Mall annually for shopping opportunities, eating, and amazing artwork. It is home to pieces like Louise Bourgeois' Eye Benches, Donald Baechler's Walking Figure, and the popular Aventura Slide Tower by Carsten Höller, a working slide. 
6. Del Amo Fashion Center, Torrance, California - 2,600,000 sq. ft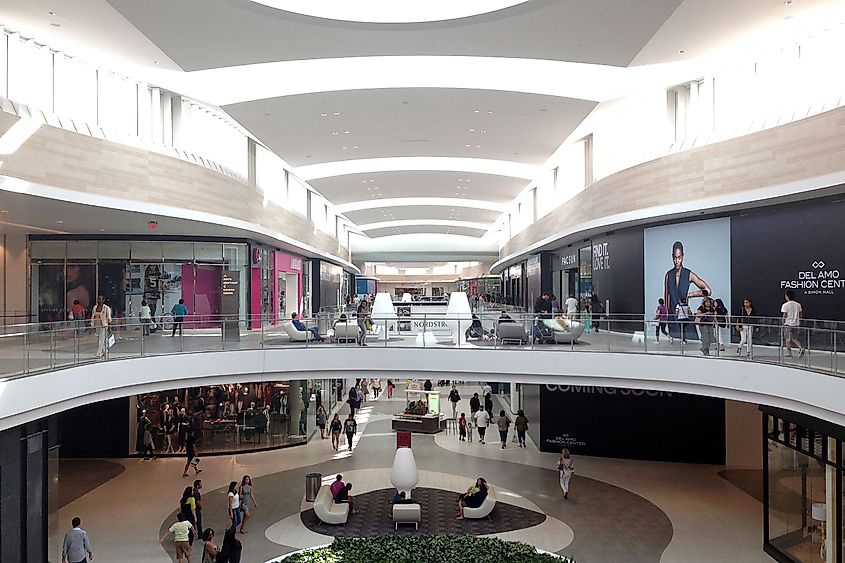 The telling-name shopping center in Torrance, Golden State, boasts grounds of 2.6 million square feet. The promising moniker delivers over three floors of luxury retail space. It was established in 1961 for an upscale shopping experience, including clothes, jewelry, shoes, and accessories. The chic mall's wealth of stores include Michale Kors, Arhaus Furnishings, alongside Lululemon, J. Crew, and Adidas. There are also the favorites Zara, H&M, Express, and Forever 21, and big names like Nordstrom, JCPenney, Marshalls, and Macy's. Entertainment-seekers will love the multiplex theater, fitness center, countless dining choices, a home center, and monthly events filling up the space. Del Amo Fashion Center's Outdoor Village is a palm-lined paradise for relaxing strolls under the sun whilst browsing its trendy shops. 
7. The Galleria, Houston, Texas - 2,400,838 sq. ft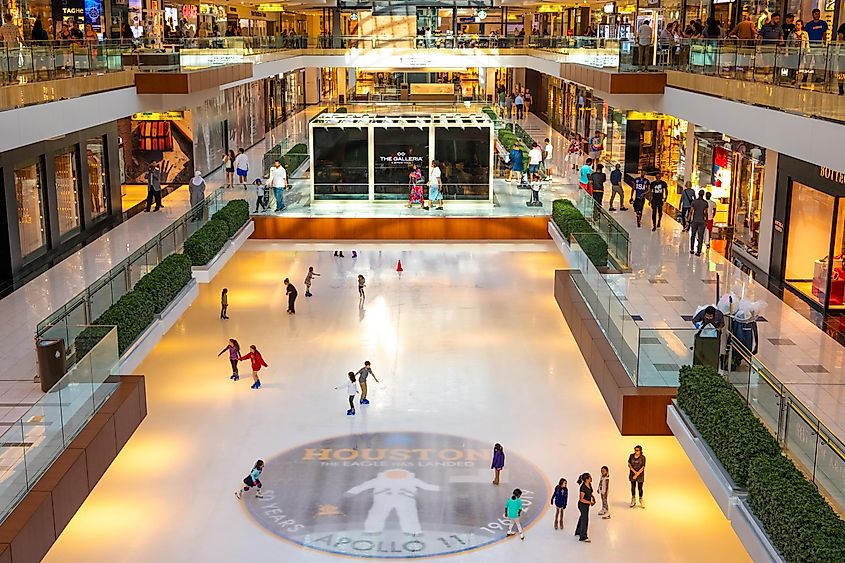 The Galleria is an immense center with a vacation-worth of hot spots and over 400 stores. There are incredible on-site restaurants, two high-rise hotels, abundant recreation, a full-sized ice rink, and two swimming pools. Its promising services deliver with valet parking stations, an on-site post office, and seven beauty salons for time management and convenience. The welcoming vibe extends into affordable finds alongside all of the luxury boutiques. There are Neiman Marcus and Saks Fifth Avenue's flagship stores and departments of Macy's, Nordstrom, and Dillard's. Texas' largest mall, also known as Houston Galleria, is owned by the Simon Property Group and Sony Corporation. The tourist destination for good eats, fine clothes, and great deals is located in the Uptown District of Houston.
8. Destiny USA, Syracuse, New York - 2,400,000 sq. ft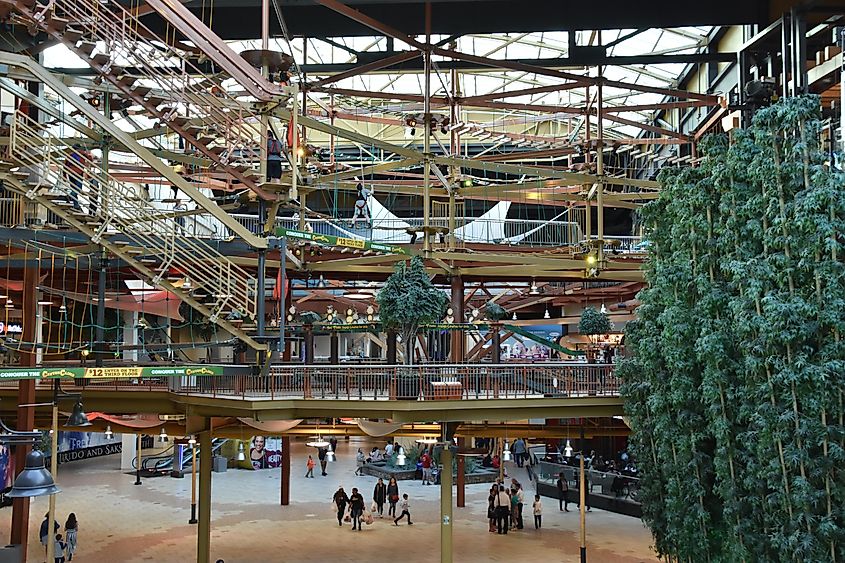 Destiny USA was opened in 1990 in Syracuse with 26 million annual visitors for its array of stores, services, and fine dining. The eighth largest mall in America covers 2,400,000 square feet, including an underground floor. It is a unique family-friendly center full of activities and attractions, with more than 250 spots for shopping, eating, and playing. Destiny USA is an ideal mall for a family to spend a day and return for more adrenaline-packed entertainment. The six-story giant, also known as the Carousel Center, is home to an antique carousel, Margaritaville, an arcade at Dave and Buster's, a go-kart track, and WonderWorks world's largest suspended ropes course.
9. Roosevelt Field, Garden City, New York - 2,300,000 sq. ft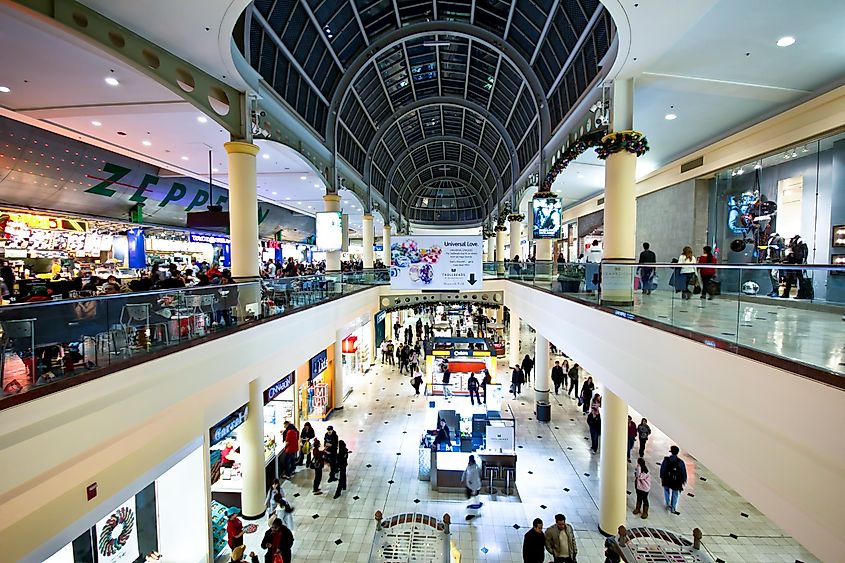 Roosevelt Field is a unique mall built on an airfield in New York, hence the name. It was originally designed as a single-level open-air shopping space by Simon Property Group but transformed into a two-level closed mall. Opening its doors to the public in 1956, the skylight windows still give a unique atmosphere of shopping outdoors. The ninth largest mall in the US at 2.3 million square feet is home to over 270 stores, an incredible food court, and popular eight-venue cinema.Aside from a great selection of stores and pastimes, the mall is an architectural marvel in itself, famously designed by I.M. Pei. One can find this NY beauty and the state's second-largest shopping mall at 630 Old Country Road in Garden City. The breathtaking mall with a unique vibe offers ideal refuge from the daily being through retail therapy, delicious eats, and movies galore. 
10. Sawgrass Mills, Sunrise, Florida - 2,273,898 sq. ft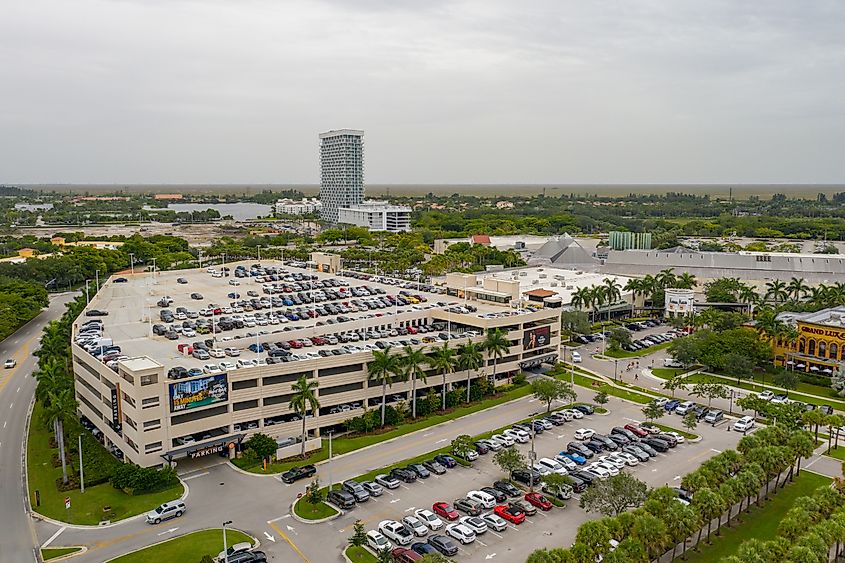 Sawgrass Mills, the largest outlet mall in the US, was created and owned by Simon Property Group. It is known for unforgettable shopping experiences within an alligator-shaped 2,273,898 square feet of space. The unique grounds, with three distinct parts of the central mall, an outdoor shopping area, and a wonderful "Oasis," offer myriad stores and a wide range of activities.Sawgrass Mills is a beloved destination for laidback time spent among family and friends. Luxury brands alongside affordable finds and galore of deals will satisfy any budget, group, and style. The huge mall in the city of Sunrise, Sunshine State, welcomes fashionistas, window shoppers, and bargain-finders.
These giant malls comprise real attractions in their states, offering much more than just retail therapy. One will be awestruck by the unforgettable spaces for an all-in-one experience during the most fun and memorable time spent with close people.