The Labrador Peninsula is a large peninsula in North America, located in eastern Canada and separated from the Baffin Islands by the Hudson Strait. The peninsula, also known as Quebec-Labrador Peninsula, contains Quebec and Newfoundland and Labrador Provinces. It is the world's 6th largest peninsula, with an area of approximately 1.4 million square kilometers. The peninsula is bordered by Canada's three major water bodies: the Labrador Sea, the Gulf of Saint Lawrence, and the Hudson Bay. The Labrador Peninsula's terrain is generally flat, except for the three major mountain ranges. The original inhabitants of the peninsula were the Cree people, who called their country "Nitassinan."
Geography
With an area of approximately 1.4 million square kilometers, the Labrador Peninsula accounts for about 14% of Canada's total area. The peninsula is connected with the mainland in the southwest and surrounded by sea on all the other sides. Its western coast is on the Hudson Bay, and the eastern coast is along the Labrador Sea. The Gulf of Saint Lawrence borders the peninsula to the southeast, while the Hudson Strait on the north separates it and Baffin Island. A lesser peninsula, known as the Ungava Peninsula, extends from the main peninsula's northwestern part, separating the Hudson Bay on the west and the Ungava Bay on the east. Cape Wolstenholme, Labrador Peninsula's northernmost point, is located on the lesser peninsula.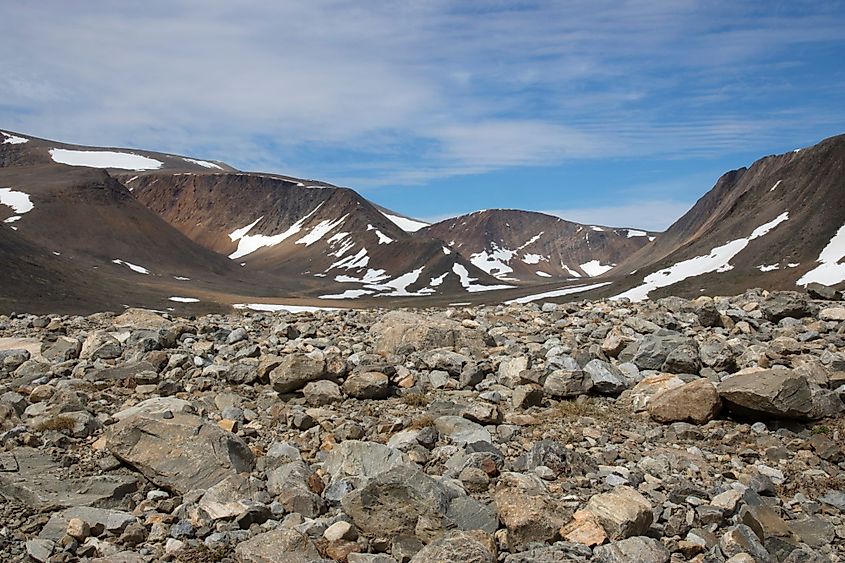 The Labrador Peninsula is a high plain (plateau) with several mountain ranges, including Otish, Torngat, and Laurentian. The Torngat Mountains dominate the peninsula's northern part and contains Mount Caubvick, the region's highest peak at 1,652 meters. Torngat Mountains National Park is the only national park on the peninsula. It covers part of the Torngat range. The peninsula contains Labrador (a region within Newfoundland and Labrador) and Quebec's Nord-du-Quebec, Cote-Nord, and Lac-Saint-Jean regions. 
Hydrology
The Labrador Peninsula is a plateau contained almost entirely within the Laurentian Plateau (Canadian Shield) and crossed by several river valleys. The Canadian Shield is a principal water source for the thousands of lakes and rivers on the peninsula. The largest lake in the region is the Smallwood Reservoir. It is Newfoundland and Labrador's largest reservoir and the world's second-largest, spanning 6,527 square kilometers. However, Lake Mistassini in Quebec is the Peninsula's largest natural lake, with a surface area of about 2,335 square kilometers. Other major lakes on the peninsula include Ashuanipi, LG-3, Lake Minto, and Lac Bienville. At 900 kilometers, La Grand River is the longest river on the Labrador Peninsula. Other notable rivers include Rupert, Eastmain, and Churchill Rivers. 
Brief History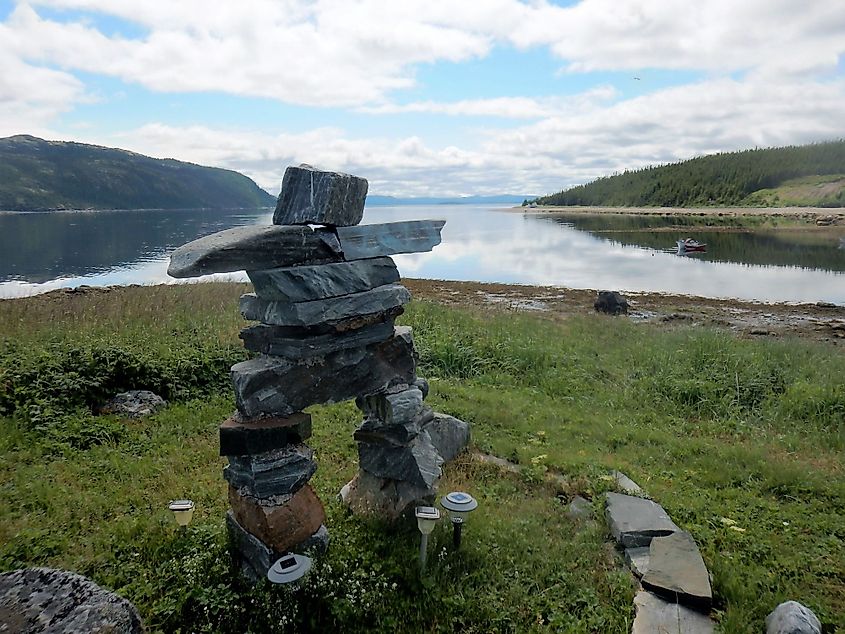 The Labrador Peninsula was named for Joao Fernandes Lavrador, a Portuguese explorer who first spotted the peninsula in 1498. "Lavrador" is a Portuguese name for "farmer," while "Labrador" is a Spanish word for "agricultural worker."  The Cree people, mainly the Innu Nation, were the inhabitants of the Labrador Peninsula before the European arrival. Currently, they are the largest First Nation group in Canada, with over 200,000 members.  The Innu people, also known as Montagnais, named their country "Nitassinan," meaning "our land." Besides the Innu people, the Naskapi, Nunatsiavut, Inuit, and NunatuKavut also inhabited parts of the peninsula.