Road-construction Spree In Asia Could Mean The End Of The Road For Tigers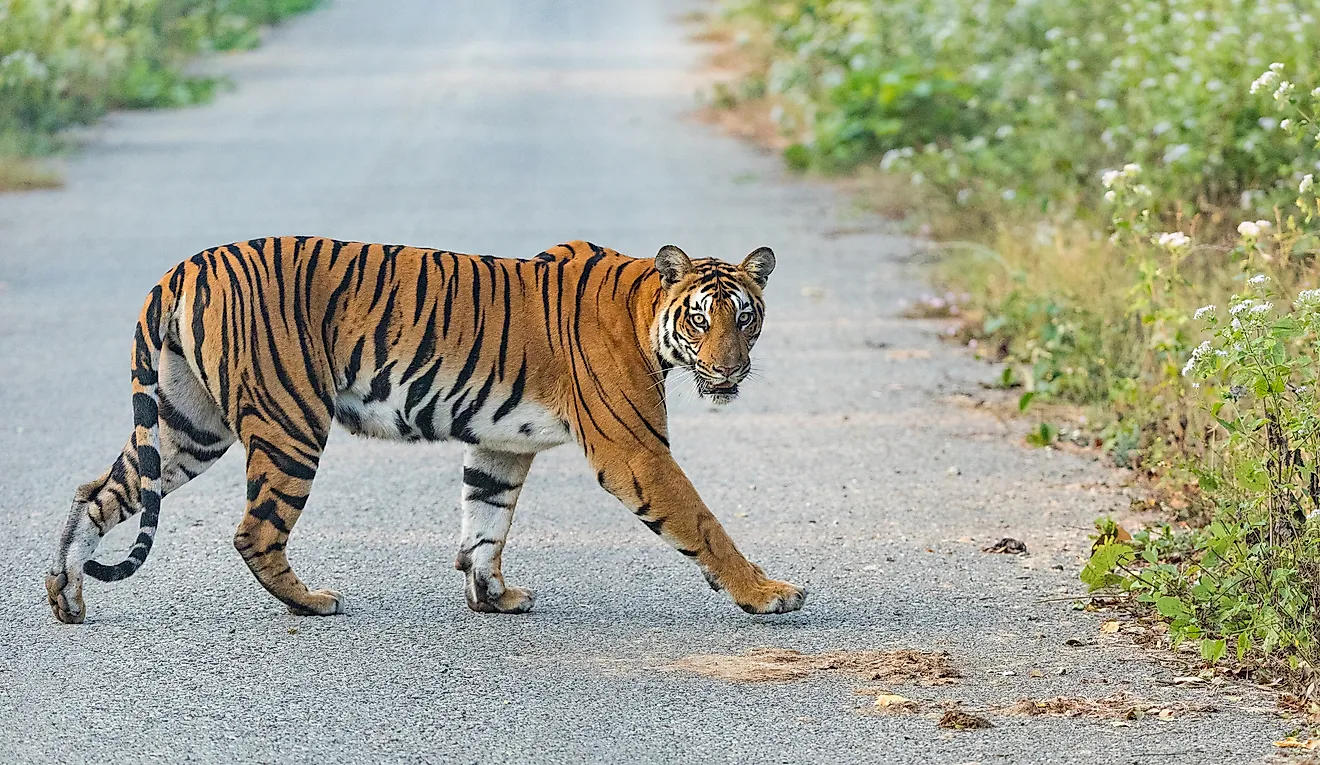 Throughout history, humans have worked hard to connect, establish trade, and explore new destinations. And thus were born the roads of the world. Today, expansive road networks bring people together across national and international boundaries. We simply cannot celebrate our modern human advances and achievements without crediting our road networks. However, in our excitement to drive forward, we have forgotten that these very roads that we take pride in might predict our future doom. By wrenching apart our vital forest habitats, and making our flora and fauna vulnerable to exploitation by opportunistic members of our species, these ever-growing road networks will deprive us of our natural capital - assets like clean air, water, and forest produce that make our life possible.
In this article, we discuss how existing, planned, and proposed roads in Asia might be killing the tigers (a conservation umbrella species) of the continent. With inputs of experts from the United States, India, and Nepal, World Atlas attempts to elucidate the gravity of the situation and how it will impact our well-being in the coming decades.
The Dire Impact Of Roads On Asia's Wild Tiger Population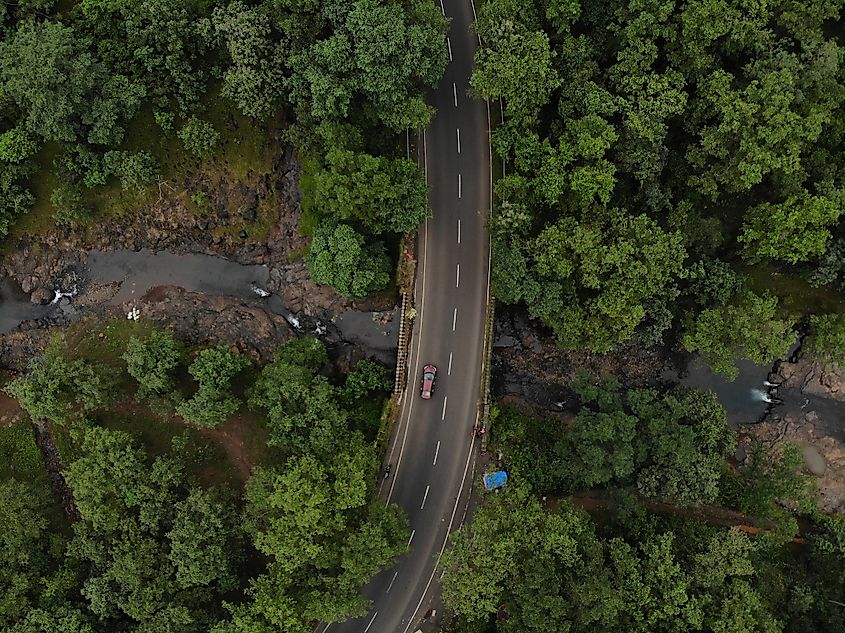 A recent study published in Science Advances by researchers from the University of Michigan, Boise State University, and the University of British Columbia, revealed the existing and potential threats posed by Asia's ever-growing road networks on the continent's highly threatened tiger populations. World Atlas spoke to Dr. Neil Carter, Assistant Professor, Department of Fisheries and Wildlife, Michigan State University, and the lead researcher of the study about what first triggered him to explore the link between threats to tigers and growing road networks in Asia.
"Where I do field research in Nepal, I witnessed that new road and rail construction was threatening to degrade tiger habitats there. I soon discovered that Asia was experiencing a road-building boom. So, I became interested in understanding how many roads there are in tiger habitats and to consider ways for making road development more sustainable in the future," he said.
The study focussed on 76 zones (Tiger Conservation Landscapes or TCLs) spread across Asia's 13 tiger range countries, and measured factors like relative mean species abundance, road density, and distance to the nearest road in such landscapes using available global datasets. It also analyzed reports to forecast the length of new roads to be built in the continent's tiger habitats by 2050.
The research exposed some intense facts. Here is a summary of the same:
Over 134,000 km of roads already exist within Asia's Tiger Conservation Landscapes (TCLs) including protected areas. However, information about logging or local roads were absent in the global data set used by the researchers.
Road density in protected and non-protected areas across the TCLs averaged 154 m of road per sq km and 115 m per sq km, respectively.
Around 43% of the areas where tiger-breeding had been detected occur within the road-effect zone.
Existing road networks in tiger habitats might be reducing tigers and their prey populations by around 20%.
By 2050, nearly 24,000 km of new roads are to be built in Asia's TCL's.
Tigers across much of their range in the 13 Asian countries face mounting threats from expanding road networks.
Tiger source populations in protected areas are becoming increasingly isolated with road networks cutting off such populations from each other. However, tiger population recoveries demand the need to use forests outside the protected areas as well.
Even protected areas are not completely immune to road development.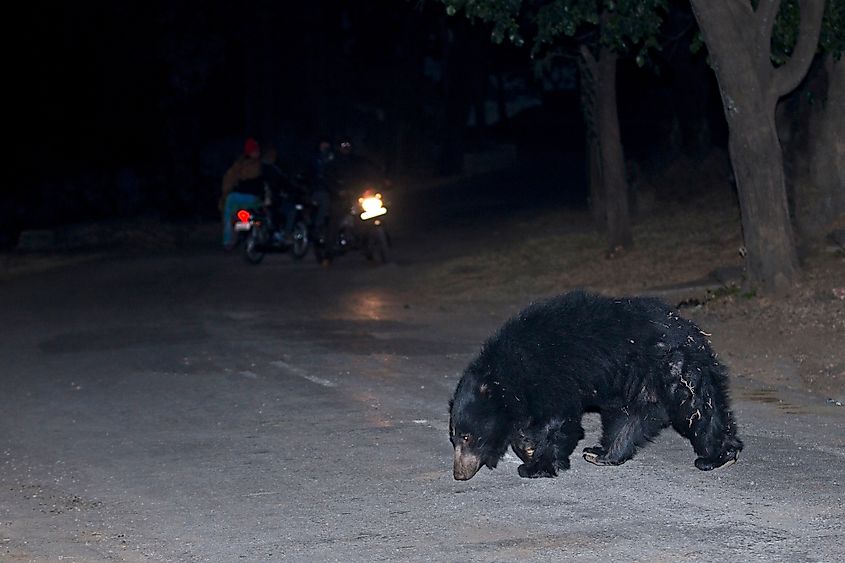 The above findings of the study are quite concerning as it becomes clear that the already endangered tigers face an uncertain future replete with various threats including the much-feared road-building boom. So, what mitigation measures need to be adopted to dampen the threats to these animals? We look to Dr. Carter for an answer:
"Prohibiting road development from priority tiger populations and other 'no go' zones, such as tiger reserves or habitat corridors. Besides, zoning can be used around infrastructure to prevent settlement growth and forest loss. Environmental impact assessments for road projects can better evaluate how new roads might exacerbate hunting and poaching pressure on tigers and their prey. Screening proposed road developments by these tiger-friendly criteria should be done very early before it is too late to influence road planning. For existing roads, options include the closure of vehicular traffic at night, decommissioning existing roads from areas with important tiger populations, road signage indicating the presence of tigers, and construction of wildlife crossings to allow tigers and other wildlife to move freely in the landscape," he said.
Dr. Carter also sends out a message to the authorities involved in or influencing Asia's road-building projects: 
"Once roads are built they have lasting impacts on ecosystems and biodiversity. Humanity relies on healthy ecosystems, and therefore maintaining their health also supports social welfare. I don't think we should underestimate what is lost when ecosystems and biodiversity are degraded by roads. A better accounting of these cumulative, long-term impacts from road development can facilitate more sustainable infrastructure planning," he mentioned.
How Linear Infrastructure Jeopardizes The Lives Of India's Royal Bengal Tigers
While Dr. Carter's study covers 13 Asian countries with tigers, it is very crucial to understand the impact of roads on India's tigers as the country is home to 2,967 tigers (as per the 2018 census) representing more than 70% of the global wild tiger population. Given the figures, it cannot be denied that India has performed exceptionally well in conserving the species. Conservationists attribute the success to India's age-old culture that integrates respect for animals as a core value, and the Project Tiger initiative (launched in 1973) that pioneered a wave of conservation actions like the establishment of the National Tiger Conservation Authority (NTCA) to save India's tigers. However, the country's rapidly-developing economy fosters a spiraling need for more robust linear infrastructural facilities. And that leads to more roads cutting through India's TCLs.
The above-mentioned research study presents some disturbing facts related to the effect of roads on India's tigers. They are as follows:
India, having over 16% of global TCL area, will add 14,500 km of roads in TCLs by 2050, the highest among the 13 tiger-range countries. It will be a 32% rise from current levels.
India's protected areas have the highest road density than those in the TCLs of other tiger range countries. 
India has lost 10 tigers to vehicle collisions from 2015 to 2017. This number is possibly an underestimate and true figures are higher.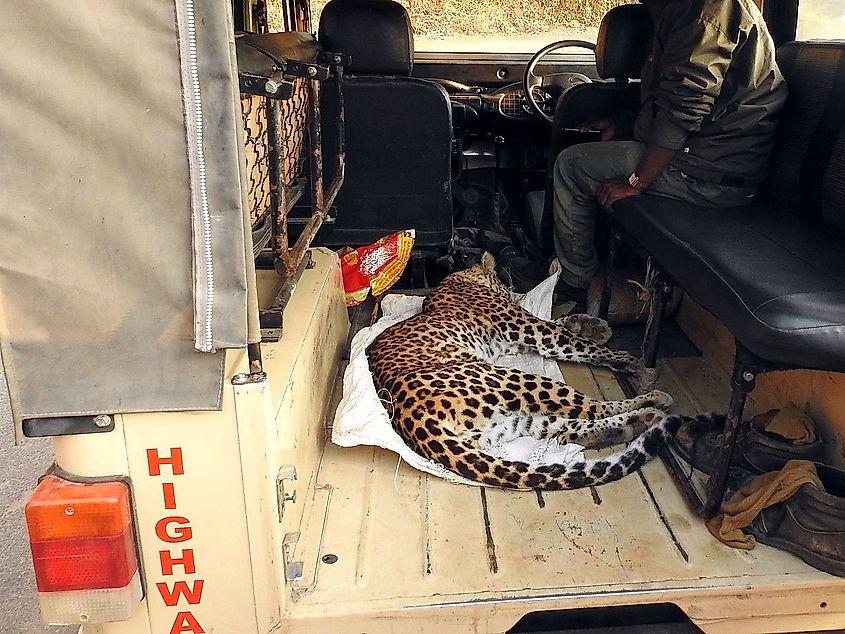 To learn more about the impact of existing and future roads on India's tigers and other wildlife we turn to Dr. Anish Andheria, President and CEO of Wildlife Conservation Trust, and one of India's leading tiger conservationists. 
"India already has the second largest road network on Earth, the largest being that in the USA. India is building approximately 28 kilometers of four-lane or six-lane highways per day. This is likely to cross 40 kilometers per day in the near future. In light of this unprecedented growth in road networks, India will overtake the USA in about a decade. Many of these roads will sever existing wildlife corridors; eco-sensitive zones and some may even intrude into critical wildlife habitats. A similar trend is likely as far as railway lines; canal systems and power lines are concerned. Collectively, these four linear infrastructures impact not only tigers but also several other animals and plants in multiple ways – they drastically reduce free movement or increase resistance to movement of wildlife across their ranges; they hugely enhance the probability of accidents (while large mammals are visibly impacted, un-mitigated roads and railway lines are a death knell for reptiles, low-flying birds, frogs, butterflies (pollinators) and small mammals such as monkeys, civets, small cats, jackals, wolves, squirrels, porcupine, wild pig etc.; they also allow humans with easy access to the forests, increasing the rate of poaching, illegal logging and incidence of fires; they assist in accidental introduction of alien species of plants (such as – lantana, eupatorium, parthenium etc.) and animals, devastating native populations; they will play a big role in reducing the population of wildlife which is already reeling under stress from other demons such as forest degradation, poaching, forest fires and infectious disease; they will also act as aggregators for future urbanization; and much more," said Dr. Andheria.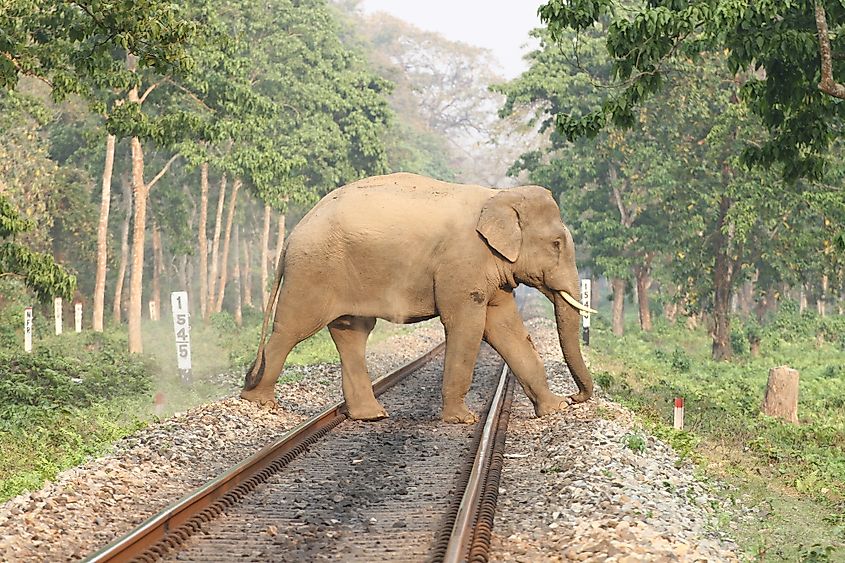 Given the precarious situation, what is India doing to mitigate the threats to its wildlife from linear infrastructure? Here is what Dr. Andheria had to say:
"India has made giant strides in looking at the impact of linear infrastructure on wildlife. In fact, due to joint efforts of Forest Department, NGOs, Wildlife Institute of India, Highway Authority and State Governments, some of the first well-planned mitigation structures are already in place on a national highway that is cutting through a tiger corridor in one state and passing through the buffer zone of a tiger reserve in the other. There is a white paper titled "A policy framework for connectivity conservation and smart green infrastructure development in the Central Indian and Eastern Ghats tiger landscape" published by our organization that has mapped all roads, railway lines and canals that are either cutting or will cut existing tiger corridors in eight states constituting central India. We are soon coming up with similar documents for the Western Ghats and North-east India. We are doing this so that the government can commission studies along these project sites in advance, and thereby get a clear estimate of the cost and number of mitigation structures on a stretch of the road that is cutting a corridor, and is able to factor the same in the overall project budget right at the time of inception." he said.
"Additionally, the Wildlife Institute of India, supported by MOEFCC, NTCA and National Highway Authority of India (NHAI) came up with a set of guidelines titled "Eco-friendly measures to mitigate impacts of linear infrastructure on wildlife." This document is the first of its kind in South Asia. So, it is clear that India is at the forefront of initiating a serious dialogue to achieve a balance between rapid infrastructure development and wildlife conservation. Having said this, there is a long way to go as, while few states are following these guidelines, a majority of them are turning a blind eye. A stronger people's voice will be needed in these states to translate guidelines into adequate on-ground action," continued Dr. Andheria.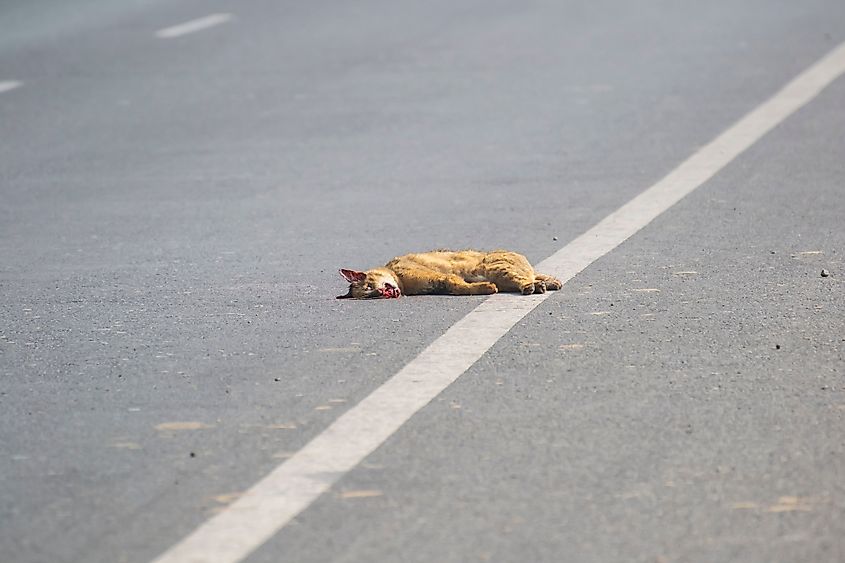 Dr. Andheria also spoke of the challenges faced by conservationists in convincing authorities to build linear infrastructures in a more responsible manner keeping in mind the integrity of India's wild habitats:
"The first and foremost argument of the authority is that 'there is no provision in the budget for mitigation structures.' Another argument is that 'there are culverts and bridges for passage of stream/rivers and that they will double up as underpasses for wildlife. Why should one provide for separate underpasses for animal movement?' The classical one is 'we cannot slow down development when there is so much unemployment, in the name of conservation' this is generally coupled with 'why save tigers (read wildlife) when so many people are dying of poverty.' I believe that with proper planning and scientific studies on existing and proposed infrastructures, the government will be able to set aside a conservation budget at the inception of each project so that no corners have to be cut because of lack of funding. Our estimate indicates that if planned in advance, mitigation structures will contribute significantly to the total cost of the project, than if carried out as an after-thought," he said.
What are the mitigation measures that need to be adopted to overcome the stress imposed by a growing road network in India's TCLs? Dr. Andheria mentions them below:
Wherever possible, linear infrastructure should be realigned so that it does not cut Protected Areas, buffer zones of tiger reserves or corridors. 
Exiting roads/railways/canals/power lines passing through Protected Areas should not be widened or expanded. 
As old roads and railways that are currently passing through corridors are expanded, they should be retrofitted with underpasses or overpasses to allow free movement of wildlife. This has the potential to actually improve existing connectivity.
All new roads and railways passing through wildlife corridors should be fitted with underpasses or overpasses or other relevant mitigation structures, based on the existing guidelines. No pressure should be put on stakeholders to dilute these guidelines.  
Most importantly, mitigation structures should be planned keeping in mind the behavioral requirements of wild species found in that area. What is good for tigers is not good for blackbucks and what is good for gaur is not good for elephants. So, timely, scientific studies should be commissioned to collect data on movement patterns of wildlife across all seasons, along stretches of existing roads and railways that are going to be widened. What we at WCT have found out is that contrary to popular belief the cost on mitigation goes down with the increase in good quality data. 
Roads Also Endanger The Lives Of Tigers In Nepal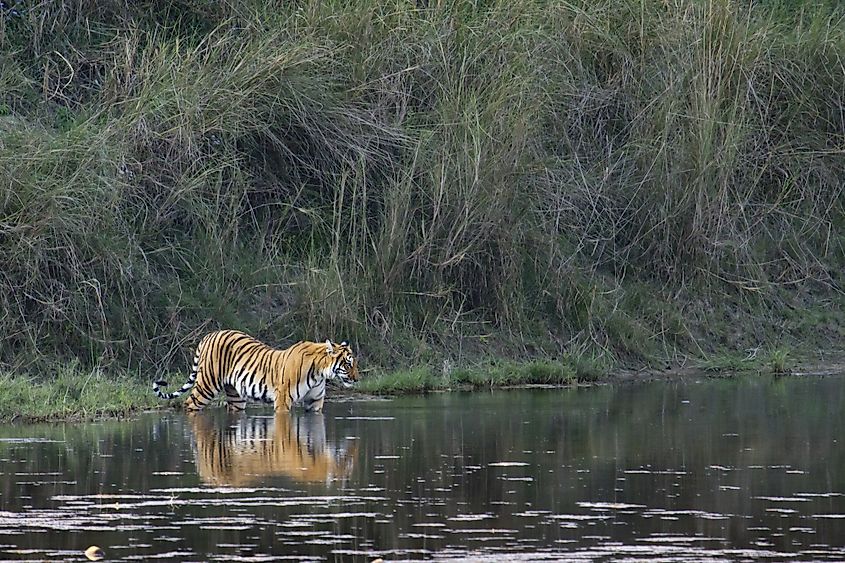 Like India, Nepal has also exhibited great progress in protecting its tiger populations. Today, the country boasts of 235 tigers, a jump from only 120 in 2009. Although 235 looks like a small number, it is still a very significant percentage of the total wild tiger population of the world which is just around 4,000. 
However, as the country's tigers increase in number, so does its roads. As per the research study:
Nepal's protected areas within TCLs have a mean road density (168 m/km2) that is two times higher than that in neighboring Bhutan's nonprotected TCL regions (84 m/km2). 
Nepal plans to build 18,000 km of new roads by 2050, which is an increase of 43% from current levels.
World Atlas speaks with the WWF-Nepal team members - Dr. Ghana S. Gurung (Country Representative), Pramod Neupane (Senior Program Officer-Infrastructure), and Dr. Kanchan Thapa (Conservation Biologist), to learn more about how roads in Nepal affect the tiger populations in the country. 
According to WWF-Nepal: "Tigers in Nepal are most abundant in the Terai Arc Landscape located in the country's southern territory bordering India. Various existing highways cut or buffer through this tiger hotspot of the country. More recently, the government has planned to construct over half a dozen roads that either pass through or touch by Chitwan National Park, a UNESCO World Heritage Site, and home to a significant population of tigers. Infrastructure development, primarily roads, is given high priority by all the three tiers of Government in Nepal. The growing roads fragment and shrink tiger habitats, create barriers to their movement and invite an unintended increase in human activities including illegal logging, poaching, and human-wildlife conflicts. Tigers have also been recorded beyond protected areas where road density is harsh and that definitely has enormous impacts on tigers and their prey species. However, the Government of Nepal's road development authority is now being more adaptive to learning the impacts of roads on wildlife and introduce mitigation measures to ease wildlife flow across such roads."
According to WWF-Nepal, almost 130 road kills of wildlife are reported annually in the highways of the country that pass through protected areas. Most of these accident victims are prey species while around 10% represent carnivores. In recent times, the country has witnessed two cases involving tigers falling prey to vehicular collisions, both taking place in the Mahendra highway crossing through the Bardiya National Park. The first incident happened on December 21, 2016, where a male tiger was killed on spot by a passenger bus while the other took place on January 11, 2019, when another male tiger got seriously injured with broken limbs and jaws after being hit by a speeding jeep."
So, what must be done to ensure the safety of Nepal's tigers in the face of rapidly developing linear infrastructural facilities? Again, we look to WWF-Nepal for an answer. Given below are the points mentioned by WWF-Nepal:
There is always a gap in coordination between the conservationists and development stakeholders in Nepal which needs to be filled in time. 
There is a requirement for an integrated planning approach at a landscape level to ensure environmental and wildlife concerns are well addressed in infrastructure planning to execution phases. 
Terai flatlands are favorable for infrastructure development in a geographically rugged country like Nepal. However, planners and developers must always take decisions ensuring that conservation gains can be sustained in the future.
It is important to form and strengthen stakeholder coordination platforms that represent development planners, conservation practitioners, and private sectors (mainly contractors) and all tiers of government. 
Environment assessment which is a must for infrastructure development in a protected area system should be more strategic and monitoring of the interventions should be more scrutinized. 
To ensure producing quality EIA report and effective execution, the capacity of development planners should be enhanced. 
The higher economic value of environment-friendly linear infrastructures should be communicated to development planners through evidence-based advocacy.
Tigers In Other Tiger-bearing Countries Also Suffer The Same Fate
While the biodiversity in India and Nepal is certainly facing threats from the growing linear infrastructure facilities in these countries, other tiger-bearing countries are also not immune to this menace. In the Far East region of Russia, the Siberian tigers are also vulnerable to vehicular collisions. Bhutan, a small, mountainous country with around 100 tigers, is expected to add 40% more kilometers of roads by 2050. Another major threat comes from the Belt and Road Initiative of China. It is a global development strategy whereby the Chinese government aims to invest in developing infrastructural facilities in nearly 70 countries. Scientists and conservationists are worried that if implemented without necessary precautions, it might severely impact the biodiversity of several countries.
The Way To The Future
So, it becomes apparent from the above discussions that a great deal of research on the impact of linear infrastructure on wildlife survival and its consequent effects on human populations is the need of the day. What should future studies on the subject focus on?
According to Dr. Carter:
"Some future research might include investigating how roads alter tiger movements, hunting success, and mating. How do changes in those fitness-related behaviors translate to population-level effects? What are the cost-effective methods for designing wildlife crossings that are most likely to encourage tiger movement over transportation infrastructure and maintain connectivity?"
At the same time, Dr. Carter also warns us that time is running out.
"Road building is outpacing our efforts to understand its effects on biodiversity and that's a recipe for disaster," said Dr. Carter.
Another important thing that needs to be understood is why tigers become important when learning about the ill-effects of the indiscriminate growth in linear infrastructure. Dr. Andheria provides an explanation but also mentions why just studying tigers might not be enough for achieving a holistic solution for this major conservation issue.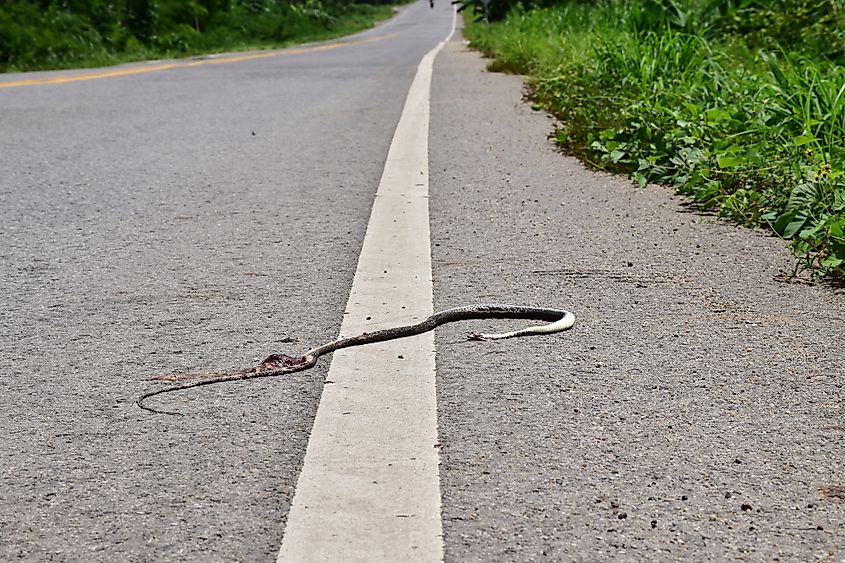 "Tigers are indicators of the health of several terrestrial ecosystems that constitute a large proportion of India. This is because a) they are at the top of the food chain; b) they are found in many different habitat types and elevations; c) they are large ranging (a male tiger can easily have a territory of 50 square kilometers and a home range of 250 square kilometers); d) they frequently encounter linear infrastructure as they move across their range and have a high probability of falling prey to road and rail accidents; e) their population density can be estimated relatively easily and accurately; f) the correlation between tigers, their prey and their habitat is well understood and can act as a proxy for several other coexisting species; g) India has invested considerably on tiger conservation and there is a well-oiled machinery in place at both the federal and the state levels which monitors their populations and habitats. 
Having said this, there are several habitats, such as the trans-Himalayas, deserts, dry scrubland, alpine meadows, etc., where tigers do not exist. In these areas, other representative species have to be used to understand the impact of linear infrastructure on wildlife. These species can even be reptiles or birds," said Dr. Andheria.