The word "shark" often paints a picture of a dangerous, sea-dwelling creature with razor-sharp jaws ready to pounce upon any unfortunate being who happens to approach it in the waters accidentally. However, there is one daring hero among us who is striving hard to change this "monster-like" image of sharks. Jillian Morris-Brake has dedicated her life to saving these misunderstood creatures. For her, sharks are fascinating animals who deserve our respect and not fear. She is a woman of many talents. She is a marine biologist, shark conservationist, explorer, educator, and scuba instructor. Jillian has featured on Shark Week and filmed for numerous television shows and networks. She was named the July 2016 Sea Hero by Scuba Diving Magazine. In 2017, she received the inaugural Shark Con Shark Hero Award. She has also authored a book called Norman, the Nurse Shark. She is the founder of Sharks4Kids, an organization that educates and inspires children and youth across the world to conserve sharks and other marine wildlife.
In this interview with World Atlas, Jillian tells us about how she built a career out of her passion for the marine world. She now utilizes her knowledge in the field to spread awareness among the masses about the need to conserve sharks.
How were you as a child? How was your relationship with the sea and its marine life during your childhood days?  
I grew up in Maine and spent a lot of time at the beach. I spent hours crawling through tide pools and exploring. I was fascinated by every creature I noticed from snails to crabs. I got books so I could identify the shells I discovered and all the tide pool animals. I loved all the animals, but there was something special about those living in the ocean. 
Who or what inspired you to take the "plunge?" When did you first start diving to explore the magical world of marine life? What was your initial reaction? 
I grew up on a lake and was an absolute water baby. My dad had an old snorkeling mask when I was a kid, and I remember trying it out in the lake. I got my very first mask when I was nine. I think I still have it! We went to Florida every year for my dad's work, and that is where I got to snorkel for the first time. I was mesmerized. We saw manatees, rays, sharks, and loads of fish. After that trip, I did a project for school about being a marine biologist. That trip catalyzed a lifelong passion. As I grew up reading ocean books and watching documentaries, I knew I had to learn to scuba dive. I finally got the chance while at university, and it transformed my life. 
When and why did sharks, one of the world's most feared predators, make their way to your heart? 
On that trip to Florida with my family, I saw a juvenile nurse shark and immediately became obsessed. I wanted to learn more; it started a life long journey to work with sharks.
How was Shark4Kids born? What were your initial goals? How have they evolved?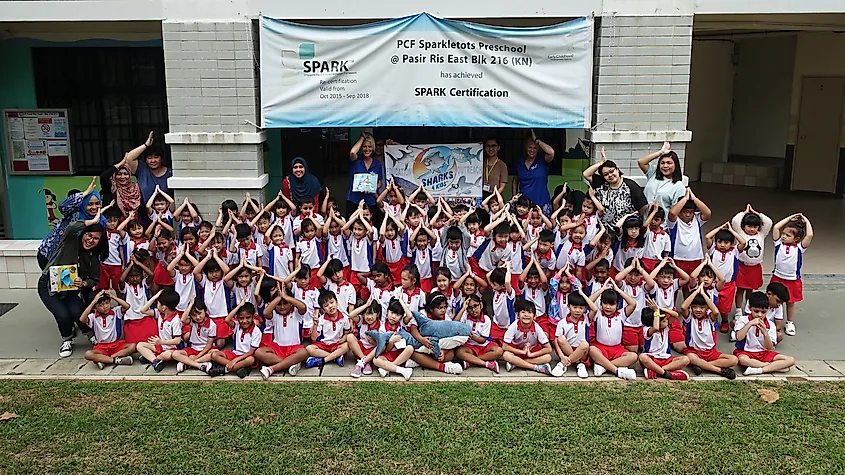 Photo: Sharks4Kids teaching students in Singapore about sharks; Image Credit: Sharks4Kids
Sharks4Kids evolved over several years. Starting in 2005, I was traveling the world as a biologist and shark dive guide but would always visit schools when I got home. I loved speaking to kids about the amazing animals I got to work with. I had heaps of images, which got the kids excited. I looked for activities for teachers, but couldn't really find much. I had the random idea of combining my science and media background to create activities and lesson plans, but life got busy, and I was traveling a ton. I began talking about it more in 2009, sharing the idea with my husband. Finally, in 2012, he said, "why don't you just do it." 
He is a professional videographer and photographer, so I recruited him to help. I also involved my best friend, who had just finished his Ph.D. research on tiger sharks. We spent a year building a curriculum and a website and launched it on November 7, 2013. Sharks4Kids was a passion project and a way for us to share science and conservation with students and teachers. Our initial goal was to provide free educational materials and to do classroom visits. The journey and evolution have been incredible. We've spoken to over 125, 000 students in 47 countries, have taken hundreds of students to see sharks and participate in tagging expeditions and traveled over 1 million miles via Skype virtual lessons. It's been absolutely amazing, and we are growing and adding more exciting projects each year. 
You love sharks. But has there been any moment during your undersea expeditions when you had a dangerous encounter with one of them?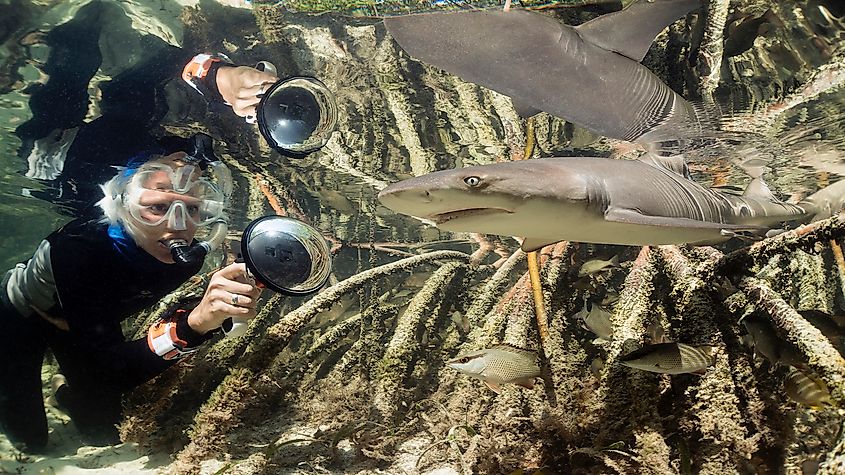 Photo: Jillian photographing a juvenile lemon shark in Bimini; Image Credit: Duncan Brake 
I have not. They are wild animals, and they deserve our respect. We watch their behavior and movements, and if we see a change, we get out of the water. It's really about respect. We do not try and ride them or wrestle them, but simply enjoy the moment we have. It's so remarkable that we can really spend time in a foreign world with these magnificent creatures. 
If there are three things that sharks/underwater life has taught you, what are they? 
1. Slow down and watch. We rush through life with deadlines and expectations. Underwater we disconnect, and the world slows down. 
2. Just keep swimming- although not all sharks have to swim to breathe, many do. Life can be tough, but we have to keep going. 
3. We have to do better. We have to take care of the oceans and our planet. 
What is your message to all those who are terrified of sharks and consider them nothing less than "sea monsters?"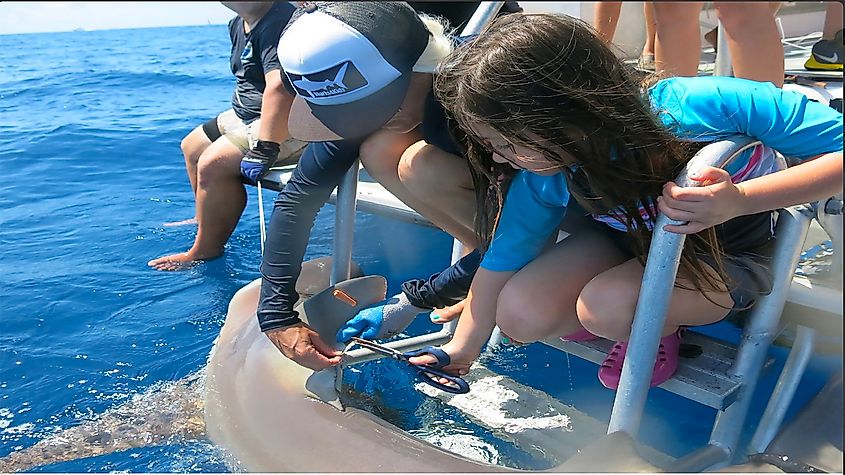 Photo: Jillian teaching a student how to take a DNA sample from a shark during a Sharks4Kids/GHRI Shark tagging trip; Image credit: Duncan Brake
Do your research. Shark bites are very rare, but unfortunately, they are portrayed as monsters and man-eaters. Take the time to learn about the over 500 different species. Even better, go snorkel or dive with them. Seeing them up close in their world has changed the perception of so many people I've dived with. Watch their eyes, their movement, and see how magnificent they really are. I guarantee it will change the way you feel. 
Have you faced any significant challenges in your journey so far? If so, what are they?
Absolutely. Being a female in 3 male-dominated industries (marine science, filming, and diving) has offered bundles of challenges and obstacles. Growing up, I didn't know any woman who did what I wanted to do. I even changed universities because I was given no support and told to pick a different career. Also, building a business from scratch with zero business experience has provided a ton of challenges, but it's been worth it. I have learned so much and have grown. I created my career and love what I do. 
Who or what has given you strength and courage to continue your efforts to conserve sharks?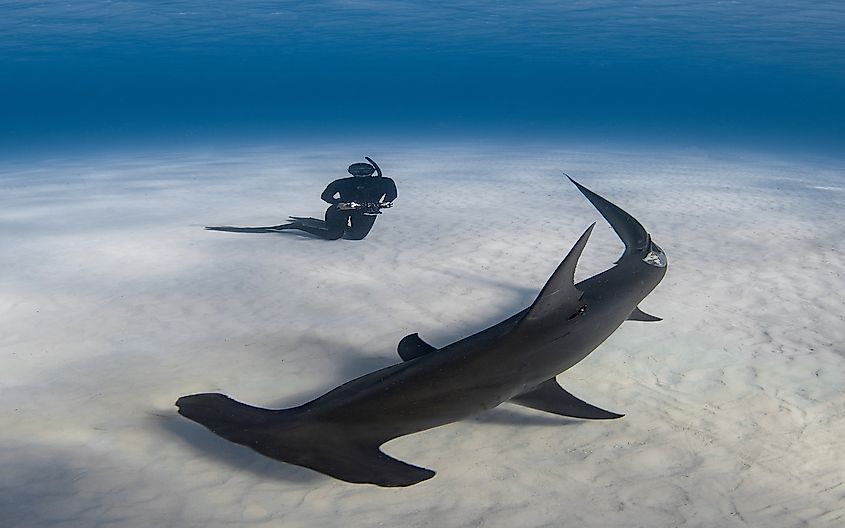 Photo: Jillian freediving with a great hammerhead; Image Credit: Jason Washington 
Kids give me hope and courage every single day. I created Sharks4Kids because I believe kids can save sharks. They are passionate, empathetic, and are taking action. They are far more powerful than they realize, and they inspire me, no matter how tough some days can be. 
How do you see yourself and your work 10 years from now?
I will be growing Sharks4Kids and doing even more projects. We are launching some exciting projects in 2020 and expanding our reach. I am excited about the coming years and can already visualize our future activities that will involve more schools, more countries, more programs, etc.