There is a new wildlife initiative operating on Facebook, and it brings with it a warm and cozy way to shower care on vulnerable baby animals as well as a way to show gratitude to their human caregivers.
Blankets For Baby Rhinos was founded in November 2016 by Sue Brown (who has been involved in rhino conservation for 25 years) and Dr. Elisa Best, a veterinary surgeon.

"The group was started quite by chance by myself and my friend Sue", Dr. Best informed World Atlas.
"We had been in communication for a while about rhino conservation and I had helped her sell lapel pins to raise funds for rhino orphanages and anti-poaching units in South Africa. Once the project ended, Sue, knowing that I could knit, suggested that I, with the assistance of a few friends, knit some squares to make a few blankets for a rhino orphanage in South Africa. The warmth of the blankets helped the baby rhinos, [who are] often brought to the orphanage in severely traumatized conditions, settle in. We then started posting about the work on Facebook and got an overwhelming response from others wishing to be involved in this activity. Thus, we set up a Facebook group called "Blankets For Baby Rhinos" where all information would be in one place," she says.
Nursing Animals Poached, Leaving Baby Rhinos Abandoned
Sadly, poaching continues unabated in many parts of the world today. The cruel act often claims the lives of many wild animals including those of nursing mothers. The offspring of these animals are usually unable to survive unattended and die a tragic death. Those who are lucky enough are brought to orphanages and other charities where attempts are made to nurse them back to health. One of the basic needs of these baby animals is usually their mothers' warmth, which is always lacking. To make up for it, the caregivers try their best to keep the babies warmth. The blankets donated by "Blankets For Baby Rhinos" go a long way in serving this purpose.
For example, when a sudden cold front descended on Myanmar in December last year, the harsh weather hit the Winga Baw Camp for orphaned elephants where the caregivers kept the baby elephants warm using straw and the blankets donated by "Blankets For Baby Rhinos".
In another part of the world, young rhinos at the Rhino Revolution orphanage in South Africa also greatly benefitted from the benevolent act of the members of the "Blankets for Baby Rhinos." The blankets helped keep the rhinos healthy and their wounds clean.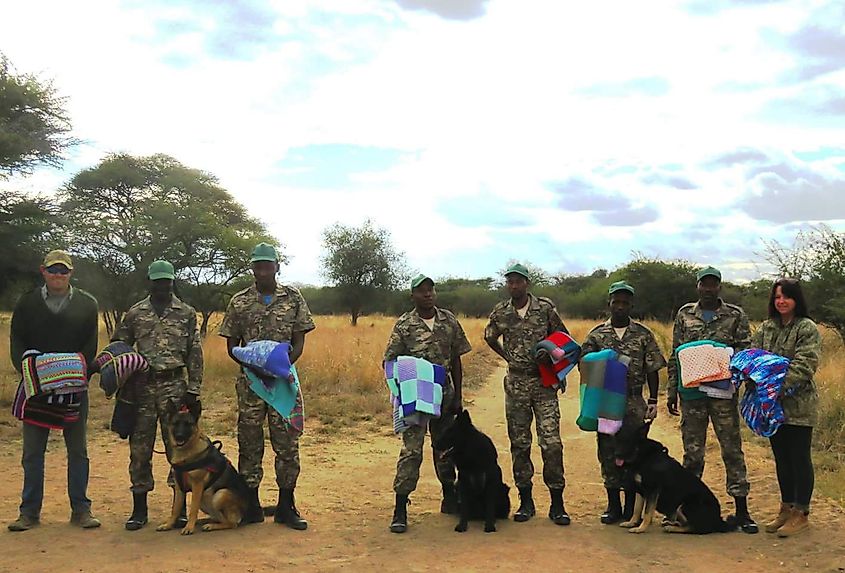 Blankets Go a Long Way in Regulating Temperature, Keeping Young Animals Alive
According to the caregivers, blankets function in numerous ways to help the baby animals survive. Young animals are usually unable to regulate their body temperature as well as adults. In the absence of their mothers, these animals suffer - if the animals are underweight, their suffering is particularly acute. The knitted blankets keep them warm and provide a sense of security. Blankets also keep the wounds clean when animals are laid down on such blankets or covered with them. Bedding straw might otherwise adhere to the wounds of these animals, creating discomfort and raising the chances of an infection.
The activities of "Blankets for Baby Rhinos" is now no longer confined to donating blankets to the baby animals but has further extended to other charitable acts.
Jo Caris, a coordinator for Blankets for Baby Rhinos in France informed World Atlas via e-mail:
" We make blankets not only for orphaned baby wildlife animals, including but not limited to rhinos, elephants, orangutans, chimpanzees, baboons, vervet monkeys, meerkats, the odd buffalo and a giraffe, but we also make crochet and knitted toys that act as a surrogate mother to our primate babies. We do not forget the carers, rangers, and anti-poaching men and women who risk their lives every day to ensure the safety of our wildlife. Besides blankets, we make beanies, balaclavas, scarves, and gloves to keep them warm during the freezing winter months. And lastly, there are a number of impoverished communities in a rhino reserve that we also provide for, ensuring that the young children in the crèches in the reserve benefit from what we do."
A Growing Initiative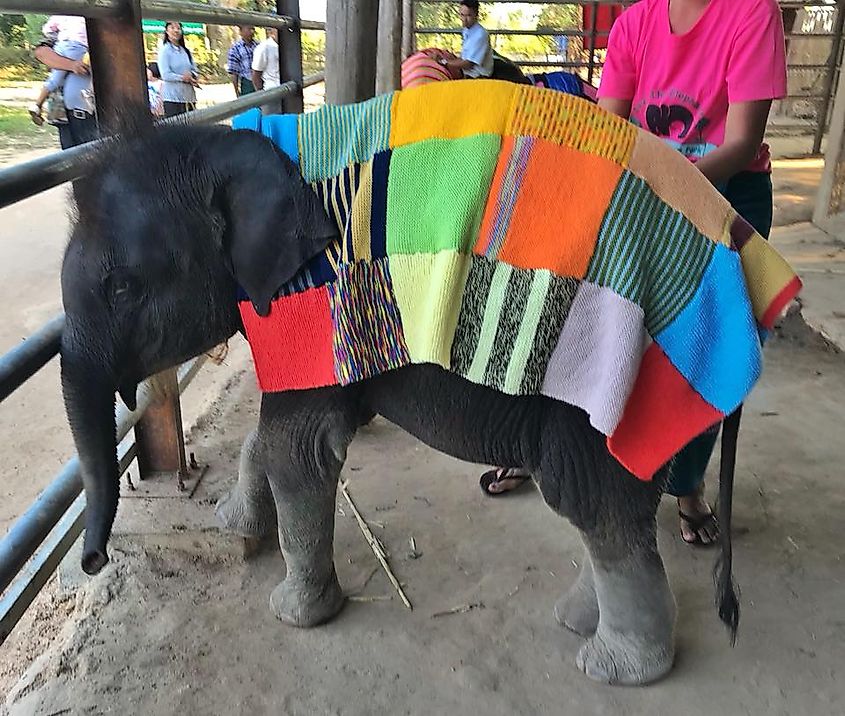 A baby elephant at the Save the Elephant Foundation in Myanmar. Photo courtesy of Blankets for Baby Rhinos.
"Blankets for Baby Rhinos" is growing fast. Currently, the group has more than 3,000 members from different parts of the world who are actively engaged in preparing blankets or squares for donation. The group has a set of instructions regarding the type and measurements of blankets or squares to be knitted or crocheted for the baby animals and their caregivers. The members are expected to follow the instructions while preparing the objects. The group also mentions that those who cannot knit or crochet can help the animals by donating other basic necessities for these animals like milk formula, food pellets, etc.
"Everything is hand-made by our members, either knitted or crocheted, and we have some exceptionally talented members in our group, and we are grateful to them for their hard work," Dr. Best said via e-mail.
"The group's vision is to continue to help orphanages and wildlife rehabilitation centers. We also screen all our beneficiaries to ensure they are not wildlife brokers or involved in canned hunting. We have also raised fund to help supply food to the rescued animals and other critical supplies for those on the front line defending our wildlife. We hope to continue to spread awareness about the plight of the endangered wildlife of our planet," she says.
**
Dr. Oishimaya Sen Nag is a freelance writer and editor from Kolkata, India. She loves to explore new places and cultures, and participate in wildlife conservation activities.