Transformative Forestry Revolution From The Arid Indian Desert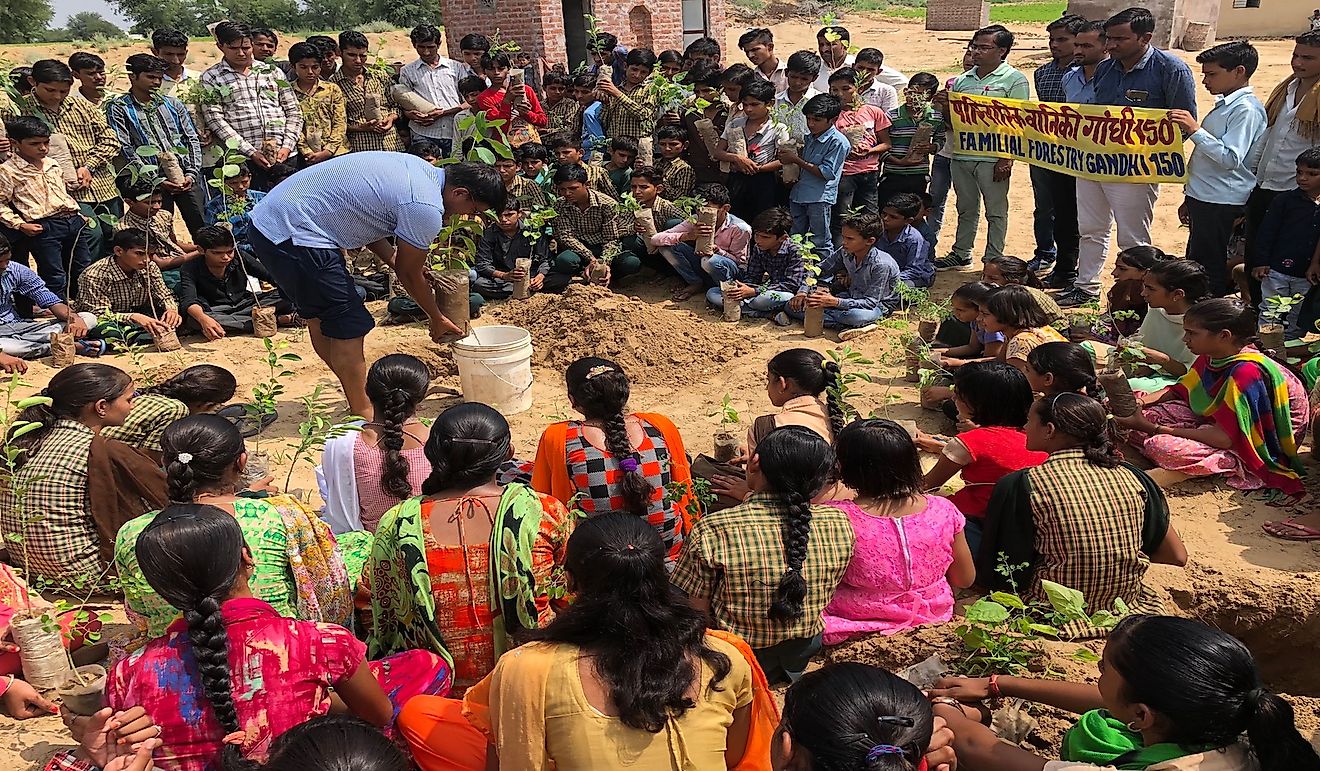 "Although I was born and brought up in a desert in Rajasthan, India, my heart always yearned for greenery. Since early childhood, I had a strong affinity towards plants and found myself engaged in a plethora of plantation activities," said Shyam Sundar Jyani, Associate Professor and Head, P.G. Dept. Of Sociology, Govt. Dungar College, Bikaner, Rajasthan.
It was this emotional connection with nature that inspired Jyani to develop the concept of familial forestry in 2006 that deals with domesticating trees by families to increase green cover, conserve biodiversity, and address food shortage issues. Today, the concept has been replicated by over 200,000 Indian families. More than 2,600 desert villages in north-west Rajasthan have witnessed the planting of over 750,000 trees, turning familial forestry into a mass movement.
Birth Of Familial Forestry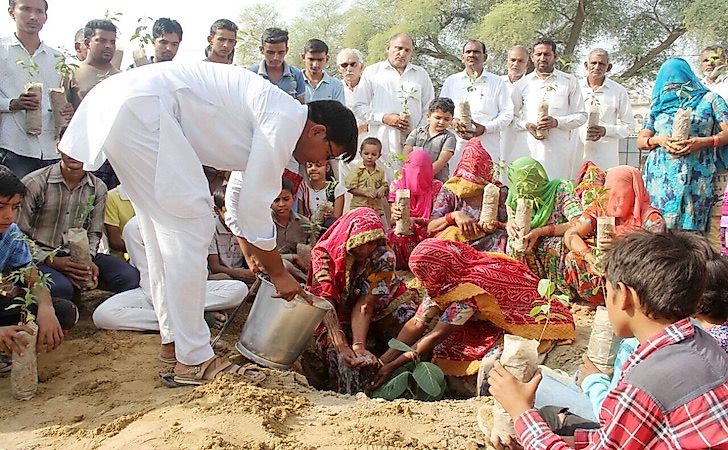 Image: Village women plant saplings with help from Jyani.
In 2006, as an officer of the National Service Scheme (NSS), Jyani supervised the planting of saplings in 120 homes in the Himtasar village of Rajasthan located about 15 km from Bikaner, the district headquarters. An experiment was carried out during the program. The 120 households were divided into two groups of 60 houses each. While one group was made aware of the benefits of trees and included in the post-plantation care monitored by village teachers, the other group was excluded from the same. 
The results were starkly different. The survival rate of the saplings in the inspired households was astoundingly high at 90% while those in the other group exhibited a sapling growth success rate of only 20-30%. 
Another interesting observation that inspired Jyani to come up with his innovative forestry solution was made a year later. In 2007, 1,05,000 saplings were planted in and around the village of Gajsukhdesar. Later, Jyani noticed that only the saplings planted inside the village homes survived. 
 Soon, Jyani started driving mass plantation programs in the villages of the Ganganagar district. His diligence and persistence attracted the attention of the authorities who were now ready to support him in his sincere efforts.
Growth And Evolution Of Familial Forestry
Image: Jyani distributing saplings among the villagers.
"The sole objective of my life is to restore the glory of Mother Earth," said Jyani. With this noble objective in mind, Jyani spearheaded his familial forestry movement at the grassroot level through massive plantation drives across north-western Rajasthan. 
Keeping in mind the difficulty to grow trees in the arid environment of Rajasthan, Jyani strived to ensure the survival of the plants by making every family aware and sensitive towards them.
As familial forestry grew in leaps and bounds, Jyani also inculcated newer techniques and concepts into his work to enrich it further.
For example, despite being a social scientist, he made his foray into agricultural research by developing a unique technique of in-situ budding of native desert plants like Prosopis cineraria, Ziziphus jujuba, and Cordia gharaf. His technique transforms these plants into high-yielding varieties that help farmers produce fruits in the absence of any additional water source than rainfall. Implementation of the technique is associated with multiple benefits like increasing forest cover, supporting biodiversity, and meeting the livelihood and nutritional demands of the locals. Jyani also set up hundreds of micro-nurseries in villages to grow and nurture the saplings for the planting drives.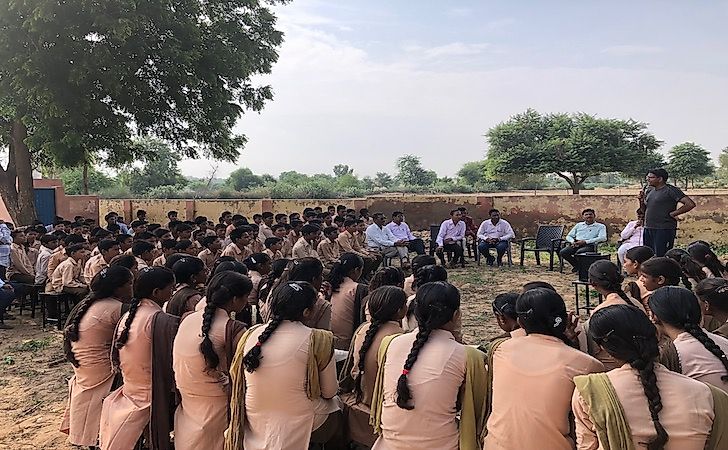 Image: Jyani conducting an awareness program at a school.
Jyani's efforts have not been limited to village homes but also to schools. Thousands of them have enhanced their green cover through familial forestry institutional forest drives.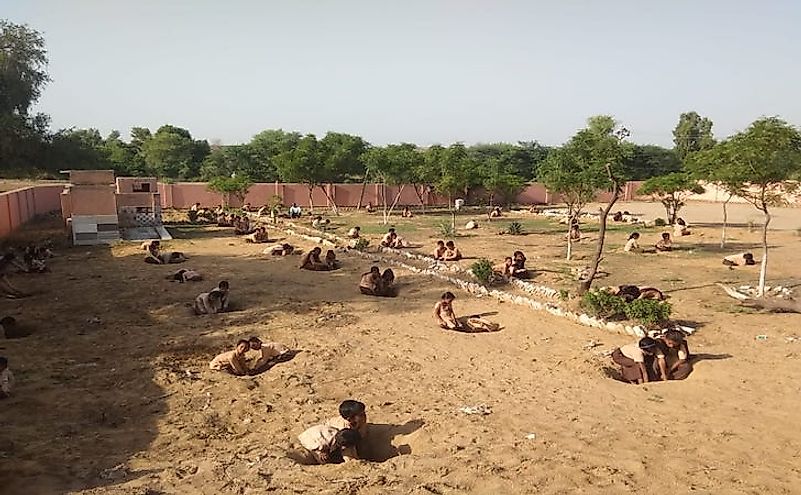 Image: School students busy preparing the ground to plant saplings in their school campus.
He has also developed a biodiverse institutional forest of 5 hectares in his college campus with the aid of his students. A people's nursery established in this forest has supplied thousands of saplings to surrounding areas free of cost.
A Revolution In The Making
Jyani's concept of familial forestry that arose from his sociological understanding of the family as a basic unit of society, is today taking Rajasthan by storm. 
His selfless devotion to the cause of environment conservation has established him as a relatable role model for those working at the grassroots level. He has also been successfully using social media to spread awareness in and beyond Rajasthan. His awareness programs have borne fruit and people have now started integrating festivals and rituals with plantation drives. Children have been influenced to celebrate Green Diwali by shunning crackers.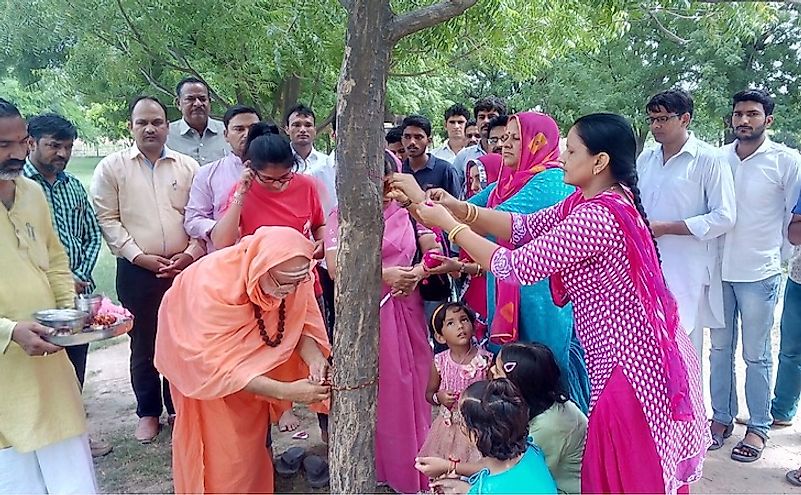 Image: A tree being worshipped during a religious ceremony.
Now, religious groups in different parts of India have started distributing saplings as devotional offerings. Youth are now gifting saplings in their marriage ceremonies. Independence Day in schools is celebrated with the distribution of saplings along with sweets.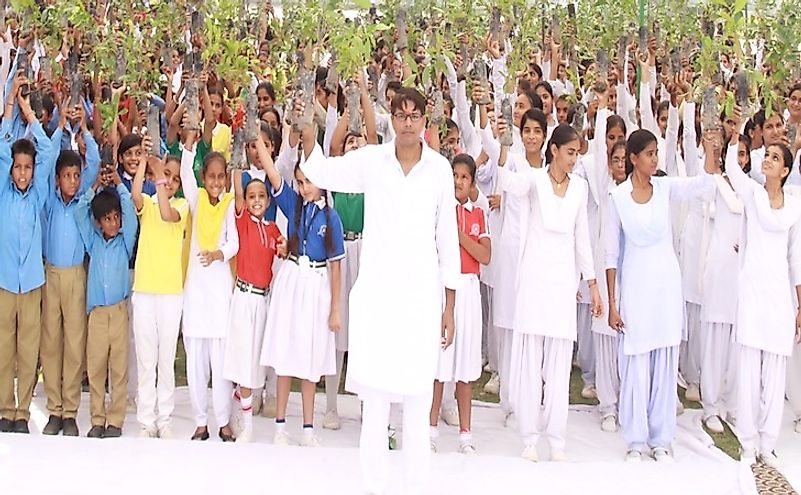 Image: Jyani and schoolchildren with saplings in hand.
The Limca Book of Records has also thrice acknowledged familial forestry plantation drive as a national record. A state university has included the concept in their post graduate syllabus. Various media houses have also covered Jyani's story. His work has been recognized by the Chief Minister of Rajasthan and he has been felicitated by the honorable President of India. 
For more details, visit the website of Familial Forestry here.