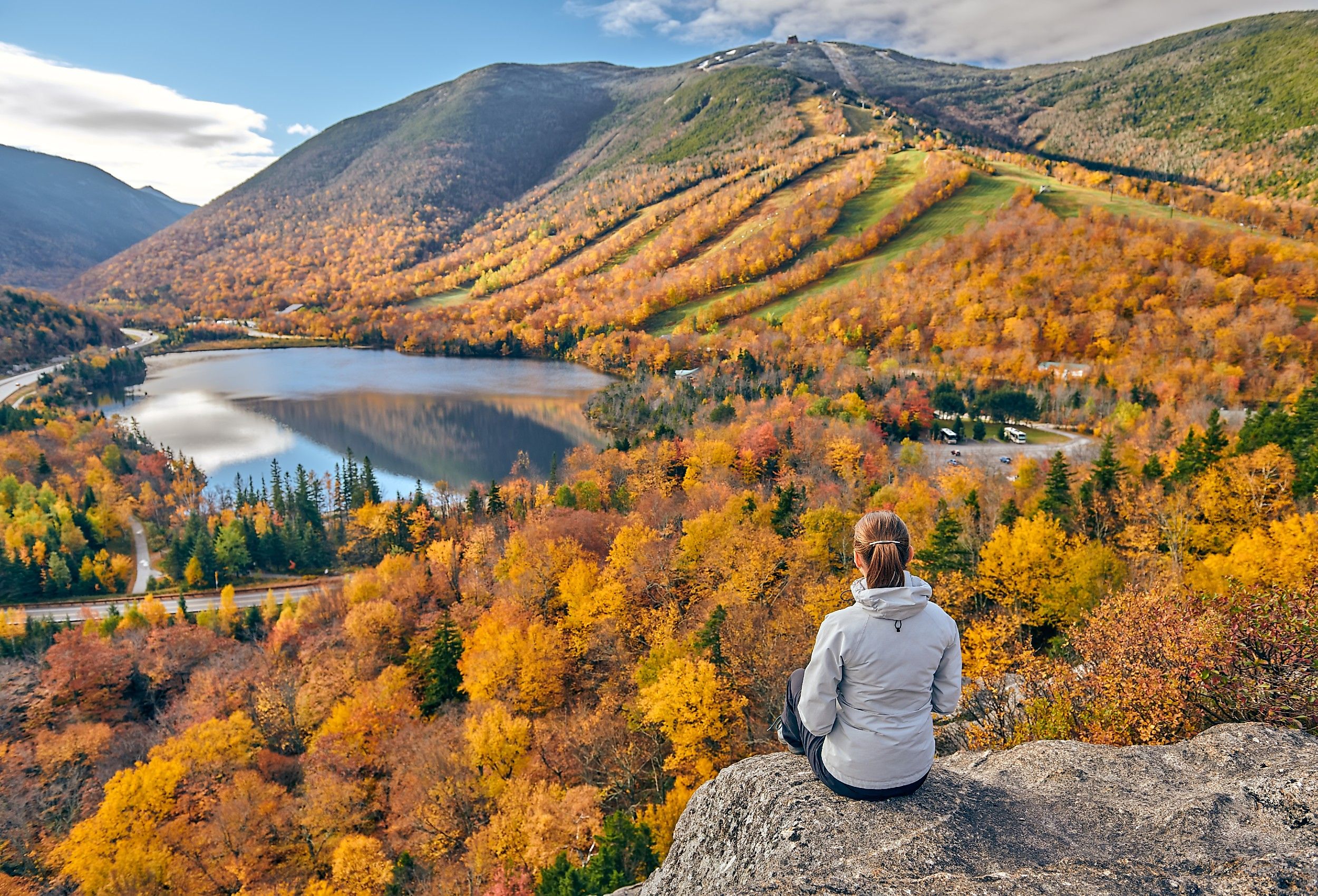 Best Fall Hikes In New Hampshire
New Hampshire, with its myriad of hiking trails, is well-known for its enthralling natural landscapes, especially in the fall when the leaves are a spectacular array of yellow, red, and orange. Explore five of the best hiking trails in the state, each offering unique features. These family-friendly trails are all under 6 miles in length, providing hikers with diverse terrain and encounters with various flora and fauna. Read on to find the trail that best suits your party of nature explorers.
Rattlesnake Mountain Trail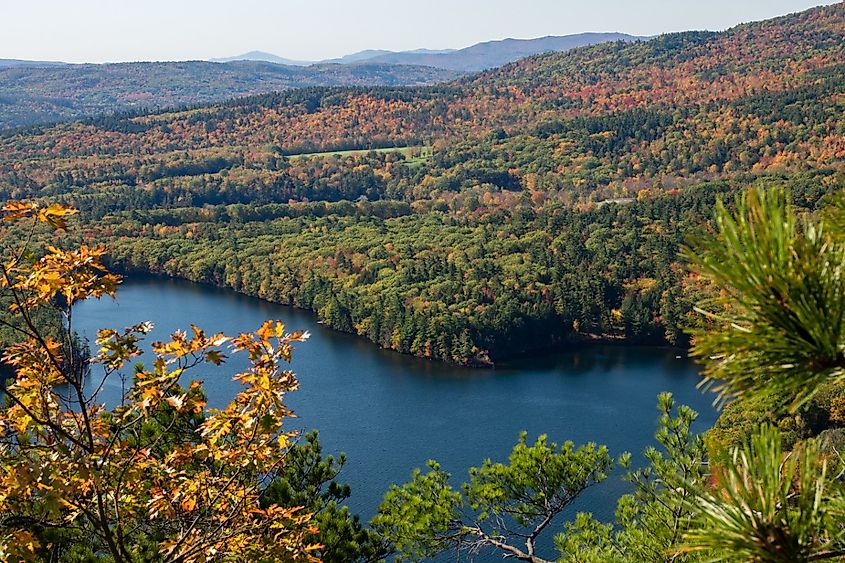 Rattlesnake Mountain Trail is a moderately challenging loop trail within the White Mountain National Forest. This trail spans approximately 2.5 miles and includes rocky sections, lush woods, and a serene lake. The trail meanders through a forest of mixed hardwoods and conifers, including maple, oak, and white pine. Bird watchers can expect to find a variety of birds along the route, including sparrows, robins, and the occasional red-tailed hawk. Rattlesnake Trail is unique for its panoramic summit, offering visitors an expansive view of Squam Lake and its surrounding mountain ranges.
To reach the trailhead departing from Interstate 93 in Plymouth, New Hampshire, take exit 26 towards NH-25 west. Remain on NH-25 West for a span of 7.3 miles, then make a right turn onto Main Street, leading to Rumney Village. Proceed for 0.7 miles, subsequently turning left onto Buffalo Road, reaching the heart of the village. Continue westward along Buffalo Road for 2.4 miles. The parking area for the Rattlesnake Mountain Trailhead is on the right-hand side. Dogs are allowed on this trail but must be kept on a leash. There is no fee to enter the trail.
Odiorne Park Loop Trail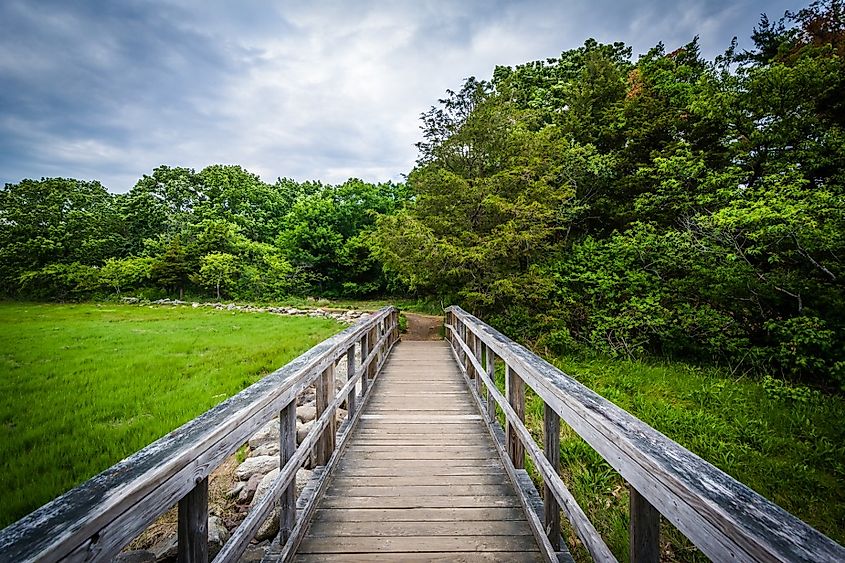 The Odiorne Park Loop Trail is a 2.8-mile loop. This easy to moderate-level trail presents a unique coastal hiking experience meandering through salt marshes, sandy shores, and dense maritime forests of pitch pine. Hikers will encounter a variety of vegetation, including beach grasses and shrubs. The easterly points of the trail feature views of the rugged shoreline and beach overlooking the Atlantic Ocean. Birdwatchers can observe a variety of coastal avian species, including gulls, migratory shorebirds, and maybe even a bald eagle.
Visitors will find the former WWII military installation known as Battery 204 located near the beach, where they can peruse the remnants of old mortar rings. Further inland, uncover the hidden bunkers of Battery Seaman. To get to the trail from Portsmouth, head south on NH-1A for 1.6 miles. Approach the traffic circle and take the third exit, continuing along NH-1A for another 1.9 miles. Finally, make a left turn into the entrance of Odiorne Point State Park. Dogs are not permitted on the trails. There is a small day-use fee to enter.
Diana's Baths Trail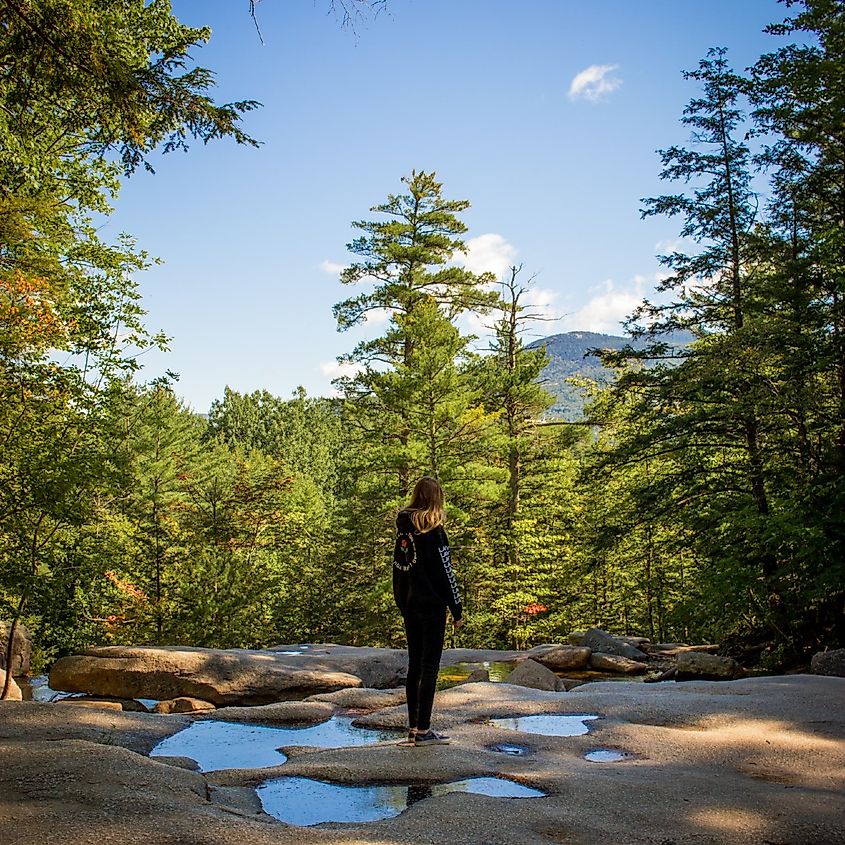 Diana's Baths Trail, at 1.3 miles, is a short and easy out-and-back hike in the White Mountain National Forest. Not only is the trail suitable for families with children, but as an ADA-approved trail, it is also ideal for those with mobility issues. The route has a distinguishable path for those who favor flat, well-maintained gravel and crushed stone paths. The incline is gradual and traverses through forests of ferns, moss, and a variety of deciduous trees, leading to a series of waterfalls. Birdwatchers can expect to see thrushes, chickadees, and barred owls.
To get to the trail starting from Conway Village, head north on Route 16/302 (White Mountain Hwy) past the Eastern Slope Inn. At the next set of lights, turn left onto River Road. Continue straight on River Road for approximately 1 mile until the road changes to West Side Road. Stay on West Side Road for about 1.5 miles, passing the sign for the road leading to Cathedral Ledge. Look for the sign indicating the parking lot at Diana's Baths on the left-hand side of the road. Dogs are allowed on this trail but must be kept on a leash. There is a parking fee of $5.00 per vehicle.
Artists Bluff and Bald Mountain Trail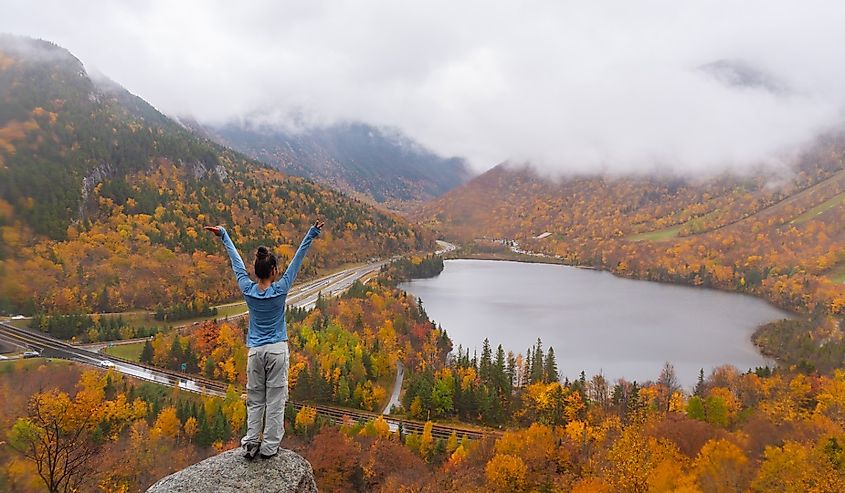 Artists Bluff is a 1.5-mile, easy to moderately difficult loop trail that provides hikers with a mix of open ledges and woodlands. The terrain comprises packed earth, dirt, and rocks. Visitors will find an array of deciduous and evergreen trees, such as beech, birch, and hemlock. Bird watchers should watch for frequently seen species in this area, such as woodpeckers and blue jays. The stunning views of Echo Lake and Cannon Mountain make it a second-to-none location for landscape photography.
To reach the trailhead from the direction of Franconia, begin by heading south on I-93 S. Take Exit 34B for NH-18 west toward Cannon Mountain and Lafayette Place Campground. Continue on NH-18 West to find the parking area at the base of Cannon Mountain. When the ski area is closed, use designated highway parking areas for convenience. Note that parking at the Echo Lake Beach lot is not allowed for hikers. Dogs are allowed on this trail, but they must be kept on a leash. There is no fee to enter the trails. 
Mount Major Trails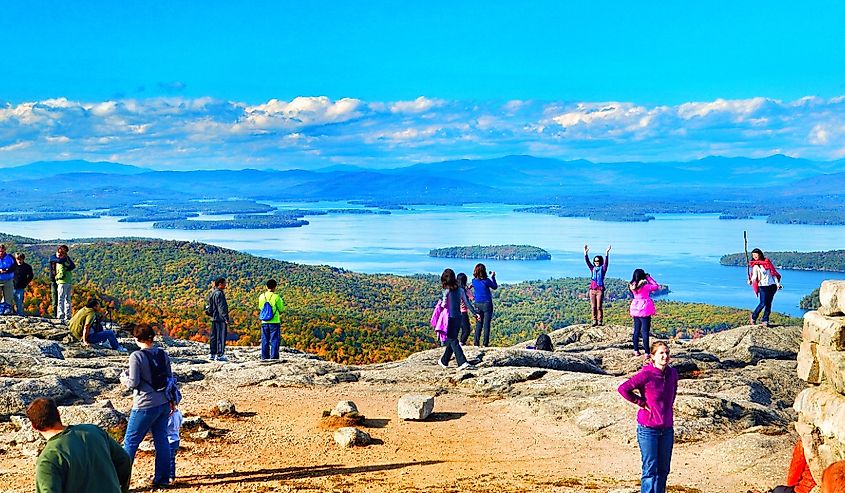 Mount Major trails near Alton Bay, New Hampshire, is a network of 3 trails (Mt. Major/Main Trail, Brook Trail, and Boulder Loop) leading to the summit. The length of all trails combined is around 4.5 miles. The difficulty levels vary from easy to moderate, with Brook Trail being the one with the least difficulty due to its being the least steep, despite being the longest of the three at 1.7 miles one way. The terrain on all three comprises packed earth, dirt, rocks, and ledges. There is a variety of vegetation along the trails, including coniferous and deciduous trees, creating a dynamic landscape throughout the year. Birdwatchers can expect to observe a diverse avian population, with species such as chickadees, thrushes, and raptors frequently spotted in the area. Mount Major trails are renowned for their accessibility and scenic vistas, making them a popular choice among outdoor enthusiasts seeking an authentic wilderness experience in New Hampshire.
To reach the Mount Major trailhead from the town of Glendale, head south on NH-11 for approximately 9 miles. If coming from Alton Bay, travel north on NH-11 for about 4 miles. The parking area for Mount Major is on the west side of NH-11. Dogs are permitted on leash. There is no fee to enter the trails.
These five hiking trails highlight the diversity of nature experiences in New Hampshire. From the landscapes of Rattlesnake Mountain to Odiorne Park's coastal areas, the accessible paths of Diana's Baths, the vistas at Artists Bluff, and the scenic views atop Mount Major, outdoor adventurers will find a match. As visitors explore these natural wonders, adherence to the Leave No Trace policy is vital. Respecting and preserving the environment, leaving it as found, ensures these trails remain available for future generations. So, put on your hiking boots and head out, remembering when hiking to maintain care for the surrounding beauty of the trails.