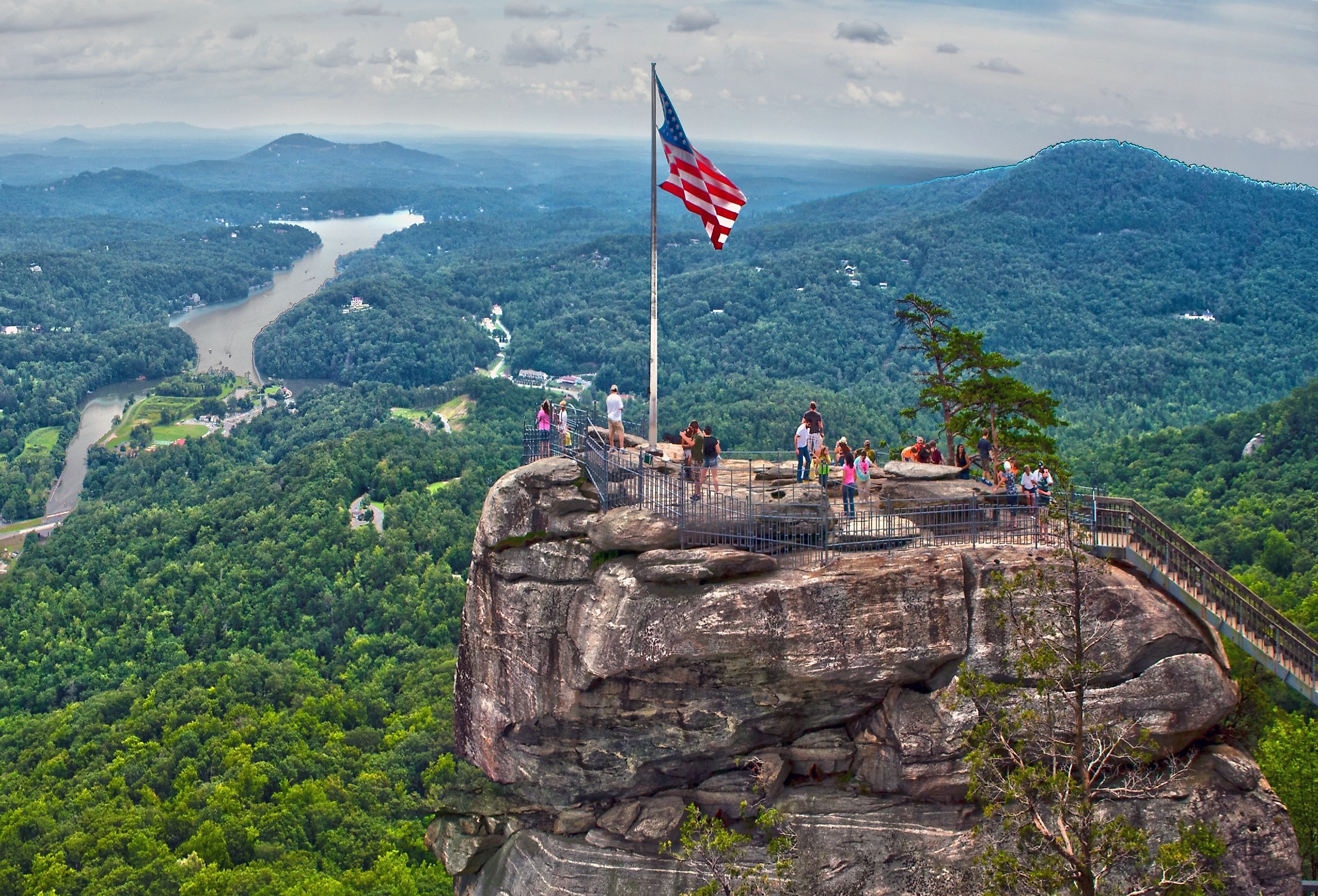 14 Best Hikes In North Carolina
With a cross-state winter seasonal daily average temperature of over 50°F and approximately five inches of snow during the entire winter season, North Carolina is a great place to enjoy the outdoors all year round. During the summer months, which can get extremely hot, it is important to check the weather before setting out on a hike, especially if you are considering a trek along a difficult trail. These are in abundance in the Tar Heel State. With its wide range of geological regions, including the Coastal Plain, the Piedmont Plateau, and the Appalachian Mountains, North Carolina is home to many rare ecosystems, and one of the best ways to get up and close to them is by hiking in, especially were there is no vehicle access. From beach trails, grassland adventures, and mountain treks, you cannot go wrong with any of these hiking excursions in North Carolina.
Summit Calloway Peak Trail, Grandfather Mountain State Park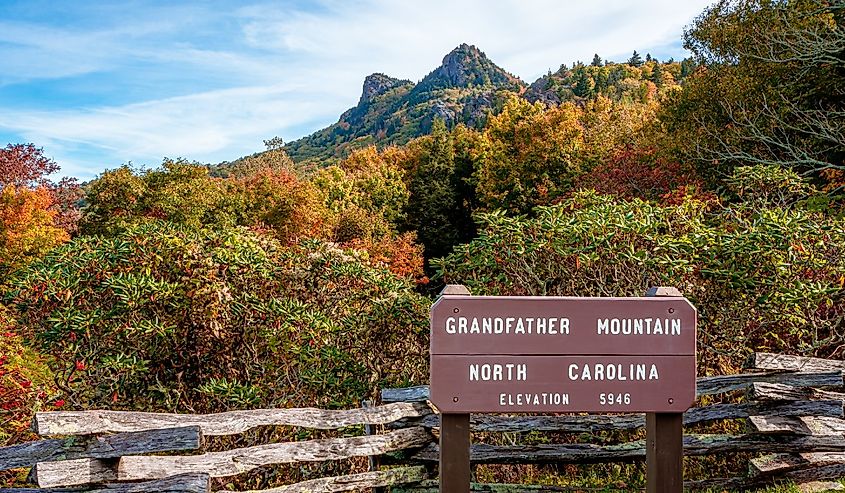 Looking for a challenging way to start your vacation in North Carolina, or an exciting way to spend a day in the great outdoors? Then Summit Calloway Peak Trail is for you. This trail is one of the hardest hikes in Grandfather Mountain State Park, but it is worth your while if you can safely conquer it. With an elevation change of nearly 2,000 feet, this 6.9-mile, out-and-back, hike offers a spectacular view from one of the highest peaks in the Blue Ridge Mountain Range. To get to the summit, you will need to navigate steep climbs, many of which require ropes and ladders to successfully and safely traverse. Anyone attempting this hike should be wearing hiking boots, especially if you are hiking after recent rainfall. But as long as you take safety precautions, Summit Calloway Peak Trail is a fantastic experience.
Sam Knob Loop Trail, Pisgah National Forest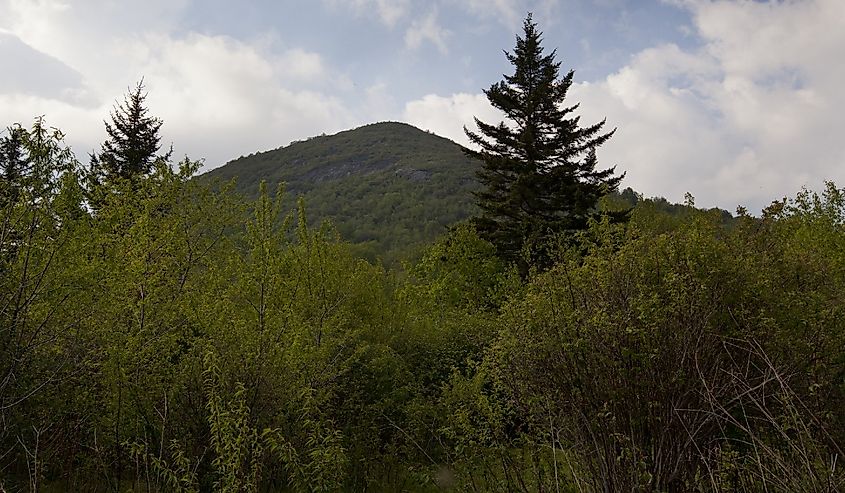 Nothing is more exciting than hiking up to a beautiful waterfall, especially when you can take a dip in the water to cool off before returning to the hustle and bustle of city life. As such, you cannot go wrong if you choose to hike Sam Knob Loop Trail as your next adventure. Located near Canton, North Carolina, in the Pisgah National Forest, this trail is 2.5 miles out-and-back. Recommended for hikers of all ages, including the four-legged fuzzy kind, this hike usually takes about an hour and twenty minutes to complete. With many camping sights in walking distance of the Sam Knob Loop Trail trailhead, this is a great hike to do when camping in Pisgah National Forest.
Paradise Falls Trail, Nantahala National Forest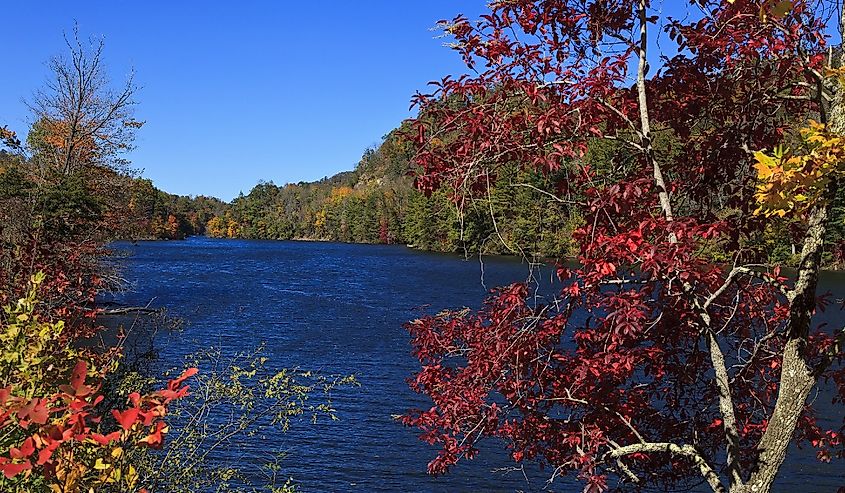 Paradise Falls Trail takes you directly to paradise, or as close as you can get on earth. While this hike is only half a mile, out-and-back, it is not suitable for children or dogs, even though they are techniques allowed on the trail. While it takes only half an hour to complete this trail, it is a difficult trek due to a few very steep portions of the trail that require ropes to ascend. There are also a few streams that the trail crosses that can be slippery, so bringing a change of shoes and socks in case you fall in is a good idea. Nevertheless, with the appropriate shoes, and hiking experience, this trail is an absolute must. The trail takes hikers to a lovely waterfall and stream where you can jump in and cool off on a hot day before hiking out.
Catawba Falls Trail, Pisgah National Forest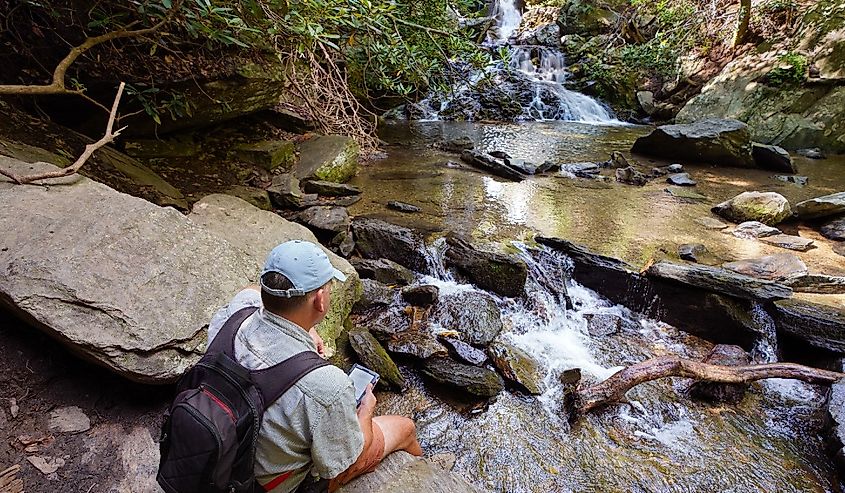 Located east of Asheville, North Carolina, Catawba Falls Trail is a 2.7-mile out-and-back hike considered to be moderately difficult. One of many hikes in Pisgah National Forest, this trail is great for adults and families with older children. For safe measure, if you are bringing children hiking on this trail they should be independent swimmers, as the trail runs along, and at a few points across, the Catawba River. The trail ends at a beautiful set of multitiered falls, made unique by their ethereal look, due to millennia of water smoothing the Plutonic rock of the region, and smoothing them into the perfect host for both luminous green moss and dark green lichen.
Art Loeb Trail, Pisgah Ranger District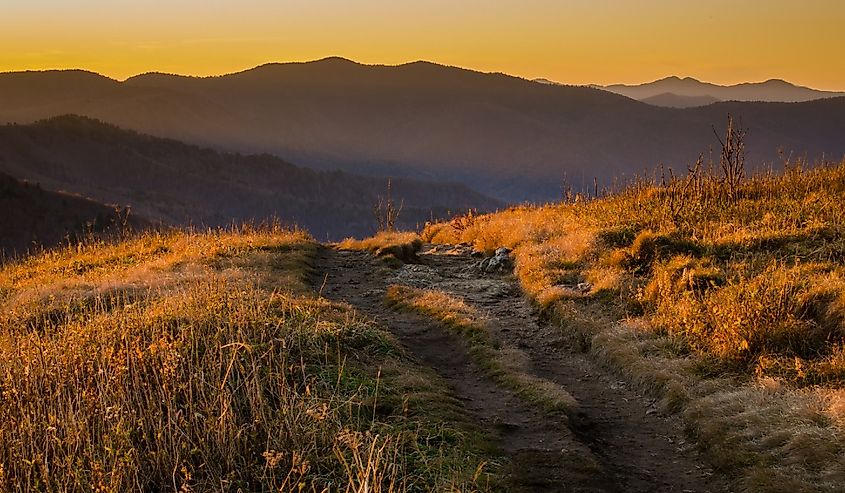 If you are looking for a multi-day hiking adventure, the Art Loeb Trail is for you. This 30-mile, start-to-finish trek runs from Davidson River Campground (near Brevard, North Carolina) to Daniel Boone Scout Camp (near Canton, North Carolina). Along the way, there are many optional additions to the trail, including Ivestor Gap Trail and Little East Fork Trail. This trail is often completed in parts, hiking for the day, and then finding a campground for the night. The trail is abundant with lodges and campgrounds, but during high season, book ahead so you do not end up without a place to spend the night. For the expert hiker looking to push their limit, this trail can be completed in one day, with an estimated 12-hour duration if hiked at a good pace.
Shortoff Mountain Trail, Linville Gorge Wilderness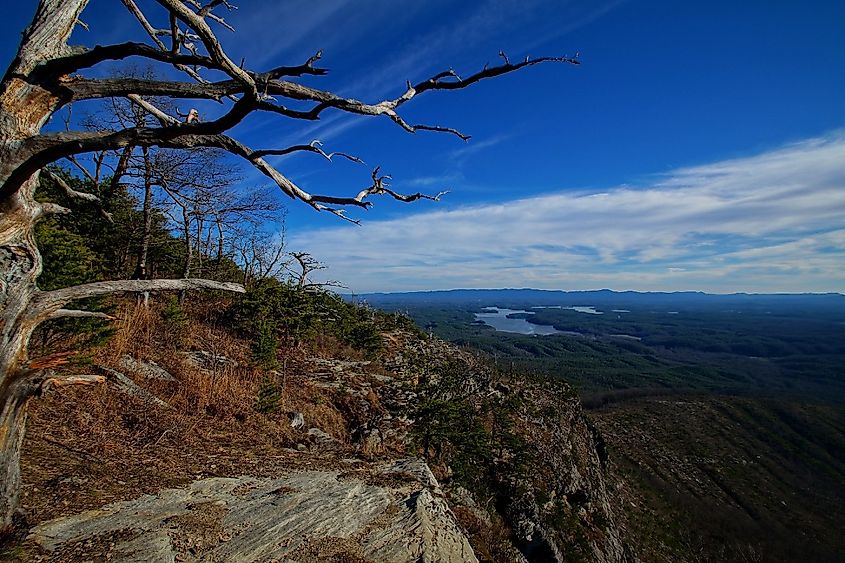 In Western North Carolina mountains, Linville Gorge Wilderness sits between Jonas Ridge and Linville Mountain. A highly sought-after camping area, especially during the high season between May and October, only 50 passes are allocated every night, so if you plan to camp out, make sure you plan ahead. One of the most popular hikes in the gorge is the moderately difficult Shortoff Mountain Trail. This 4.5-mile out-and-back trail takes around two and a half hours to complete, with little shade available along the way. This hike is made unique by its current, post-major forest fire, condition. Where this hike used to run through densely forested terrain, today it is mostly open ground with little shade, providing hikers a rare, first-hand view, of the devastation caused by recent wildfires.
Chimney Rock via the Outcroppings Trail, Chimney Rock State Park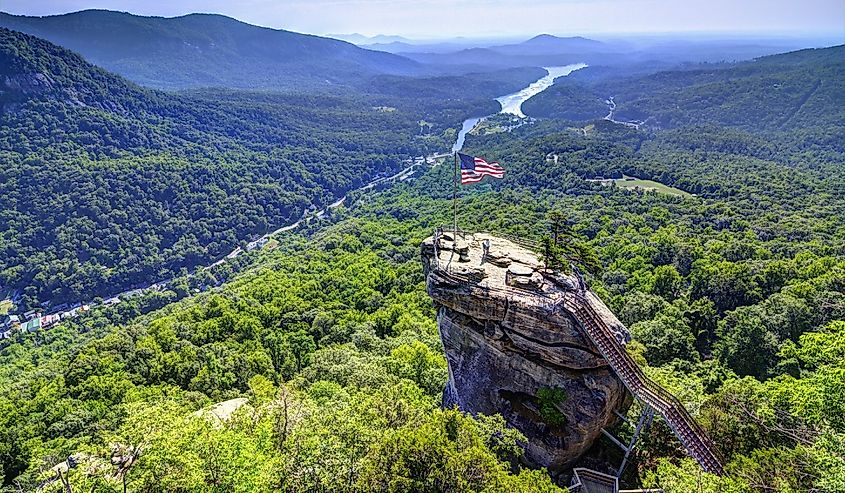 If you plan to visit North Carolina, then seeing Chimney Rock may already be on your list of must-see destinations. As one of the state's most recognizable natural formations, the hike up to the top is a popular tourist attraction. For those looking for the full experience, the newly upgraded Outcroppings Trail can be used to reach the summit, this trail includes 494 stairs to climb. For those with mobility concerns, or parents with young children, an elevator gets you within 44 steps of Chimney Rock's peak, where a spectacular panoramic view awaits. After descending from Chimney Rock, if you are looking to cool down, then a visit to Gneiss Cave will be just the thing. While this trail does allow dogs, it may be best not to bring them as the stairs can be difficult for them to navigate, causing the often busy trail to find itself gridlocked.
Wiseman's View Trail, Linville Gorge Wilderness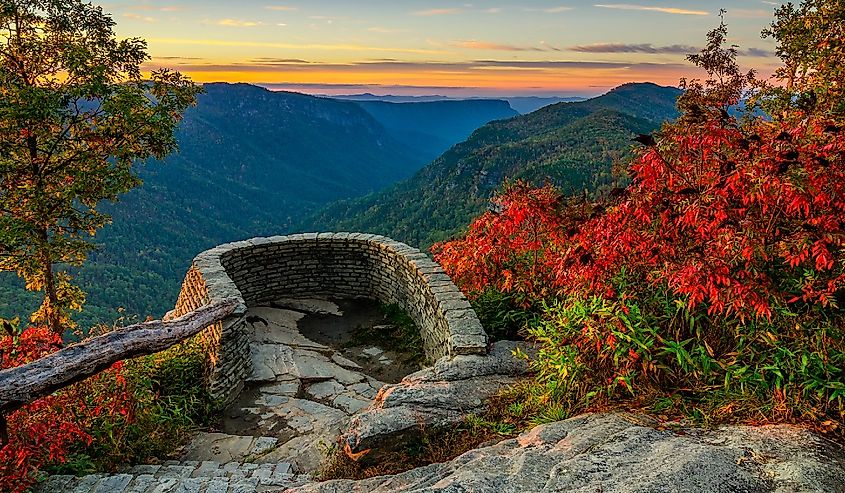 On those quintessentially hot North Carolina summer days, when a long hike is out of the picture no matter if you are a local or tourist, novice or expert, one might consider Wiseman's View Trail. This 0.4-mile out-and-back hike is an easy walk with nearly no elevation change. Great for dogs, young children, and those with mobility concerns, Wiseman's View Trail is paved, allowing for the use of strollers and wheelchairs. There are a few stairs near the end of the trail, but these can be easily avoided if necessary.
Hickory Nut Falls Trail, Chimney Rock State Park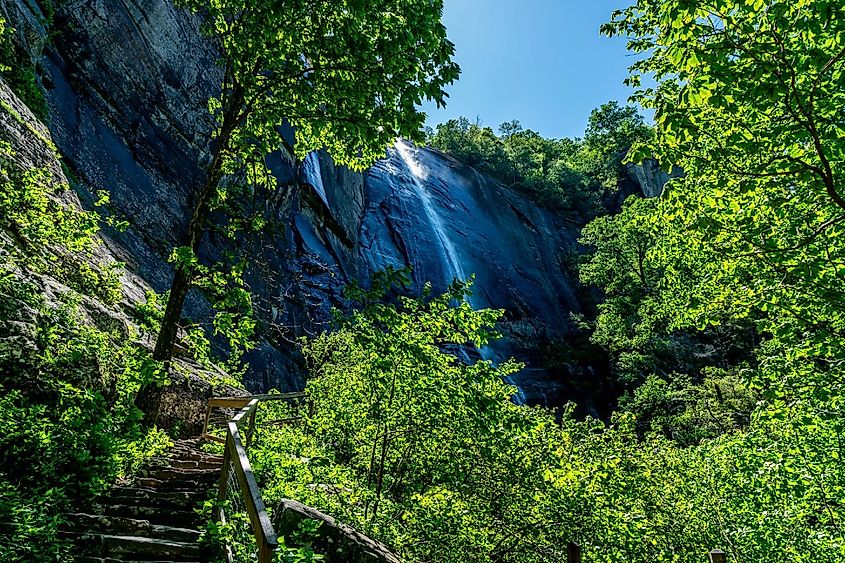 Perfect for young families, Hickory Nut Falls Trail is a 1.4-mile out-and-back hike with little elevation change. The falls that mark the turnaround point are some of the largest in North Carolina, at a height of 404 feet from top to bottom. This trail is the one for all of the film buffs out there. The falls have a cinematic past, featured in the film The Last of the Mohicans. With a lack of rain in the Hickory Nut Falls area over the past few years, these falls have become less abundant than they once were, but never the less they are still strikingly beautiful and a great place to take pictures.
Moore's Wall Loop Trail, Hanging Rock State Park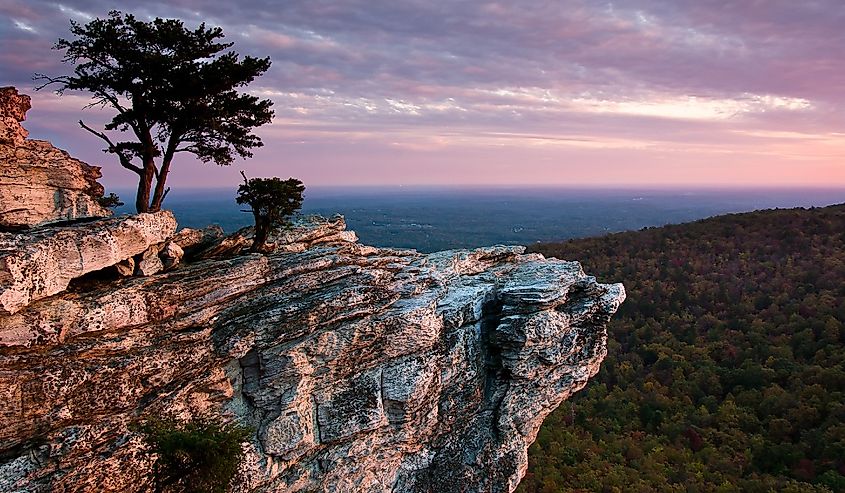 If you are looking for a spectacular panoramic view of Hanging Rock State Park, Moore's Wall Loop Trail is the hike for you. This 4.7-mile-long looping trail is a strenuous trek as the trail runs hikers all the way to the top of Moore's Knob, the highest point in the park. The trailhead for this hike is at the picnic ground at Hanging Rock Lake and is the perfect place to relax and take a cooling dip after you complete this difficult hike. With a high point of 2,572 feet, this hike includes a number of very steep scrambles and should not be attempted in the rainy season or immediately after any major precipitation. For those looking to add to this hike, there is an extension to Magnolia Springs at the 1-mile mark of this trail.
Devil's Courthouse Trail, Blue Ridge Parkway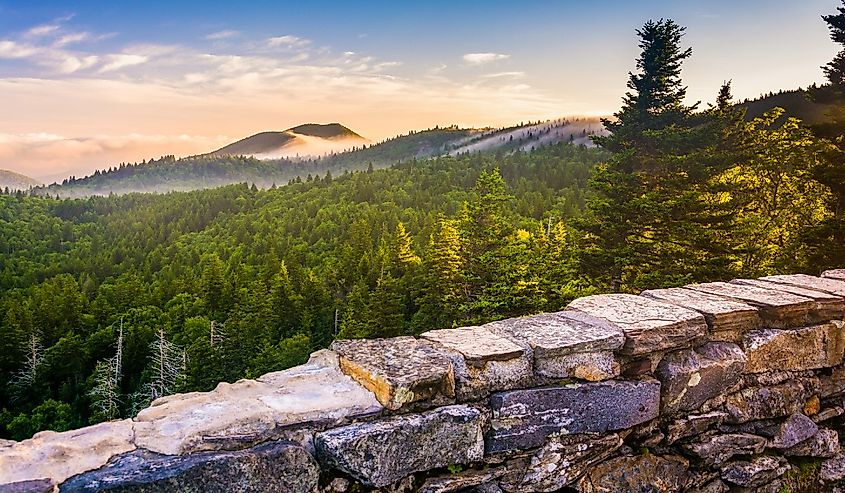 For anyone interested in local Indigenous lore, you are going to love this trail. Legend has it that the Cherokee giant Judaculla lives along the path of Devil's Courthouse Trail, bringing hikers right into its lair. This 1.0-mile out-and-back trail is on the difficult side of a beginner hike primarily due to its consistent incline. However, as it is a shorter trail, it can be a great way to start pushing yourself towards more difficult treks. This trail is also a great place to bird watch, particularly if you want to see the region's endangered peregrine falcons. While hiking, it is very important to your safety and the falcons that you stay on the designated trail, as moving beyond the indicated path can disturb nesting pairs.
Mount Mitchell Trail, Mount Mitchell State Park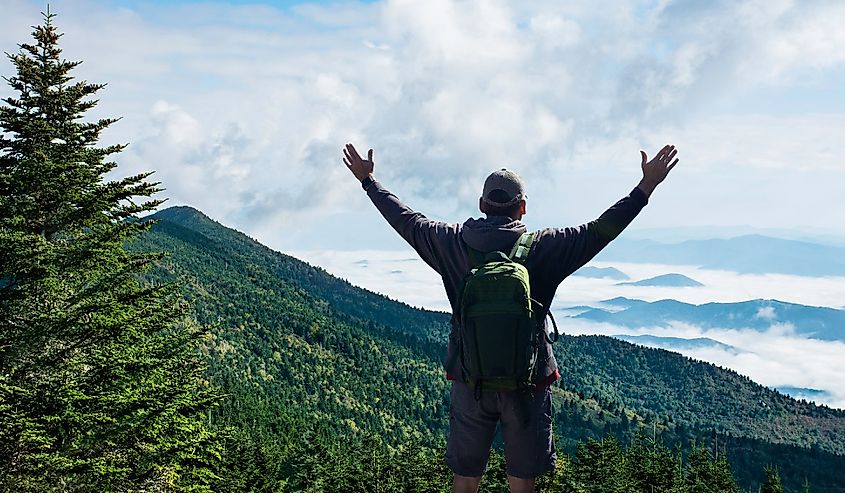 As the highest peak east of the Mississippi River, hiking up Mount Mitchell is popular with tourists and local mountaineers alike. This 11.9-mile out-and-back trail has an elevation change of 3,600 feet and is not for the faint of heart. But, if you can muster the strength to make it to the summit, you will be rewarded with a spectacular view and a lovely rest area with a restaurant to refuel at. Those who want the view but may not have the time or stamina to hike up to the summit can drive up through the park and join the trail at the Mount Mitchell summit parking lot. From there, it is a short 0.1-mile walk on a paved pathway to the observation deck.
Graveyard Fields Trail, Blue Ridge Parkway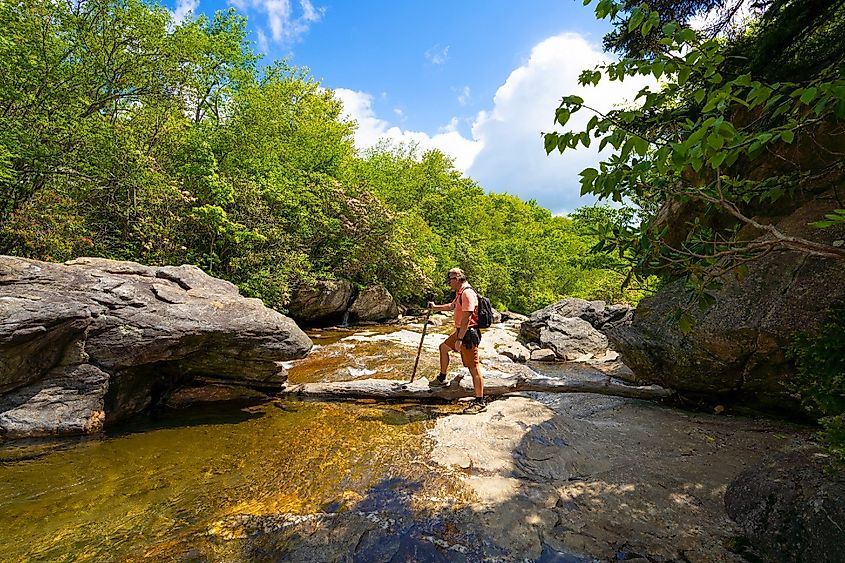 Named for the tree stumps that look like lines of gravestones, Graveyard Fields Trail is along the Blue Ridge Parkway at milepost 418.8. This 3.5 mile loop brings hikers to two separate waterfalls, the Upper Falls and Lower Falls, and it crosses through wildflowers' fields. To see the spectacular view of these fields in full bloom the best time to hike this trail is late spring. If you visit in August, keep your eyes open for wild blueberries that can be picked as you meander along this relatively easy hike. And do not forget your bathing suit! On hot days the Lower Falls are the perfect place to take a dip and spend an afternoon in the sun.
Profile Trail, Grandfather Mountain State Park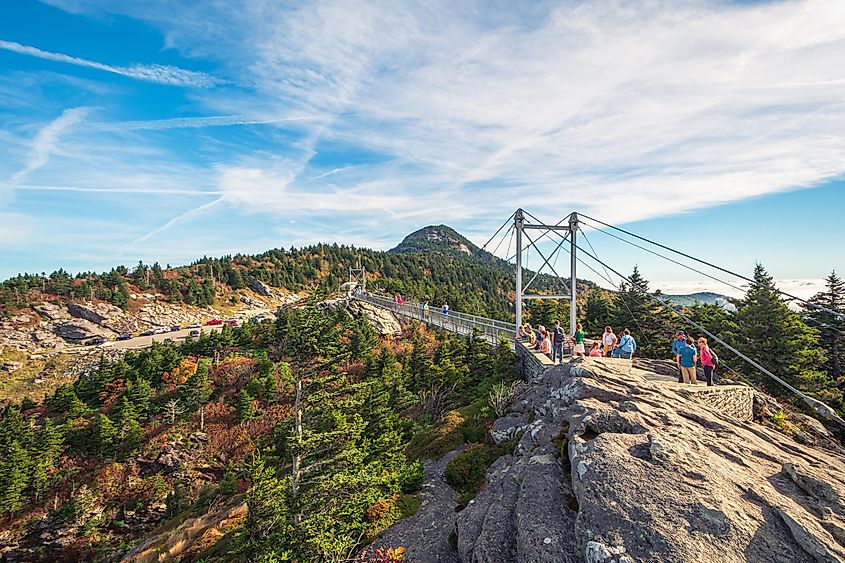 While this hike begins as a leisurely walk, do not let it fool you. This trail is for the expert hiker, with its 1,775-foot elevation change over its 7.2-mile out-and-back, this trail is almost completely on an incline as the trail runs up the Calloway Gap. As you continue to hike higher and higher, you will notice the ecosystems changing, starting from a Northern Hardwood Forest, moving into a Boulderfield Forest at the viewpoint of Grandfather Mountain, shifting next into a High Elevation Seep ecosystem in which Red Spruce and Fraser Fir forests are observed, and finally entering the Canadian Fir Zone for the final and most elevated portion of Profile Trail. For those who love adventure, there is an option to continue the hike another 2.3 miles, this section including the chance to cross the Mile High Swinging Bridge.
With more hiking trails than one could complete in any lifetime, North Carolina's natural wonders are the epitome of enthralling. From long overnight treks, to short, family-friendly, trails, make sure your next trip to North Carolina includes an outdoor hiking adventure; you will not be sorry! From waterfalls galore, natural hot springs to explore, fields of wildflowers to get lost in, and views from summit peaks that cannot be beat, the hiking trails of North Carolina have something to offer everyone.