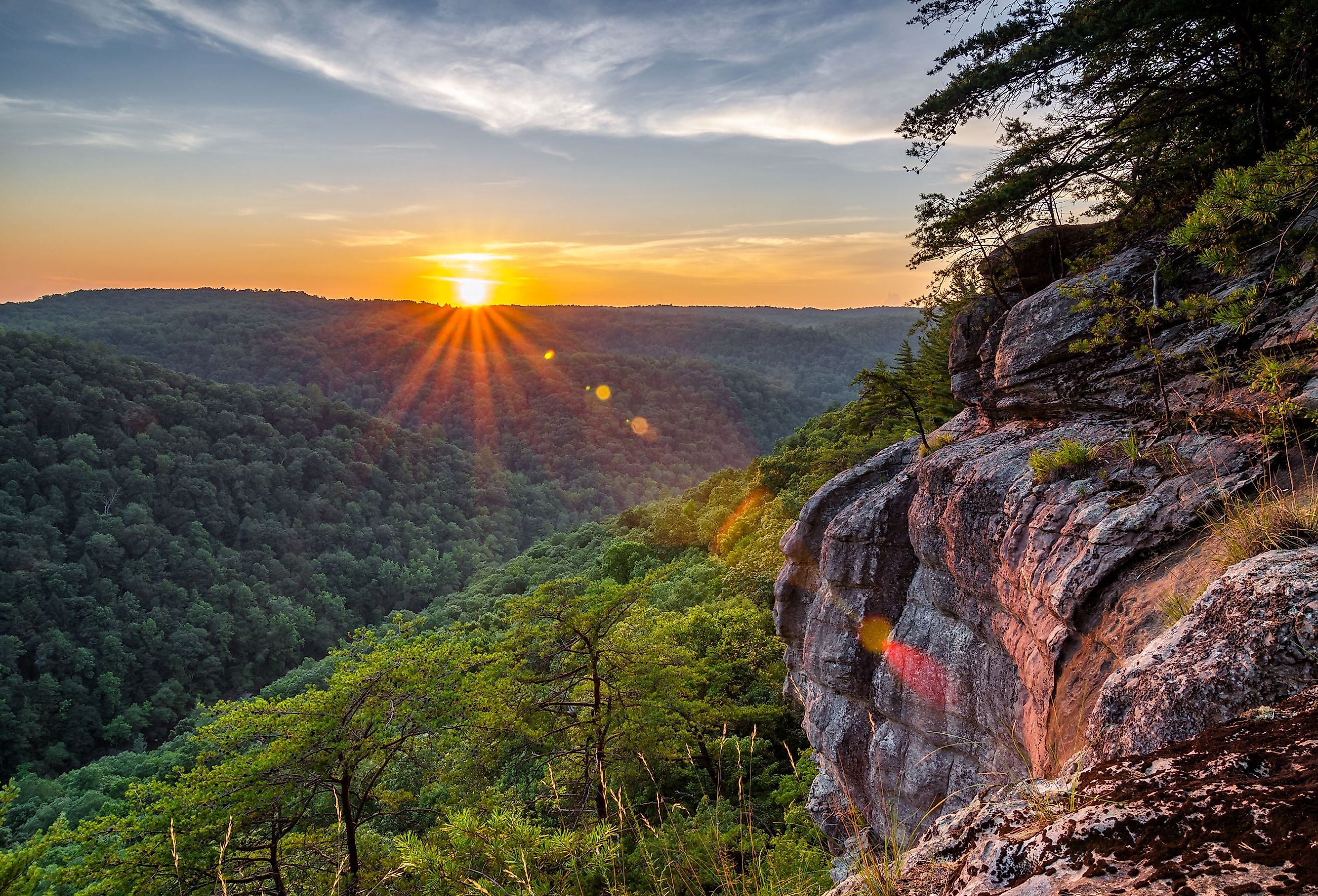 12 Best Hikes In Tennessee
Renowned for its world-class music scene, pivotal role in the evolution of many iconic American music styles like country, blues, bluegrass, and soul, and the production of top-shelf whiskey, Tennessee has plenty of classic American culture to offer. However, this state is also a mecca of extraordinary natural beauty, waiting to be explored! With eight distinct ecoregions ranging from plains to plateaus to mountains, a plethora of flora and fauna can be supported, making Tenessee the most biodiverse inland state, and home to the most biodiverse national park in North America. With this diversity of landscapes and superabundance of living things, Tennessee is a must-hike destination. 
Alum Cave Trail to Mount LeConte, Great Smoky Mountains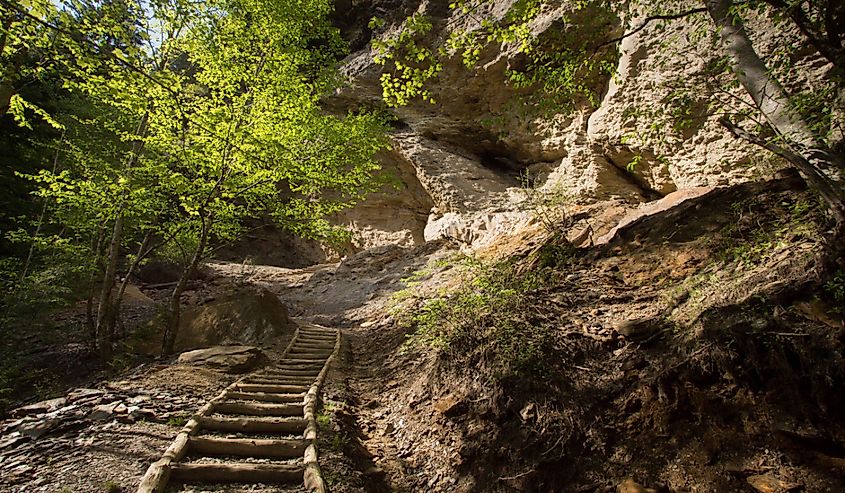 No list of Tenessee hikes would be complete without mentioning the most visited and the most biodiverse national park in the United States: the Great Smoky Mountains. These ancient, gently rolling mountains are blanketed in lush vegetation and provide homes for over 19,000 species of plants and animals (and counting!). There are countless breathtaking hikes, but the Alum Cave trail is consistently highly reviewed for its access to panoramic views and unique geologic features. This 11-mile hike with over 3,000 feet of elevation gain begins by crossing log bridges over refreshing creeks, meandering through old-growth forests, dips under the iconic Arch Rock, and up to the 80-foot Alum Cave Bluff overhang and Inspiration Point where you can take in some stunning landscape vistas. But don't turn around yet! Continue up to Mount LeConte for some of the most extensive views of the surrounding mountains. 
Base of Fall Creek Falls, Fall Creek Falls State Park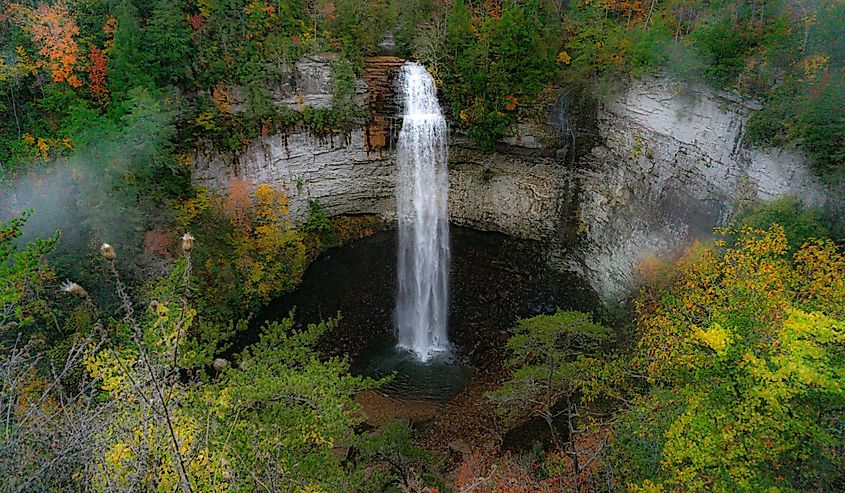 A tour of Tenessee hiking spots should include at least one in the Cumberland Plateau. Located in the southern part of the Appalachian Mountains, this unique physiographic region consists of raised highland plains, some of the largest expanses of intact forest in the eastern United States, and one of the tallest waterfalls in the eastern United States, the 256-foot Falls Creek Falls. Gazing up from the base of the falls is the best way to appreciate their grand splendor, so descend the steep 300 feet down the rocky, muddy trail to be fully engulfed in the falls experience. Bring a rain jacket for the splash zone, and good hiking boots for the difficult trek back up from the falls.
T.O. Fuller State Park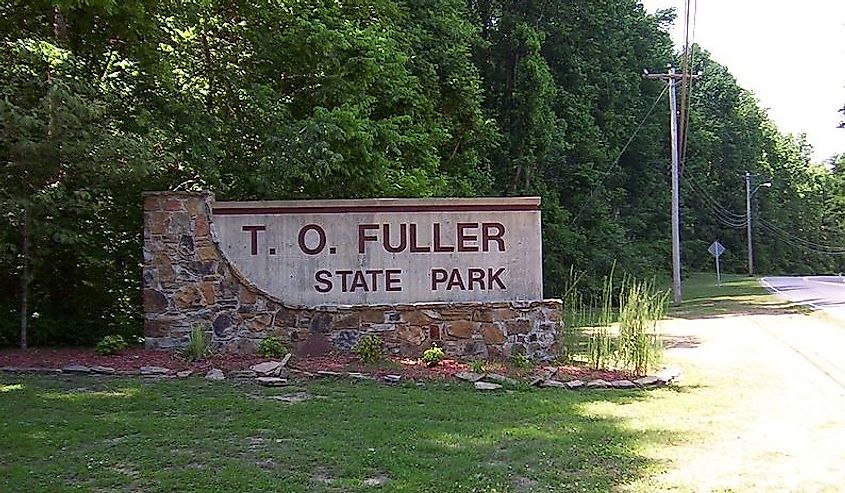 For those looking for a hike that combines historical significance with natural beauty, then T.O. Fuller State Park will certainly deliver. This park in south Memphis encompasses Mississippi flood plains, high-bluff ridges, and forests. And as the center of the Mississippi Flyway, it offers superb opportunities to watch a deluge of bird species flying overhead on their spring and fall migrations. As the first state park east of the Mississippi River that was open to African-Americans, and named after Dr. Thomas O. Fuller, who made sweeping contributions to empowering African Americans as an educator, pastor, politician, civic leader, and author, this park is an important part of black history in this region. In addition, construction on the park in the 1940s unearthed a prehistoric indigenous village, which is now open to the public as the Chucalissa Indian Village which includes a museum and preserved archaeological excavations. 
Grassy Ridge Bald Via Appalachian Trail, Pisgah State Park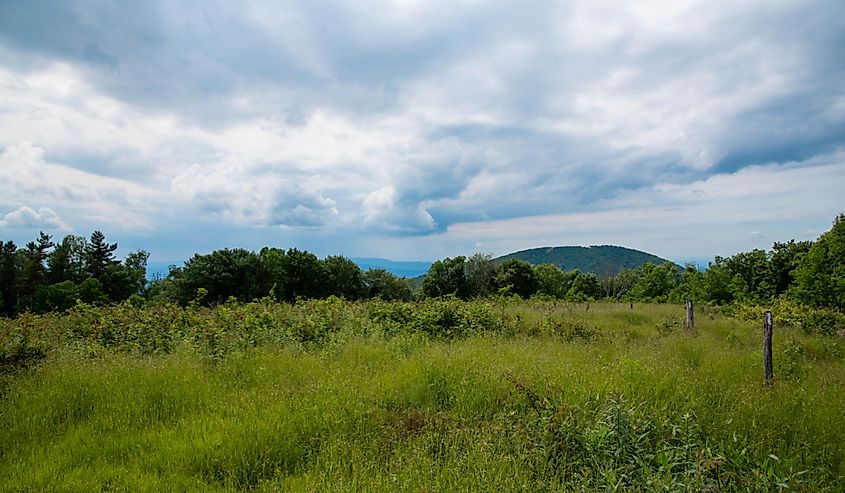 One of the most famous thru-hikes in the world, the Appalachian Trail, runs through Tenessee and is the experience of a lifetime if you have the chance to hike it. However, if you're not looking for 2,000 miles of hiking, then you can get a small taste of the trail in Pisgah State Park. Located near the border of Tenessee and North Carolina, this park offers amazing views across both states. Hop onto this 4.7-mile hike at Carver's Gap, and make your way through spruce-fir forests before the splendid vistas start to open up as you gain more elevation. By the time visitors reach the top at Grassy Ridge Bald with 1,000 feet elevation gain, they will be treated to 360° views of the surrounding mountains. 
Virgin Falls State Natural Area Trail
The namesake falls at Virgin Falls State Natural Area are reason enough to hike in this park. An underground stream bursts free from a cave and cascades down a 110-foot cliff before being swallowed up by a second cave at the bottom. But the Virgin Falls aren't the only thing that will wow you on this 9-mile trail. In addition to viewing two other waterfalls, you'll fjord across streams with the help of a cable,  walk through hemlock forests, and gaze upon spacious cave rooms. To protect local bats from the spread of White Nose Syndrome, make sure you do not enter the caves themselves.
Fiery Gizzard Trail to Raven's Point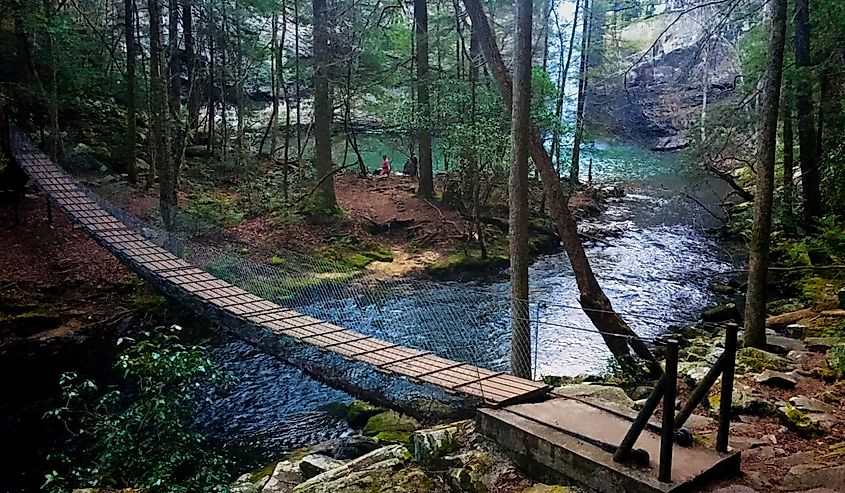 From babbling brooks to cascading waterfalls, rocky gorges and towers, old-growth forests, and panoramic overlooks, the Fiery Gizzard Trail to Raven's Point is a lush little piece of paradise among the surrounding agricultural land. Located in the 234-acre Grundy Forest State Natural Area in southeast Tennessee, this trail makes for a great day or weekend trip from Chatanooga. Not for the faint of heart, this ~12-mile hike involves intense rock scrambling and several creek crossings, but most reviewers on AllTrails swear that the effort is worth it for the spectacular sights, and it has rightly been voted one of the top 25 trails in the country by Backpacker magazine!
Twin Arches Loop Trail, Big South Fork National River and Recreation Area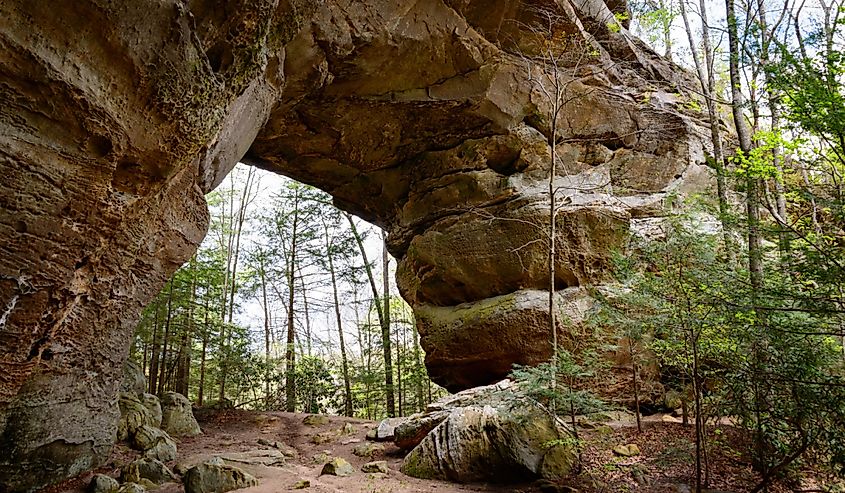 Towering rock formations, hoodoos, and arches may make you think of the southwest United States, but the Twin Arches Loop Trail proves that this magnificence also exists in the east. Standing at 103 feet and 62 feet, respectively, the twin rock arches are a grand sight to behold and form one of the largest natural land bridges in the world! The arches are reached relatively early in the hike, but don't stop there. Continue on to historic homesteads like the Charit Creek Lodge and Jack's Place to learn about the area's history, the stories of some of the families that lived there, and find food and rustic accommodations. Along the trail, you'll also see a few massive rock shelters that were historically used by the local indigenous peoples, and later by settlers and miners. 
Snoopers Rock Trail, Prentice Cooper State Forest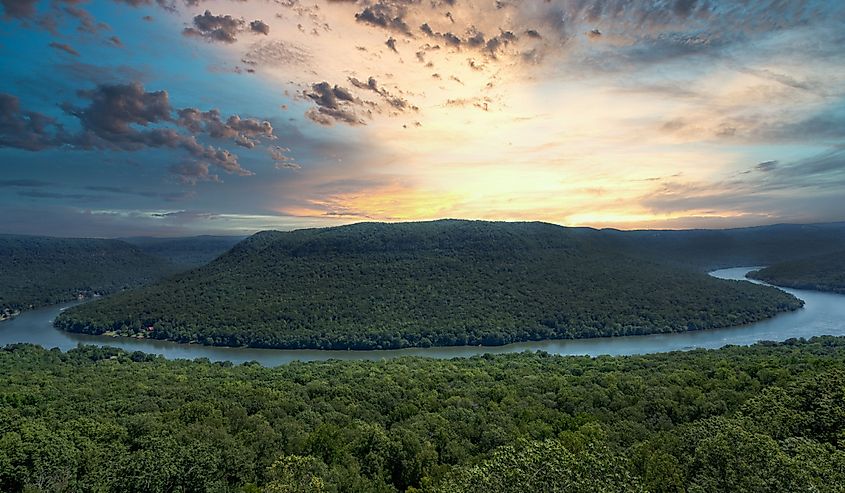 For unique and unforgettable river views, Snoopers Rock Trail in Prentice Cooper State Forest is the best place to be. This relatively easy ~6-mile hike provides is the perfect trail for a hot summer day, as the thick forests and stone stairwells provide shade almost all the way up. So you don't have to work too hard to be rewarded with the 180° views of the horseshoe-shaped Tennessee River Gorge at the top. You'll definitely want to stop to awe over the splendor of Indian Rockhouse, a giant rock shelter used by Indigenous people thousands of years ago, which you can access by squeezing through and descending a narrow stone staircase.
Clingman's Dome, Great Smoky Mountains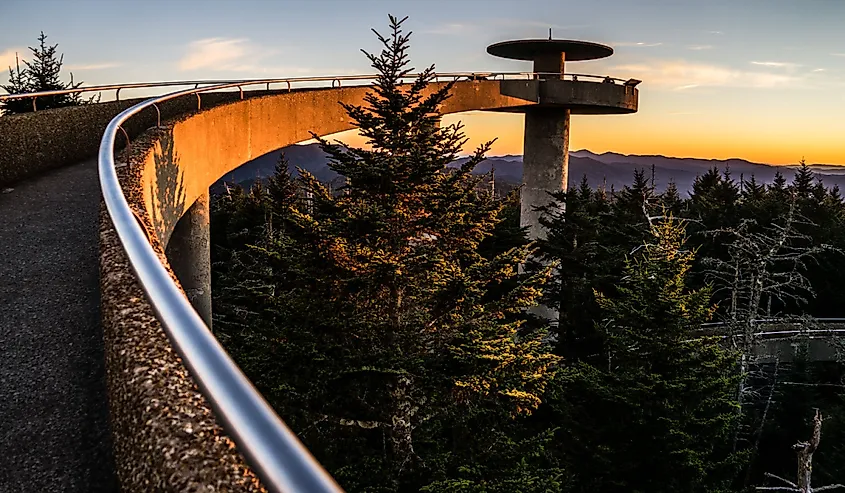 The Great Smoky Mountains unsurprisingly make another appearance on the Tennessee hiking bucket list, and Clingman's Dome is a popular and relatively easy way to experience the epic views this park has to offer. Not only is the dome the highest viewpoint in the park, but the highest point in the entire state of Tennessee at 6,643 feet. The observation tower at the top makes for excellent vistas of up to 100 miles of the mountainous landscape and views of 7 surrounding states. Head out early in the day to avoid crowds and cloud coverage for the best viewing experience. 
Ijams River Trail, Ijams Nature Center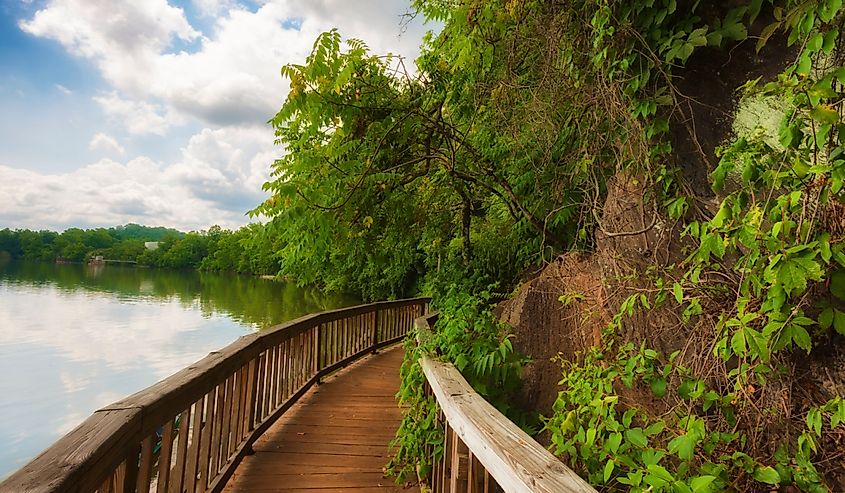 Escape the bustle of Knoxville for the day and take a leisurely stroll on the 1.3-mile wooden boardwalk of the Ijams River Trail along the Tennessee River. This urban green space is a great place to watch shorebirds and the Ijams Nature Center provides knowledge about the local flora, fauna, and history. Kids will enjoy the quarter-acre natural playground and the 5-acre playscape where they can explore, climb, and free play in a natural setting. Adults are encouraged to play too and have their own "primal playground" for outdoor exercise, which encompasses stone, wood, and boulder-field sections to challenge their skills. The site is also home to Knoxville's only outdoor rock climbing spot, paddleboard rentals for river exploration, and a beer garden to cap off a relaxing or rejuvenating day. 
Cumberland Trail: Laurel Snow Trail to Laurel Falls, Laurel-Snow State Natural Area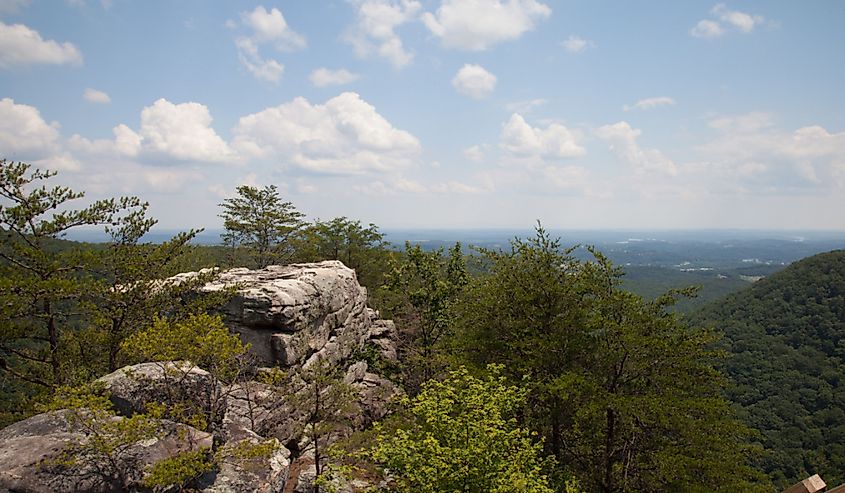 Deep gorges have been sliced through the Cumberland Plateau by years of erosion from the local creeks, making for a stunning hike with massive split boulders, and babbling creeks. Walking along old railways, metal bridges, and old logging roads, provides great fodder for those interested in mining history. Boasting two scenic waterfalls that gave it its namesake: Laurel Falls and Snow Falls, and two scenic overlooks at Buzzard and Raven points, the trail leaves nothing to be desired for the nature-loving hiker. If the 4.7-mile hike doesn't wear you out, bring your rock climbing gear and get vertical on some of Buzzard Point's and Laurel Falls' popular climbing routes! 
Appalachian Trail to Mount Kephart and Icewater Spring Shelter, Great Smoky Mountains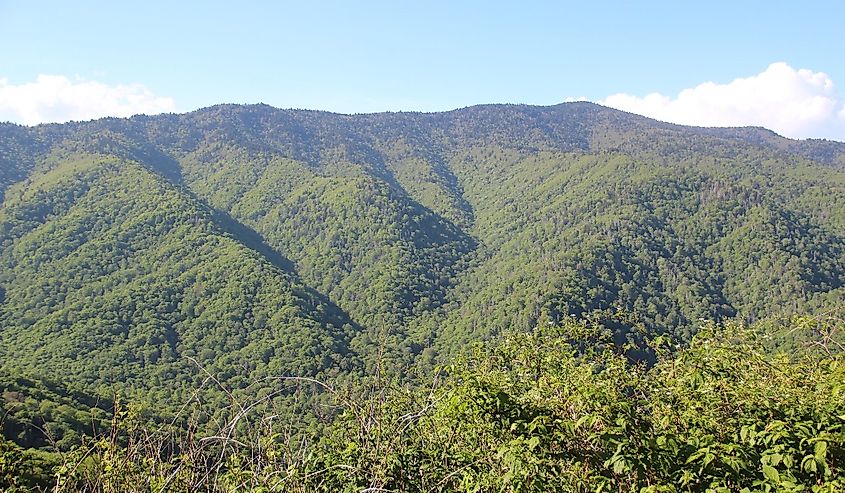 Lesser known than many of the popular Great Smoky Mountain hikes, this trail bestows comparable epic mountain overlooks for its hikers in only 6.5 miles, without the crowds of people blocking the views. As part of the Appalachian Trail, Mount Kephart is one of the most accessible high-peak mountains visitors will find in the park. Hike through the forest, ascending over rocky stairs and tree roots, until you transcend the trees and have a birds-eye view of the surrounding landscape. The Jumpoff lookout, which hangs over a steep cliff dropoff, is one of the best spots to take in the views, as long as you are careful and sure-footed!
Takeaway
For thru-hikers wanting to tackle the Appalachian Trail, day hikers looking to catch a glimpse of the iconic Great Smoky Mountain vistas, or local Tennesseans who just want a quick escape into nature, this state has the perfectly-catered hike for everyone. Hikers are treated to lush mountains, cascading waterfalls, and unique rock formations, and there is no doubt with the superabundance and biodiversity of the creatures here, that trekkers and visitors will experience many memorable encounters!