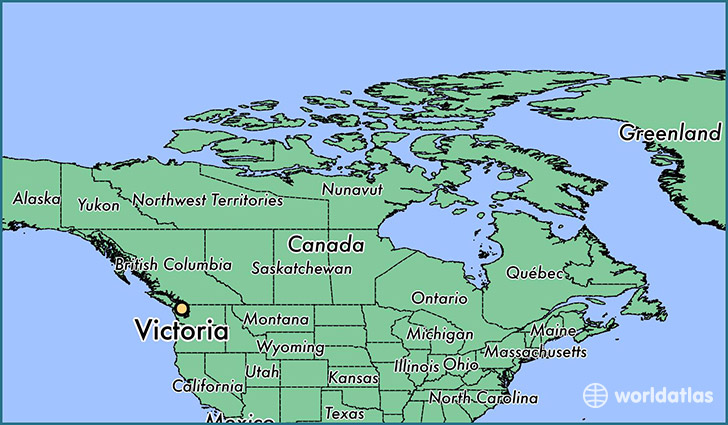 Victoria is a city found in British Columbia, Canada. It is located 48.43 latitude and -123.37 longitude and it is situated at elevation 6 meters above sea level.
Victoria has a population of 289,625 making it the 4th biggest city in British Columbia. It operates on the PDT time zone, which means that it follows the same time zone as Vancouver.
Quick facts
| | |
| --- | --- |
| Country | Canada |
| Province | British Columbia |
| Population | 289,625 |
| Elevation | 6 m over sea level |
| Time Zone | PDT |
| Longitude | -123.369300 |
| Latitude | 48.432940 |

Victoria, the capital city of British Columbia, is commonly referred to as the "Garden City," and attracts millions of visitors each year.
Enjoying a mild climate with rather dry summers, Victoria has an abundance of opportunities for fun and discovery. Numerous sporting events, a lively downtown and the surrounding natural beauty charms visitors and residents.
Victoria is located near the southern tip of Vancouver Island, with its sister city Vancouver just across the bay on the Canadian mainland. The island is the largest on the Pacific coast and is home to cougars, bear, and elk, with otters and seals living along the shoreline.
Victoria has a picturesque historic city center, with imposing British Columbia Parliament Buildings and the contrasting elegance of the gothic Christ Church Cathedral.
The Inner Harbour is the center of activity in Victoria - with artists, jugglers, street musicians, kayak rentals, whale watching trips set against a backdrop of yachts and legislative buildings. The Vic-Maui Yacht Race, the longest offshore sailboat race on the West Coast, begins here every two years.

Thanks to the mildest climate in all of Canada, certain kinds of bananas have no trouble growing in Victoria!
Victoria is known as the city of flower beds, and each year almost every flower the city is counted and totaled.
Singer Nelly Furtado is from Victoria.

Butchart Gardens
For anyone visiting Victoria, the Butchart Gardens are a popular attraction. A family business from its inception, the 50 acre gardens are elegant, with paved paths, winding meadows and gardens of blossoming flowers. The trails lead to ponds and fountains, wooden bridges and rumbling creeks lined with graceful trees both local and exotic. Many paths loop in intriguing circles and spirals, leading to viewing benches, shelters and grassy nooks. Butchart Gardens' most famous highlights include the Red Gardens and the fabulous Chinese Gardens.
Royal British Columbia Museum
The Royal BC Museum is considered to be one of the world's best regional museums. The various archives, exhibits and galleries portray important stories about the people and the province of British Columbia. Natural History Gallery features exhibits about Pacific coast flora, fauna and geography from the Ice Age until today. The gallery features scale models of a seacoast and a temperate rainforest, along with a life-size wooly mastodon replica. The Royal BC's Modern History Gallery presents the recent past, while the First Peoples Gallery showcases the native Canadian First Nations art and artifacts used in daily life.
Whale Watching Tours
A Pacific Ocean whale watching adventure provides perfect opportunities for spotting the famous killer whales. The world's greatest concentration of Orcas are found off Vancouver Island. Using secure and speedy tour boats, underwater microphone technology and an extensive knowledge of the local ecosystem, Victoria whale watching tour operators make sure any encounter with the whales will be unforgettable. Whale watching is a "must do" for a Victoria and Canada Canada vacation.

Maps
This page was last updated on October 2, 2015.