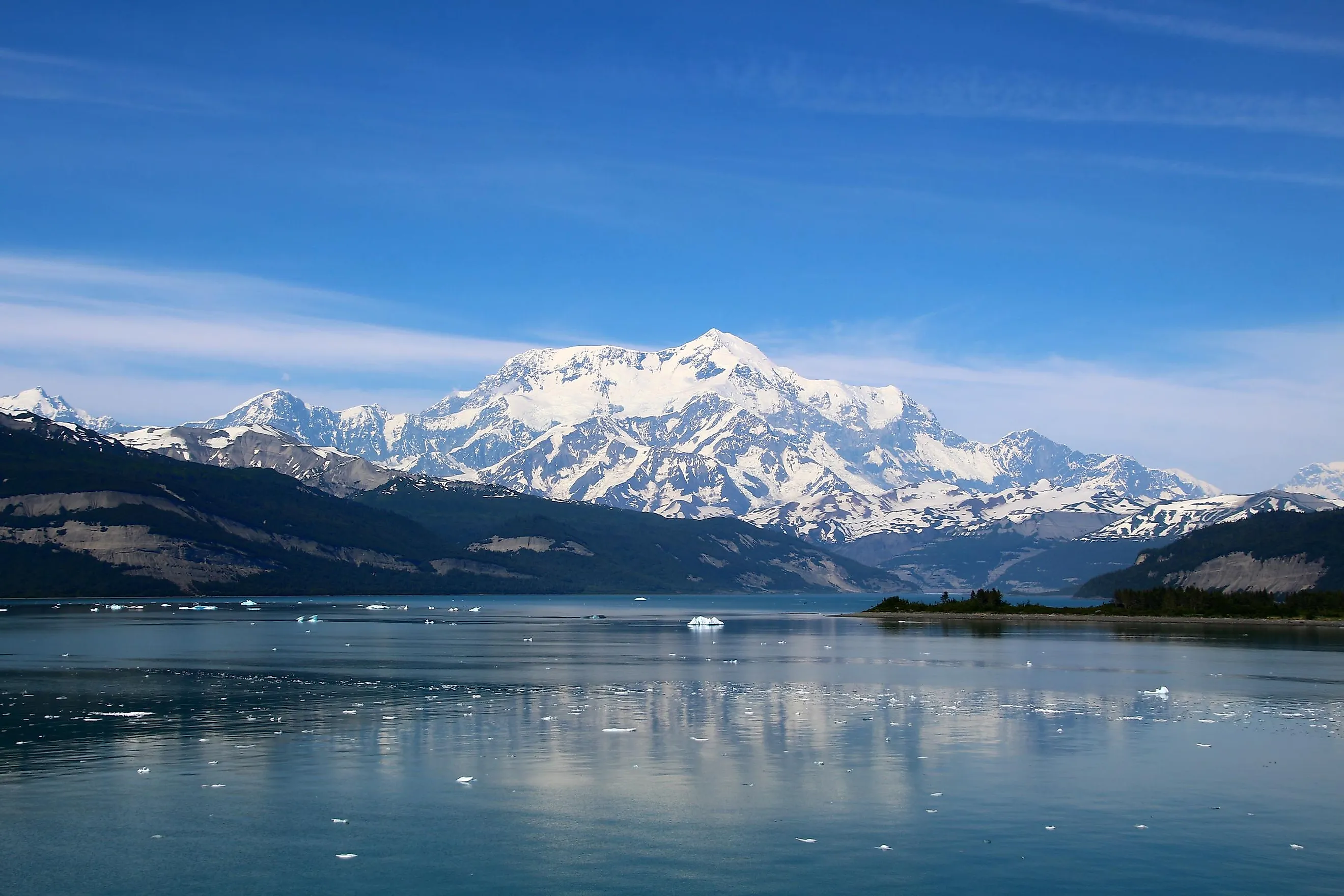 Mount Saint Elias is a majestic mountain in North America straddling the border between Canada and the United States. The mountain's summit reaches a lofty height of 18,008 ft (5,489 m), making it the second-highest peak in Canada and the United States. The mountain, discovered in the 18th century by the Europeans, continues to remain shrouded in mystery due to its remote location and extreme climate. Only a few have attempted to summit the challenging mountain over the years, and even fewer have succeeded in doing so.
Geography Of Mount Saint Elias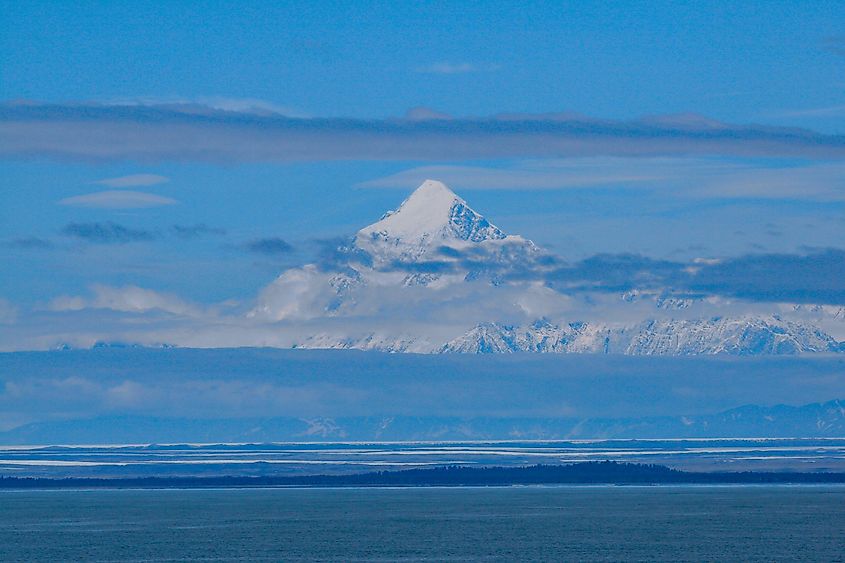 Mount Saint Elias is located on the Yukon (Canada)-Alaska (United States) border in northwestern North America. The mountain sits northwest of Malaspina Glacier and 26 miles (42 km) southwest of Mount Logan (Canada's highest mountain), within a highly mountainous and glacial region. The area is part of nationally protected land, such as the Kluane National Park and Preserve in Canada and the Wrangell-St. Elias National Park and Preserve on the American side. Moreover, there are several massive peaks located nearby, such as Mount Huxley, Mount Newton, and Mount Malaspina, primarily along the northern boundary of Mount Saint Elias.
Being more than 18,000 feet tall, Mount Saint Elias is a Class 1 mountain (greater than 14,764 feet), the second highest major peak in both of these countries, and within the top 5 highest peaks in North America. It boasts a prominence of more than 11,000 feet, making it the 11th most prominent peak on the continent. However, while these facts are astonishing, what truly sets this mountain apart is its immensely steep vertical relief. Specifically, the mountain's summit rises to its vertical peak of 18,008 feet in just 10 miles (16 km) of horizontal distance starting from the head of Taan Fjord (an arm of Icy Bay). Due to this, the mountain has a very sharp incline which gives it a uniquely striking appearance and also makes it a tough climb. Moreover, as it is just a few miles away from Icy Bay, Mount Saint Elias is also very close to the Gulf of Alaska and the North Pacific Ocean.
Climate 
At lower elevations, the ecoregion experiences a subarctic climate with cool summers and cold winters, while a tundra climate with cold summers and frigid winters prevails at higher elevations. Precipitation, mostly as snow, ranges from 79 inches to more than 280 inches annually. The mean annual temperature is -0.5°C (31.1°F). In winter, the average temperature can be as low as -11.5°C (11.3°F), while in summer, it is 10°C (50°F).
History Of Discovery Of Mount Saint Elias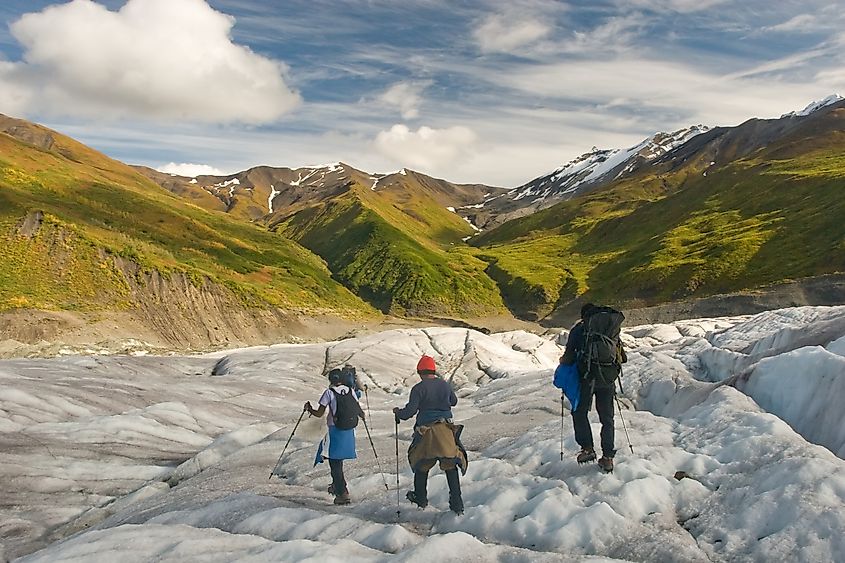 The mountain's extremely remote location left it undiscovered by the Europeans until the 18th century. The first recorded sighting of this mountain is from 1741, when a Russian exploration group headed by Danish explorer Vitus Bering spotted it from the coast on July 16. While this may have been the first sighting, as there were no major motivating factors to explore inland, and hence, there weren't any further developments regarding Mount Saint Elias except the naming of the mountain.
It is also important to remember that although the mountain was known to the world only in the 18th century, the mountain and nearby areas played a significant role in the lives of the region's indigenous people. The local name of the mountain, as given by the Tlingit people of South Alaska, is "Yas'éit'aa Shaa," which means "mountain behind Icy Bay." 
The mountain would serve as an important landmark for the Kwaashk'iḵwáan clan of the Tlingit people, who used it to guide them down the Copper River and nearby areas at a time when modern technologies we use today were non-existent. As for its modern name, most historians believe "Mount Saint Elias" was developed by mapmakers who named it after Cape Saint Elias following its discovery by Vitus Bering.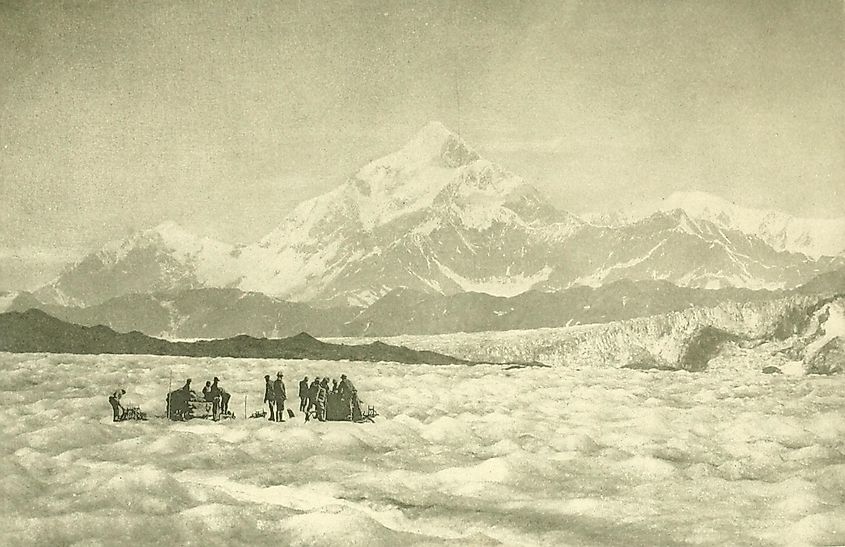 While the mountain was forgotten for a while after its discovery in 1741, it once more came into the spotlight in 1897. This time, it was for the first expedition, which was led by the famous Prince Luigi Amadeo di Savoia, Duke of the Abruzzi, who was an avid mountain climber. This expedition started on July 31 and was the first successful attempt to reach the summit, following which the mountain has only been climbed a handful of times. Various reasons, including the steep climb, harsh weather, and lack of human inhabitation nearby, have rendered Mount Saint Elias a less-visited mountain. To this end, the first winter ascent of the mountain took place another 100 years later, in 1996, by a team of three people. They began their trek on the Tyndall Glacier and followed a curved route to avoid hazardous areas with excess loose rock. So, while it may not be a hidden mystery anymore, the mountain is still considered difficult to climb and a challenge for even the most adept mountaineer.
Wildlife In Mount Saint Elias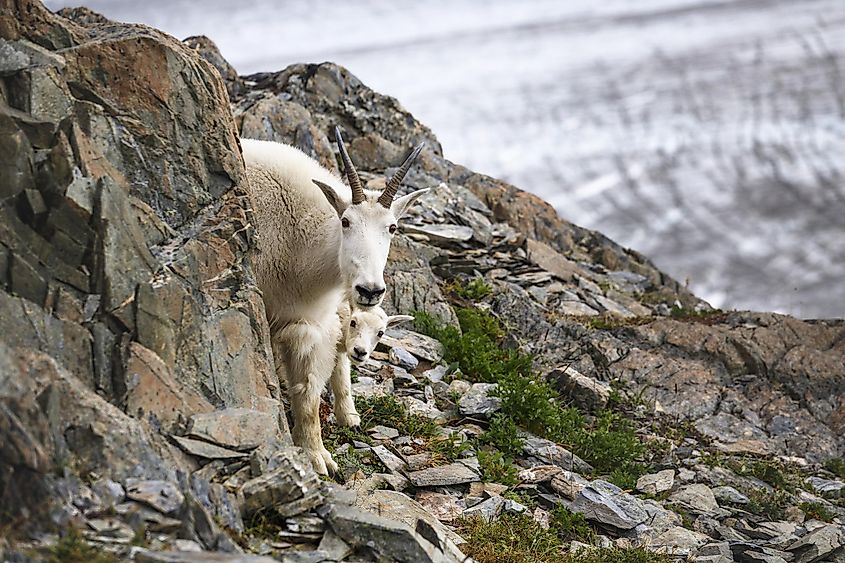 While extreme conditions render Mount Saint Elias uninhabitable for humans, some plants and animals are found here, mostly at and near the base of the massif. Plants such as the Lingonberry and Arctic bell-heather grow in the lower elevations while plant life becomes sparser with height. No plant grows at elevations with permafrost cover. Animals found in this mountain include mountain goats, beavers, moose, caribou, and other mammals that are well-adapted to survive the frigid mountain climate. Mountain goats, being adept climbers, are found at elevations of up to 10,000 feet. 
Mount Elias is one of North America's most challenging peaks to climb. Its remote location, extreme height, perilous weather conditions, and steep incline blend to create a powerful force that can only be conquered by the very best of climbers. Thus, even today, this mountain remains wrapped in mystery with much left to be discovered in its towering heights and surrounding raw wilderness.