Lake McConaughy is a large reservoir that has been formed by the Kingsley Dam on the North Platte River. Lake McConaughy is Nebraska's largest reservoir that is renowned as a fun outdoor destination. Boating, fishing, swimming, scuba diving, and camping are just a few of the recreational activities that may be done on its waterways and shores. 
About Lake McConaughy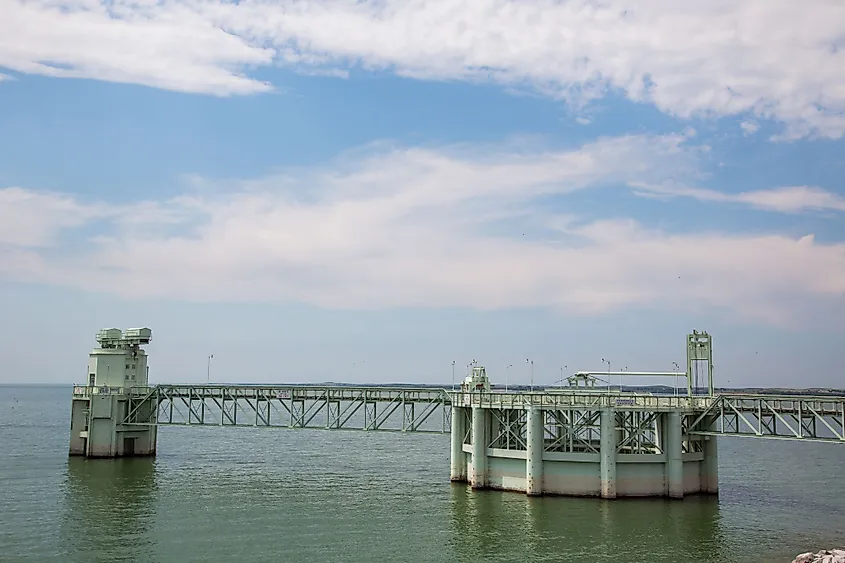 The Nebraska Game and Parks Commission looks after the Lake McConaughy State Recreation Area, which is located on the North Platte River, approximately 14km north of Ogallala, Nebraska. Being the state's biggest reservoir, Lake McConaughy has a length of 35km and a maximum width of 6.4km. The lake reaches a maximum depth of 43m and covers a surface area of 144 sq. km. Even its nickname, "Big Mac," is a reflection of its enormous size. The waters of the Lake McConaughy reservoir are primarily used for irrigation purposes and for generating hydroelectric power. Also referred to as "Little Lake," Lake Ogallala forms a crucial component of the Lake McConaughy recreation complex and is located immediately below Kingsley Dam.
Brief History
The idea of bringing irrigation to south-central Nebraska was explored by locals as early as the 1880s. With each subsequent cycle of drought, interest in irrigation increased until the 1930s drought, and the economic crisis helped convince state and federal officials as well as local leaders of the necessity for irrigation. Construction on the hydro-irrigation project started in 1936 after the Public Works Administration authorized funding for it in 1935. Project operations started immediately after the 1941 closure and dedication of Kingsley Dam. George P. Kingsley, a banker from Minden, Nebraska, and C.W. McConaughy, a grain trader and the mayor of Holdrege, Nebraska, two of the project's major promoters, are commemorated by having the dam and reservoir named in their honor. Although neither lived to see the project's completion, their leadership and tenacity ultimately resulted in a public power and irrigation project that assisted Nebraska in becoming one of the top agricultural states in the country.
Kingsley Dam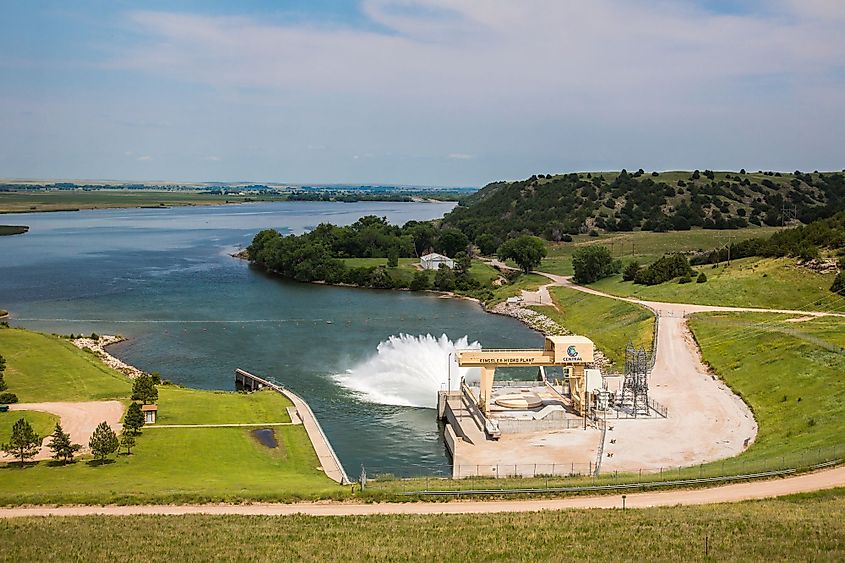 Kingsley Dam, a large hydraulically filled earthen dam, is situated at the eastern end of Lake McConaughy. The dam is over 49m tall, 5.0km long, and 340m wide. The whole dam is an engineering wonder. The majority of the soil near the dam is fairly sandy. A solid wall of interlocking sheet steel pilings had to be driven across the riverbed and down between 30 and 160 feet by workers. Prior to reaching an impermeable layer of Brule clay, the pilings traversed the sand and gravel. Workers then poured loess soil—a fine-grained clay and silt soil more frequently found in Iowa than Nebraska—over those sturdy pilings until the finished height was 49m. The loess was then dried up, and the soil solidified into a core. Local sand and gravel were pumped over the core from a pit. Twenty-five million cubic yards of soil and other materials make up the complete dam. The Kingsley Hydro plant is located below the dam's southern end. 
Wildlife
A variety of habitats can be found in and around Lake McConaughy. These habitats range from open sandy beaches to riverine marshes and cold-water streams. Along with various fish and animal species, the lake is also home to many species of amphibians and reptiles. Around Lake McConaughy, more than 300 different bird species have been recorded, including a sizable population of shorebirds, ducks, and geese. During their yearly journey to and from Texas breeding sites, sandhill cranes stop near the west end of the lake. Bald eagles gather below the Kingsley and Johnson No. 2 hydro plants throughout the winter, drawn by the turbulence and ice-free water produced by the plants' operation. On the beaches near Lake McConaughy, nesting populations of least terns and piping plovers, which are categorized as endangered and threatened species, respectively, can be found.
Significant Developments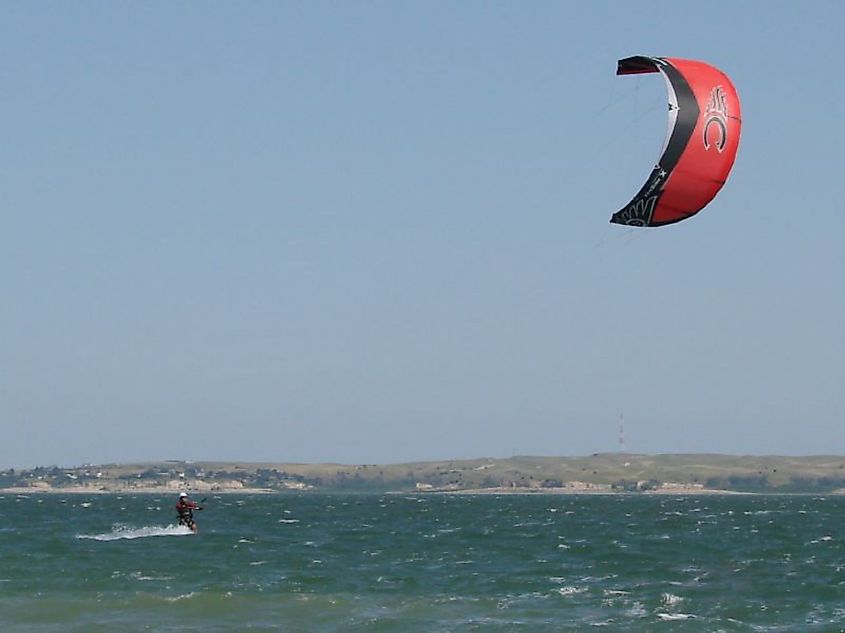 A Master Plan for Lake McConaughy/Lake Ogallala, a joint effort by the Commission and state and local stakeholders, was authorized by the Nebraska Game and Parks Commission in 2016 in order to develop the parks surrounding the lakes for the future and to safeguard important natural resources. Game and Parks has spent more than $4 million on repairs and upgrades to the parks since it went into effect in 2017, including renovating camping amenities, bathrooms, boat docks, angler access areas, park entrance stations, and accessibility. A Lake McConaughy Advisory Committee was established in 2020 as part of additional attempts to profit from tourism and take advantage of Lake McConaughy's potential for future economic growth.
Most Nebraskans and citizens of adjacent states are aware of Lake McConaughy as a fantastic location for outdoor leisure. Campers, boaters, windsurfers, swimmers, water skiers, picnickers, scuba divers, hunters, anglers, and other outdoor recreationists enjoy Lake Mac's white sand beaches and crystal-clear waters. Therefore, it is crucial to safeguard and maintain water quality for a variety of public, private, and economic uses.