The exceptional natural beauty of upstate New York is often overlooked in favor of the metropolitan hustle and bustle found downstate. But for those who journey to this part of the Empire State, the reward is incredible views, including those at many crystal-clear lakes that have captivated wanderers for centuries. From tranquil waters spotted with lily pads to awe-inspiring mountain peaks providing a stunning backdrop, these eight most beautiful lakes in upstate New York are an absolute must if you are looking for spectacular scenery or a peaceful escape from everyday life.
Lake Ontario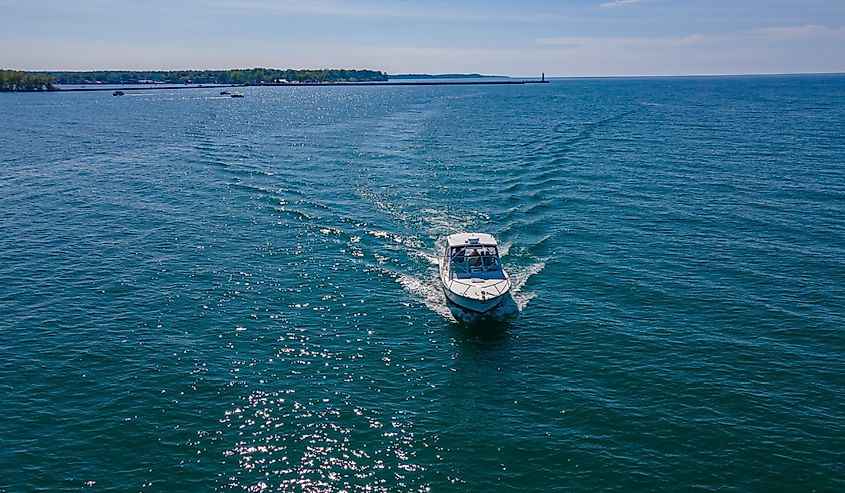 One of the five Great Lakes in North America, Lake Ontario, has a history that traces back to the last ice age. Its history and importance to the region are rich in archaeological artifacts and native history. With a maximum depth of 802 feet, it is an essential source of fresh water for millions living near or depending on its waters. In addition, it also serves as a significant economic hub in the form of tourism and commercial fishing. Interestingly, a person by the name of Marilyn Bell was the first to achieve the record of swimming across this gargantuan body of water in 1954. Lake Ontario remains one of the world's most magnificent freshwater wonders, and New York residents and visitors alike flock to the countless beaches and parks along New York's Lake Ontario Shoreline.
Keuka Lake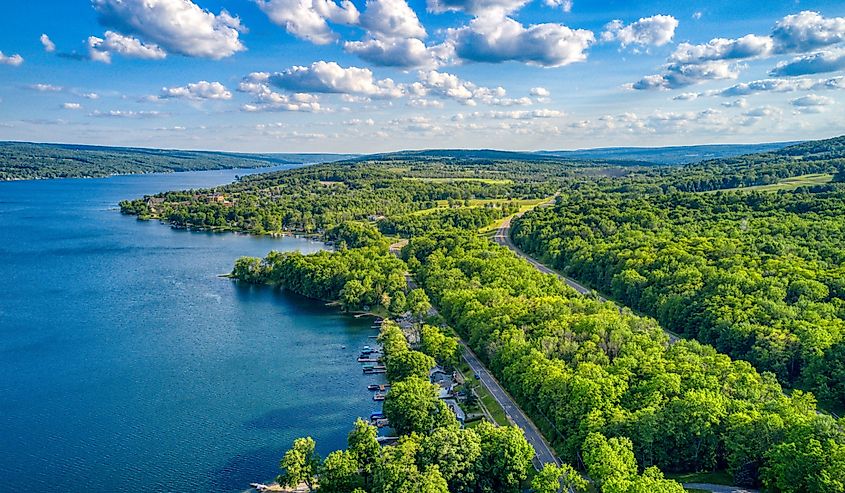 Keuka Lake is in the Finger Lakes region of New York State and is a popular summer destination for families and outdoor adventurers. Certain areas like Penn Yan are bustling with vacationers during the summer months who flock to the site for its incredible hiking trails, crystal clear waters, and delicious local cuisine. An exciting feature of Keuka Lake is its Y-shape, which contributes to its fascinating geography, standing out among all the other Finger Lakes. It also offers a unique perspective when looking out at it from particular vistas. The calm waters make it ideal for swimming and boating activities year-round. At the same time, experienced anglers can enjoy an evergreen bounty of fish, including lake trout, walleye, perch, largemouth bass, bullheads, smallmouth bass, northern pike, and more.
Seneca Lake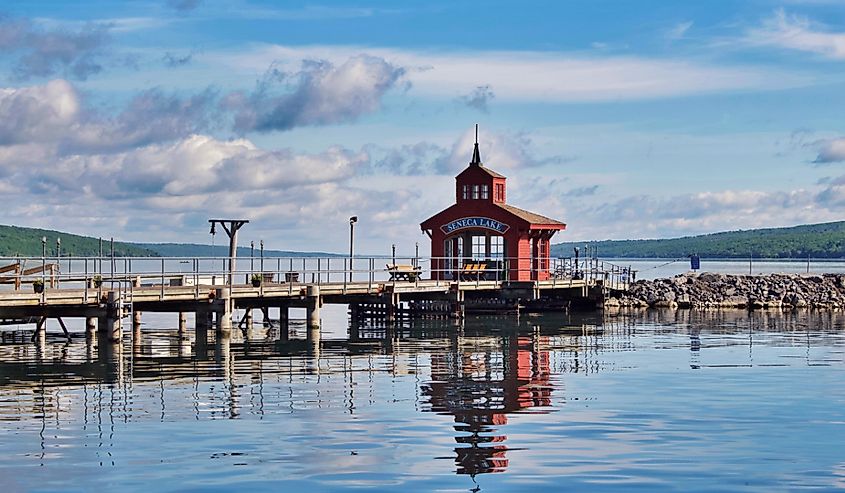 Long before the Europeans, Native Americans called Seneca Lake home for its plentiful fish, birds, and wildlife. Today, Seneca Lake is in both Seneca and Schuyler Counties in New York State, the largest glacial Finger Lakes at 38 miles long, 3 miles wide, with a maximum depth of 618 feet. Villages, farmlands, and rolling vineyards dot the shorelines which have led to a rise in tourism and an abundance of wineries that attract visitors worldwide. With opportunities to explore its depths by boat or relax on one of its beaches and look out over the serene expansive waters, Seneca Lake has something for everyone.
Mirror Lake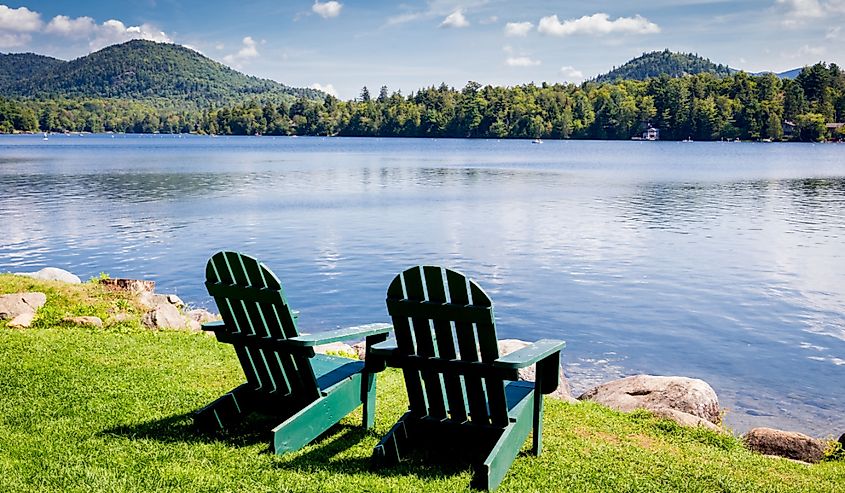 Mirror Lake is a stunningly beautiful lake in the Adirondack region of northern New York. Nestled in the small village of Lake Placid, near North Elba, it is a popular location because of its proximity to downtown. The best way to experience Mirror Lake is to stroll around its circumference, savoring the breathtaking views of nature. For those looking for something more adventurous, canoeing on the lake is also an option. Ice skating in the winter is also popular, but the fall and spring are bursting with reflective colors which explains the naming of this magical place.
Saranac Lakes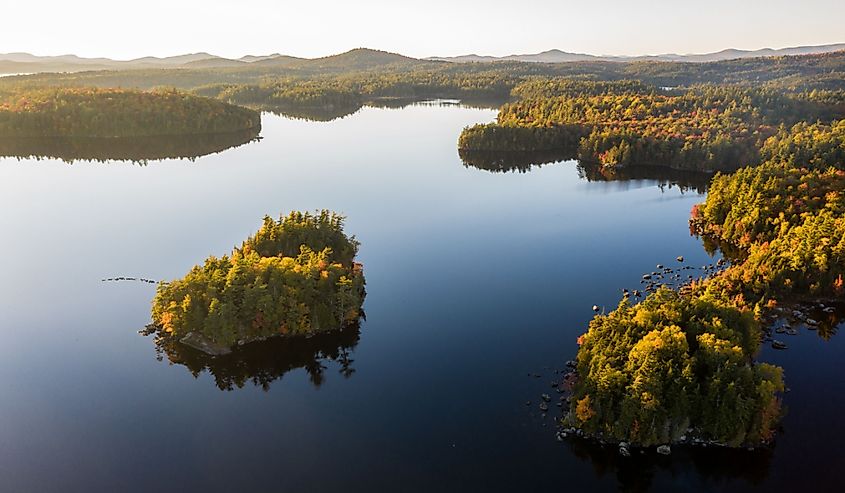 The beautiful Saranac Lakes, nestled in the Adirondack Mountains, are home to a unique ecosystem filled with wildlife and natural splendor. The clear waters of six interconnected lakes and the lush forests surrounding them offer some of the most breathtaking views in North America. Visitors can spend their days canoeing, kayaking, fishing, or even just soaking it all while relaxing on one of the numerous beaches. From cliff jumping to setting up tents with the family alongside excellent nearby hiking trails, finding something to do when visiting Saranac Lake during any season is easy.
Green Lake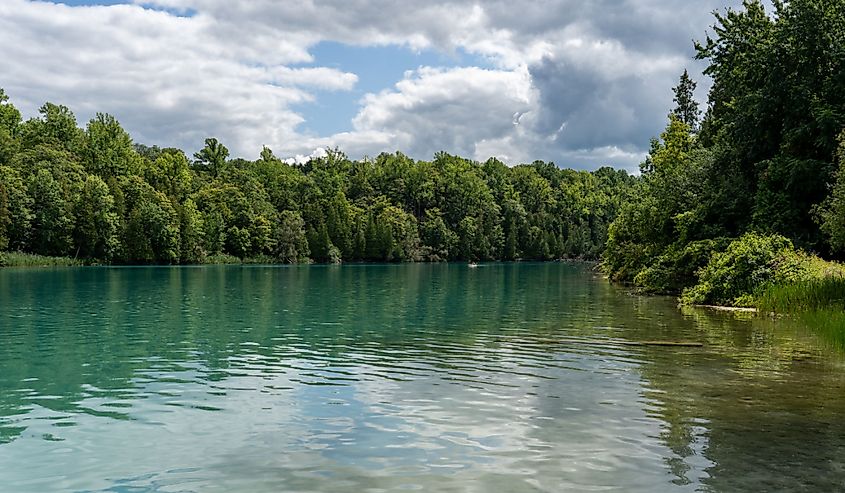 Green Lake in the town of Manlius is an incredible natural wonder renowned for its private beaches. This lake features crystal clear waters that shimmer green against the backdrop of lush forests and rolling hills. Its tranquil atmosphere provides the perfect environment for swimming, fishing, canoeing, or just a peaceful stroll along its circumference. The lake is also home to many different species of wildlife, such as ducks, geese, beavers, turtles, and frogs which only serve to make it more captivating. However, while barbecues are available, bring your own ingredients: the local wildlife is off-limits.
Lake George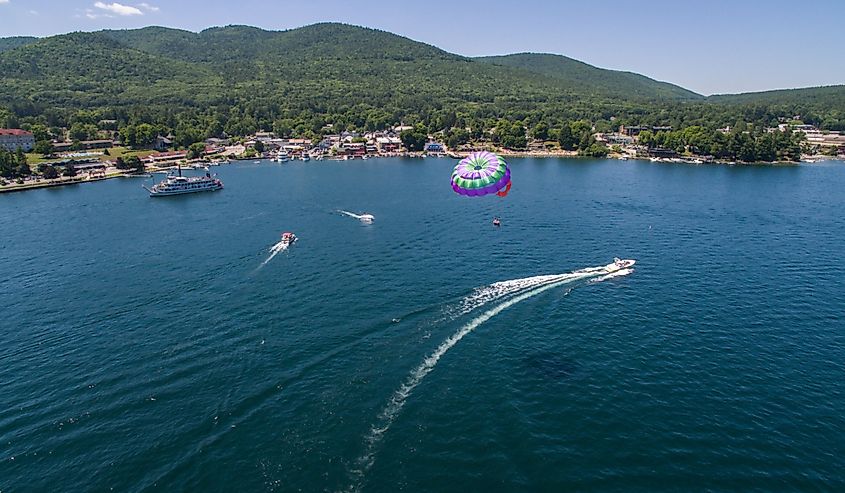 Lake George is a deep, 32-mile area of freshwater in the Adirondack Mountains. The lake is impressive for its clarity and beauty, the sweeping views of mountains and trees rising above the shoreline have been popular since the early 19th century. The area's amusement value has made it a significant tourist destination with attractions like Fort William Henry, Million Dollar Beach, and Pirate's Cove Adventure Golf. Many rentable boats provide visitors with incredible sights on the lake, making it a popular spot for holiday getaways. Beyond that, there are a variety of unique shops and restaurants throughout the region, giving people plenty of ways to explore Lake George.
Cayuga Lake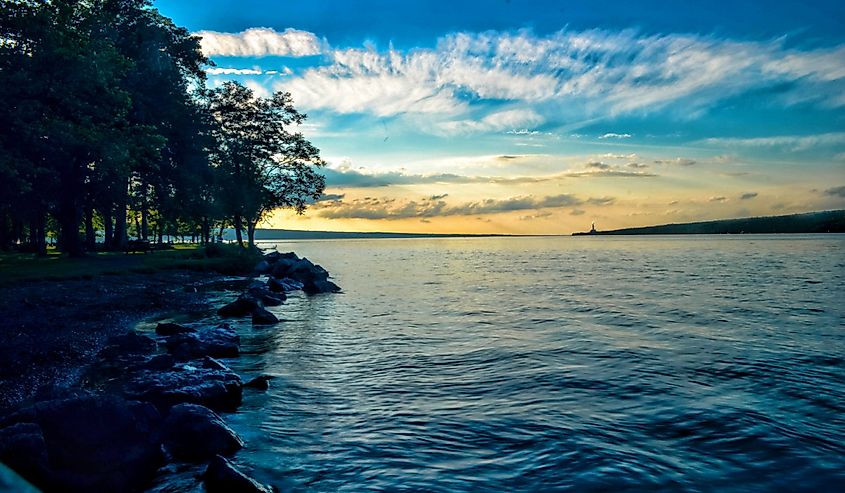 Cayuga Lake is one of the Finger Lakes in New York State, spanning 38.1 miles with 95 miles of shoreline. With an average depth of 179 feet, the deep waters offer recreational activities such as swimming, fishing, and boating. Every year around the end of spring, the northern migratory birds flock to the shores, which makes it a popular place for birdwatching activities. Cayuga is renowned for its distinctive wineries and breweries featuring local wines and craft beers from nearby communities. Its picturesque views make it a favorite spot amongst tourists who flock here to view its natural beauty during all seasons.
With its unique islands, pristine waters, and endless recreational opportunities, Upstate New York offers something for everyone. Whether you want a relaxing weekend at Lake George or an adventure-filled getaway to the Adirondack Mountains, this is the perfect destination to create lasting memories. From fishing in Cayuga Lake to camping along Mirror Lake to taking a boat ride across Seneca Lake, these eight lakes will surely provide an unforgettable experience. Consider one of these stunning upstate lakes when finding a picturesque location for your next vacation.