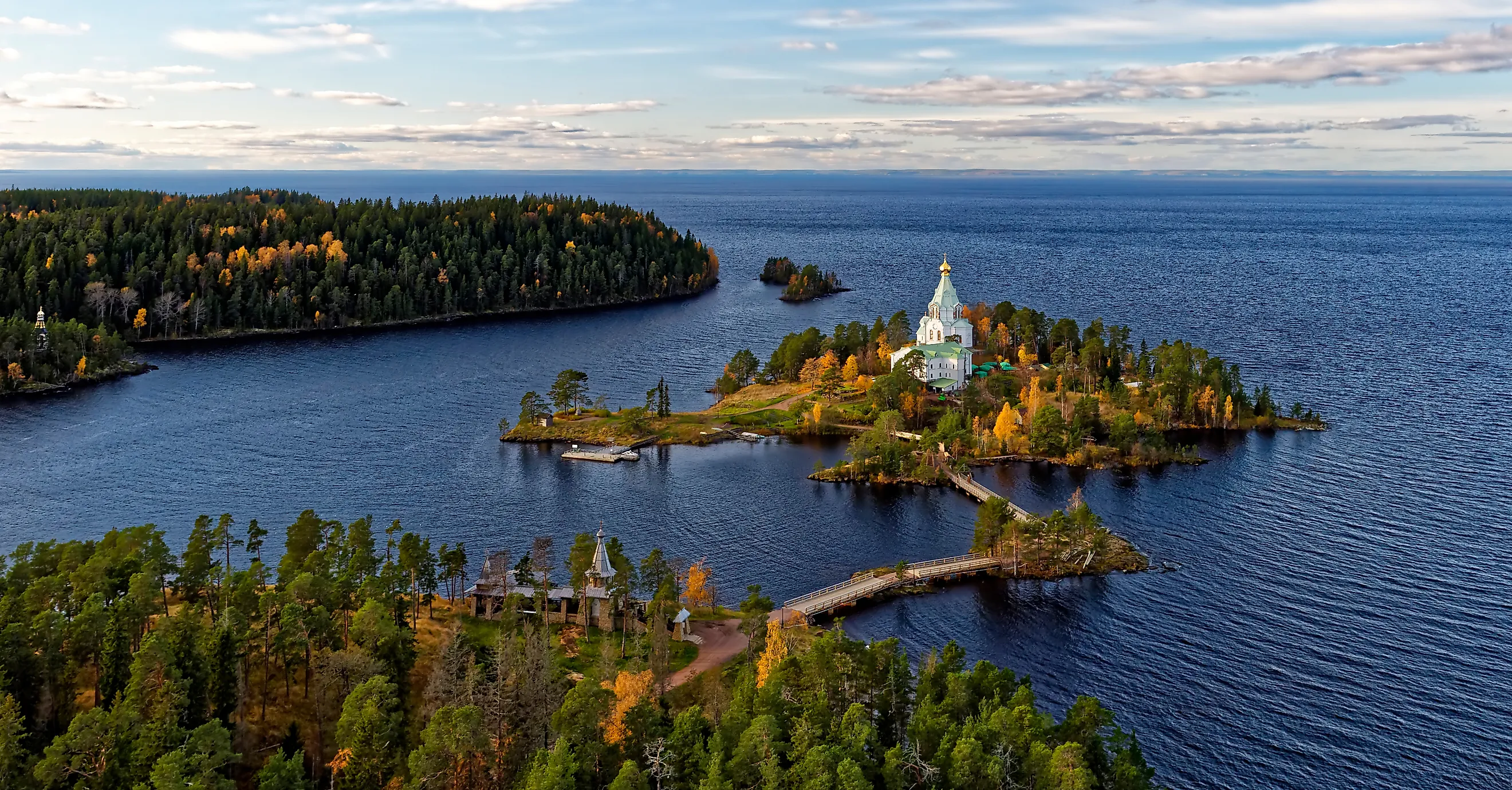 10 Largest Lakes In Europe
Europe has some of the largest lakes in the world. From natural freshwater lakes to massive human-made reservoirs, their supply of freshwater is used for irrigation, hydropower, as fishing locations (both natural and in fish farms) and as a means of transporting goods and natural resources throughout the waterways. This list includes the ten largest lakes in Europe, both natural and artificial.
10 Largest Lakes In Europe
1. Lake Ladoga, Russia - 17,700 km2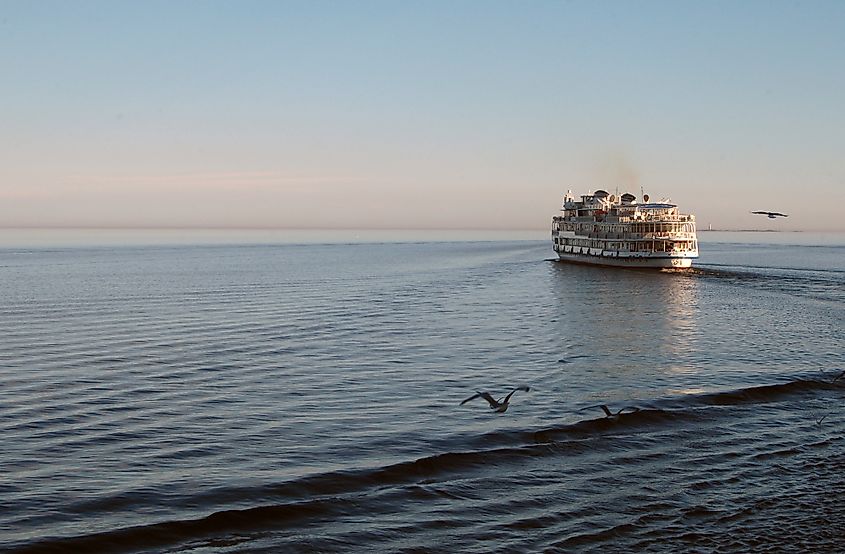 Lake Ladoga is the largest lake entirely in Europe. It has a surface area that measures 17,700 km2, and sits just outside St. Petersburg between Karelia and Leningrad Oblast, Russia. The lake measures 219 km in length by 83 km in width, and has an average depth of 51 m with the maximum depth being 230 meters. The lake is also home to a variety of animals, mainly fish, such as smelt, ruffe, carp bream and arctic char, but also the endemic Ladoga seal. 
2. Lake Onega, Russia - 9,894 km2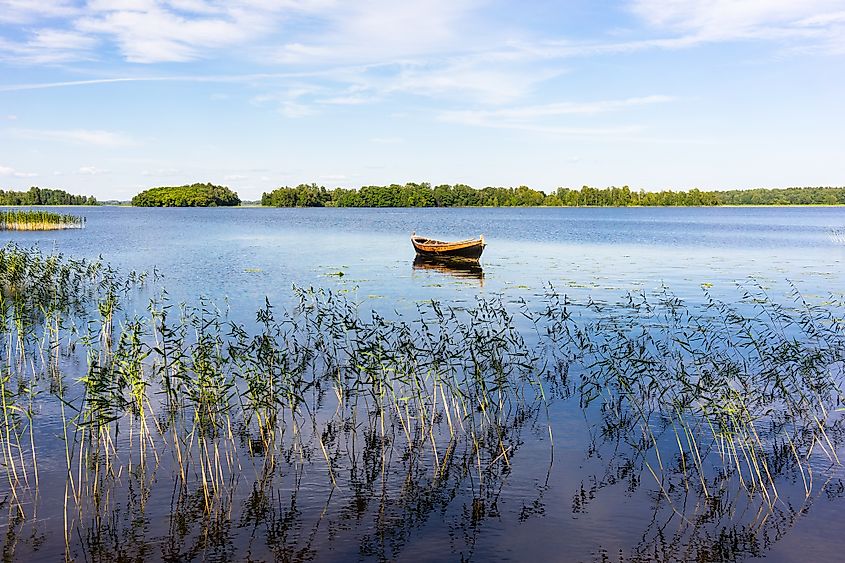 Lake Onega is Europe's second largest lake, and is also located in Russia. It has a surface area of 9,894 km2  and is also located between Leningrad Oblast, Vologda Oblast, and Karelia. The lake's catchment area drains into the salek by way of 58 rivers and more than 110 tributaries including  Shuya, Suna, Vodka, Vytegra and Andoma rivers. The lake has some 1,650 islands within it, the most notable of which is Kizhi island which is a State Historical, Architectural and Ethnographic Preservation Area. Numerous buildings and monuments exist on the island ranging from the 15th to the 20th century. The most picturesque and noteworthy however, is the stunning Kizhi Pogost from the early 18th century. The pohost is listed as a UNESCO world heritage site and is a popular tourist attraction.
3. Kuybyshev Reservoir, Russia - 6,450 km2
Kuybyshev, also known as Samara Reservoir, is a human-made synthetic lake, or reservoir, in the Chuvash Republic, Mari El Republic, Republic of Tatarstan, Samara Oblast and Ulyanovsk Oblast of Russia. The reservoir has an area of 6,450 km2, and a volume of 58 billion cubic meters, making it the largest reservoir in EUrope. Dug and filled between 1955 and 57, Kuybyshev is considered to be one of the most successful reservoir projects in Russia. It sits across from major cities Kazan, Ulyanovsk, and Tolyatti, and provides hydro power to the area. (the dam and reservoir are owned by Zhiguli Hydroelectric Station)
4. Lake Vänern, Sweden - 5,655 km2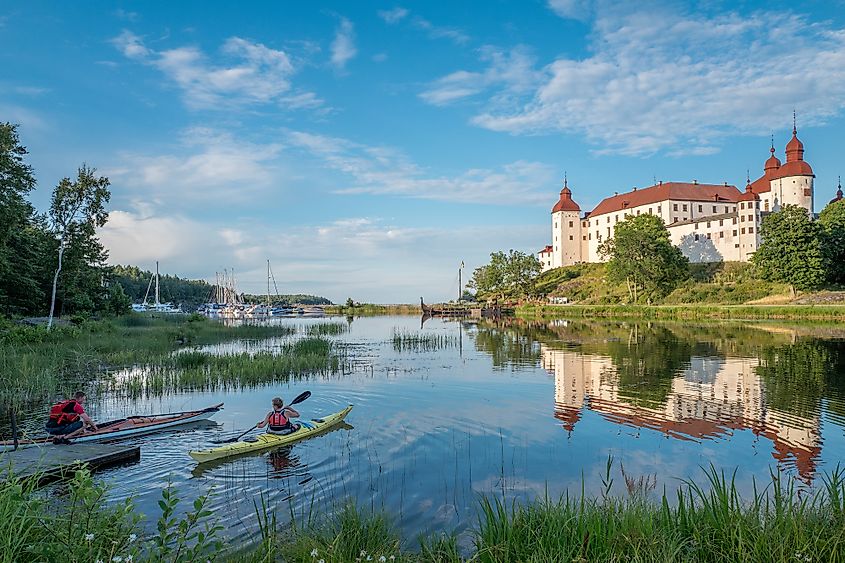 Lake Vänern is located across the Dalsland Värmland and västergötland provinces of Sweden. It has an area of 5,655 km2, and an average depth of 27 meters. It is the largest lake in Sweden. The inflow to the lake comes mainly from Klarälven, Byälven and Norsälven tributaries. The lake has been significant, especially financially, to the surrounding cities and towns. The fishing industry has long sustained the communities in the area, and the ease of transport across the lake has helped keep the region wll connected. Species in the lake include a number of highly desired fish, such as Smelt, vendace, Atlantic salmon, trout and whitefish. A loss in habitat, however, has led local authorities to put conservation and preservation measures in place to try and reduce overfishing and population decline within the lake.
5. Rybinsk Reservoir, Russia - 4,580 km2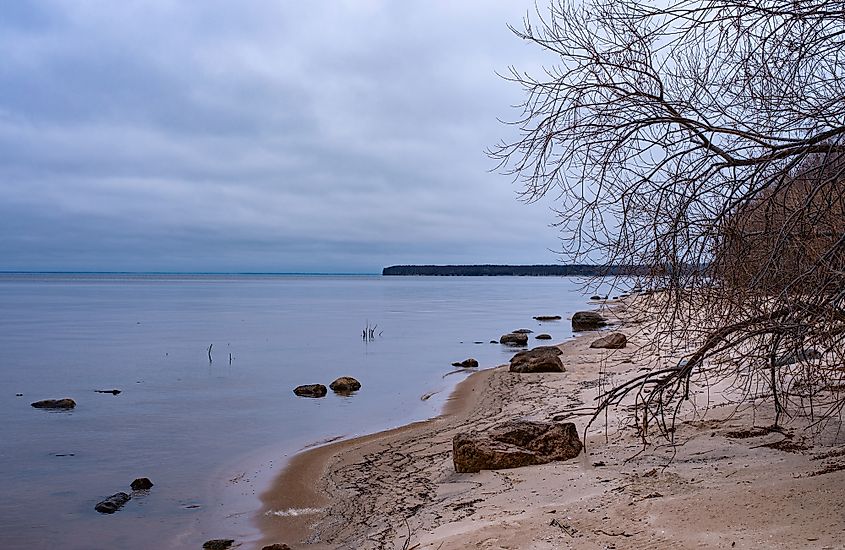 Rybinsk is another reservoir in Russia, informally known as the Rybinsk Sea. It was human-made, created by the Rybinsk Hydroelectric Station dam on the Volga River. Other tributaries Sheksna and Mologa also feed into the lake reservoir. Rybinsk sits within the Tver, Vologda, and Yaroslavl Oblasts.The reservoir was dug in 1941, and construction and filling continued until 1947. At the time of its completion, it was the largest man-made body of water on Earth. It has a surface area of 4,580 km2, and a volume of 25.4 km3.
6. Lake Saimaa, Finland - 4,377 km2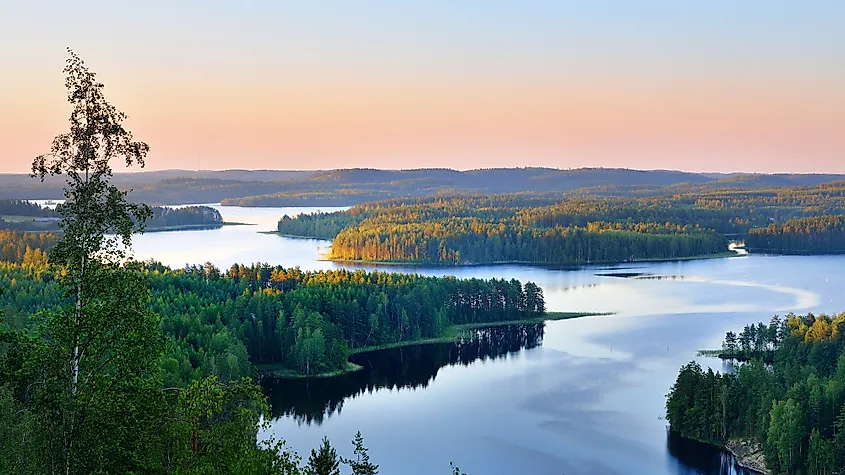 Lake Saimaa is Finland's largest lake, with an area of 4,377 km2.  It is located just  to the northwest of Russia, and northeast of Helsinki. It is the fourth natural freshwater lake in Europe, but 6th when factoring in the larger Russian reservoirs. The Saimaa Canal connects Saimaa to the Gulf of Finland, while other smaller canals connect up with smaller lakes across Eastern Finland, creating a complex and twisting waterway. These waterways are important for transporting natural resources like lumber, minerals, and metal, as well as other cargo. Lake Saimaa has over 3,500 islands within its waters, as well as distinct animal life. The  Saimaa Ringed Seal,a freshwater seal, is endemic to the lake, and is endangered. Another endangered animal found here is the Saimaa salmon, which is similar to Atlantic salmon and prone to overfishing.
7. Lake Peipus, Estonia/Russia - 3,555 km2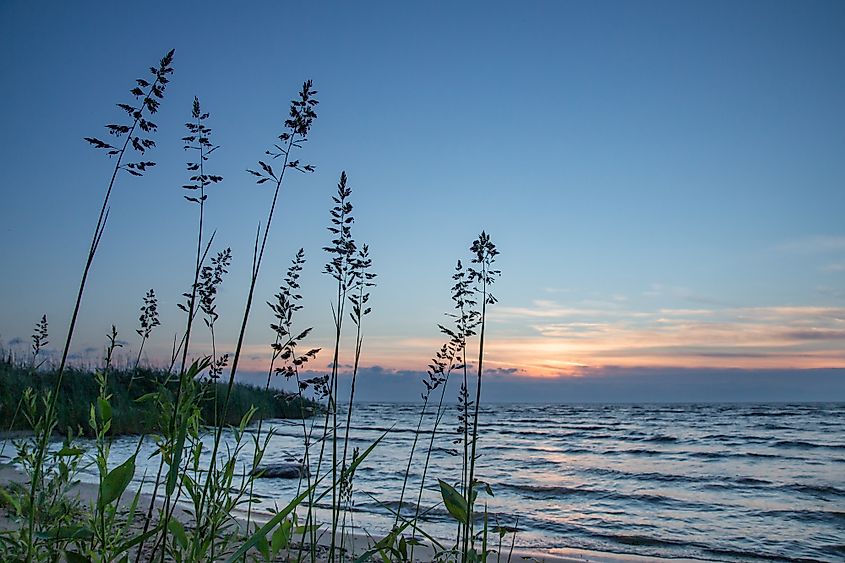 Lake Peipus is the largest trans-boundary lake in Europe, as it crosses the border between Estonia and Russia. It has a surface area of 3,555 km2 and a volume of approximetly 25 km3. The lake is generally split into three major sections - Lake Peipsi, which is the northern section, lake Phivka in the south, and the smaller Lake Lammi which connects the two. The lake is popular for both recreation and commercial fishing, and is home to species such as Peipsi whitefish, European perch, Common bream, Common roach, European smelt. However, the Soviet agricultural boom caused significant environmental damage to the lake ecosystems, especially due to agricultural runoff that drained into the lake.
8. Tsimlyansk Reservoir, Russia km2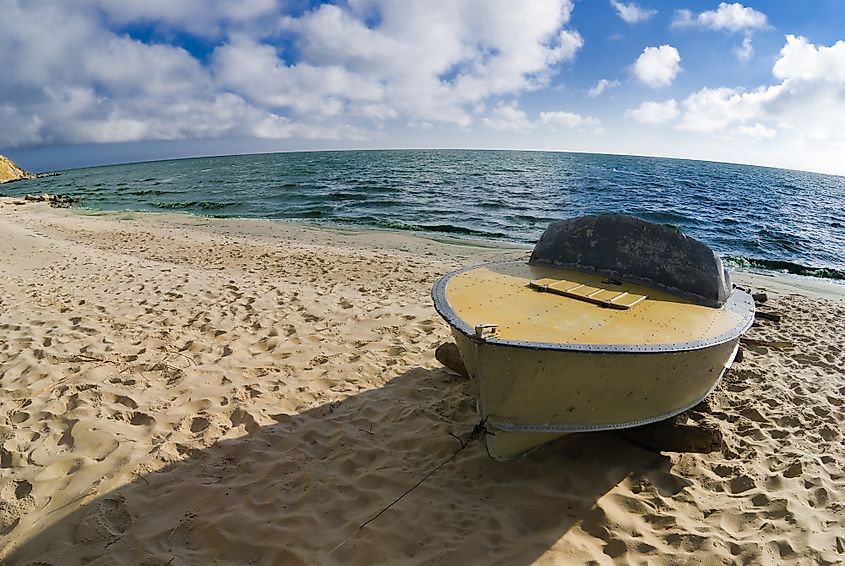 Tsimlyansk is an artificial lake filled in 1952, on the Don River. Its 2,702 km2 of area crosses into the territories of Rostov and Volgograd Oblasts. The reservoir was built in order to provide both hydro electric power to the region, as well as serve as an irrigation source for the regions of Rostov and Volgograd. The area surrounding the lake is rich in growth, agriculture, and farmland for this reason.Wheat, rice, cotton, maize, alfalfa, fruit, grapes, and vegetables all benefit from this reservoir and irrigation system.
9. Kremenchuk Reservoir, Ukraine - 2,250 km2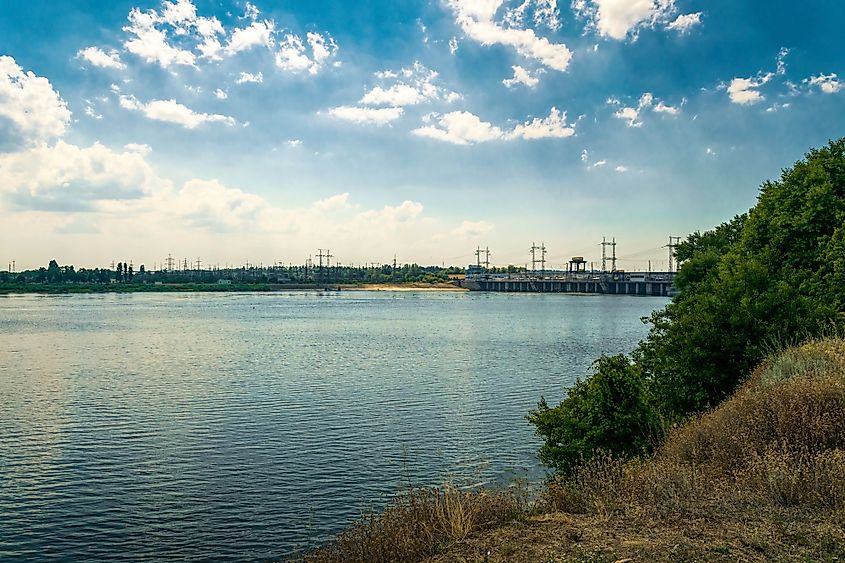 Kremenchuk is another major reservoir in Europe, this one being loathed in the Ukraine. It is the largest reservoir on the Dnieper River with an area of 2,250 km2 and a volume of 13.5 km3. The reservoir primarily serves the nearby area by offering a source of irrigation to regional agricultural efforts, as well as providing flood control, fishing opportunities, and transport pathways within the region. Two major ports exist on the shores of the reservoir, known as Cherkasy, and Svitlovodsk.
10. Kakhovka Reservoir, Ukraine - 2,155 km2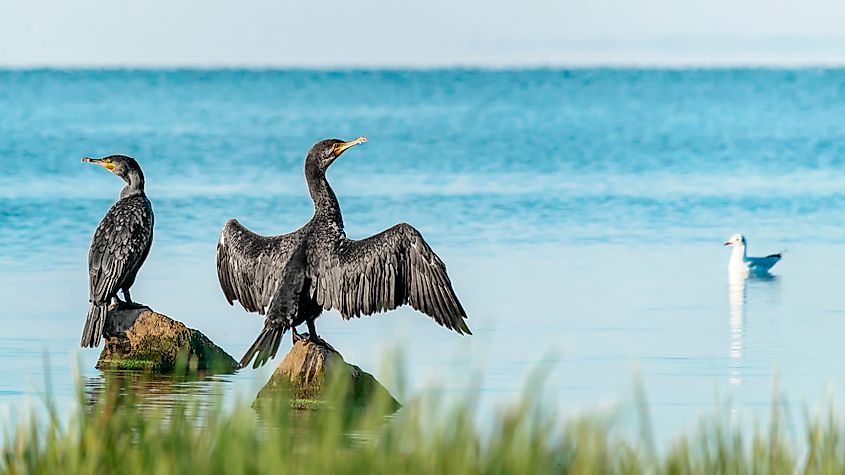 Kakhovka is another reservoir on the Dnieper River in the Ukraine. It is slightly smaller than the Kremenchuk, measuring 2,155 km2 in area, and 18.2 km3 in volume. This reservoir was built in 1956, and is operated by the Kakhovka Hydroelectric Power Plant. The reservoir also provides water to the Krasnoznamensk Irrigation System and the Kakhovka Irrigation System,important irrigation options for the region. The lake is also a source of freshwater fish farms, with species such as Northern pike, European perch, common bream, Prussian carp. 
| Rank | Lake Name | Country | Area in km2 |
| --- | --- | --- | --- |
| 1 | Ladoga | Russia | 17,700 |
| 2 | Onega | Russia | 9,894 |
| 3 | Kuybyshev | Russia | 6,450 |
| 4 | Vänern | Sweden | 5,655 |
| 5 | Rybinsk | Russia | 4,580 |
| 6 | Saimaa | Finland | 4,377 |
| 7 | Peipus | Estonia, Russia | 3,555 |
| 8 | Tsimlyansk | Russia | 2,702 |
| 9 | Kremenchuk | Ukraine | 2,250 |
| 10 | Kakhovka | Ukraine | 2,155 |
| 11 | Vättern | Sweden | 1,893 |
| 12 | Saratov | Russia | 1,831 |
| 13 | Gorky | Russia | 1,591 |
| 14 | Suur-Saimaa | Finland | 1,377 |
| 15 | Beloye | Russia | 1,290 |
| 16 | Vygozero | Russia | 1,250 |
| 17 | Mälaren | Sweden | 1,140 |
| 18 | IJsselmeer | Netherlands | 1,100 |
| 19 | Päijänne | Finland | 1,081 |
| 20 | Inari | Finland | 1,040 |
| 21 | Kiev | Ukraine | 992 |
| 22 | Topozero | Russia | 986 |
| 23 | Ilmen | Russia | 982 |
| 24 | Lake Sevan | Armenia | 940 |
| 25 | Segozero | Russia | 906 |
| 26 | Pielinen | Finland | 894 |
| 27 | Oulujärvi | Finland | 887 |
| 28 | Imandra | Russia | 876 |
| 29 | Pihlajavesi | Finland | 713 |
| 30 | Pihkva | Estonia, Russia | 710 |
| 31 | Markermeer | Netherlands | 700 |
| 32 | Iron Gates | Romania/Serbia | 700 |
| 33 | Kaniv | Ukraine | 675 |
| 34 | Pyaozero | Russia | 659 |
| 35 | Kovdozero | Russia | 608 |
| 36 | Mingachevir | Azerbaijan | 605 |
| 37 | Orivesi | Finland | 601 |
| 38 | Balaton | Hungary | 592 |
| 39 | Geneva | Switzerland, France | 581 |
| 40 | Dniprodzerzhynsk | Ukraine | 567 |
| 41 | Haukivesi | Finland | 562 |
| 42 | Constance | Germany, Switzerland, Austria | 541 |
| 43 | Keitele | Finland | 494 |
| 44 | Hjälmaren | Sweden | 485 |
| 45 | Kallavesi | Finland | 473 |
| 46 | Storsjön | Sweden | 464 |
| 47 | Puruvesi | Finland | 421 |
| 48 | Vozhe | Russia | 416 |
| 49 | Razelm | Romania | 415 |
| 50 | Kubenskoye | Russia | 407 |