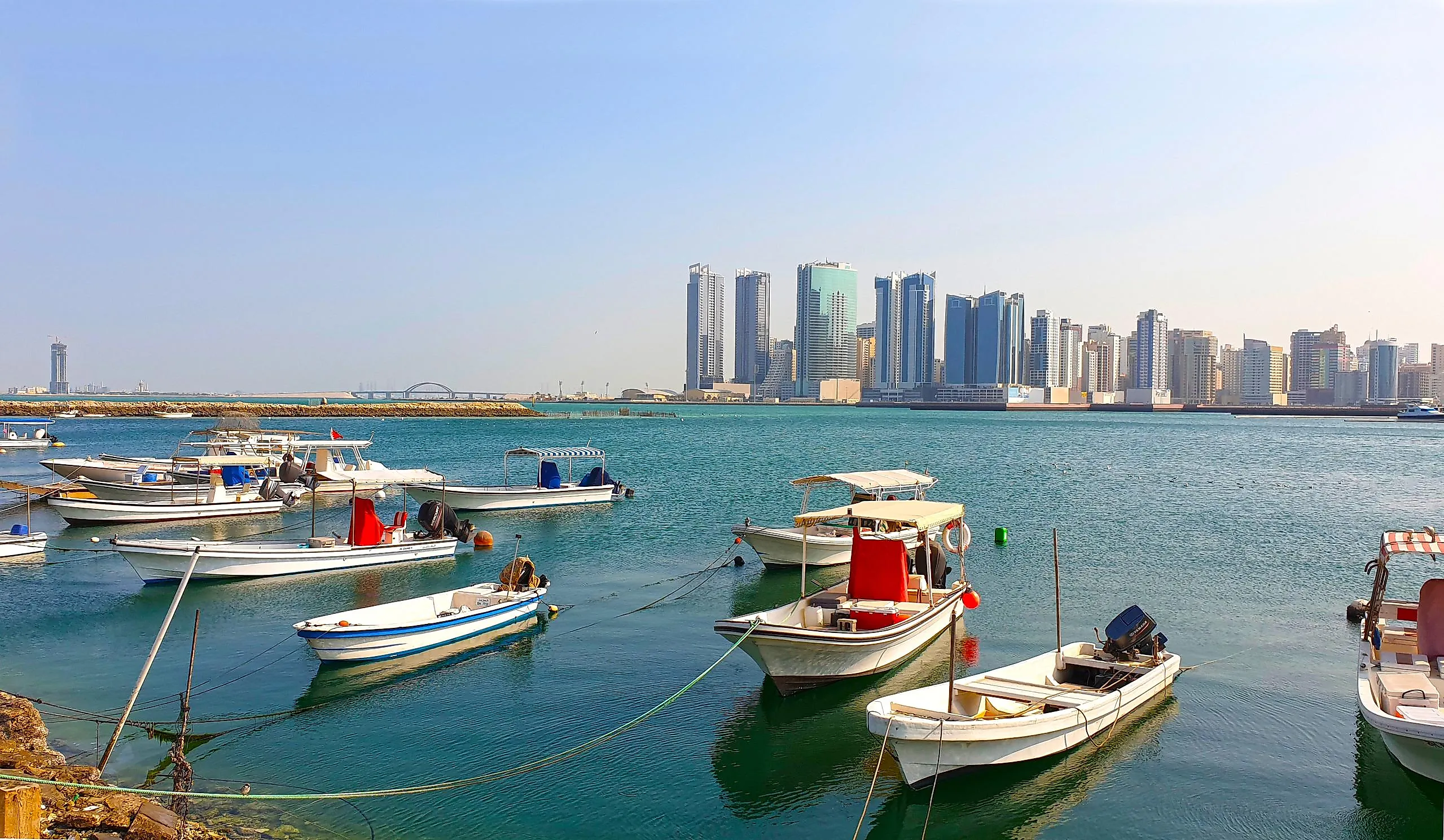 A gulf refers to a large inlet of a sea or an ocean that penetrates into the landmass. The Gulf of Bahrain is a relatively shallow inlet of the Persian Gulf located between the peninsula of Qatar and Saudi Arabia. The 15.5-mile-long King Fahd Causeway, which crosses the gulf's western section, connects the Kingdom of Bahrain with the northeastern coast of the Kingdom of Saudi Arabia. The presence of such causeways is believed to have a significant effect on water circulation in the Gulf of Bahrain.
Geography Of The Gulf Of Bahrain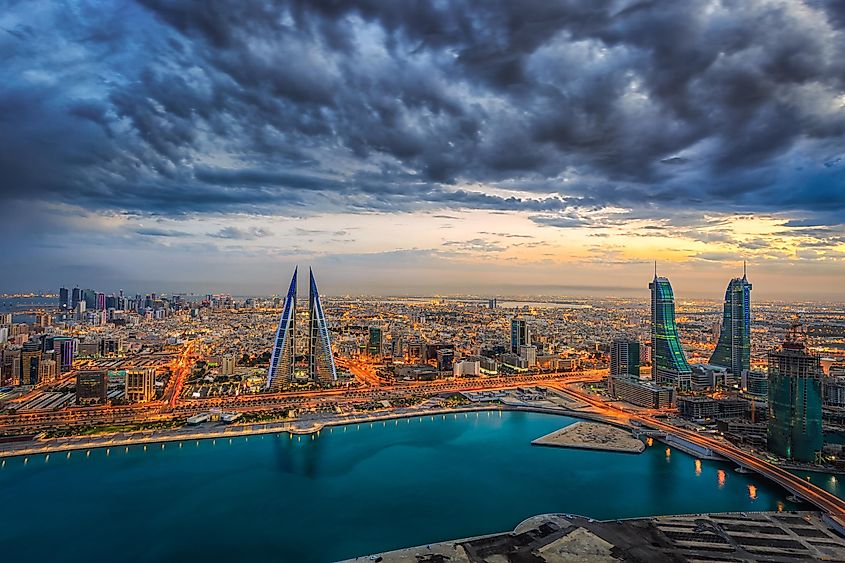 Lying on the eastern coast of Saudi Arabia, the Gulf of Bahrain surrounds the islands of Bahrain, which are located approximately halfway between the Saudi Arabian coast and the northern tip of Qatar. Bahrain is a small archipelago that comprises the principal island Al Bahrayn and some smaller islands and islets. Bahrain Island, or Al Bahrayn, which occupies an area of 233 sq. mi and forms a significant portion of the island country's landmass, is the biggest island within the Bahrain archipelago. The Gulf of Bahrain's extended southern part forms the Gulf of Salwah, an elongated bay separating the Qatar peninsula from Saudi Arabia. The Hawar Islands, which are an archipelago of desert islands of various sizes, are located to the southeast of Bahrain Island in the Gulf of Bahrain off the west coast of Qatar.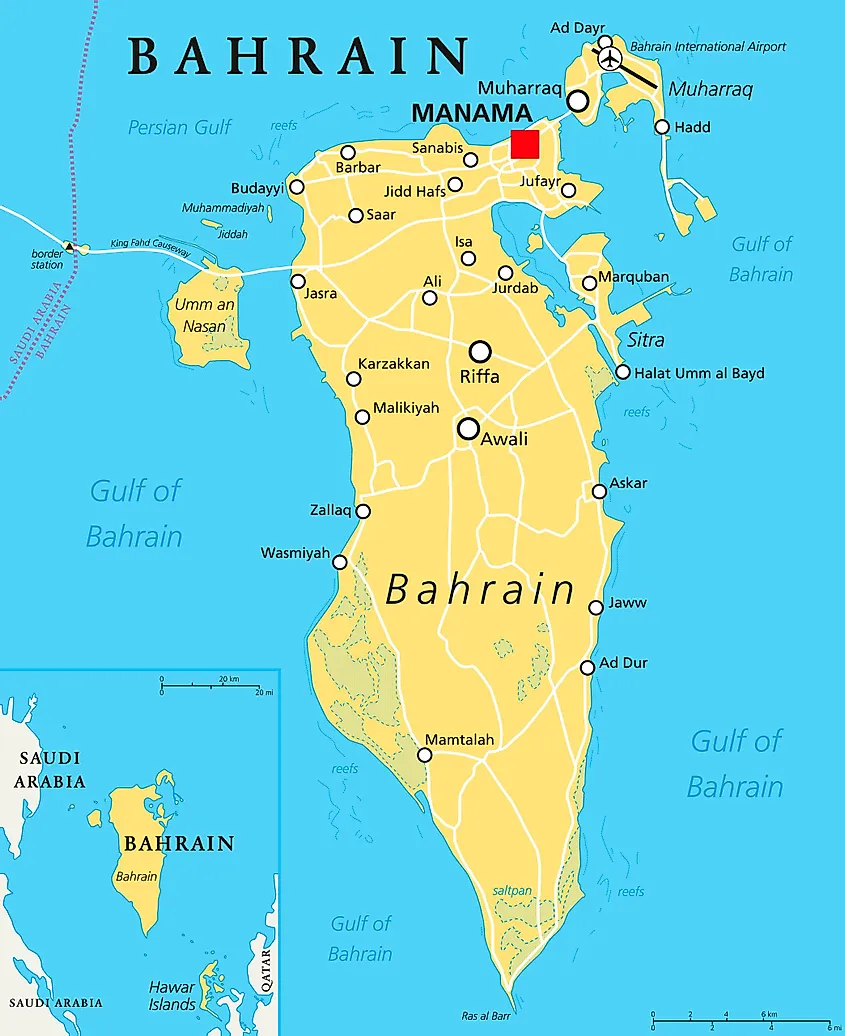 The shallow waters of the Gulf of Bahrain exhibit a small thermal capacity. The waters experience wide temperature fluctuations, with the surface temperature ranging between 57°F to 95°F around the coastal regions. The waters of the Gulf of Bahrain are also comparatively more saline than other parts of the Persian Gulf.
Ecology Of The Gulf Of Bahrain
Listed as a Ramsar Site in 1997, the Hawar Islands are placed on the migration path of several endangered avian species and support one of the most extensive breeding colonies of Socotra cormorants. In addition, the main island is home to small herds of sand gazelle and Arabian oryx. A wide variety of marine organisms are also found around the Hawar Islands, including sea jellies, brown jellyfish, crabs, and fishes like kingfish, groupers, silver biddies, gray grunts, and keeled mullets.  The area around Bahrain is dominated by multicolored coral reefs, mangroves, mudflats, and seagrass meadows, which provide suitable habitats for various invertebrate species, juvenile fishes, bottlenose dolphins, endangered dugongs, and herbivorous green turtles.
Threats
In recent times, Bahrain has expanded its area by land reclamation around its coast from about 258 sq. miles in 1963 to 293 sq. mi by 2007. Moreover, extensive coral reefs in adjacent regions have been destroyed, and the increased sediment deposition has caused deleterious effects on other marine organisms. Nevertheless, the Gulf of Bahrain is an important waterbody in the region, and adequate measures must be taken to preserve the Gulf's rich and diverse ecosystem.