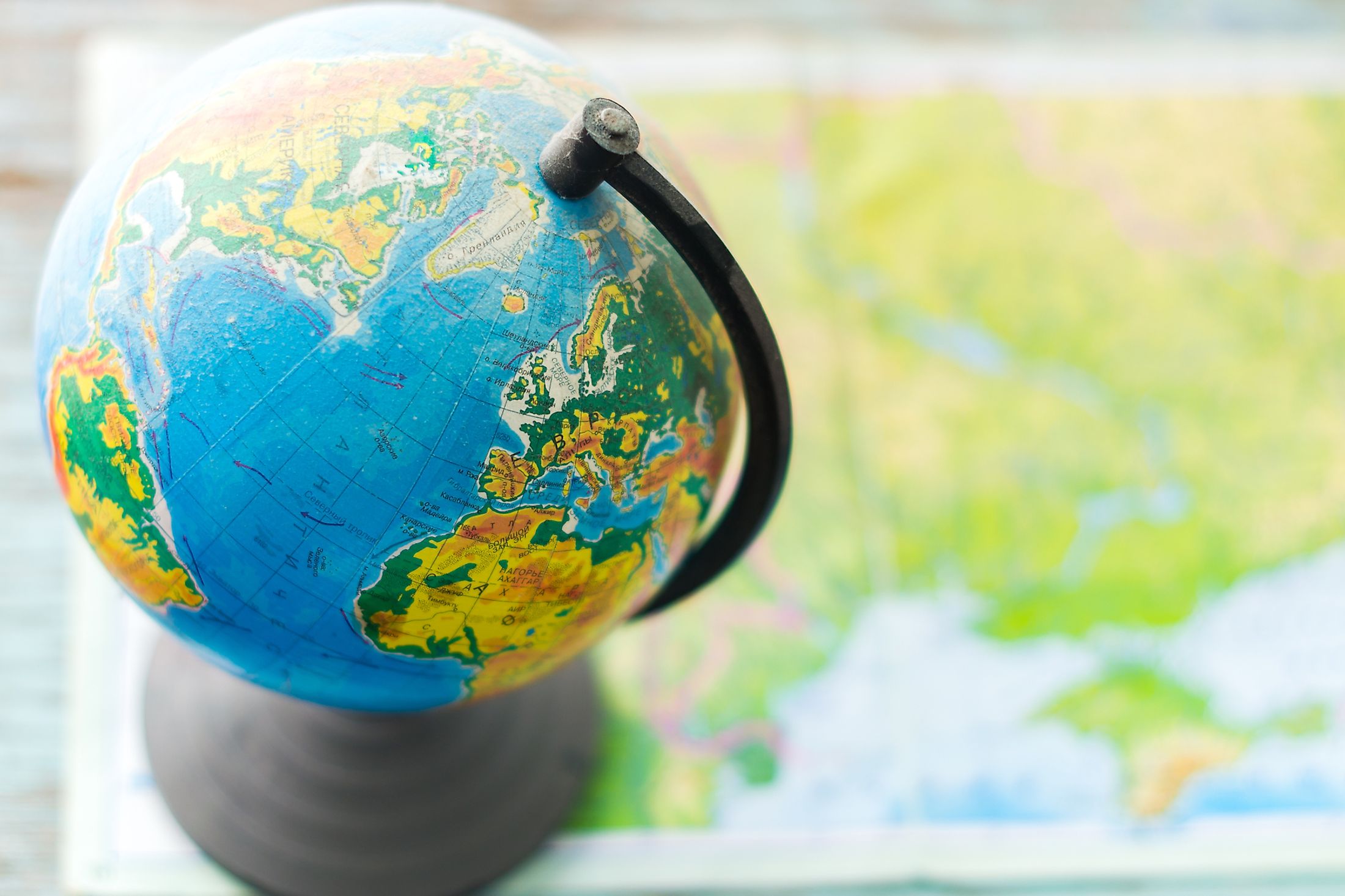 The WorldAtlas List of Geography Facts
Planet Earth is the 6th largest solar object on the solar system, spanning 510.1 million square kilometers. However, only 148.7 square kilometers (29.1%) is a landmass, while the rest is water. It is divided into continental landmasses, shared by 195 countries (193 UN member states and two observer states). At 44.6 square kilometers, Asia is the world's largest continent. Countries comprise towns, cities, villages, and other settlements. Russia is, by far, the world's largest country, covering 17.1 million square kilometers, about 11.5% of the global land area. Shanghai, China is the world's largest city, hosting about 24.2 million people.
The Earth's geography comprises both land and water features, including deserts, oceans, seas, plains, valleys, mountains, rivers, and other physical features. At 155.6 million square kilometers, the Pacific Ocean is the world's largest and deepest ocean. The ocean's Challenger Deep in the Mariana Trench is also the planet's deepest point. However, the Arabian Sea (Indian Ocean) is the largest sea, spanning 3.8 million square kilometers. Other major water bodies include the Amazon River (the world's longest river), the Caspian Sea (the largest freshwater lake), and Lake Baikal (the deepest lake). Greenland is the largest island by area, covering 2.2 million square kilometers.
Mount Everest is the planet's highest point and tallest mountain, rising 8,850 meters above sea level, while the Dead Sea depression is the lowest point, at -409 meters. The Sahara Desert in North Africa is the world's largest desert, covering 9.2 million square kilometers. Below is a comprehensive list of the world's largest cities, countries, oceans, seas, and islands, including some major places and features on the planet.
Overview of the Earth
Sometimes also called "the World" or "the Globe", the Earth is the third planet from the Sun. The Earth rotates on its axis in orbit around the Sun, which is the main source of energy for all life on Earth.
Estimated Weight (mass)5,940,000,000,000,000,000,000 metric tons (13,170,000,000,000,000,000,000,000 lbs)
Estimated Age 4.6 billion years
Current Population 7,000,000,001
Surface Area 196,900,000 square miles
Land Area 148,647,000 sq km 29.1%
Ocean Area 335,258,000 sq km
Total Water Area 361,419,000 sq km 70.9%
Type of Water 97% salt, 3% fresh
Circumference at the equator 40,030 km (24,874 m)
Circumference at the poles 40,008 km (24,860 m)
Diameter at the equator 12,756 km (7,926 m)
Diameter at the poles 12,714 km (7,898 m)
Mean radius 6,371 km (3,959 m)
Orbit Speeds The earth orbits the Sun at 108,000 kmph (70,000 mph)
Sun Orbit The earth orbits the Sun every 365 days, 5 hours, 48 minutes and 46 seconds
The Oceans
The oceans are the some of the most mysterious places on the planet. Although there is much we have not yet discovered, here's what we do know.
Note: The Southern Ocean (sometimes called the Antarctic Ocean) was approved in 2000 by the International Hydrographic Organization. It is now the fourth largest ocean.
Ocean's Greatest Depths
Mariana Trench, Pacific Ocean 35,827 ft (10,920 m)
Puerto Rico Trench, Atlantic Ocean 30,246 ft (9,218 m)
Java Trench, Indian Ocean 24,460 ft (7,455 m)
Arctic Basin, Arctic Ocean 18,456 ft (5,625 m)
Deepest Oceans and Seas
Pacific Ocean 35,827 ft (10,924 m)
Atlantic Ocean 30,246 ft (9,219 m)
Indian Ocean 24,460 ft (7,455 m)
Caribbean Sea 22,788 ft (6,946 m)
Arctic Ocean 18,456 ft (5,625 m)
South China Sea 16,456 ft (5,016 m)
Bering Sea 15,659 ft (4,773 m)
Mediterranean Sea 15,197 ft (4,632 m)
Gulf of Mexico 12,425 ft (3,787 m)
Japan Sea 12,276 ft (3,742 m)
Note: Official depths for the Southern Ocean are still not available at this time.
Major Seas
Seas are smaller than oceans. They usually most often be found in areas where oceans and land meet.
Arabian Sea 1,491,000 sq mi (3,862,000 sq km)
South China 1,400,000,000 sq mi (3,500,000 sq km)
Caribbean 1,063,000 sq mi (2,754,000 sq km)
Mediterranean 970,000 sq mi (2,500,000 sq km)
Bering 890,000 sq mi (2,304,000 sq km)
Sea of Okhotsk 611,200 sq mi (1,583,000 sq km)
Gulf of Mexico 600,000 sq mi (1,550,000 sq km)
East China 482,000 sq mi (1,249,000 sq km)
Hudson Bay 470,000 sq mi (1,230,000 sq km)
Sea of Japan (East Sea) 377,600 sq mi (977,980 sq km)
Andaman 231,700 sq mi (600,000 sq km)
Red 169,100 sq mi (438,000 sq km)
Black 168,500 sq mi (436,402 sq km)
Major Islands
An island is a body of land surrounded by water. A grouping of islands is called an "archipelago", and very small islands are called "islets". A rocky island is called a "skerry".
Greenland 836,330 sq mi (2,166,086 sq km)
New Guinea 303,381 sq mi (785,753 sq km)
Borneo 287,000 sq mi (743,330 sq km)
Madagascar 226,658 sq mi (587,041 sq km)
Baffin 195,928 sq mi (507,451 sq km)
Sumatra 182,812 sq mi (473,481 sq km)
Honshu 87,200 sq mi (225,800 sq km)
Victoria 83,897 sq mi (217,291 sq km)
Great Britain 80,823 sq mi (209,331 sq km)
Ellesmere 75,767 sq mi (196,235 sq km)
Celebes 69,761 sq mi (180,681 sq km)
New Zealand (south) 58,084 sq mi (150,437 sq km)
Java 53,589 sq mi (138,794 sq km)
New Zealand (north) 43,911 sq mi (113,729 sq km)
Newfoundland 42,030 sq mi (108,860 sq km)
Major Rivers
A river is naturally occuring water which slows between two water sources.
Amazon, South America 4,345 mi (6,992 km)
Nile, Africa 4,258 mi (6,853 km)
Chang Jiang (Yangtze), Asia 3,915 mi (6,300 km)
Mississippi/Missouri, North America 3,710 mi (5,970 km)
Yenisey-Angara, Asia 3,442 mi (5,540 km)
Huang (Yellow), Asia 3,395 mi (5,464 km)
Congo, Africa 2,920 mi (4,700 km)
Lena, Asia 2,779 mi (4,472 km)
Mekong, Asia 2,703 mi (4,350 km)
Niger, Africa 2,597 mi (4,180 km)
Ob-Irtysh, Asia 2,268 mi (3,650 km)
Amur, Asia 1,755 mi (2,824 km)
Mackenzie-Peace, North America 1,080 mi (1,738 km)
Major Fresh Water Bodies
Freshwater refers to water where the salinity content is less than 0.05 percent. They are home to difference species than that of saltwater bodies.
Caspian Sea, Eurasia 143,200 sq mi (371,000 sq km)
Superior, North America 31,700 sq mi (82,100 sq km)
Victoria, Africa 26,600 sq mi (69,600 sq km)
Huron, North America 23,007 sq mi (59,588 sq km)
Michigan, North America 22,404 sq mi (57,030 sq km)
Tanganyika, Africa 12,700 sq mi (32,900 sq km)
Baikal, Russia 12,248 sq mi (31,722 sq km)
Great Bear, North America 12,028 sq mi (31,158 sq km)
Malawi, Africa 11,400 sq mi (29,600 sq km)
Great Slave, Canada 10,502 sq mi (27,200 sq km)
Erie, North America 9,910 sq mi (25,667 sq km)
Winnipeg, Canada 9,465 sq mi (24,514 sq km)
Ontario, North America 7,340 sq mi (19,000 sq km)
Aral Sea, Asia 6,630 sq mi (17,160 sq km)
Balkhash, Kazakhstan 6,300 sq mi (16,4000 sq km)
Deepest Lakes (by greatest depth)
Baikal, Russia 5,387 ft (1,642 m)
Tanganyika, Africa 4,820 ft (1,470 m)
Caspian Sea, Asia-Europe 3,360 ft (1,025 m)
Malawi or Nyasa, Africa 2,316 ft (706 m)
Issyk-Kul, Kyrgyzstan 2,192 ft (668 m)
Water Terminology
Major Deserts
Deserts are barren lands that are generally covered with sand. They are characterized by a lack of vegetation.
Sahara, North Africa 3,552,140 sq mi (9,200,000 sq km)
Arabian, Middle East 899,618 sq mi (2,330,000 sq km)
Kalahari, Southern Africa 359,075 sq mi (930,000 sq km)
Syrian, Syria, Jordan, Iraq 200,000 sq mi (500,000 sq km)
Chihuahuan, Mexico, U.S. 140,001 sq mi (362,600 sq km)
Great Victoria, Australia 134,653 sq mi (348,750 sq km)
Thar, India, Pakistan 120,000 sq mi (320,000 sq km)
Great Sandy, Australia 110,036 sq mi (284,993 sq km)
Sonoran, Mexico, U,S, 100,000 sq mi (260,000 sq km)
Simpson, Australia 68,100 sq mi (176,500 sq km)
Gibson, Australia 60,000 sq mi (155,000 sq km)
Mohave, S,W, USA 47,877 sq mi (124,000 sq km)
(Cool Coastal)
Atacama, Chile SA 41,000 sq mi (105,000 sq km)
Namib, S.W. Africa 31,274 sq mi (81,000 sq km)
(Cold Winter)
Gobi, China, Mongolia 500,002 sq mi (1,295,000 sq km)
Patagonian, Argentina 258,688 sq mi (670,000 sq km)
Great Basin, S.W. USA 190,000 sq mi (305,775 sq km)
Karakum, Turkmenistan 217,479 sq mi (350,000 sq km)
Colorado Plateau, Western USA 130,000 sq mi (337,000 sq km)
Kyzyl Kum, West Asia 115,058 sq mi (298,000 sq km)
Taklamakan, China 130,000 sq mi (337,000 sq km)
Dasht-e Kavir, Iran 30,000 sq mi (77,600 sq km)
(Polar)
Antarctic 5,400,000 sq mi (14,000,000 sq km)
Arctic 5,300,000 sq mi (13,726,936 sq km)
Driest Inhabited Places (Rain fall in inches per year)
Aswan, Egypt 0.02 in (0.51 mm)
Luxor, Egypt 0.03 in (0.76)
Arica Desert, Chile 0.04 in (1.02 mm)
Ica, Peru 0.1 in (2.54 mm)
Antofagasta, Chile 0.2 in (5.01 mm)
El Minya, Egypt 0.2 (5.01 mm)
Asyut, Egypt 0.2 (5.01)
Continents
A continent refers to a vast continuous section of land. There are generally seven continents recognized in the world.
#1 Asia 17,212,200 sq mi (44,579,000 sq km)
#2 Africa 11,730,000 sq mi (30,370,000 sq km)
#3 North America 9,540,000 sq mi (24,709,000 sq km)
#4 South America 6,890,000 sq mi (17,840,000 sq km)
#5 Antarctica 5,400,000 sq mi (14,000,000 sq km)
#6 Europe 3,930,000 sq mi (10,180,000 sq km)
#7 Australia/Oceania 2,969,907 sq mi (7,692,024 sq km)
Continents (by the number of countries)
#1 Africa 54
#2 Europe 44
#3 Asia 48
#4 North America 23
#5 Oceania 14
#6 South America 12
Countries
A country, also called a state or nation, is a concept in political geography that is used to describe a sovereign state.
Russia 6,592,846 sq mi (17,075,400 sq km)
Canada 3,602,707 sq mi (9,330,970 sq km)
China 3,600,947 sq mi (9,326,410 sq km)
USA 3,539,242 sq mi (9.166,600 sq km)
Brazil 3,265,075 sq mi (8,456,510 sq km)
Australia 2,941,283 sq mi (7,617,930 sq km)
India 1,147,949 sq mi (2,973,190 sq km)
Argentina 1,056,636 sq mi (2,736,690 sq km)
Kazakhstan 1,049,150 sq mi (2,717,300 sq km)
Sudan 917,374 sq mi (2,376,000 sq km)
Smallest Countries (by land mass)
Vatican City 0.17 sq mi (0.44 sq km)
Monaco 0.75 sq mi (1.95 sq km)
Nauru 8.2 sq mi (21.2 sq km)
Tuvalu 10 sq mi (26 sq km)
San Marino 24 sq mi (61 sq km)
Liechtenstein 62 sq mi (160 sq km)
Marshall Islands 70 sq mi (181 sq km)
Seychelles 104 sq mi (270 sq km)
Maldives 116 sq mi (300 sq km)
St. Kitts and Nevis 139 sq mi (360 sq km)
Oldest Countries
San Marino 301 AD
France 486 AD
Bulgaria 632 AD
Denmark 950 AD
Portugal 1143 AD
Andorra 1278 AD
Switzerland 1291 AD
Youngest Countries
South Sudan July, 2011
Montenegro July, 2006
Serbia July, 2006
East Timor 2002
Palau 1994
Czech Republic 1993
Eritrea 1993
Slovakia 1993
Bosnia/Hertzegovina 1992
Richest Countries (GNP in USA Dollars)
United States $49,800
Luxembourg $45,360
Switzerland $44,355
Japan $41,010
Liechtenstein $40,000
Norway $34,515
Poorest Countries (GNP in USA Dollars)
Mozambique $80
Somalia $100
Eritrea $100
Ethiopia $100
Congo, DNC $100
Countries With Most Land Borders (The Most Neighboring Countries)
China 14
Russian Federation 14
Brazil 10
Congo, Germany and Sudan 9
Austria, France, Tanzania, Turkey and Zambia 8
Dependencies and TerritoriesNumerous areas of the world (most often islands) are under the economic and military protection of another country. These dependencies and territories are usually small and remote. Some still aspire to gain independence, while others would be unable to survive as an independent country based on global positioning and economic conditions.
Mountains
Mountains are formed by the eruption of volcancoes, which themselves were formed by the movement of tectonic plates.
Mount Everest 29,035 ft (8,850 m) Nepal/China
Qogir (K2) 28,250 ft (8,611 m) Pakistan
Kangchenjunga 28,169 ft (8,586 m) Nepal
Lhotse 27,920 ft (8,501 m) Nepal
Makalu I 27,765 ft (8,462 m) Nepal
Cho Oyu 26,906 ft (8,201 m) Nepal
Dhaulagiri 26,794 ft (8,167 m) Nepal
Manaslu I 26,758 ft (8,156 m) Nepal
Nanga Parbat 26,658 ft (8,125 m) Pakistan
Annapurna I 26,545 ft (8,091 m) Nepal
Note: The dormant volcano Mauna Kea (on the Big Island of Hawaii) could be considered the tallest mountain in the world. If you measure it from its base in the Hawaiian Trough (3,300 fathoms deep) to its summit of 13,796 feet, it reaches a height of 33,476 feet.
Tallest Mountains (by continent)
Mount Everest 29,035 ft (8,850 m) Asia
Aconcagua 22,831 ft (6,959 m) S. America
Mount McKinley 20,320 ft (6,194 m) N. America
Mount Kilimanjaro 19,563 ft (5,963 m) Africa
Mount Elbrus 18,481 ft (5,633 m) Europe
Puncak Jaya 16,023 ft (4,884 m) Oceania
Vinson Massif 16,066 ft (4,897 m) Antarctica
Hightest/Lowest Surface Points (Below Sea Level, On Each Continent)
Dead Sea, Asia -1342 ft (-409 m)
Lake Assal, Africa -512 ft (-156 m)
Death Valley, North America -282 ft (-86 m)
Valdés Peninsula, South America -131 ft (-40 m)
Caspian Sea, Europe -91 ft (-28 m)
Lake Eyre, Australia -52 ft (-16 m)
Antarctica (ice covered) -8326 ft (-2,538 m)
Highest/Lowest Points
Find information here:
Extreme Places
Hottest Place Dalol, Denakil Depression, Ethiopia, avg annual temp 93.2F (34C)
Coldest Place Plateau Station, Antarctica, avg annual temp -56.7C
Wettest Place Mawsynram, Assam, India, avg annual rain 467.4 in (11,873 mm)
Driest Place Atacama Desert, Chile, imperceptible rainfall on a yearly basis
Wettest Inhabited Places:
Buenaventira, Colombia 267 in (6781 mm)
Monrovia, Liberia 202 in (5130 mm)
Pagp Pago, American Samoa 198 in (5029 mm)
Moulein, Burma (Myanmar 192 in (4876 mm)
Lae, Papua New Guinea 183 in (4648 mm)
Baguio, Philippines180 in (4572 mm)
Sylhet, Bangladesh 178 in (4521 mm)
Human Population
Countries in the World
Currency
Continents (by population) 2016 est.
#1 Asia 4,436,224,000
#2 Africa 1,216,130,000
#3 Europe 738,849,000
#4 North America 579,024,000
#5 South America 422,535,000
#6 Australia/Oceania 39,901,000
#7 Antarctica 4,490
Countries by highest density people per sq mi (sq km)
Monaco 48,145 (18,589)
Singapore 20,194 (7,797)
Hong Kong 17,208 (6,644)
Bahrain 5,038 (1,945)
Vatican City 4,709 (1,818)
Malta 3,504 (1,353)
Bermuda 3,310 (1,278)
Bangladesh 2,921 (1,278)
Maldives 2,758 (1,065)
Palestine 1,958 (756)
Countries by lowest density people per sq mi (sq km)
Western Sahara 5 (2)
Mongolia 5 (2)
Australia 8 (3)
Botswana 8 (3)
Mauritania 8 (3)
Suriname 8 (3)
Iceland 8 (3)
Namibia 8 (3)
Canada 9 (4)
Guyana 10 (4)
Countries by Smallest Populations
Vatican City 800
Nauru 10,084
Tuvalu11,323
Palau20,901
San Marino33,028
Liechtenstein36,842
Monaco37,550
Saint Kitts and Nevis51,970
Marshall Islands56,086
Dominica71,293
Countries by Largest Populations
China 1,383,051,880
India 1,315,606,866
USA 324,937,480
Indonesia 260,581,000
Brazil 202,768,562
Pakistan 196,358,185
Nigeria 186,988,000
Bangladesh 162,408,360
Russia 143,975,923
Japan 126,860,000
Largest US Cities by Population
New York, New York 8.55 million
Los Angeles, California 3.97 million
Chicago, Illinois 2.72 million
Houston, Texas 2.29 million
Philadelphia, Pennsylvania 1.57 million
Phoenix, Arizona 1.56 million
San Antonio, Texas 1.46 million
San Diego, California 1.39 million
Dallas, Texas 1.30 million
San Jose, California 1.03 million
Largest Cities in the World by Population of City Proper
Shanghai, China 24.2 million
Karachi, Pakistan 23.5 million
Beijing, China 21.5 million
Delhi, India16.8 million
Lagos, Nigeria16.1 million
Tianjin, China15.2 million
Istanbul, Turkey14.1 million
Tokyo, Japan13.5 million
Guangzhou, China13.1 million
Mumbai, India12.4 million
Moscow, Russia12.4 million
Sao Paulo, Brazil12.0 million
Shenzhen, China10.5 million
Jakarta, Indonesia10.5 million
Lahore, Pakistan10.1 million
Complete list of Capital Cities
Languages of the World
Chinese Mandarin 1 billion +
English 512 million
Hindi 501 million
Spanish 399 million
Russian 285 million
Arabic 265 million
Bengali 245 million
Portuguese 196 million
Malay-Indonesian 140 million
Japanese 125 million
German 100 million
Korean 78 million
French 77 million
Chinese, Wu 77 million
Javanese 75 million
Chinese, Yue 71 million
Urdu 60 million
Official Languages
Fun Facts
71% of the world is water.
1/3 of the Earth is the Pacific Ocean.
The Earth is one of four rocky planets in the Solar System (the others are Mercury, Venus, and Mars).
Only one side of the Moon is ever visible.
The deepest hole that has ever been dug was only about 7.6 mi (12 km).
About 90% of the world's population lives in the northern hemisphere.
70% of the world's population lives in Europe and Asia.
A year is actually 365.26 days long.
The highest temperature ever recorded on Earth was 134.1 Fahrenheit (56.7 Celsius) in Death Valley, California, United States.
The lowest temperature ever recorded on Earth was -138.5 Fahrenheit (-94.7 Celsius) in East Antarctica.