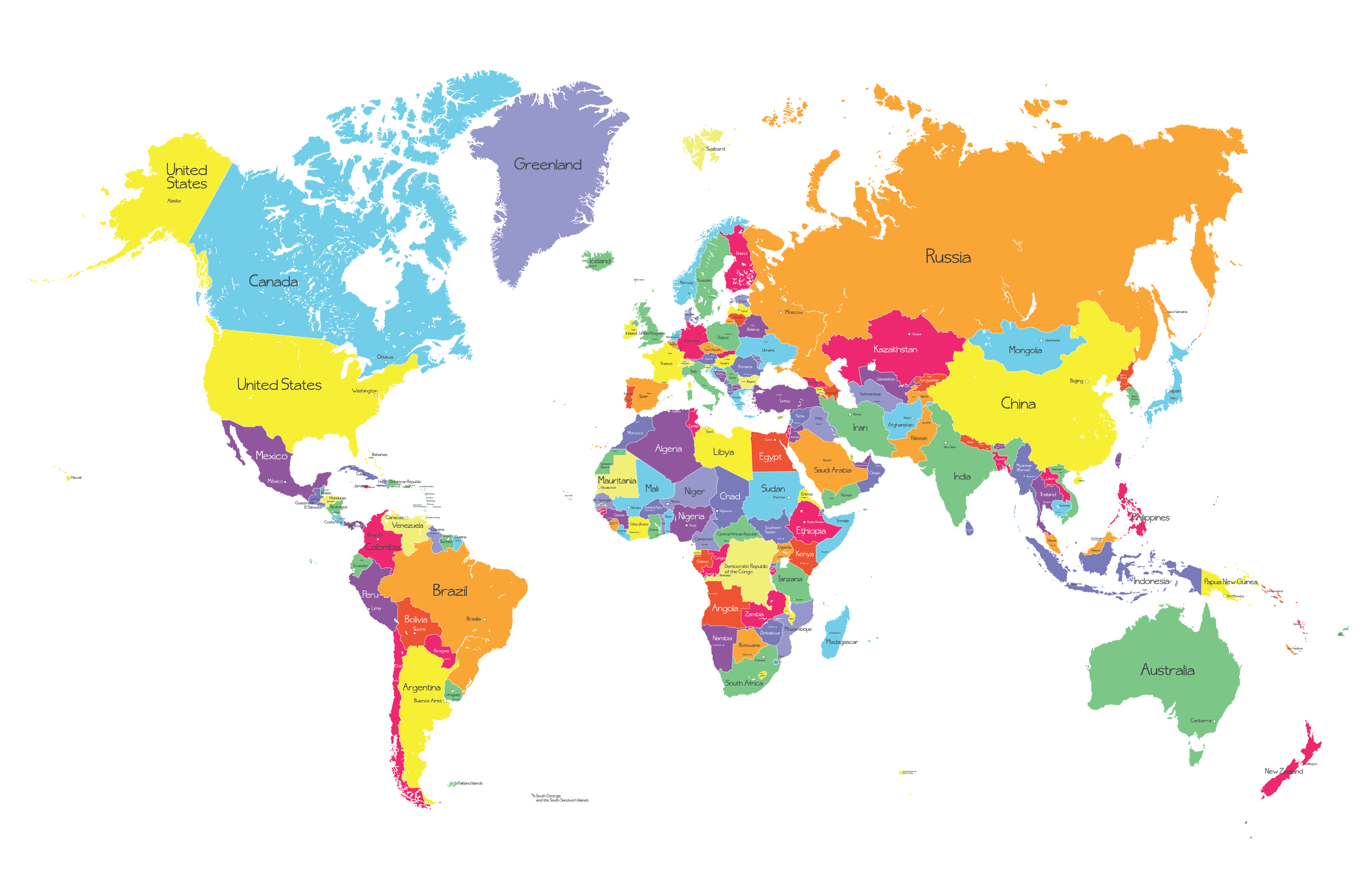 Populations Of Capital Cities Of The World
Planet Earth is the only known planet that can support life forms. According to the United Nations projections, the world population is about 7.8 billion as of March 2020. The human population has experienced rapid growth in the last millennium, particularly in the last five centuries. While it took about two million years for the population to cross the one billion mark, the population size has increased by about six billion in the last 200 years. The UN predicts that there will be 9-10 billion people on Earth by 2050 and 10-12 billion by the beginning of the 22nd century.
Asia is the most populated continent and home to some of the largest countries and cities by population. The continent is home to 4.6 billion people, about 59% of the world's population. Africa is the second-most populated continent, with 1.3 billion people, followed by Europe with 748 million people. China is the world's most populated country, hosting 1.4 billion people about 18% of the global population. India, the world's second-most populous country, is home to 1.37 billion people (17.5%). Germany is Europe's most populated country located entirely on the continent, while the US and Nigeria are the Americas and Africa's most populous countries.
China is home to some of the world's largest cities by population, including six of the ten largest cities (city proper population). Some of its largest cities are Chongqing, Shanghai, Beijing, and Chengdu. However, Tokyo is, by far, Asia's and world's largest capital city, with about 37.3 million people within the metropolitan area. In Europe, Moscow is the largest capital city, with 20 million people, while Mexico City is the Americas' largest capital city, with 22 million people. Nigeria is Africa's most populated country and hosts the continent's largest capital city (Lagos), which is home to about 21 million people. Although Sydney is the largest city in both Australia and Oceania with over 4.3 million people, Canberra is the region's largest capital city, with about 355,000 people. Below is a list of the world capital cities and their populations.
Country, Capital City, Population
A
Afghanistan, Kabul, 3,289,000
Albania, Tirane, 763,634
Algeria, Algiers, 3,574,000
Andorra, Andorra la Vella, 22,884
Angola, Luanda, 2,453,779
Antigua and Barbuda, (Antigua) St. John's, 22,679; (Barbuda) Codrington, 1,325
Argentina, Buenos Aires, city: 2,891,082; metro: 13,074,000
Armenia, Yerevan, 1,121,900
Australia, Canberra, 354,644
Austria, Vienna, 1,552,789
Azerbaijan, Baku, 1,879,251
B
Bahamas, Nassau, 248,948
Bahrain, Manama, 140,616
Bangladesh, Dhaka, city: 7,000,940; metro: 12,797,394
Barbados, Bridgetown, 96,578
Belarus, Minsk, 1,702,061
Belgium, Brussels, 1,080,790
Belize, Belmopan, 12,300
Benin, Porto-Noveo (official): 223,552; Cotonou (de facto capital): 779,314
Bhutan, Thimphu, 101,259
Bolivia, Sucre (official): 300,000; La Paz (de facto capital): 877,363
Bosnia and Herzegovina, Sarajevo, 383,604
Botswana, Gaborone, 225,656
Brazil, Brasilia, 2,648,532
Brunei, Bandar Seri Begawan, 28,135
Bulgaria, Sofia, 1,090,295
Burkina Faso, Ouagadougou, 1,005,231
Burundi, Bujumbura, 384,461
C
Cambodia, Phnom Penh, 2,011,725
Cameroon, Yaounde, 1,616,000
Canada, Ottawa, 898,150
Cape Verde, Praia, 125,464
Central African Republic, Bangui, 731,548
Chad, N'Djamena, 751,288
Chile, Santiago, 5,084,038
China, Beijing, 20,180,000
Colombia, Bogota, 7,613,303
Comoros, Moroni, 60,200
Congo, Brazzaville, 1,088,044
Costa Rica, San Jose, 328,195
Cote d'Ivoire, Yamoussoukro, 454,929
Croatia, Zagreb, 804,200
Cuba, Havana, 2,135,498
Cyprus, Nicosia, 239,277
Czech Republic, Prague, 1,227,332
D
Democratic Republic of the Congo, Kinshasa, 4,385,264
Denmark, Copenhagen, 1,231,166
Djibouti, Djibouti, 475,332
Dominica, Roseau, 14,847
Dominican Republic, Santo Domingo, 2,995,211
E
East Timor, Dili, 193,563
Ecuador, Quito, 1,504,991
Egypt, Cairo, 7,438,376
El Salvador, San Salvador, 521,366
Equatorial Guinea, Malabo, 100,677
Eritrea, Asmara, 543,707
Estonia, Tallinn, 403,547
Ethiopia, Addis Ababa, 3,040,740
F
Fiji, Suva, 84,410
Finland, Helsinki, 596,661
France, Paris, 2,268,265
G
Gabon, Libreville, 556,425
Gambia, Banjul, 34,828
Georgia, Tbilisi, 1,044,993
Germany, Berlin, 3,520,000
Ghana, Accra, 1,640,507
Greece, Athens, 721,477
Grenada, St. George's, 7,500
Guatemala, Guatemala City, 1,103,865
Guinea, Conakry, 1,399,981
Guinea-Bissau, Bissau, 452,640
Guyana, Georgetown, 134,599
H
Haiti, Port-au-Prince, 1,235,227
Honduras, Tegucigalpa, 735,982
Hungary, Budapest, 1,728,718
I
Iceland, Reykjavik, 115,000
India, New Delhi, 292,300
Indonesia, Jakarta, 10,187,595
Iran, Tehran, city: 12,223,598; metro: 13,828,365
Iraq, Baghdad, 7,216,040
Ireland, Dublin, 1,045,769
Israel, Jerusalem, 780,200
Italy, Rome, 2,792,508
J
Jamaica, Kingston, 701,063
Japan, Tokyo, city: 13,185,502; metro: 35,862,460
Jordon, Amman, 2,600,603
K
Kazakhstan, Astana, 700,000
Kenya, Nairobi, 2,665,657
Kiribati, South Tarawa, 30,000
Korea (North), Pyongyang, 3,144,005
Korea (South), Seoul, city 10,581,728; metro 25,620,000
Kuwait, Kuwait City, 1,171,880
Kyrgyzstan, Bishkek, 843,240
L
Laos, Vientiane, 287,579
Latvia, Riga, 713,016
Lebanon, Beirut, 1,574,387
Lesotho, Maseru, 267,652
Liberia, Monrovia, 1,010,970
Libya, Tripoli, 1,184,045
Liechtenstein, Vaduz, 5,248
Lithuania, Vilnius, 556,723
Luxembourg, Luxembourg, 76,420
M
Macedonia, Skopje, 506,926
Madagascar, Antananarivo, 1,918,117
Malawi, Lilongwe, 902,388
Malaysia, Kuala Lumpur, 1,381,830
Maldives, Male, 103,693
Mali, Bamako, 1,289,626
Malta, Valletta, 6,315
Marshall Islands, Majuro, 25,400
Mauritania, Nouakchott, 719,167
Mauritius, Port Louis, 147,251
Mexico, Mexico City, 8,851,080
Micronesia, Palikir, 9,900
Moldova, Chisinau, 794,800
Monaco, Monaco, 35,986
Mongolia, Ulan Bator, 907,802
Montenegro, Podgorica, 141,854
Morocco, Rabat, 1,789,635
Mozambique, Maputo, 1,076,689
Myanmar (Burma), Nay Pyi Taw, 925,000
N
Namibia, Windhoek, 252,721
Nauru, Yaren, 1,100
Nepal, Kathmandu, 812,026
(The) Netherlands, Amsterdam, 740,094
New Zealand, Wellington, 381,900
Nicaragua, Managua, 926,883
Niger, Niamey, 794,814
Nigeria, Abuja, 778,567
Norway, Oslo, 575,475
O
P
Pakistan, Islamabad, 955,629
Palau, Ngerulmud, 391
Panama, Panama City, 813,097
Papua New Guinea, Port Moresby, 307,643
Paraguay, Asuncion, 520,722
Peru, Lima, city: 7,605,742; metro: 8,472,935
Philippines, Manila, city: 1,652,171; metro: 11,855,975
Poland, Warsaw, 1,706,724
Portugal, Lisbon, 564,657
Q
R
Romania, Bucharest, 1,942,254
Russia, Moscow, 11,541,000
Rwanda, Kigali, 718,414
S
St. Kitts and Nevis, Basseterre, 13,043
St. Lucia, Castries, 57,000
St. Vincent and The Grenadines, Kingstown, 16,031
Samoa, Apia, 39,813
San Marino, San Marino, 4,493
Sao Tome and Principe, Sao Tome, 56,166
Saudi Arabia, Riyadh, 4,878,723
Senegal, Dakar, 1,030,594
Serbia, Belgrade, 1,154,589
Seychelles, Victoria, 29,298
Sierra Leone, Freetown, 1,070,200
Singapore, Singapore, 5,312,000
Slovakia, Bratislava, 424,207
Slovenia, Ljubljana, 280,140
Solomon Islands, Honiara, 59,288
Somalia, Mogadishu, 1,097,133
South Africa, Pretoria (official: 2,345,908), 1,097,133; Bloemfontein (judicial: 369,568); Cape Town (legislative: 827,218)
South Sudan, Juba, 372,410
Spain, Madrid, 3,233,527
Sri Lanka, Sri Jayawardenapura Kotte, 118,556
Sudan, Khartoum, 1,740,661
Suriname, Paramaribo, 254,147
Swaziland, Mbabane, 81,594
Sweden, Stockholm, 770,284
Switzerland, Berne, 121,631
Syria, Damascus, 3,500,000
T
Taiwan, Taipei, 2,618,772
Tajikistan, Dushanbe, 582,496
Tanzania, Dodoma, 287,200
Thailand, Bangkok, 8,249,117
Togo, Lome, 824,738
Tonga, Nukuʻalofa, 22,400
Trinidad and Tobago, Port-of-Spain, 50,479
Tunisia, Tunis, 767,629
Turkey, Ankara, 4,890,893
Turkmenistan, Ashgabat, 763,537
Tuvalu, Funafuti, 4,492
U
Uganda, Kampala, 1,659,600
Ukraine, Kiev, 2,832,398
United Arab Emirates, Abu Dhabi, 585,097
United Kingdom, London, 8,174,100
United States, Washington, D.C., 601,723
Uruguay, Montevideo, 1,369,797
Uzbekistan, Tashkent, 2,207,850
V
Vanuatu, Port Vila, 38,000
(The) Vatican, Vatican City, 826
Venezuela, Caracas, 1,838,939
Vietnam, Hanoi, 3,398,889
W
Western Sahara, El Aaiun, 194,668
Y
Z
Zambia, Lusaka, 1,331,254
Zimbabwe, Harare, 1,487,028