Biggest Old Growth Forests In The United States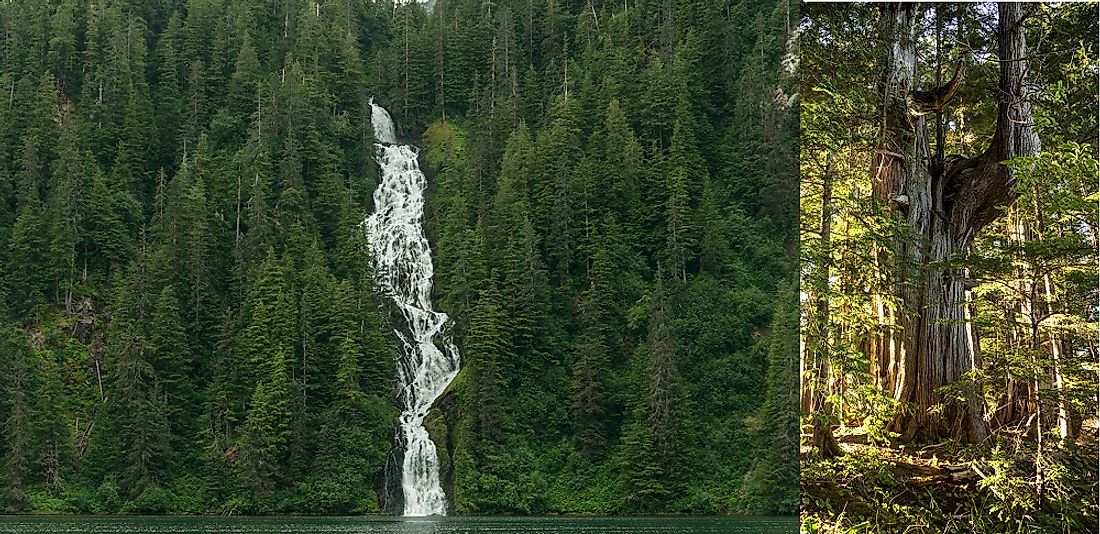 An old growth forest is one of the terms used to describe a forest area that has been able to age significantly without human or natural alterations. Home to many threatened plant and animal species, old-growths are extremely biodiverse. These forests are full of fertile soils which gives life to new trees and other plants. The United States is home to many old-growth forests, the biggest of which are listed below.
Tongass National Forest, Alaska
The Tongass National Forest in Alaska is immense, and within its nearly 17 million acres lies an area of old-growth that takes up 5.4 million acres in area. As the world's largest old growth coastal temperate rainforest, the Tongass is irreplaceable. Its biggest threat is logging. Not only does this practice result in the loss of ancient trees, but regrowth is often more dense than is natural and therefore unsuitable for wildlife, and logging roads erode into nearby waterways effectively blocking routes for fish. If Congress permits more privatization of these lands, it will come at the cost of the lives of black and brown bears, salmon, Alexander Archipelago wolves, bald eagles, black-tailed deer, and moose. Conservation efforts are ongoing to restore logging areas and promote second-growth trees to satisfy loggers' demands.
Ouachita National Forest, Arkansas
The old-growth section of the Ouachita National Forest is 800,000 acres in the Ouachita mountains between Arkansas and Oklahoma. This forest is home to over 60 species of native trees and distinct freshwater ecosystems. A bioluminescent endemic earthworm can only be found here. A major threat here, aside from logging, has been the suppression of natural wildfires which are necessary to maintain healthy forests. Without these fires, the forests have grown exceedingly thick, and the grassland ecosystem has been lost. The US Forest Service has begun a modified wildfire strategy to promote the region to its original status. They are also paying more attention to logging areas to prevent habitat fragmentation which has a detrimental impact on bird species.
Winema National Forest, Oregon
Within the Winema National Forest in Oregon, an estimated 712,000 acres are old-growth. This forest backs up against the Crater Lake National Park and opens up to marsh and meadow lands. More than half of this land once belonged to the Klamath Native American Reservation until they sold it to the government in 1963 and 1973. Home to mountain lions, mule deer, bull trouts (a threatened species), and around 925 vascular plants, the Winema forest is unique and in danger from logging.
Mount Baker-Snoqualmie National Forest, Washington
The Mount Baker-Snoqualmie forest is located in the Cascade mountain range in Washington state and is home to 644,000 acres of old-growth. Situated around an hour away from the Seattle metropolitan area, this forest is one of the most frequently visited in the country. More glaciers, snowfields, and alpine lakes can be found here than any other forest in the Lower 48. As a result, it is a hots pot of unique flora and fauna, particularly the bald eagle. Congress has protected the majority of this forest by designating it as National Park and National Wilderness area.
Willamette National Forest, Oregon
Of the more than 110 miles of forest that stretch along the Cascade mountain range in Oregon, roughly 595,000 acres of this National forest are considered old-growth. Covered in cedar, hemlock, and Douglas fir trees (some as big as 8 feet in diameter!), over 300 animal species make their home here. These include salmon, trout, wolverine, and cougars, just to name a few. The entire forest has been logged for decades though production has dropped over the last 10 years. The old-growth areas have been designated as National Wilderness for protection.
Fremont National Forest, Oregon
Virtually next door to the Winema National Forest, the Fremont now hosts 550,000 acres of old-growth. The plants and wildlife are similar. In fact, the two forests are so similar that they are administratively paired under the US Forest Service. Currently, there is a meadow land and aspen restoration project under way.
Umpqua National Forest, Oregon
Number 7 on the list is the Umpqua National Forest in Oregon where 535,000 acres of old-growth can be found. This forest is unique in that it encompasses both spruce-fir forests, mixed conifer, and old-growth Ponderosa pines. These trees provide shelter to such species as squirrels, foxes, black bears, deer, owls, and eagles. Logging is also a threat to this ecosystem.
Quercus Douglasii Woodlands, California
The Quercus Douglasii is commonly known as the Blue Oak which is endemic to California. This 500,000 acre old-growth is located in the California chaparral and woodlands located throughout California and the northwestern region of Baja California. These special trees are home to many threatened bird species such as the Costa hummingbird, other animals are also found here, including the Rosy boa, Coast horned lizard, and Santa Cruz kangaroo rat. This region has been affected by urbanization, agriculture, damming, and logging.
Quetico-Superior Country, Minnesota
This is a wilderness region shared between Minnesota in the US and the Ontario province of Canada with 401,000 acres of old-growth. The Quetico-Superior, or Boundary Waters, are filled with boreal forests and bogs within the Superior National Forest. Typical tree species here include aspen, oak, maple, and birch. Most of the area is protected as a designated wilderness area.
Sierra National Forest, California
The Sierra National Forest houses 383,000 acres of old-growth on the western side of the Sierra Nevada mountains in Central California. The trees in the old-growth area are dominated by lodgepole pine and red firs. The climates in this forest vary greatly due to the elevations and includes Alpine, Subalpine, and Montane zones.
Biggest Old Growth Forests In The United States
| Rank | Location | Virgin Old Growth Area |
| --- | --- | --- |
| 1 | Tongass National Forest, Alaska | 5.4 million acres |
| 2 | Ouachita National Forest, Arkansas | 800,000 acres |
| 3 | Winema National Forest, Oregon | 712,000 acres |
| 4 | Mount Baker-Snoqualmie National Forest, Washington | 644,000 acres |
| 5 | Willamette National Forest, Oregon | 595,000 acres |
| 6 | Fremont National Forest, Oregon | 550,000 acres |
| 7 | Umpqua National Forest, Oregon | 535,000 acres |
| 8 | Quercas douglasii Woodlands, California | 500,000 acres |
| 9 | Quetico-Superior Country, Minnesota | 401,000 acres |
| 10 | Sierra National Forest, California | 383,000 acres |