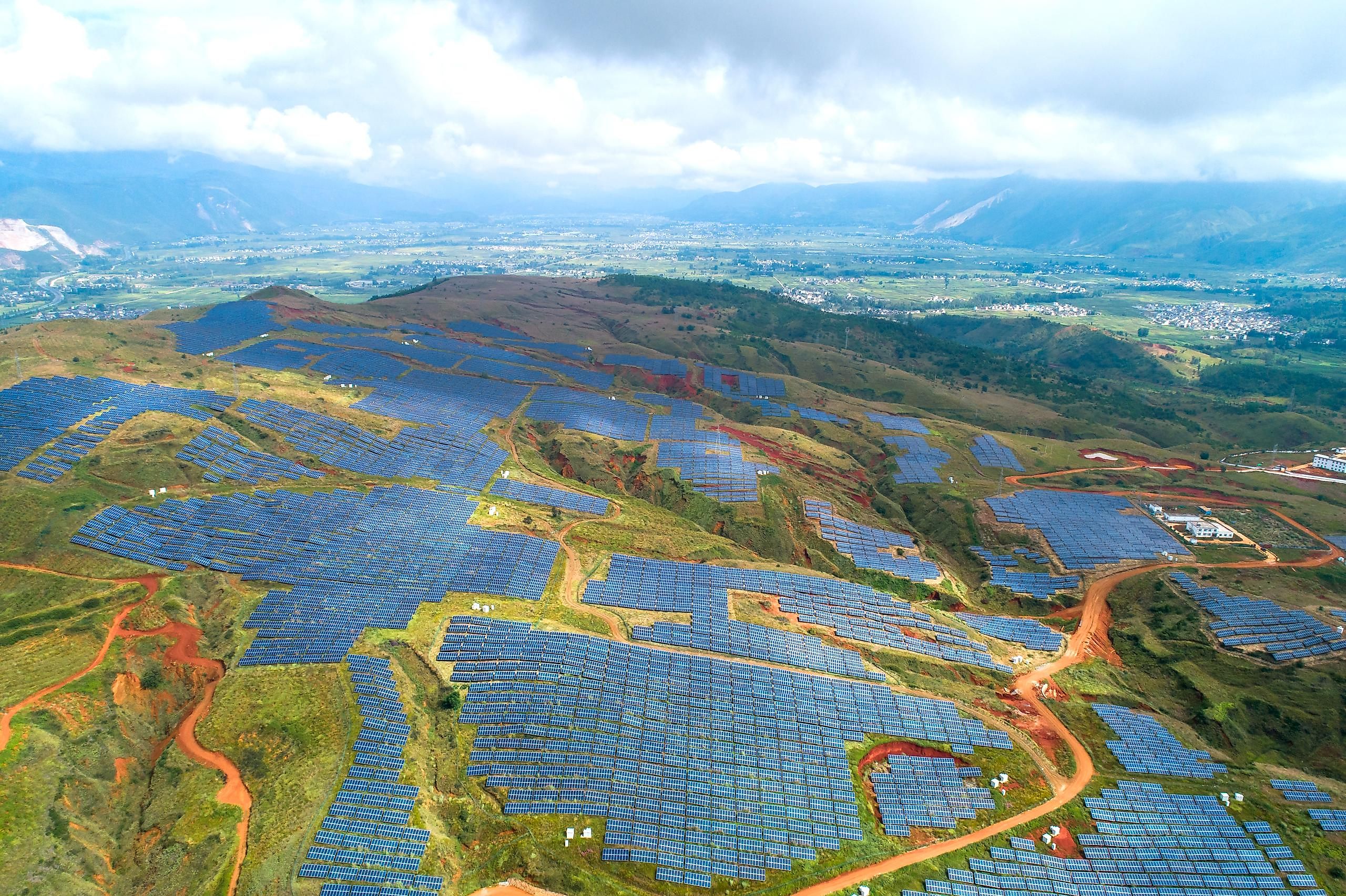 The 10 Largest Solar Power Stations In The World
Energy is an essential resource used in everything from our daily-use items like cell phones and light bulbs to major industrial projects. So far, this immense energy required to power the lives of billions of humans has primarily been met by non-renewable sources of energy such as oil and natural gas. However, these resources are limited and also cause great harm to the environment. Hence, developing renewable energy sources like solar power is vital in the present century. With enough solar energy hitting the earth to meet a year's worth of global energy requirements in just an hour, solar power is considered an optimal route to a renewable energy future. Solar power plants are facilities designed to tap solar energy and convert it to electricity using the photovoltaic effect of solar panels. Here are some of the world's largest solar power stations promising a cleaner future for the planet:
1. Bhadla Solar Park, India - 2,245 megawatts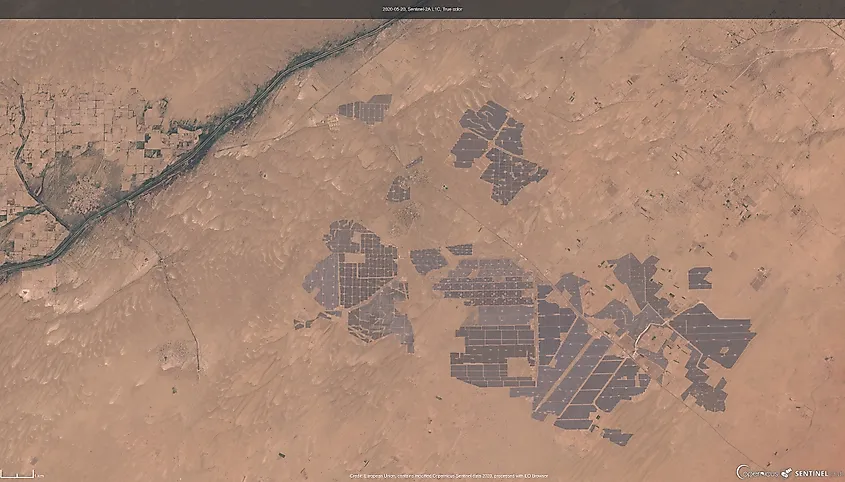 Located in the Indian state of Rajasthan, the Bhadla Solar Park is the largest solar park in the world. This solar power station covers an area of 21.8 square miles and has a capacity of 2,245 megawatts, enough to power many major cities in the country. The site was developed in four phases, with various energy conglomerates such as Larsen & Turbo and BK Dosi working in coordination to develop individual sections. It was completed in 2017 with a construction cost of more than $1.3 billion USD, which is quite reasonable considering the immense size. This park also ties into the country's major shift in energy production with various government subsidies and backing promoting solar power station development. 
2. Huanghe Hydropower Hainan Solar Park, China - 2,200 megawatts
Built in five phases and recently completed in September 2020, Huanghe Hydropower Hainan Solar Park is located in the Qinghai Province in China. With a current capacity of 2,200 megawatts, this solar power station just misses the top spot. However, with major developmental plans in place, the project is expected to reach an immense capacity of 16,000 megawatts incorporating wind energy, making it a groundbreaking advancement in renewable energy production. Also, it is connected to an ultra-high voltage power line powering densely populated areas in Eastern China. Thus, any growth would be a major step forward for the country's switch to renewable energy. In terms of its development cost, as of now, this project's worth sits at $2.2 billion USD, making it one of the more expensive solar power stations in the world.
3. Pavagada Solar Park, India - 2,050 megawatts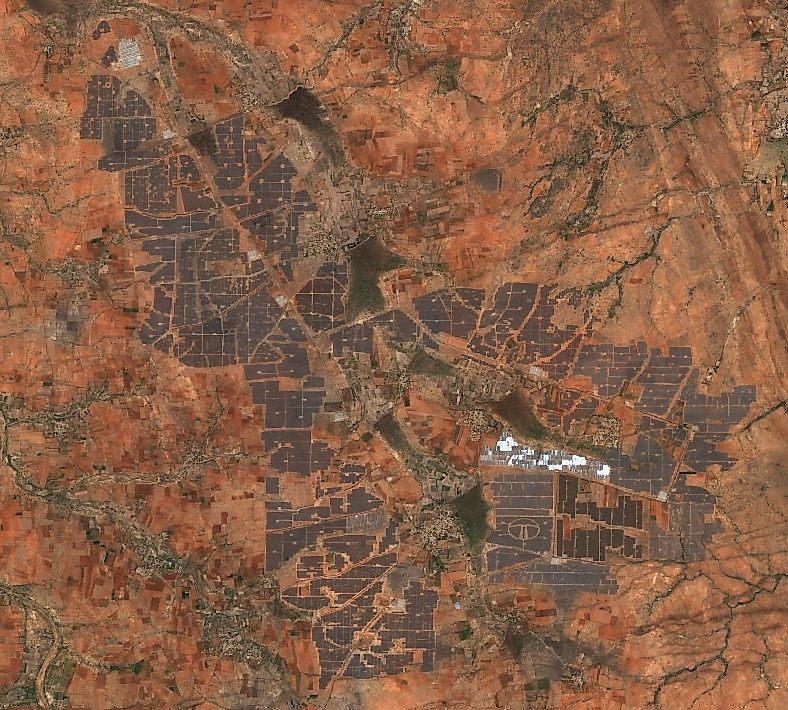 With a total capacity of 2,050 megawatts as of April 2021, Pavagada Solar Park is the third-largest solar power plant in the world and the second-largest in India. The solar power station is spread across a total area of 20.3 square miles in the state of Karnataka, India. Construction of the solar park was a joint venture between the Karnataka State Renewable Energy Department and the Solar Energy Corporation of India as part of a major developmental push for renewable energy. The construction of this solar park took 18 months, and the total cost came out to be $2.1 billion USD, which is significantly greater than its successor, the Bhadla Solar Park. At the time of its completion in 2018, Pavagada Solar Park was actually the largest solar plant in the world. However, it has also received criticism due to concerns about the unsafe disposal of solar panel waste, which causes significant harm to the environment.
4. Benban Solar Park, Egypt - 1,650 megawatts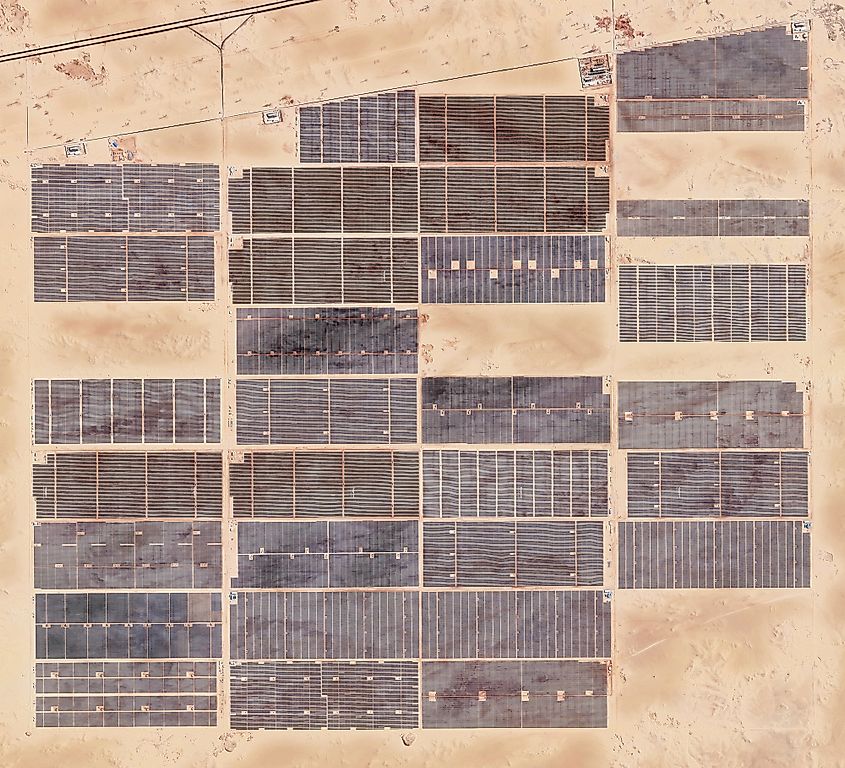 With more than 41 solar power plants spread over an area of 14 square miles, the Benban Solar Park is the fourth largest in terms of energy production. The plant has a capacity of 1,650 megawatts, making it the largest solar power station in Egypt. It is located in the barren Western Desert region, which, in coordination with NASA, was deemed to be an ideal spot with ample sunlight for optimal energy production. Thanks to this, the plant is highly efficient and powers thousands of homes and businesses in the region. The project ties in with Egypt's goal of generating 20% of electricity from renewable sources, and mass financial backing from the state and lenders to cover the $4 billion USD cost allowed multiple private companies to build power plants in the project.
5. Tengger Desert Solar Park, China - 1,547 megawatts
Situated in China's fourth largest desert, the Tengger Desert Solar Park is another one of the country's many high-capacity solar power stations. With a peak power capacity of 1,547 megawatts, it is the second largest in the country and the fifth largest in the world. The station covers an area of more than 15.6 square miles and, since its completion in 2015, has been a significant factor in pushing China to become the global leader in solar energy production. Moreover, this plant alone powers approximately 600,000 residential buildings in the country! However, as the plant is located in the northwestern end of China, where energy requirement is comparably lower, a significant amount of its energy production is wasted. Specifically, due to issues such as transmission bottlenecks, as much as 30% of solar energy can sometimes be lost.
6. Noor Abu Dabhi, UAE - 1,177 megawatts
Noor Abu Dabhi in the United Arab Emirates is the largest solar power station in the country and comes out in 6th place on the world scale. The plant is made up of 3.2 million solar panels covering an area of just under 3.12 square miles, which allows it to reach a peak capacity of 1,177 megawatts. This is enough to cover the energy requirement for 90,000 people, and in September 2020, it powered 66,000 houses. Moreover, Noor Abu Dabhi can reduce a whopping 1 million metric tons of carbon footprint per year, equivalent to removing 200,000 cars from roads.
While it may not be the largest in the world, some unique things about Noor Abu Dabhi make it stand out. Firstly, the entire power plant is cleaned using a waterless robotic technology that travels 9,941 miles a day to keep the panels clean. Moreover, being located on a single site, unlike many others on this list, Noor Abu Dabhi is the largest single-site power plant in the world.
7. Mohammed bin Rashid Al Maktoum Solar Park, UAE - 1,013 megawatts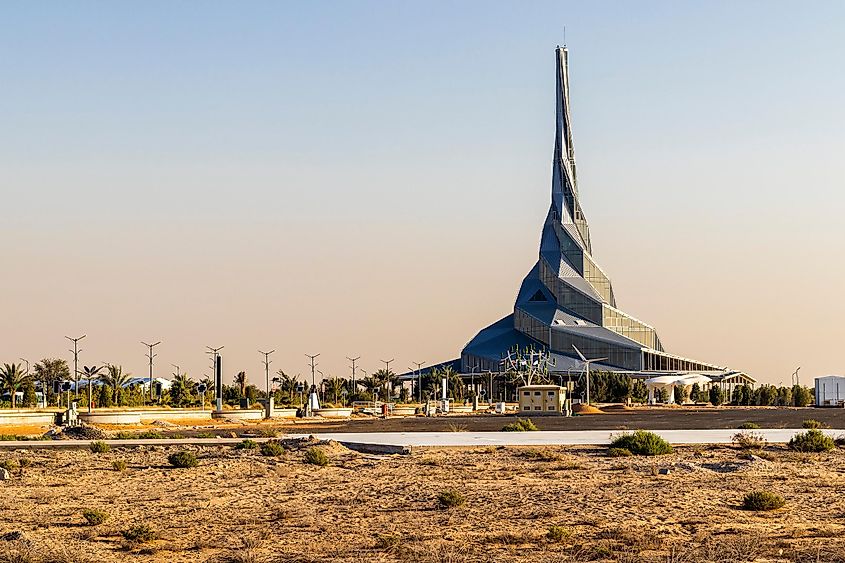 Located 31 miles from the city of Dubai, Mohammed bin Rashid Al Maktoum Solar Park is the seventh-largest solar power station in the world. It has a total area of 30 square miles in the desert near Dubai and a peak capacity of 1,013 megawatts as of 2022. In addition to this, with a storage capacity of over 15 hours, the plant can produce energy continuously, making it a high-efficiency project. The solar plant is actually part of a long-term project undertaken by the Dubai Electricity and Water Authority to create a 5,000-megawatt capacity major renewable plant by 2030. This project is expected to cost more than $13 USD billion and, upon completion, reduce carbon emissions by 6.5 million tons.
8. Kurnool Ultra Mega Solar Park, India - 1,000 megawatts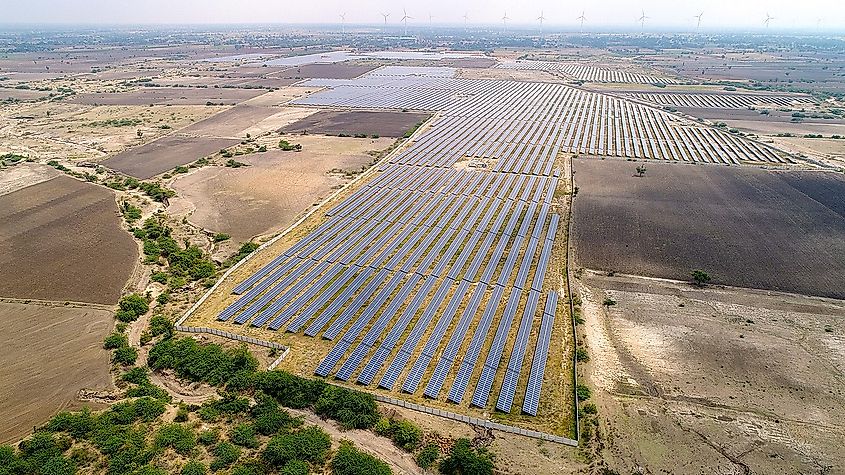 Operational since early 2019, the Kurnool Ultra Mega Solar Park is another Indian addition to this list. With a peak capacity of 1,000 megawatts, this site is the country's third-largest and the world's eighth-largest solar power plant. In total, the site covers an area of nearly 9.37 square miles and utilizes 4,580,471 solar panels, primarily of 315 watts capacity. With this, the plant is estimated to offset approximately 1.9 million tonnes of CO2 emission per year. Moreover, this park alone provides power for 80% of the Kurnool district, where it is located.
As part of India's major push for solar energy, four prominent developers have invested in this project and developed it. Greenko, Softbank, Azure Power, and Adani Power invested a total of $735 million USD, which allowed the project to move forward.
8. Datong Solar Power Top Runner Base, China - 1,000 megawatts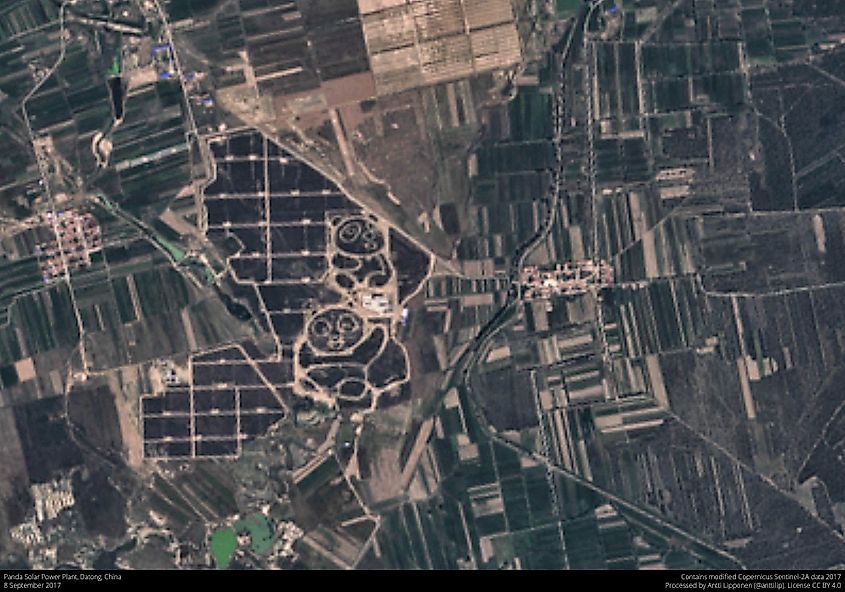 While it may not be at the top of this list, the Datong Solar Power Top Runner Base In China is a unique solar power plant because of its shape. It is designed to appear like a giant panda covering an area of 0.39 square miles. However, along with the aesthetic appeal, the solar power plant has a peak capacity of 1,000 megawatts and was developed with the coordination of various large energy conglomerates. Moreover, with companies such as Datong Coal Mine Group, State Power Investment, JinkoSolar Holding, and many others working on its development, there are plans to increase capacity to 3,000 megawatts in another two construction phases. The government plans to produce 3.2 billion kilowatt-hours of energy through this plant by 2046.
10. NP Kunta Ultra Mega Solar Park, India - 978.5 megawatts
Currently, an ongoing project, the NP Kunta Ultra Mega Solar Park, has been commissioned to have a total capacity of 978.5 megawatts when completed. This plant covers an area of nearly 12 square miles in the Andhra Pradesh state of India. The project was launched on May 2016. However, the project faced multiple halts due to changes in the local government and other reasons, especially in 2019. As of now, more than six major energy companies own and manage sections of the power plant with further development plans, which could see the total capacity reach 1,500 megawatts. This project, once completed, would make India a key player in terms of solar and renewable energy around the globe.
As more countries are increasing their focus on solar energy as a substitute for traditional sources, solar power stations have grown in both size and efficiency. Over the past four decades, the cost of a solar panel has decreased by an astonishing 99%, making this an increasingly lucrative energy source. As of 2023, China holds the top spot in global solar energy production with a cumulative solar power capacity of more than 300,000 megawatts.
The 10 Countries with the Largest Solar Power Plants
| Rank | Name Of Solar Power Plant | Country | Capacity (in megawatts, MW) |
| --- | --- | --- | --- |
| 1 | Bhadla Solar Park  | India | 2,245 |
| 2 | Huanghe Hydropower Hainan Solar Park | China | 2,200 |
| 3 | Pavagada Solar Park | India | 2,050 |
| 4 | Benban Solar Park | Egypt | 1,650 |
| 5 | Tengger Desert Solar Park | China | 1,547 |
| 6 | Noor Abu Dabhi | United Arab Emirates | 1,177 |
| 7 | Mohammed bin Rashid Al Maktoum Solar Park | United Arab Emirates | 1,013 |
| 8 | Kurnool Ultra Mega Solar Park  | India | 1,000 |
| 8 | Datong Solar Power Top Runner Base | China | 1,000 |
| 10 | NP Kunta Ultra Mega Solar Park | India | 978.5 |