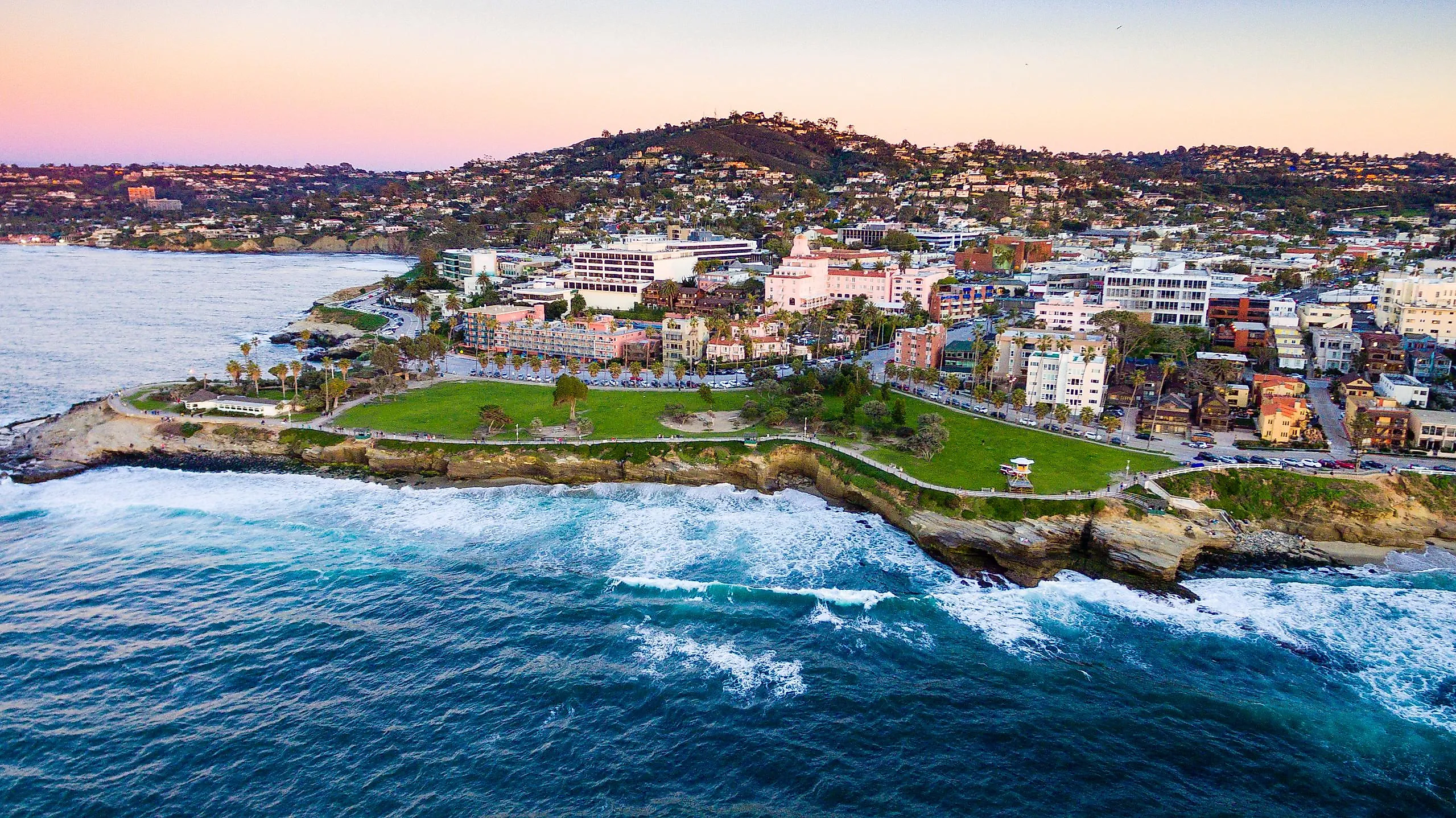 These 12 Towns in Southern California Have The Best Main Streets
Summer sun? Check. Beauty? Check. Absurd amounts of wineries? You guessed it; Southern California gives the people what they want. Everyone agrees that this state is incredible because its breadth includes both gold-rush cowboy towns and upscale, coastal university hubs. It is said that practice makes perfect; in that case, it makes sense that California has mastered the art of novel human settlements. The streets of these towns are particularly engaging because you never know what you will see: Will it be palm trees and neon art lighting up perfectly bricked streets or ancient swinging saloon signs that have stayed the same for a hundred years? Fortunately, you can solve these mysteries by visiting or reading about these towns.
Julian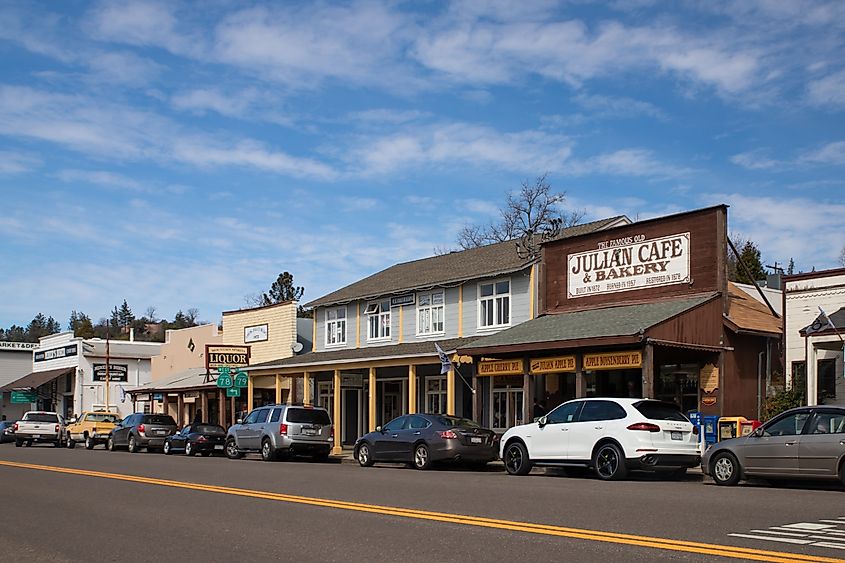 Like many towns that popped up in the Californian hills, Julian owes its existence to the 19th-century gold rush. Known for its well-preserved Main Street, the town offers a glimpse into the past with attractions such as the Julian Mining Company and the Eagle and High Peak Mine. Visitors can participate in gold panning and learn about the area's mining history. Julian is also famous for its apple pies and cider, with several local bakeries and orchards offering delicious, homemade treats. The town's annual Apple Days Festival, held in the fall, features apple exhibits, live music, and dancing, a showcase of vintage tractors, engaging activities for kids, gold panning exhibits, a beer and wine pavilion, a variety of food and merchandise stalls, exciting competitions, and, naturally, an abundance of delectable apple pie.
Solvang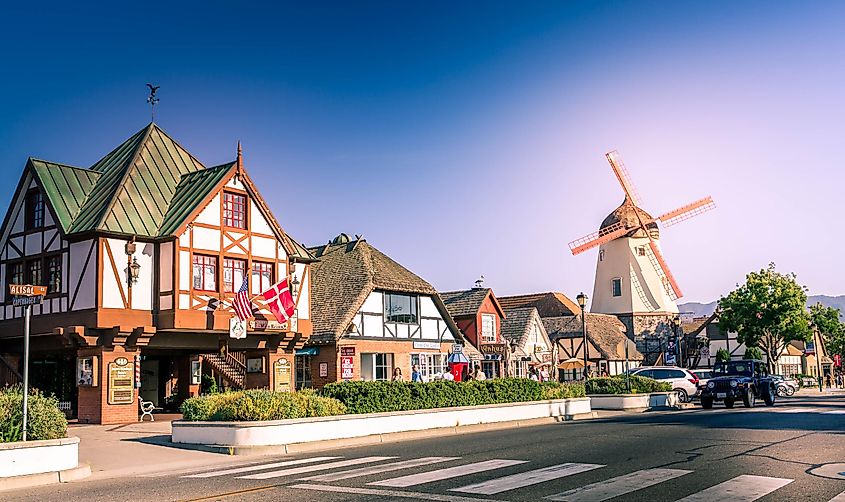 Deep in the Santa Ynez Valley, Solvang is a Danish-style town, and it is not afraid to show it. Its main street, Copenhagen Drive, features charming Danish architecture, windmills, and colorful flower displays. Among its unique attractions are the Hans Christian Andersen Museum, dedicated to the famous Danish author; the Elverhoj Museum of History & Art, showcasing the town's Danish roots; and the Solvang Vintage Motorcycle Museum, housing a rare collection of vintage motorcycles. Solvang also offers a variety of wine-tasting rooms, as the region is known for its vineyards and wineries. The town also hosts the Old Mission Santa Inés, which is a 200-year-old Franciscan church.
Ojai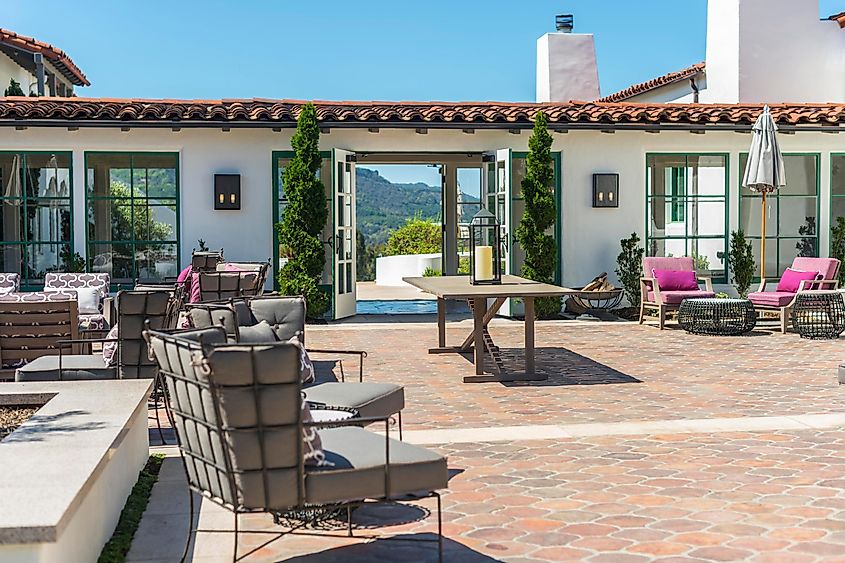 If you come through Ventura County, make sure to stop through Ojai, a small, bohemian town with a relaxed atmosphere. Its main street, Ojai Avenue, features an eclectic mix of shops, art galleries, and eateries, as well as the historic Libbey Park. The Ojai Valley Museum highlights the town's history, art, and culture, while the Ojai Art Center serves as a hub for local artists and performers. Outdoor enthusiasts can enjoy numerous recreational activities in the surrounding Los Padres National Forest, including hiking, biking, and horseback riding. Furthermore, food fanatics will find solace in the wide range of cuisines that dot E Ojai Ave, including a Japanese Burger Cafe, The Dutchess Burmese restaurant, and good ol' pizza at the Ojai Pizza Company.
San Juan Capistrano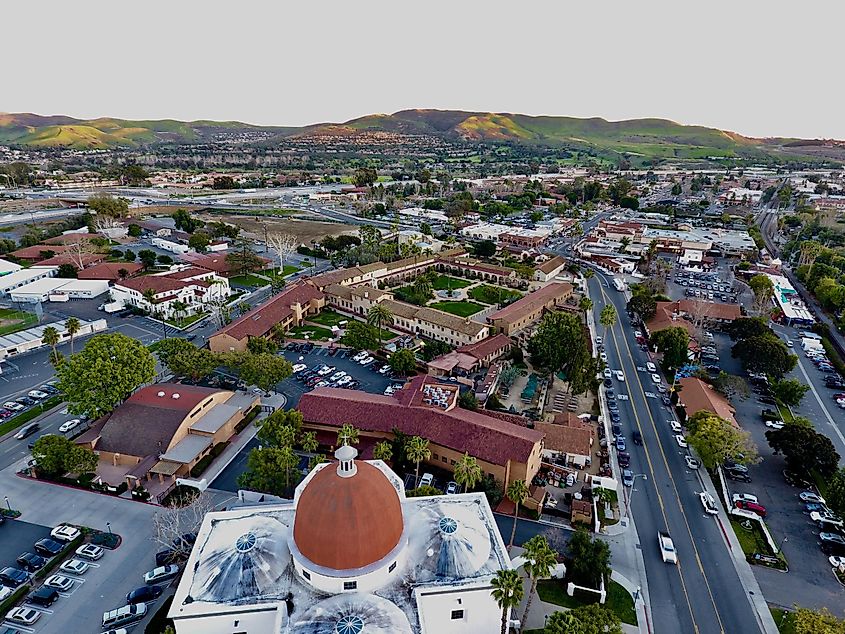 Located in Orange County, San Juan Capistrano is a historic town known for its Spanish architecture and rich history. The town's main street, Ortega Highway, leads to the iconic Mission San Juan Capistrano, founded in 1776 and featuring beautiful gardens, fountains, and historic structures. The nearby Los Rios Historic District boasts the oldest residential neighborhood in California, with restored adobe homes and unique shops. The town also provides access to Capistrano Beach Park, which is an endless stretch of sand and comfort for those easing into a new tan.
Seal Beach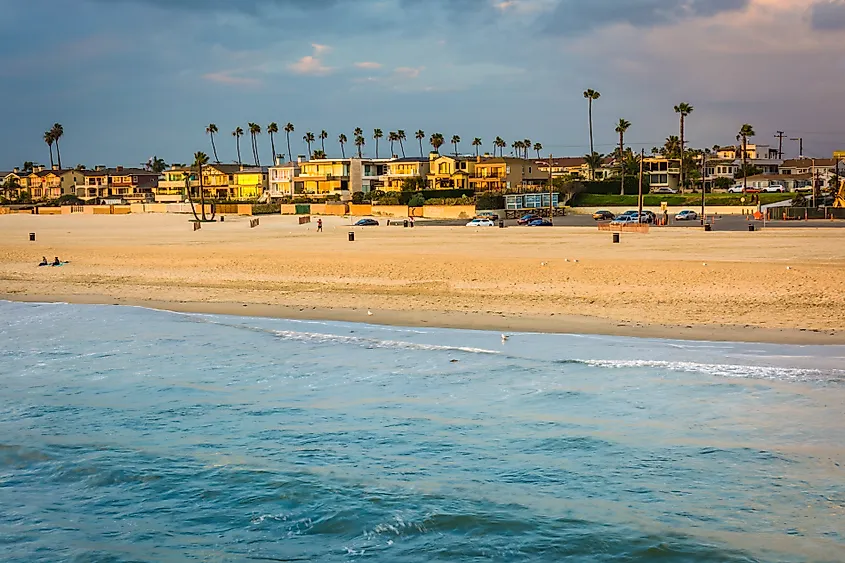 Seal Beach, also in Orange County, is a classic Southern California beach town, and it is dense and, therefore, full of life. Lined with palm trees, Main Street is home to local shops, restaurants, and cafes, and it leads right to its massive beachfront. The Seal Beach Pier, one of the longest wooden piers in California, offers stunning views of the Atlantic and is a popular spot for fishing and bird-watching. The Red Car Museum, housed in a restored Pacific Electric Railway car, showcases the history of the region's early transportation system. Seal Beach also hosts various events throughout the year, such as the annual Classic Car Show and the Summer Concert Series.
Claremont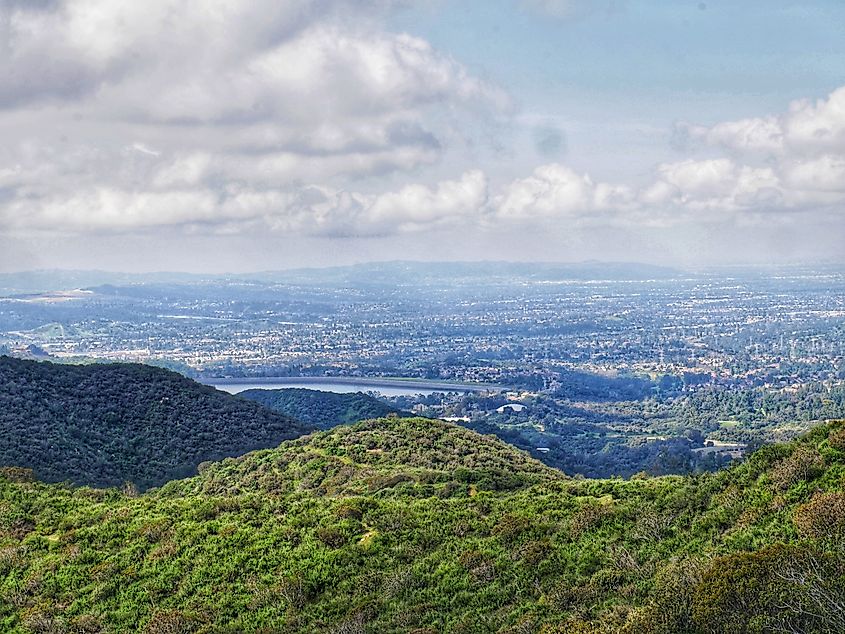 This charmer of a town is 30 miles away from Los Angeles, and it inhabits the heart of the ever-scenic Pomona Valley. The heart of the town is Claremont Village, and Yale Street, in particular, boasts boutique shops, galleries, and eateries that cater to all kinds of tastes. Nearby, the Rancho Santa Ana Botanic Garden is a serene oasis showcasing California native plants and offering educational programs. Claremont is also home to the prestigious Claremont Colleges, making it a fun little college town. Besides the sporting and cultural events that the local universities offer, Claremont is essentially a well-rounded town with a touch of historical roots to-boot.
La Jolla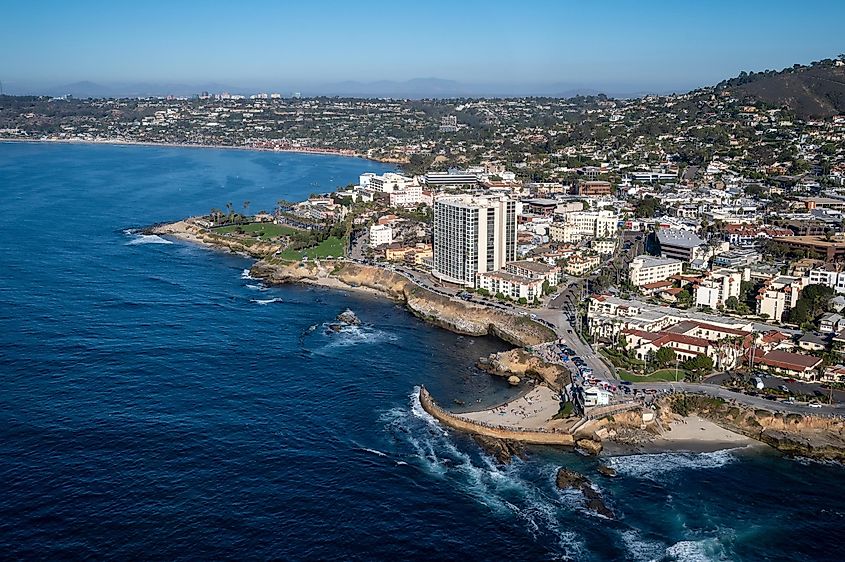 Along the coast in San Diego County is the ever-pleasant La Jolla, an upscale community known for its breathtaking ocean views and luxurious ambiance. Its biggest assets are the hiking trails that run along the Ocean's edge, from lookout to lookout, and these are often frequented by students from the nearby Thurgood Marshall College as a source of recreation and respite.
Moving on, Prospect Street and Girard Avenue serve as the town's main streets, featuring high-end boutiques, art galleries, and fine dining establishments. La Jolla Cove, a popular spot for snorkeling and observing marine life, is within walking distance from shops like Starbucks and Haagen -Dazs. Additionally, the nearby Museum of Contemporary Art San Diego houses thought-provoking exhibits from local and international artists.
Paso Robles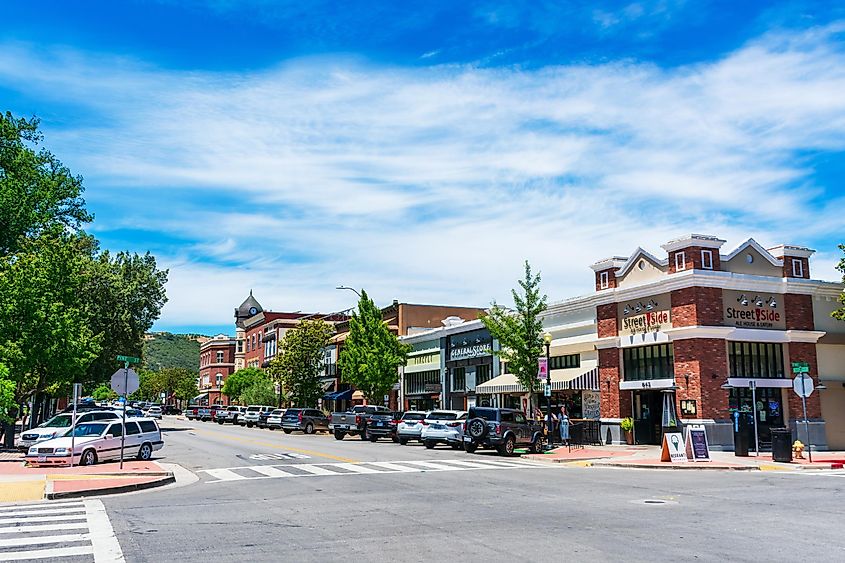 In the heart of California's Central Coast wine region, Paso Robles is a charming town with a rich winemaking tradition. Its downtown area, centered around the Downtown City Park, offers wine-tasting rooms, gourmet restaurants, and boutique shops that reflect the region's agricultural roots. The Paso Robles Pioneer Museum delves into the area's history through engaging displays and artifacts. With over 200 wineries in the vicinity, visitors can indulge in wine tours and tastings to experience the flavors of the region.
Santa Barbara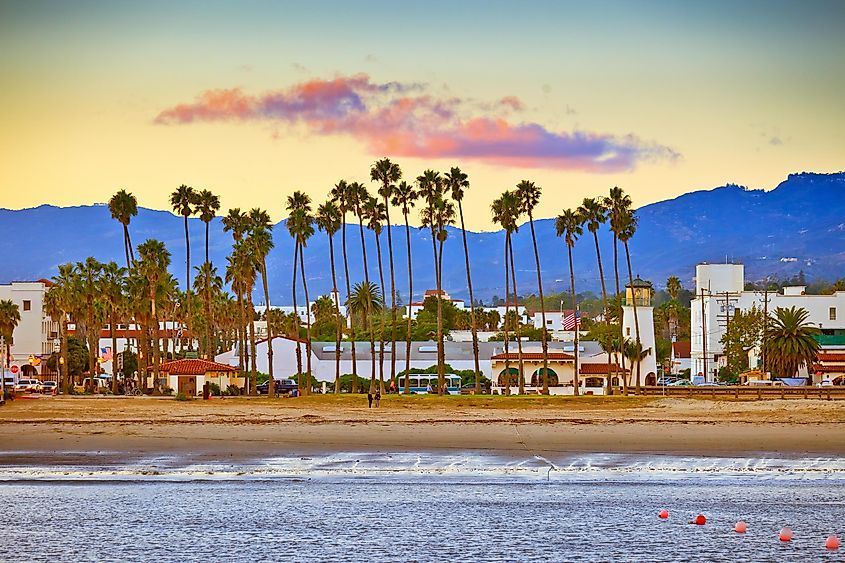 Located on the Central Coast, Santa Barbara is a picturesque city with a Mediterranean-inspired architectural style. The main thoroughfare, State Street, offers a variety of shopping, dining, and cultural experiences, from unique local shops to upscale national brands. Stearns Wharf, a historic wooden pier, provides beautiful ocean views and houses various restaurants, as well as the Santa Barbara Museum of Natural History Sea Center. The striking Santa Barbara County Courthouse is another iconic attraction, featuring lush gardens, stunning murals, and a panoramic view from its clock tower.
Laguna Beach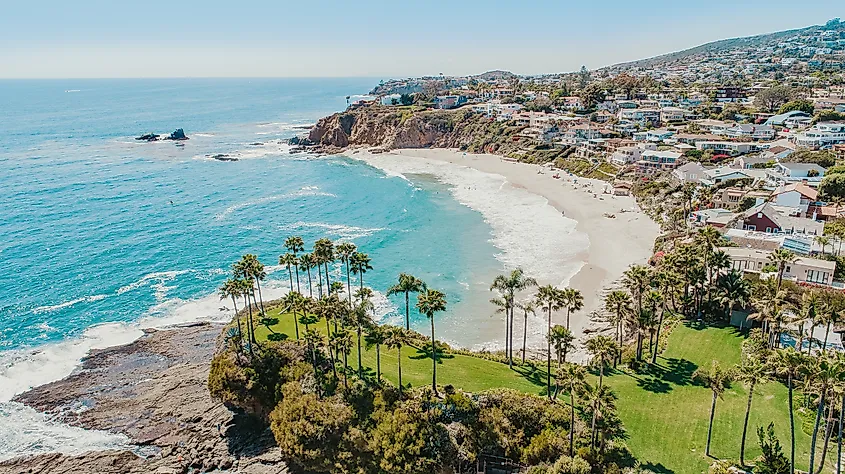 Nestled along the coast in Orange County, Laguna Beach is an artistic community renowned for its stunning landscapes and creative atmosphere. Forest Avenue, the town's main street, is lined with art galleries, boutique shops, and oceanfront restaurants. The Laguna Art Museum showcases California art from the 19th century to the present, while Heisler Park offers tranquil walking paths with coastal views and sculptures by local artists. Throughout the year, Laguna Beach hosts numerous art events, such as the Sawdust Art Festival and the Pageant of the Masters, attracting art lovers from around the world.
Temecula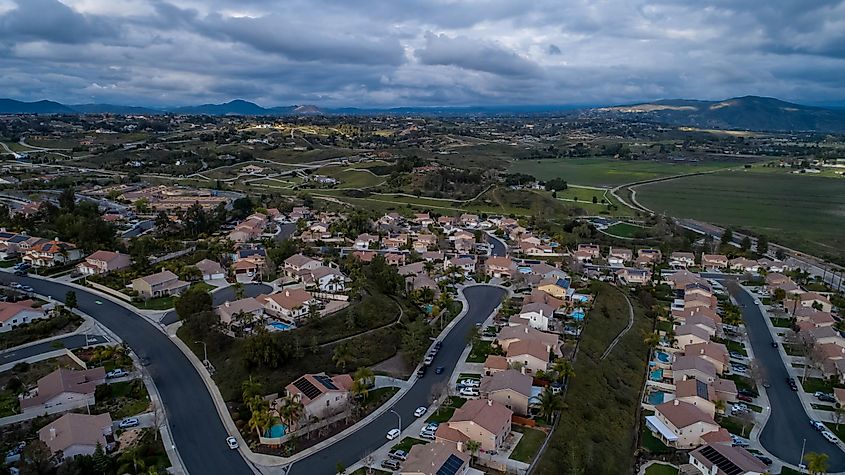 Temecula, situated in Riverside County, is a beautiful town with a delightful Old West ambiance. The heart of the town, Old Town Temecula, features historic buildings, antique shops, and a variety of dining options along its main street, Old Town Front Street. The Temecula Valley Museum offers visitors an insight into the region's history, culture, and local legends. As a gateway to the Temecula Valley Wine Country, the town boasts over 40 wineries, providing ample opportunities for wine tasting and exploration. Annual events like the Temecula Valley Balloon & Wine Festival and the Rod Run Car Show further enhance the town's appeal.
Carlsbad
Located in San Diego County, Carlsbad is another lovely coastal town known for its family-friendly atmosphere and beautiful beaches. The town's main street, Carlsbad Village Drive, is home to an assortment of unique shops, local eateries, and outdoor cafes, providing a leisurely shopping and dining experience. The nearby Leo Carrillo Ranch Historic Park is a preserved 27-acre estate that once belonged to actor Leo Carrillo, showcasing beautiful gardens, peacocks, and a glimpse into early California ranch life. Carlsbad also offers various recreational activities, such as beachcombing, surfing, and exploring the extensive network of hiking and biking trails in the area.
Each town offers a distinctive experience, whether it's the nostalgic allure of gold rush-era Julian, the Danish charm of Solvang, or the artistic ambiance of Laguna Beach. By taking the time to wander these captivating streets, visitors can immerse themselves in the local way of life, savoring regional flavors and unearthing their own anecdotes along the way. So, as you plan your next adventure, consider these remarkable towns as the perfect destinations to experience the essence of Southern California.