The wonderful state of Arizona, which has a diverse topography, is home to a number of natural wonders like deserts, mountains, and small towns that are perfect for retirees looking for a memorable retirement experience. These quaint communities provide seniors the chance to spend their golden years in peace due to their scenic beauty, outdoor activities, and laid-back lifestyle. Arizona is a great place to retire, so if you're thinking about it, you've made the right choice. In this post, we'll list the top seven tiny towns there that have distinctive geographic features that make them stand out from the crowd.
Each town has its own beauty, whether it is the magnificent lakes and rivers, soaring peaks, or state parks. We will also offer strong arguments for why each community is a great place to retire. So relax, enjoy a cup of coffee, and get lost in this fascinating article as we explore the seven greatest little towns in Arizona for retirees.
Prescott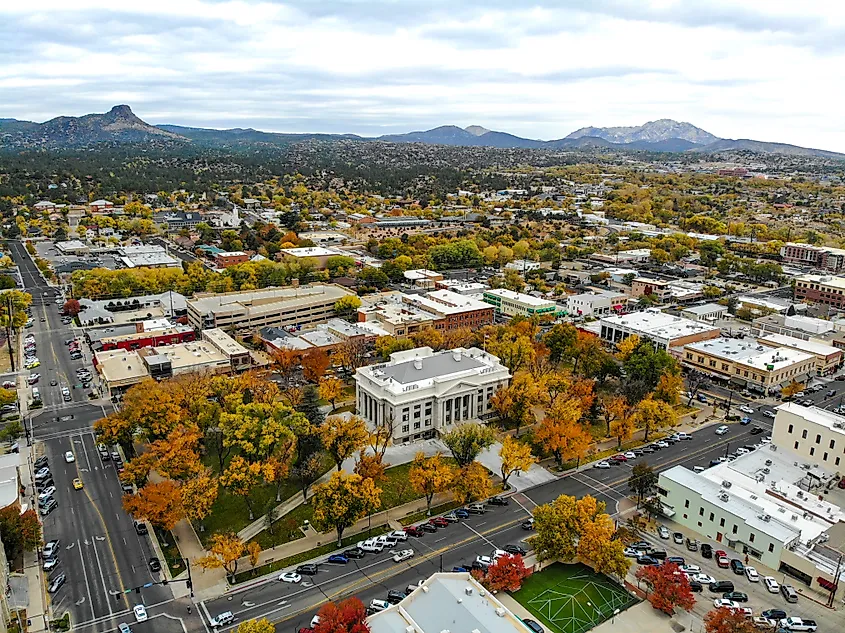 Prescott, situated in the northern part of Arizona, is an alluring town that captivates visitors with its scenic beauty and historic charm. This mesmerizing town is home to various exceptional features, but none can rival the breathtaking Watson Lake, one of its most noteworthy natural wonders. Watson Lake's enchanting aura emanates from its exquisite granite boulders that encircle the serene lake. The town's bewitching beauty is further amplified by the awe-inspiring Granite Dells, which surround Watson Lake. Kayaking, fishing, and hiking are among the many recreational activities that this picturesque lake offers. Additionally, the Prescott National Forest enveloping the town provides ample opportunities for outdoor enthusiasts to revel in miles of biking and hiking trails. 
Prescott's allure extends beyond its natural beauty. It is an ideal place to retire due to its affordable cost of living, excellent healthcare facilities, and vibrant cultural scene. Its residents relish in a rich cultural tapestry that enlivens the town with a distinct charm. The town's quaint downtown brims with history and character, offering visitors an immersive glimpse into Prescott's past. Prescott is a town that exudes beauty, charm, and history. It is an idyllic place to retire, to indulge in the beauty of nature, and to experience the richness of a vibrant cultural scene.
Sedona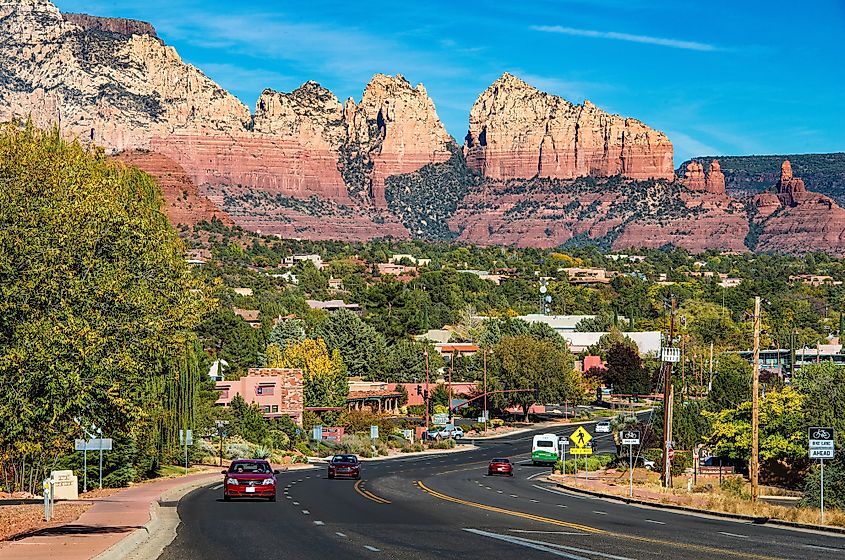 Sedona, a small town located in Red Rock Country, is well known for its stunning red rock formations, lovely canyons, and thriving arts scene. for every way. The Oak Creek Canyon, a magnificent canyon with breathtaking waterfalls and sparkling, clear pools, is another jewel in Sedona. Sedona's distinctive geological formations and breathtaking views provide a veritable feast for the senses. Visitors from all over the world are drawn to the town by its breathtaking natural beauty and bizarre and awe-inspiring scenery. 
Moreover, Sedona's vibrant arts scene hosts a wide variety of cultural events and festivals that highlight the city's extensive artistic history. For those looking for a tranquil and fulfilling retirement, this village is a gem. The town is a top retirement destination because of its stunning natural surroundings, exceptional healthcare options, and active arts community.
Sedona is an oasis of peace, cultural diversity, and natural beauty that offers unrivaled retirement opportunities. The town's striking red rock formations, crystal-clear pools, and thriving arts sector are proof of its distinctive and enduring beauty. Sedona is a genuine natural masterpiece that calls to everyone looking for tranquility, beauty, and adventure. 
Bisbee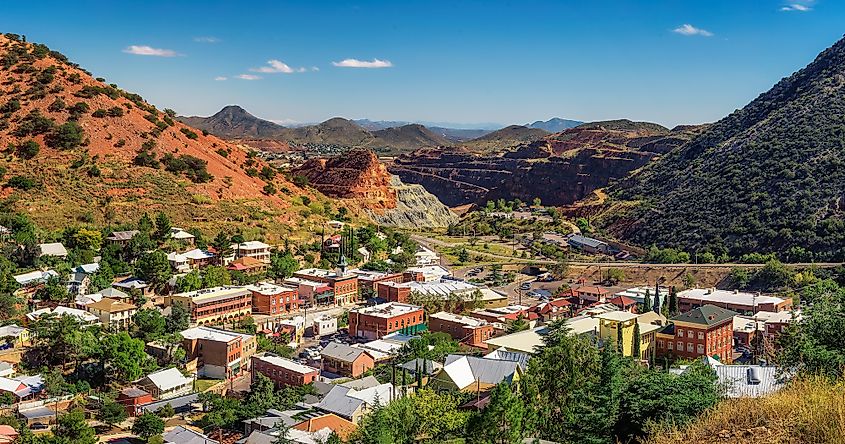 Bisbee, an idyllic town situated in southeastern Arizona, boasts a fascinating past characterized by its historic downtown, eccentric arts scene, and mining industry. Among its many geographical wonders, the Lavender Pit, a colossal open-pit copper mine, stands out as a major tourist attraction. Meanwhile, the surrounding Mule Mountains offer vast expanses of hiking and biking trails that are perfect for nature enthusiasts. What sets Bisbee apart from other towns is its affordability, vibrant arts community, and rich mining heritage. Given its unique features and charming ambiance, Bisbee is an ideal place for retirement. 
This tranquil town is a treasure trove of history and natural beauty that any discerning retiree would find alluring. Bisbee's low cost of living, coupled with its robust arts scene and rich mining heritage, make it an excellent place for those seeking a fulfilling retirement experience. Whether you're interested in exploring the Lavender Pit or immersing yourself in the arts community, Bisbee has something for everyone. Its scenic location and rich history make it a true gem of the southwest that is not to be missed. 
Payson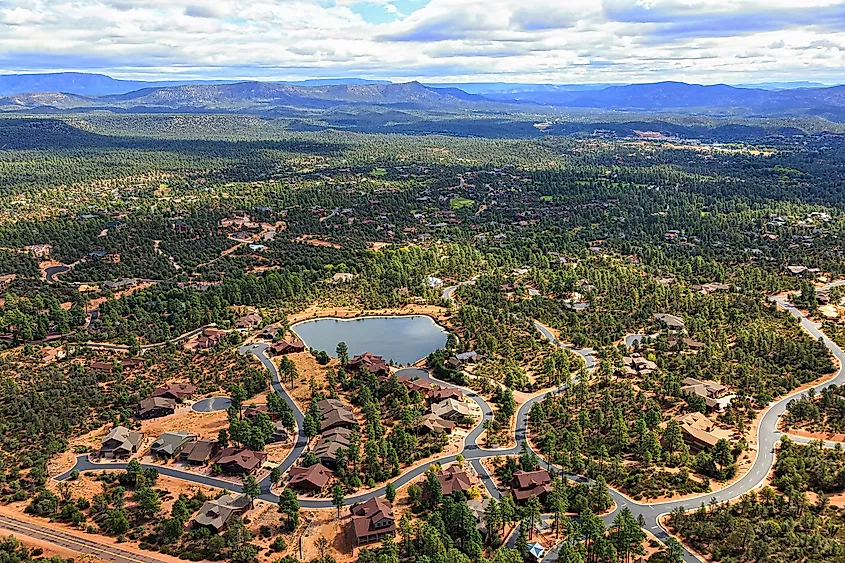 Nestled in the heart of Arizona lies the small town of Payson, renowned for its breathtaking scenery, outdoor pursuits, and laid-back lifestyle. The town boasts an array of outstanding features, with the Mogollon Rim standing out as a particularly remarkable geographical marvel. It is an awe-inspiring landmark that has captivated the hearts of many visitors. This enormous cliff spans the town, providing unrivaled panoramic views of the surrounding landscape and serving as a popular hotspot for adventurous hikers and campers. Furthermore, the Tonto National Forest surrounds the town, offering an endless expanse of hiking and biking trails for explorers to traverse. This particular town is located within the center of the state of Arizona. It's not just any ordinary place. With its unique features, Payson is a standout destination for those who appreciate the beauty of nature and value an active lifestyle. Payson's affordable cost of living, magnificent natural environment, and outstanding healthcare facilities make it an ideal retirement destination.
Tubac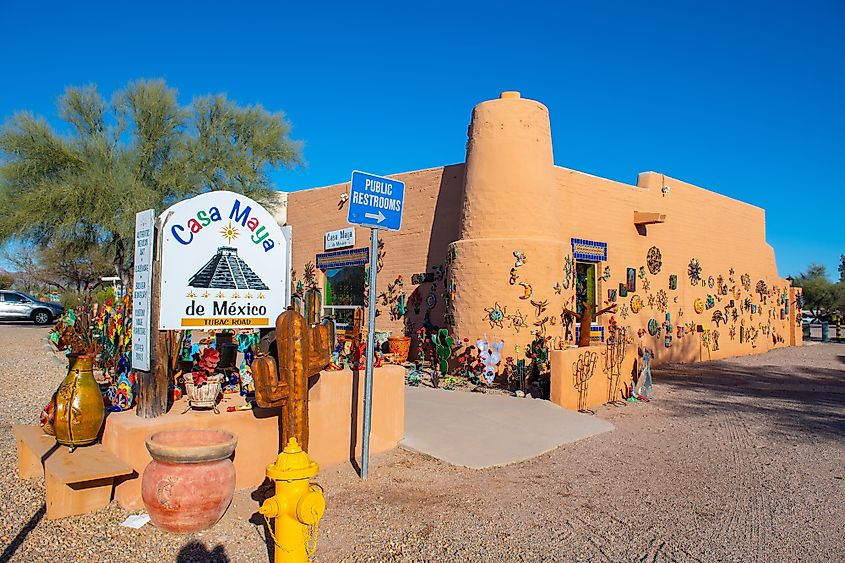 Nestled in the arid, sun-baked terrain of southern Arizona is the modest town of Tubac. Renowned for its sophisticated art galleries, chic boutiques, and striking adobe edifices, this charming hamlet is a place of remarkable diversity. Indeed, one of the town's most remarkable geographical attributes is the serpentine Santa Cruz River, which meanders languidly through the community's heart. The river provides a tranquil and idyllic backdrop for a plethora of outdoor activities, including hiking, kayaking, and bird watching. The location of Tubac is also fortuitous, as it is in close proximity to the Tumacácori National Historical Park. This site offers a tantalizing glimpse into the rich, complex history of the state of Arizona. Due to its low cost of living, flourishing arts community, and breathtaking natural surroundings, Tubac is an exceptional choice for those seeking an ideal retirement destination. 
Jerome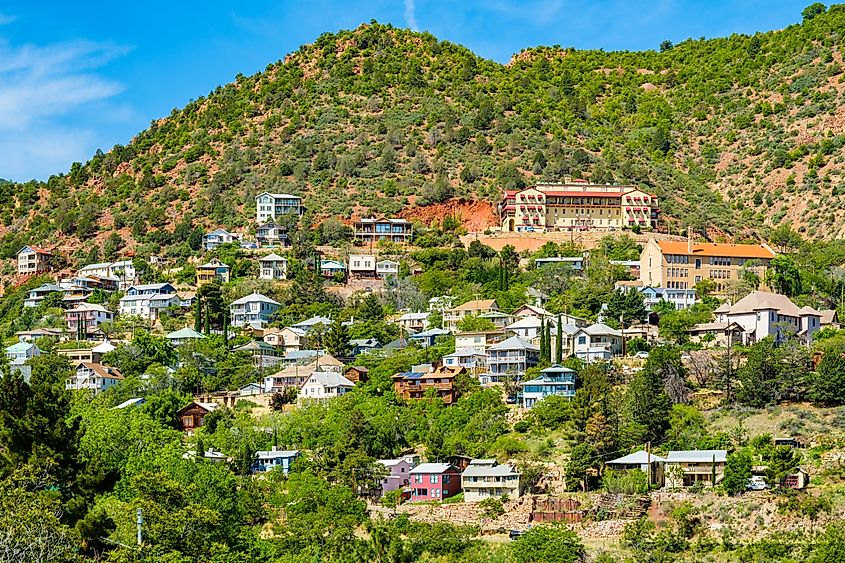 The gorgeous landscapes, art galleries, and historic downtown area of the town of Jerome which locates in the center of Arizona are well-known. Mingus Mountain is one of its imposing physical features. It towers above the town and offers tourists endless miles of picturesque hiking and biking trails. Also, the town is conveniently close to the Verde River, a well-liked spot for outdoor enthusiasts partaking in pursuits like fishing, kayaking, and hiking. 
Jerome is a great place to retire because of its affordable cost of living, vibrant arts community, and breathtaking natural beauty. The town has established itself as a hub for culture and scenic beauty by skillfully fusing the elements of history, art, and nature. This unusual combination has resulted in the development of a vibrant neighborhood that unquestionably improves the lives of its residents. 
A trip to this delightful town will definitely make a lasting impact thanks to Jerome's appealing and captivating traits. Its continued attractiveness as a captivating destination is evidence of its uniqueness and ensures that anyone who visits, lives, or retires will have an outstanding experience.
Cave Creek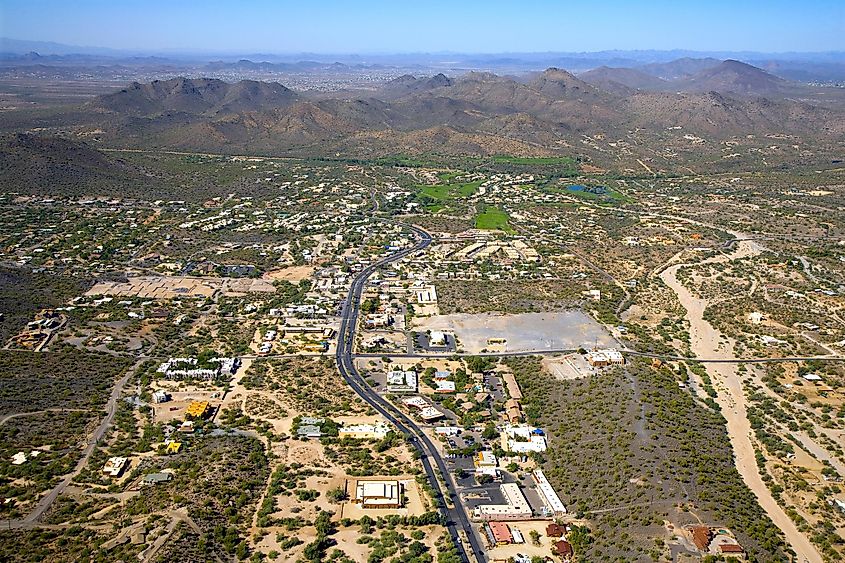 The lovely and attractive town of Cave Creek is located in the northeastern region of Arizona and is renowned for its distinctive Western-style architecture, vibrant art galleries, and an abundance of exhilarating outdoor activities. The surrounding Tonto National Forest, which provides a variety of chances for nature lovers to participate in large hiking and bike routes, fishing, and camping, is a special and distinctive natural feature of this community. 
The Cave Creek Regional Park, which is near to the town, provides tourists with a stunning and inspiring view of the surroundings. Retirement travelers love Cave Creek's tranquil atmosphere, low cost of living, and breathtaking natural surroundings. It is the ultimate example of how a small town can offer its residents a high quality of life while providing a much-needed break from the busy metropolitan life. The ideal fusion of modernism and nature can be found in Cave Creek, which provides visitors with an experience like no other.
Arizona is a state that offers a plethora of small towns for retirees to enjoy a serene lifestyle, bask in the beauty of nature, and immerse themselves in a vibrant cultural milieu. Among the top seven small towns to retire in Arizona, Prescott, Sedona, Bisbee, Payson, Tubac, Jerome, and Cave Creek, each possesses unique geographical features that set them apart. With striking mountain ranges, sprawling state parks, and idyllic rivers and lakes, each town offers retirees an array of outdoor activities and breathtaking scenery to relish. Whether one desires to be part of a lively art community or prefer a more laid-back lifestyle, Arizona's small towns cater to all preferences. So why not retire in one of these splendid towns and experience everything that Arizona has to offer?