On the west coast of the United States, Stinson Beach is a small census-designated place situated in Marin County in the US State of California. It is a seaside community located west of Mount Tamalpais and north of San Francisco. Stinson Beach (the beach) is a large public beach in California that is part of the Golden Gate National Recreation Area. It's one of the few beaches with fine white sand along the Northern California coast, making it one of the most well-known beaches in the state. The city is mainly composed of single homes, although there are also cafes and restaurants providing local, fresh farming, an art show, and shops.
Geography And Climate Of Stinson Beach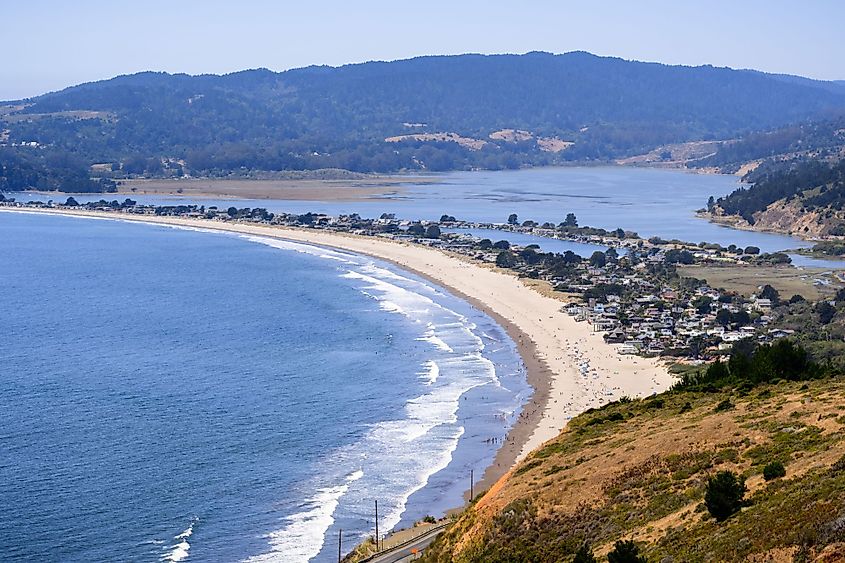 The seaside community of Stinson Beach is located west of Mount Tamalpais and north of San Francisco. Stinson Beach is the first urbanized location on the Pacific coast of Marin County. At an elevation of 8m, Stinson Beach lies 4 km east-southeast of Bolinas. The Golden Gate Bridge is about a 35-minute drive from Stinson Beach on California's Highway 1, while the Muir Woods National Monument, Muir Beach, and Mount Tamalpais are all within a short drive of Stinson Beach. The census-designated place covers a total area of 3.779 sq. km, of which 0.048 sq. km is covered by water, and 3.731 sq. km is occupied by land. 
The average annual rainfall in Stinson Beach is 41 inches. The average amount of snowfall is 0 inches per year, and there are 260 sunny days per year. With an average high temperature of 77.1°F, July is the hottest month in Stinson Beach. The city experiences the coolest evening temperatures in January, with an average of 42.8°F. Stinson Beach has a low humidity level that is pleasant to be in. During the summer, the humidity might be unbearable on a few occasions. August, July, and September are usually the most humid months. 
History Of Stinson Beach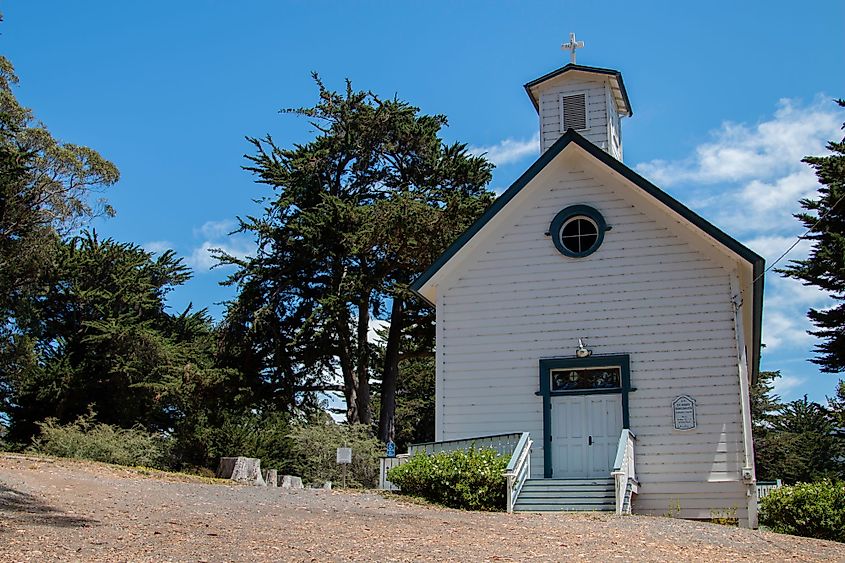 Stinson Beach and the nearby areas are named for Nathan H. Stinson, a former proprietor. He bought the land that surrounds Stinson Beach in 1866. The first road to Stinson Beach was constructed in 1870, stretching down the Pacific coast from Sausalito, and a tent colony grew up among the willow trees along the shore, giving the city its original name of Willow Camp. Willow Camp became more reachable once the Mount Tamalpais and Muir Woods rail line was built in 1896. Refugees flocked to the area after the 1906 earthquake in San Francisco, creating some of the city's earliest businesses. In 1916, the village was renamed Stinson Beach in honor of Nathan Stinson, the principal proprietor. Marin County purchased $20,000 for 14 acres of shoreline to be turned into a public park in 1939 and 1950, and ownership was passed to the State of California in 1950. In 1977, ownership was passed to the National Park Service, which extended the park. The waves off Stinson Beach are part of the Red Triangle, an area notorious for its extremely high frequency of shark attacks.
The Population And Economy Of Stinson Beach
Between 2018 and 2019, the population of Stinson Beach increased by 7.91 %, from 556 to 600, while the median household income increased by 2.11 %, from $120,184 to $122,721. The average age in Stinson Beach is 59 years, with males 55.6 years old and females 65.7 years old. The city encompasses 6 main ethnic groups: 582 (92.1%) Whites, 3 (0.5%) African Americans, 8 (1.3%) Native Americans, 14 (2.2%) Asians, 1 (0.2%) Pacific Islanders, 9 (1.4%) people of other races, and 15 (2.4%) people of two or more races. Most of the residents in the town are U.S. citizens (99%).
The unemployment rate in Stinson Beach is 4.8 percent. Over the last year, the job market has increased by 1.4 percent. Over the following ten years, future employment increase is anticipated to be 33.4 %. When compared to the national average of $50,459, the median wage per worker in Stinson Beach is just 5.3% higher. In addition, when compared to California's median wages per worker of $54,399, Stinson Beach is only 2.3% smaller. Stinson Beach residents earn an average of $53,155 per year.
Attractions In Stinson Beach
Stinson Beach (the beach)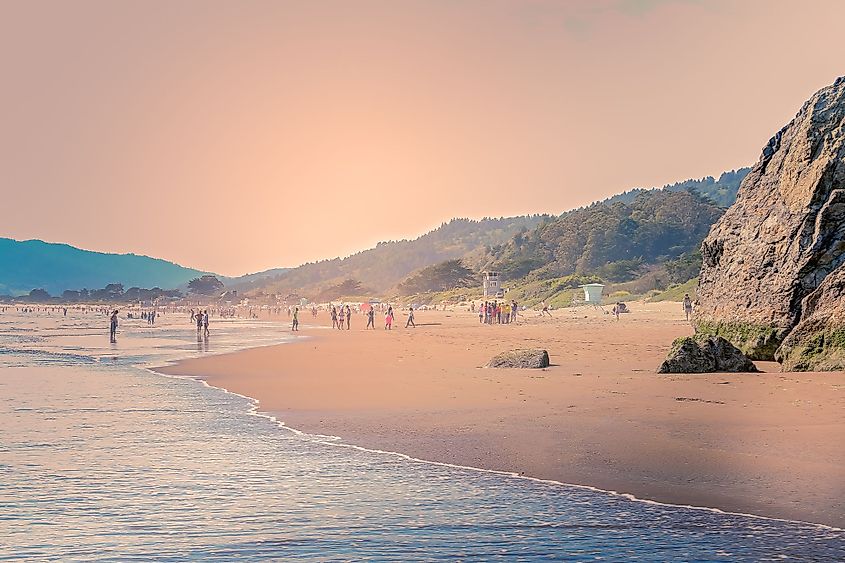 Stinson Beach (the beach) is the main attraction of the city. It is a vast public beach in Stinson Beach, California, that is part of the Golden Gate National Recreation Area. It's a popular weekend hideaway in Marin County, roughly an hour north of San Francisco. Stinson Beach is known for its spectacular red cliffs and nearly a 3-mile expanse of silky white sand. It's one of the few excellent white sand beaches on the Northern California coast.
Bolinas Lagoon Seals And Birdwatching
Bolinas Lagoon is a large shallow body of water concealed behind a big sand tip on Bolinas Bay in Marin County. Birdwatching is popular on Bolinas Lagoon, which serves as a home and a stopover for various bird species. There are several merge lanes along Shoreline Highway north of Stinson Beach, where visitors can watch these animals closely.
Mount Tamalpais State Park
Mount Tamalpais State Park is a California state park located in Marin County. Mount Tamalpais, at 2,571 feet, is the park's most prominent landmark. The park is primarily made up of cedar and oak forests. It has the distinction of once having the world's most twisted train ascend its southern side.
Bolinas Museum
The Bolinas Museum, which opened in 1983, is Marin County's foremost art history museum. Coastal Marin villages have traditionally attracted highly creative people due to the area's beauty and closeness to the metropolitan Bay Area. The Museum highlights regional interests as well as Coastal Marin's exceptionally strong talent pool of artists. Admission tickets are free, which attracts visitors.
Bolinas Beach
In the little hamlet of Bolinas, there is a tranquil public beach called Bolinas Beach. Marin County, California, is an isolated coastal village. The members of the neighborhood are known for their seclusion. It can only be reached by unlabeled roads. Therefore, those who seek peace visit this beach.
In addition to many other attraction sites in Stinson Beach, when the fog has gone, and the temperatures are usually beach-friendly 75 degrees, this classic broad circular-shaped Northern California beach is suitable for a chill-out day and is one of the cleanest beaches in California.