Rushville is a charming, quiet city situated in the northwestern portion of the US State of Nebraska, where locals embrace their heritage background. The small city lives up to its Old West tradition, where the Main Street looks like a Western film set. One can also spend their evenings under the lights watching regional football or baseball games near the golf course. Visitors can take advantage of American-style pubs and restaurants in a slow-paced setting, allowing them to retrace the local culture.
Geography And Climate Of Rushville
The small city of Rushville is located at an elevation of 1,140m in Nebraska's Sheridan County. The city covers a total area of 2.98 sq. km, all of which is occupied by land. The flat city is surrounded by changing geology; the rugged landscape near Rushville makes it apparent that it is miles from the foothills of the Rocky Mountains. Twenty minutes north of Rushville is the South Dakota state border, and an hour west is scenic Fort Robinson State Park. Southeast of Rushville is the never-ending, rolling Sand Hills of Nebraska.
The comfortable summer months in Rushville see a high of 30˚C and less than 20 inches of rain per year. With almost 230 days of sunshine, it is more than the US average by 24 days. From October until April, the average temperatures are below the freezing mark. It is considered colder than many towns across the state. Being in such a dry climate, the average percentage of humidity is below 60%. Due to its high elevation and proximity to the Rocky Mountains, Rushville receives heavy snow, with an annual snowfall of 39 inches.
Brief History Of Rushville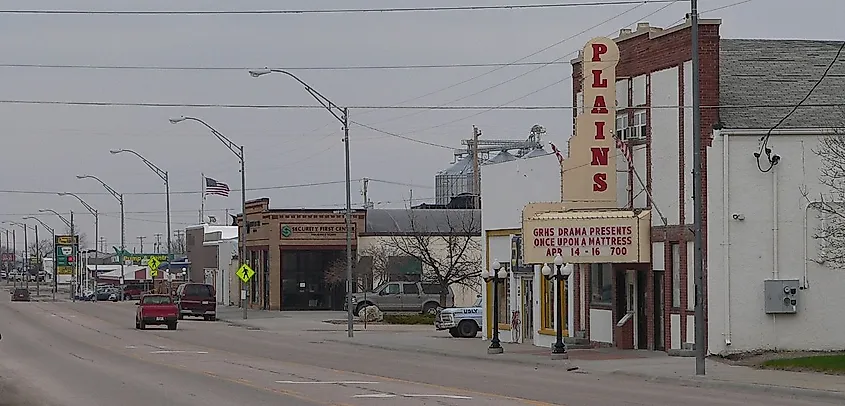 Years before European settlers had arrived in this part of Nebraska; buffalo grazed on fields for miles. The Dakota Sioux and Northern Cheyenne groups lived off this land for over a thousand years. Clashes between early settlers and the indigenous tribes led to the Treaty of Laramie in 1851. The two sides agreed on marking specific borders and promised to restore peace between them. The original settlement was called Rush Valley and was located a couple of miles north of where Rushville is today. A new railroad was constructed parallel to the town in 1885. A new general store and post office was also built to help neighboring residents move closer to the newly built railroad. 
Population And Economy Of Rushville
An estimated 871 residents call the town of Rushville home. The population has dwindled by 6.8% since 2010. On the other hand, it has a very low unemployment rate of 1.9%, and the city employs 345 people. The median income is $28,611, putting 24% of the working class below the poverty line. An average home costs close to $69,000, and the median age is 38 years old. The town is very diverse for its size, with 67.9% Caucasian, 14.4% Hispanic, and 10.7 Indigenous Americans. The leading industries are educational services, retail, and public administration.
Attractions Of Rushville
Rushville Armstrong House Museum
A quiet neighborhood surrounds the heritage buildings. There is a large windmill on the front lawn that stands in front of a white, ship-lapped traditional building. Inside the museum, guests can get a glimpse at ancient indigenous artifacts and tools used by the early farmers from the surrounding regions of Sheridan County. Next to the windmill, visitors can step into a U.S. Post Office that dates to 1885.
SandRidge Golf Course
Located on the western side of Rushville, golfers can take a swing at 9-holes in SandRidge Golf Course. Opened in 1994, the lush, 3062-yard-long golf course is a par 36 that can be easily played by any skill level. Players can rent a cozy golf cart to save their energy for powerful swings on sunny days. The course is wide open with some tree lines to divide the fairways. Annual tournaments are held for different golf divisions, work functions, and charitable organizations every year.
Plains Theater
Constructed in 1914, the historic theater has been renamed more than twice. Initially named the Gourley Opera house, it began as a permanent cinema that displayed the latest films. Over time, it was called the Essaness Theater, then became a church for a moment. In 1988, the Plains Theater joined the National Register of Historic Places list. The theater was then shut down for several years. And in 2001, it was fully renovated and now hosts different plays and musicals.