With approximately 3,000 miles of coastline, including some 300 miles of barrier islands created by the Atlantic Ocean, North Carolina is a dream for beach lovers. Narrowing down a list of the state's best beach towns is a tall task, and you really cannot go wrong visiting any beach destination in the state. The seven charming choices listed here include northern Outer Banks towns like Corolla and Duck, southern Outer Banks villages in the "Graveyard of the Atlantic," and spots like Holden Beach near the South Carolina line. Whether you are into surfing, family fun, or just soaking up the sun and sand, there is a beach for you in North Carolina!
Corolla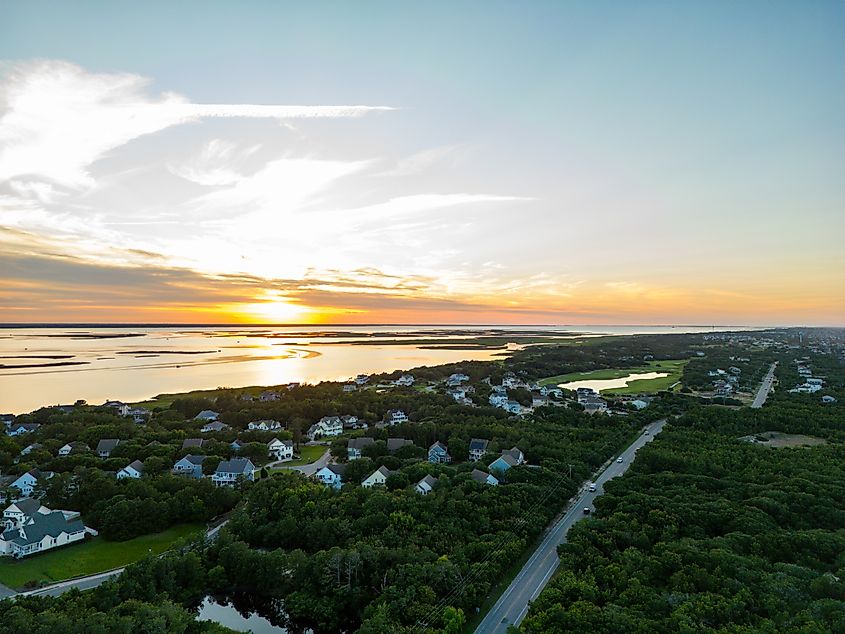 Corolla is easy to find on the Outer Banks—just keep driving north on Highway 12 until the road ends and you are there! Many of Corolla's beach homes are situated past the end of the paved road, meaning you have to drive on the beach to access them. Along with its end-of-the-road status, Corolla is famous for its wild horses, which are presumed to be descendents of escaped domestic horses of early Spanish explorers of the area. Many horse sightseeing tours are available, or you might just run into them—but keep your distance for your safety and theirs. Corolla is also close to the 1875 Currituck Beach Lighthouse, which offers spectacular views to visitors willing to climb its 220 steps.
Duck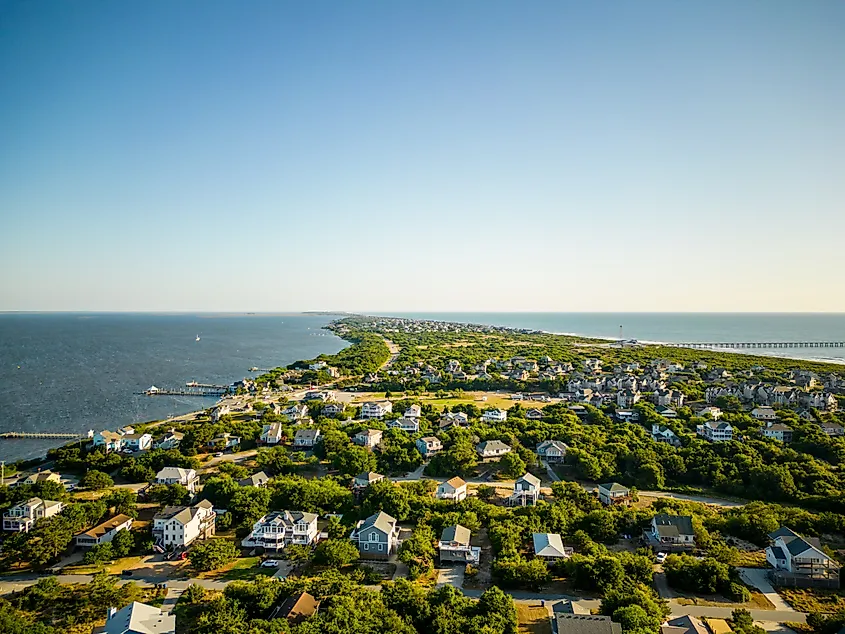 The town of Duck is a beach community located about 15 miles south of Corolla and roughly 10 miles north of the busiest part of the Outer Banks (the area of Kitty Hawk, Kill Devil Hills, and Nags Head). Unlike most Outer Banks towns, Duck has a relatively defined (and definitely charming) downtown area, with a large number of shops and restaurants that line both sides of Route 12. While there are great ocean-facing beaches on the Atlantic side of town, visitors should not miss out on the west side that faces the Currituck Sound. Along the sound, the town maintains an 11-acre Town Park and a 3/4 mile boardwalk with stunning sunset views. 
Buxton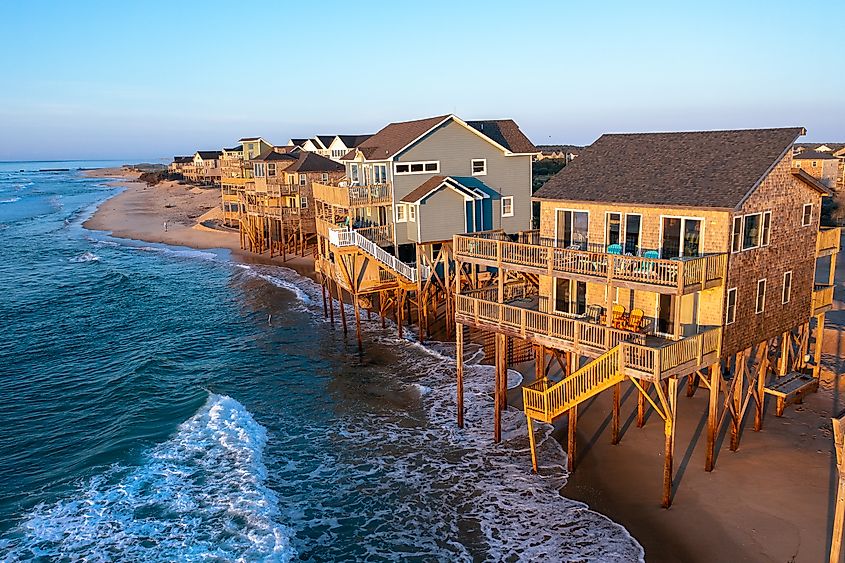 The village of Buxton is located on Hatteras Island, which is most famous for the iconic Cape Hatteras Lighthouse. Built in 1870 and featuring a barbershop pole-style black and white paint job, the lighthouse stands nearly 200 feet tall and draws in some 1 million visitors per year. However, many of those visitors miss out on seeing Buxton, which helps it maintain its quiet seaside village charm. The year-round population is only about 1,300, so Buxton is a great beach town for those who want to get away from the hustle and bustle of the busier beach communities. Buxton offers great surfing, fishing, shops, restaurants, and campgrounds.
Ocracoke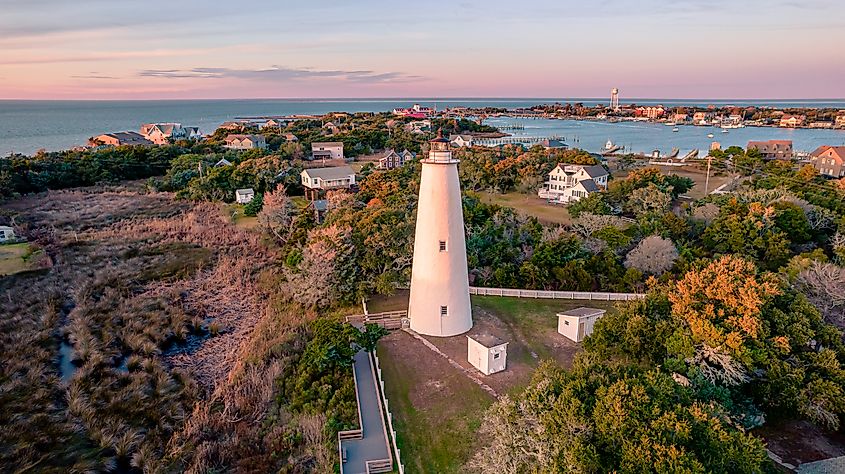 Ocracoke is the southernmost village on the Outer Banks and has only about 1,000 year-round residents. Located near the opening to Pamlico Sound, Ocracoke is not accessible by road; drivers have to take a ferry from either the northeast (Hatteras), northwest (Swan Quarter), or southwest (Cedar Island). This isolation keeps Ocracoke more undeveloped and pristine than other Outer Banks communities, and well worth the trip for visitors who prefer this type of experience. Beachfront accommodations are limited to a campground operated by the National Park Service, but there are rental homes, shops, and restaurants in the village itself. Ocracoke residents and visitors alike take pride in its laid-back, casual vibe.
Emerald Isle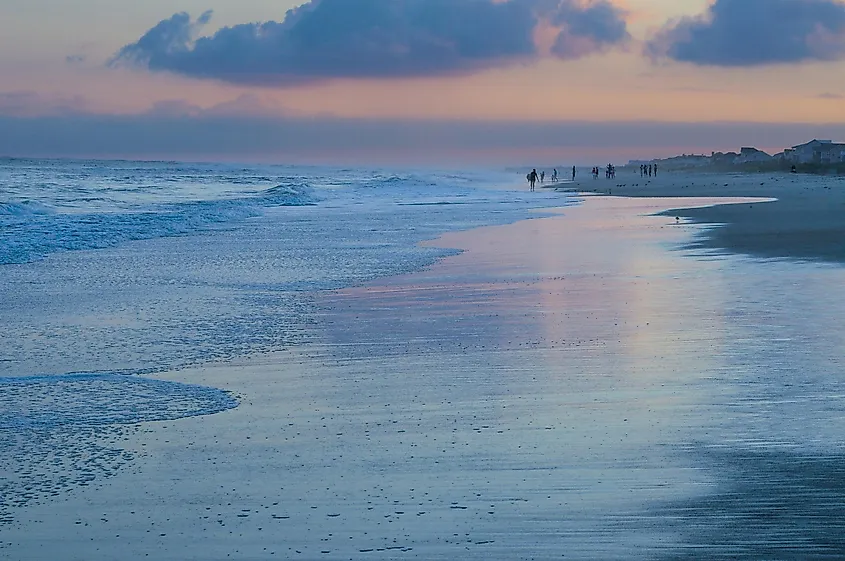 Emerald Isle is a part of the Bogue Banks, a group of barrier islands situated southwest of the longer Outer Banks. Emerald Isle's 12 miles of shoreline face southward, which provides a unique view of the sunrise and sunset compared to the typical eastward-facing shorelines. As a longtime favorite for family getaways, Emerald Isle, which has a year-round population of a little under 4,000, maintains a fun atmosphere with lots of shops, restaurants, and activities—including a waterpark—to satisfy the whole family. After soaking up the sun on the beach, visitors can head to Emerald Isle Woods Park for a bit of shade as well as several walking and biking trails.
Topsail Beach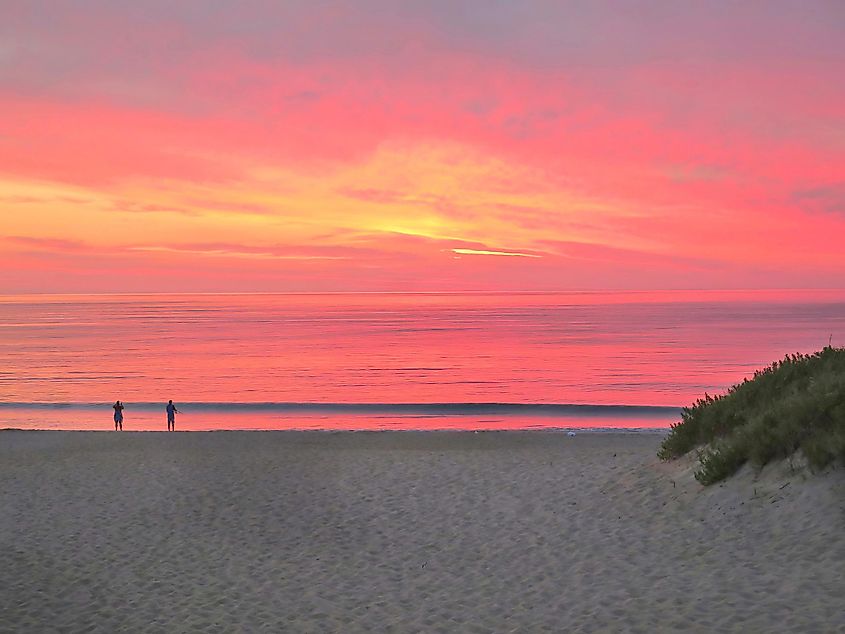 Located along the coast north of Wilmington, Topsail Beach is one of three communities on Topsail Island, along with Surf City and North Topsail Beach. With only about 500 full-time residents, Topsail Beach is the smallest of the three towns. Topsail Island was accessible only by boat until World War Two, when the U.S. Army used it as a training base, but it was a beach getaway even before that time. Topsail Beach is the least developed of the three communities, eschewing high-rise developments for smaller rental homes and a more relaxed, family-friendly vibe. The town has numerous shops and restaurants, an excellent fishing pier, and even an ice skating rink!
Holden Beach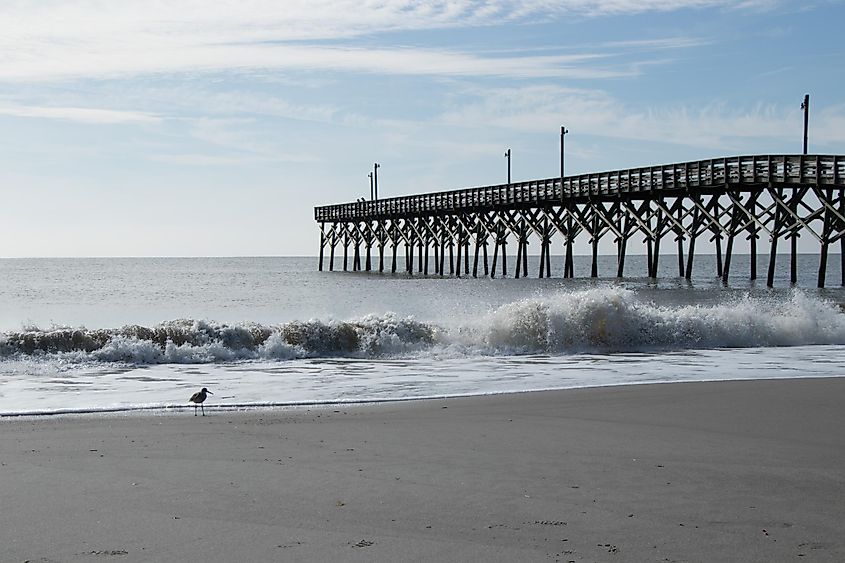 Holden Beach is located near the southern tip of North Carolina, only about 50 miles from Myrtle Beach, South Carolina. The town is situated on an 8-mile-long barrier island that causes its Atlantic shoreline to face southward. Home to only about 1000 full-time residents, Holden Beach, takes pride in numerous rankings that call it one of the best family beaches in the country. While it has several shops and restaurants, Holden Beach is primarily a residential community of small owner-occupied and rental homes. It is an ideal vacation spot for a relaxing day at the beach, combined with a nice walk or bike ride through the quiet neighborhood. 
The phrases "charming beach towns" and "North Carolina" definitely seem to go hand in hand. Along the entire length of North Carolina's ample shoreline, visitors and locals alike are sure to find lovely beach communities that deliver relaxation, entertainment, and a little adventure. Some of the best beach towns are a bit difficult to access, requiring a trip across a busy bridge, a ferry ride, or even a drive on the beach. But this touch of isolation is part of what helps North Carolina's beach towns maintain their charm.