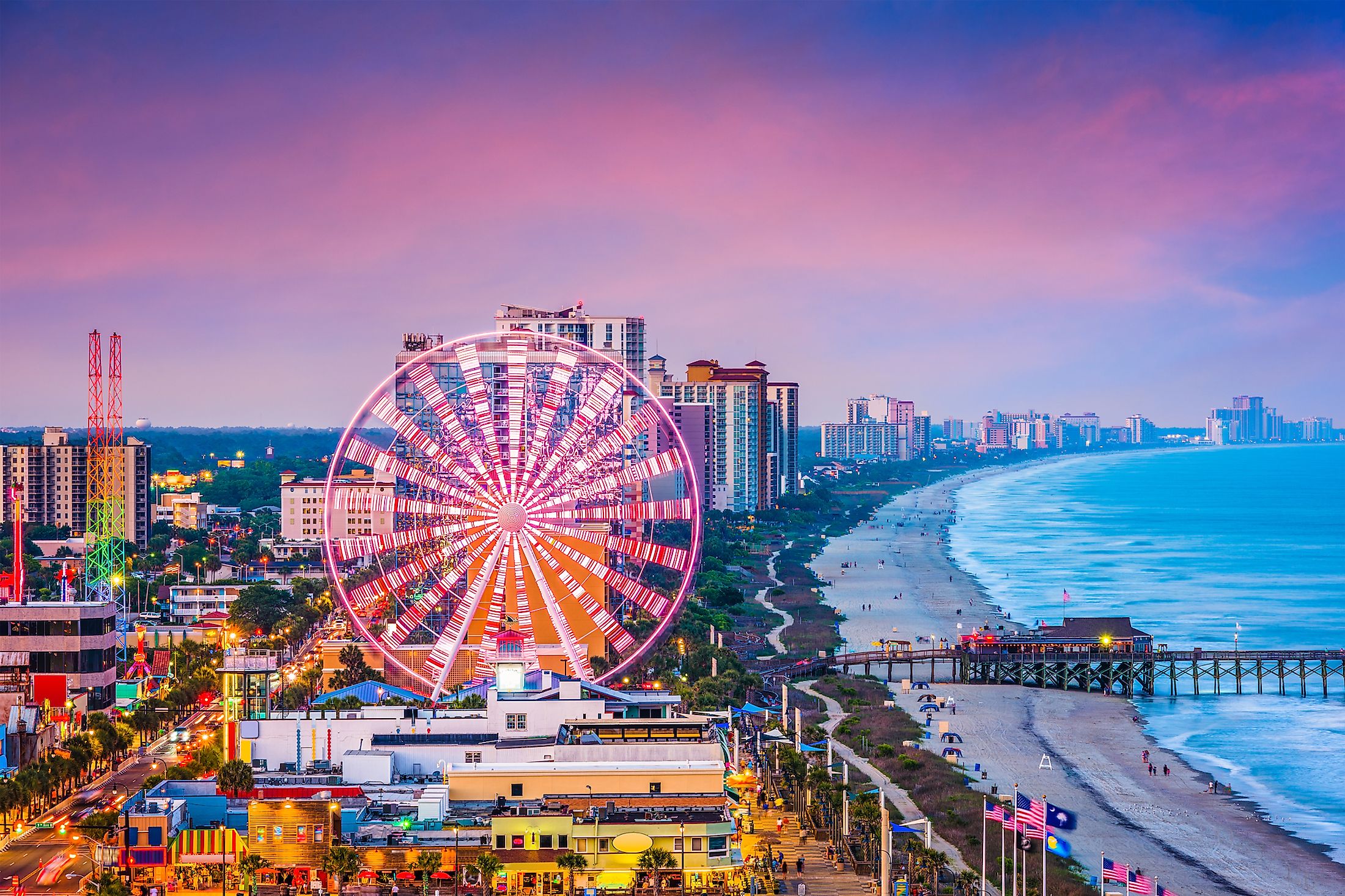 Myrtle Beach, South Carolina
Myrtle Beach is a beautiful South Carolina resort town located on the Atlantic coast, not far from the border shared with North Carolina. With sixty miles of beach to be enjoyed, this bustling vacation destination is known for gorgeous seaside vistas and its dozens of golf courses, with both amateurs and pro golfers of the PGA tour calling this a favorite links spot.
This southern city offers several malls and is one of the largest shopping hot spots in South Carolina. Over 1,600 restaurants provide fare of every variety, many serving local specialties like hushpuppies, crawfish and alligator stew.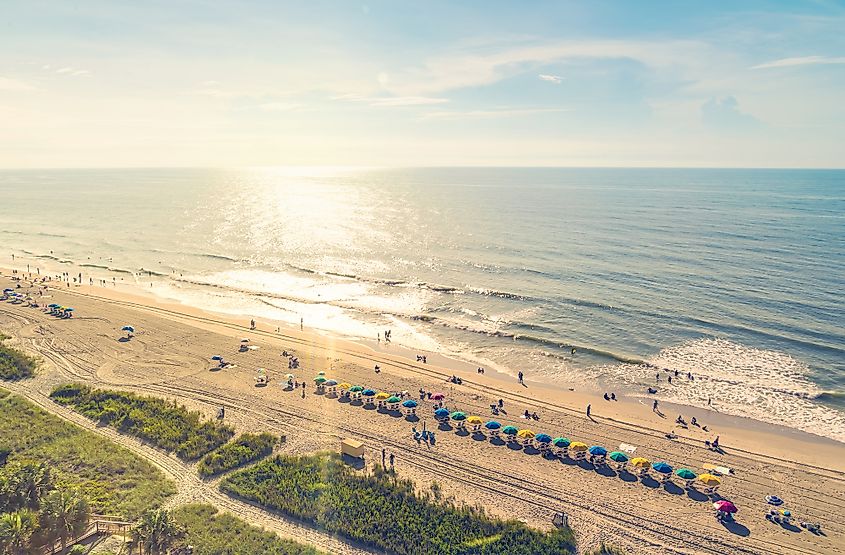 Myrtle Beach, named for the local wax myrtle trees, houses 25,000 permanent residents who welcome millions of visitors from all over the world year round. Along with tourism, lumber companies and railroads are significant contributors to Myrtle Beach's economy. Tobacco, indigo and watermelon farms are also big producers in the fertile coastal plains surrounding the city.
The best selling musical group Alabama got their start playing gigs at a Myrtle Beach bar called the Bowery. Myrtle Beach is the home of the Shag, a dance that originated during the 1940s Jitterbug movement. The Shag is a slower version of the Jitterbug—the direct result of dancers having too much to drink! The City of Myrtle Beach has an ordinance requiring customers to pay for gasoline in advance of filling up their tanks.
Major Attractions In Myrtle Beach
There are lots of places to go in Myrtle Beach beyond the beach and golf courses. Check out these unique things to do on your South Carolina vacation:
Ripley's Aquarium of Myrtle Beach
A visit to Ripley's Aquarium of Myrtle Beach is a perfect escape for the whole family. Exhibits like "Dangerous Reef" include thousands of vivid fish and other enchanting sea creatures. Moving smoothly along a 340 foot automatic gliding path, visitors will experience a moving underwater landscape as aquarium exhibits unfold before them. Sharks, tropical fish, sea turtles, stingrays and other ocean life can all be spotted on this reef journey. The feature exhibit "Rainbow Rock" showcases the brightest fish found in the Indo-Pacific Coral Reef. After visiting the gift shop, sit down and enjoy a bite to eat at the Feeding Frenzy Eatery.
The Palace Theatre, Myrtle Beach SC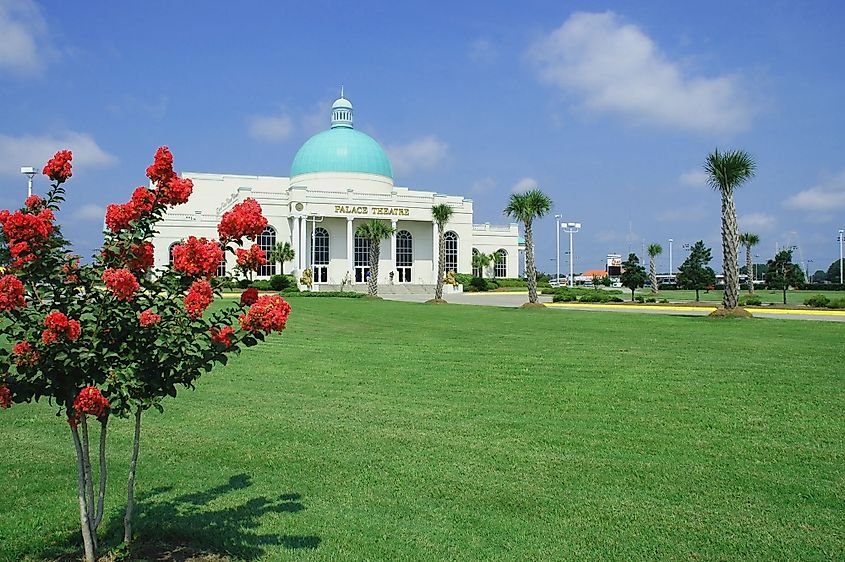 The Palace Theatre offers a wide variety of entertainment for South Carolina visitors. One of the Palace's showcase events, Le Grand Cirque is an elaborate circus performance that inspires both laughter and amazement. The world's greatest acrobats gather onstage to display their unique talents and perform feats that that seem to defy both physical limitations and the laws of gravity. Other Cirque performances include Russian dog acts and clowns that get the whole audience involved; all this enhanced by a dazzling light show, classic rock music, and elaborate costumes. Many other shows and events play the Palace in Myrtle Beach. Recent shows include the Spirit of Ireland and the long running Little Shop of Horrors.
NASCAR Speed Park
Experience the thrill of being a real NASCAR driver at this Myrtle Beach attraction. This theme park offers technologically advanced cars to be driven on a variety of basic to challenging tracks. Visitors who meet the height and license requirements will get to enjoy the adrenaline rush of driving these roadways. After living the NASCAR dream for a few hours, settle back into the real world with a game of mini golf, speed bumper boats, or time in the Speed Dome Arcade.