Midwest City is a moderate-sized city situated in Oklahoma County in the central portion of the US State of Oklahoma. Located near the state capital Oklahoma City, Midwest City shares much of the same culture and climate while flaunting its natural landscape that magnetizes many intrigued locals and visitors to this community. Although it may appear urbanized, Midwest City holds a small city charm, but with all the attractions and entertainment of a big city. With golf courses, swimming pools, splash pads, parks, and scenic views, there is something to cater to all tastes. Furthermore, Midwest City is home to the Mid-Del Technology Center and Rose State University, which hosts Global Oklahoma each year.
Geography And Climate Of Midwest City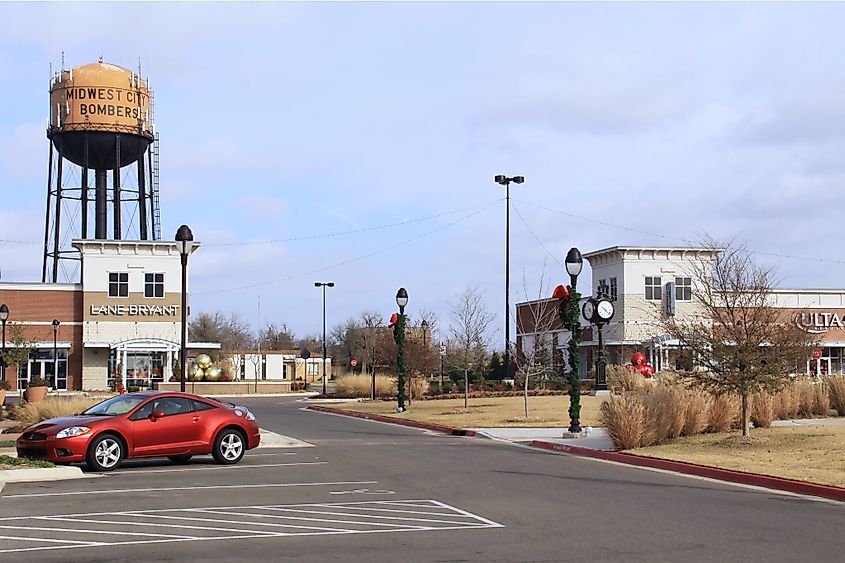 Midwest City is placed in the Cross Timbers ecoregion that is known for subtle hills and forests of blackjack oak and bur oak, a scenic draw for those who visit. Being a stone's skip from Oklahoma City, which is only eight miles west, Midwest City is also a part of the Oklahoma metropolitan area. The other nearby cities include Edmond, about 20 miles northwest; Norman, about 20 miles south; and Tulsa, about 107 miles northeast. As for day trips: Great Salt Plains State Park is about 140 miles northwest, Alabaster Caverns is 163 miles northwest, Wichita Mountains National Wildlife Refuge is 106 miles southwest, and Wichita Falls, Texas is about 146 miles southwest.
According to the Köppen Climate Classification, Midwest City has a Humid Subtropical Climate. It experiences hot, humid summers and windy, snowy winters. July is the year's warmest month, with a median high of 93.1 °F, whereas January is the year's coldest month, with a median low of 27.8 °F. Of the 80.4 days that produce precipitation, there is an annual rainfall of 38.3 inches and 4.7 inches of snow. 
An Overview Of Severe Weather Events In Midwest City
Midwest City is no stranger to severe weather events and resides in a part of Tornado Alley that is the most prone to tornadoes, unlike any other state. On May 3, 1999, an F5 (Fujima Scale) struck just outside of Oklahoma City, starting in the Town of Amber and dissolving just outside of Midwest City. On its path of terror, a total of 8,132 homes were lost, 260 businesses were wrecked, and 11 public buildings were destroyed. Moreover, with Midwest City being on the tail end of the destruction, it suffered F4 damage with three casualties and many homes lost. However, four years later, Midwest City was hit by one of the three tornadoes that day. Moore and Oklahoma City also saw tornadoes as part of the severe weather event known as the 2003 Tornado Outbreak that affected multiple states and spanned over a week.
History Of Midwest City
After rumors stirred that an airbase would be built on the land of would-be Midwest City, plots began to be snatched up. Midwest City was incorporated in 1943, and the Midwest Air Depot was constructed. Following World War II, Midwest City became the poster child for the development of post world war cities and even gained international attention. One of the first grocers, Nick's Brett Drive Grocery, became Crest Discount Foods in 1947 and, as of today, is one of the largest discount grocery chains found throughout Oklahoma. The community continued to grow, with the first hospital being built in 1968 and Oscar Rose Junior College, now Rose State College, opening in 1970. 
The Population And Economy Of Midwest City
As per the latest US Census, Midwest City has a population of 59,217 residents. Expanding over 63.30 sq. km, there is a population density of 907.45 people per sq. km. Of the population, there is a median household income of $61,807, and 14.05% live below the poverty line. As for cultural/racial background: 62.73% were white, 23.94 were African American, 6.91% were of two or more races, 3.59% were Native American, 1.88% were of another race, 0.94 were Asian, and 0.01 were Native Hawaiian or Pacific Islander.
Of the 26,100 employed in Midwest City, 3,786 work in healthcare and social assistance; 3,688 work in public administration; and 3,526 work in retail trade. The top-earning jobs were: mining, quarrying, oil, and gas extraction, which earned $70,221; public administration, which earned $50,301; and agriculture, forestry, fishing, hunting, and mining which earned $46,786.
Attractions In And Around Midwest City
Eagle Lake
Eagle Lake is among the best-kept secrets for those seeking a place to participate in water recreational activities. Fishing is a much-loved activity with species like white bass, hybrid striped bass, sunfish, bluegill, largemouth bass, channel catfish, and white crappie commonly caught. Bait and tackle can be purchased at nearby locations, and Eagle Lake is an excellent location for teaching young ones to fish. As for infrastructure around the lake, there is a playground, picnic area, and restrooms.
Joe B. Barnes Regional Park
Searching for a place to play some sports? Or a spot to simply get outside? Take a look at the Joe B. Barnes Regional Park. There are numerous facilities which include: a baseball or softball area, a basketball court, swimming pools, a playground, a soccer field, a tennis court, a hiking trail, a tennis court, and even grills. It is the perfect spot for a day of inexpensive family fun or a tranquil spot to enjoy nice weather while being outdoors.
Midwest City may share many similarities with Oklahoma City, but it also showcases some of its best attributes by being full of arts and culture, a family-oriented community, and giving a taste of its beautiful Frontier Country. There is something here to cater to all tastes, from shopping to sports to enjoying the outdoors. Simply put, do not miss an opportunity to see this idyllic city!