Mesquite is a moderate-sized city situated in the east-southeast portion of the US State of Nevada. Being nestled in the Mojave Desert and many sunny days that follow, Mesquite is considered a top destination for several outdoor recreations. Of these activities, Mesquite has risen as a national golf championship haven for various pro athletes and amateur leagues. It shares many of the same entertainment overlaps as the nearby Las Vegas Strip, in which there are many casinos, attractions, and bars to boot. 
Geography And Climate Of Mesquite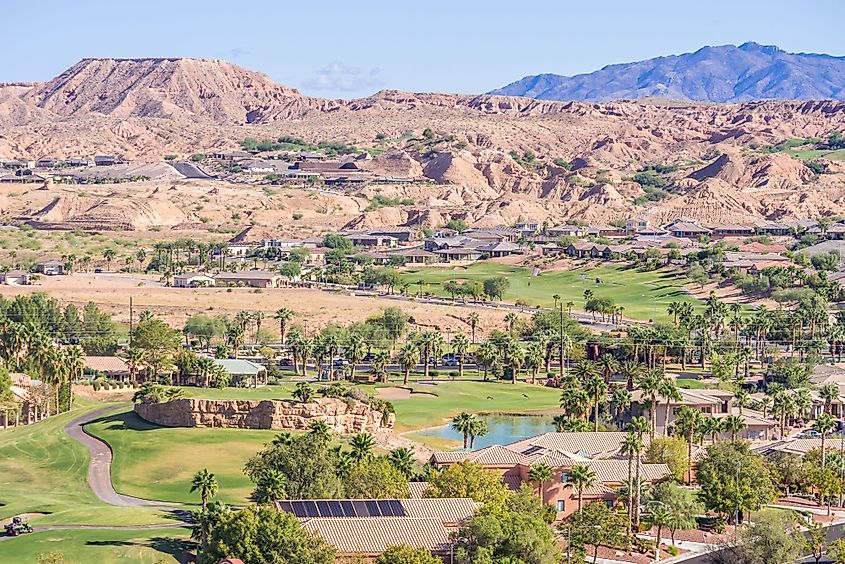 On a map, Mesquite can be found in the east southeastern part of Nevada in Clark County. The city occupies a land mass of 81.80 sq. km and sits adjacent to the Arizona-Nevada boundary and Virgin Mountains. The 162-mile-long Virgin River flows throughout Clark County and constitutes the Virgin River Valley. The capital, Carson City, is approximately 480 miles northeast. Of the cities nearby: Elko is 425 miles north, Reno is about 490 miles northeast, and roughly 105 miles south-southwest is Boulder City. As for day trips, Las Vegas is about 80 miles southwest, Bryce Canyon National Park is about 180 miles northeast, and Zion National Park is approximately 85 miles east northeast.
According to the Köppen Climate Classification, Mesquite has a desert climate. This city experiences scorching summers and cold winters. The average temperature is 66.6 °F, with an average high of 89.1 °F in July and an average low of 45.7 °F in January. The warmest month is July, with the highest temperature of 123.0 °F, and the coldest month is January, with the lowest temperature of 2.0 °F. Over a year, Mesquite collects precipitation over 32.0 days, which equals 7.3" of rainfall and 0.1" of snowfall. February sees the most precipitation, and May is the driest, often not recording any precipitation at all. Annually, 294 days of sunshine are observed, which records a median UV index of 5.8.
History Of Mesquite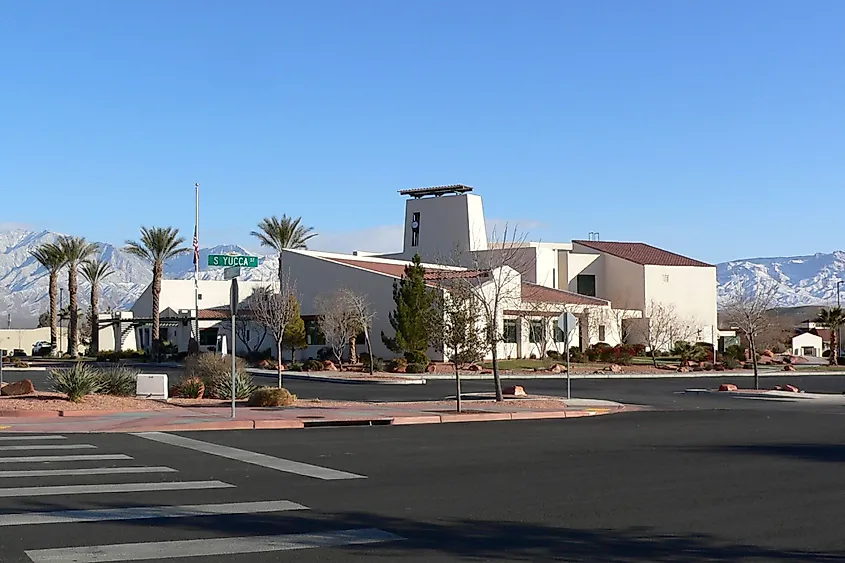 Mesquite is the shorter name of what was Mesquite Flats. Around 1872, settlers landed in the area and began farming the land. By 1882, fifteen families permanently relocated to Mesquite Flats. In June 1882, following a torrential rainfall, the Virgin River flooded the surrounding valley and damaged the irrigation canal that the farmers relied on. Years later, in 1887, another attempt to establish a town fell short after failing to combat the elements, and would-be homesteaders left. The third and final settling attempt came in 1894 when six families from Bunkerville showed up and made agriculture the dominant industry for over 100 years. By the turn of the century, Mesquite grew figs, cotton, grapes, and alfalfa. However, the chief cash crops were raisins and cotton. The tourism industry took off with the completion of many highways in Nevada, and entrepreneurs built hotels and campgrounds around Mesquite. The first casino to open was the Peppermill Resort in 1976, which remained in operation until the 2008 financial crash under the name of the Oasis Hotel and Casino. Mesquite wouldn't be incorporated as a city until 1984.
The Population And Economy Of Mesquite
As per the latest US Census, Mesquite has a population of 21,829. This is an increase of 42.63% since the 2010 census, which saw a population of 15,305. Spread over an area of 82.95 sq. km, the city is a population density of 250 people per sq. km. Of the population, the average age is 60.2 years old, with females accounting for 51.14% overall and males making up 48.86%. The median household income is $67,695, and the gross monthly rent is $930. Nevertheless, 7.73% of the population lives below the poverty line. Of the racial/cultural background: 81.36% are identified as white, 7.25% are of another race, 6.98% are of two races or more, 2.48% are Asian, 0.98% are African American, 0.73% are Native American, and 0.23% are Native Hawaiian or Pacific Islander.
Mesquite had an unemployment rate of 3.9%, whereas the national unemployment rate was 3.6% in May 2022. The top industries that constitute Mesquite's economy are as follows: arts, entertainment, and recreation at 25.3% overall, retail trade at 14.8%, and accommodation and food services at 11.2%. The highest paying jobs come from the management of companies and enterprises, grossing $75,699, mining quarry, gas, and oil extraction with $60,417, and scientific and technical service with $48,265. Of the 68,400 employed, 9,025 work in healthcare and social assistance, 8,446 work in construction, and 7,449 employed in retail trade.
Attractions Around Mesquite
The Golf Courses of Mesquite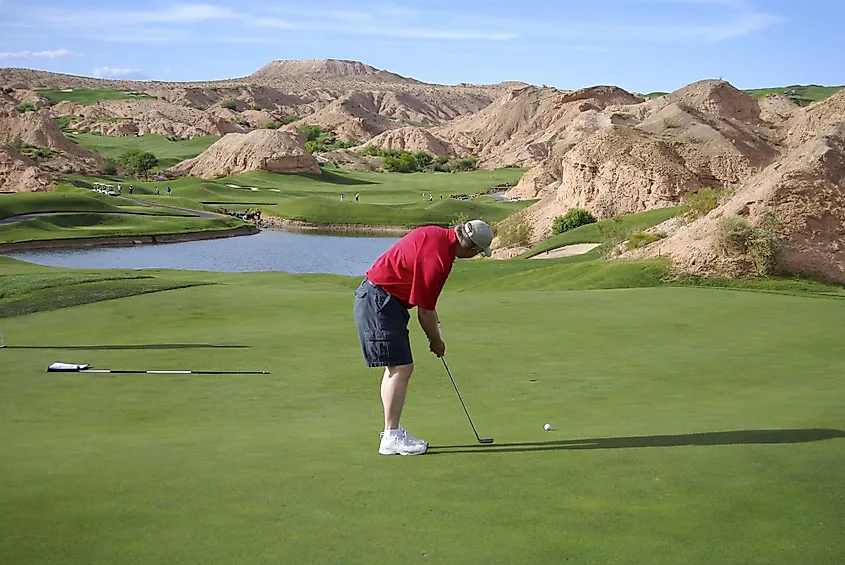 The most significant pastime in Mesquite is playing golf, and there are plenty of courses to boot. Wolf Creek is an award-winning 18-hole course dotted with jagged desert rock that feels unworldly. Falcon Ridge Golf Course has many amateur series, including one in winter on its 27 holes semi-private facility. The Palmer at the Oasis Golf Club is among Arnold Palmer's favorite designs. It features panoramic views of the Virgin River Valley and the mountains that make up the skyline. Thus, each hole is a par 71, and there is a private clubhouse for members only.
Camel Safari Las Vegas
Camel Safari Las Vegas offers a unique experience to get up close with many animals found naturally in the desert. Booked in advance, guests can enjoy a sunset camel tour, an afternoon of feeding the camels with a zookeeper, or a day glamping with the camels with a tram included. However, there are several exotic animal exhibits for the entire family can enjoy. These exhibits are two-toed sloths, African crested porcupines, sand cats, New Guinea singing dogs, alpacas, and llamas.
Mesquite is known for a day trip or an afternoon away from the hustle and bustle of Las Vegas and its surrounding cities. The town offers a slower pace of life with an awe-worthy desert landscape and all the indulgent activities of a big city to go along with it. With nearly 300 days of sunshine, it's renowned as a four-season destination for outdoor recreation without sacrificing its tranquil city charm.