Despite being a small village containing fewer than 1,000 residents, Hammondsport has profoundly left its mark on the US and the world. Frequently referred to as the "Cradle of Aviation" and the "Heart of Wine Country," this small village certainly offers much more than what initially meets the eye.
Geography Of Hammondsport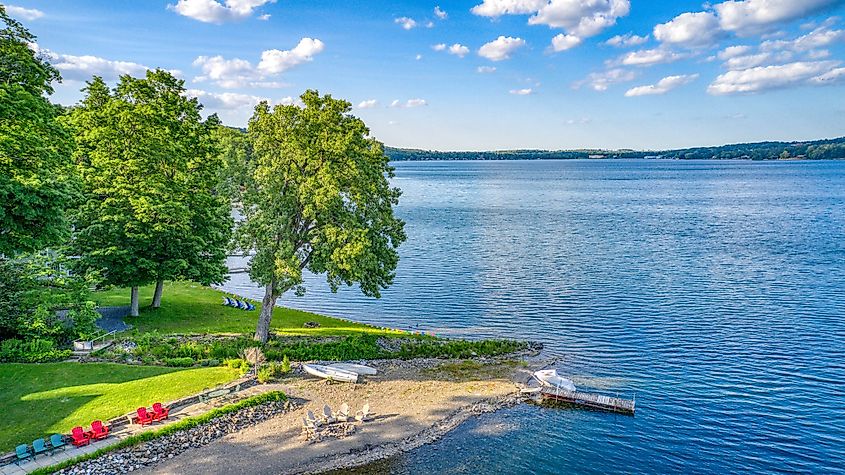 Hammondsport is a small village situated within the Town of Urbana. Therefore, the village is a part of Steuben County within southern New York. Hammondsport lies along the southern end of Keuka Lake, which is considered one of the Finger Lakes. The village is also located northeast of Bath and 20 miles north-northwest of Corning. Hammondsport's geographic coordinates are 42.4078495°N and 77.223587°W (42.4078495, -77.223587). Moreover, the village is situated at an elevation of 230m and covers a total area of 0.95 sq. km, which can be further broken down into 0.89 sq. km of land area and 0.05 sq. km of water area. Both the Glen Brook tributary and Keuka Inlet flow past Hammondsport.
Climate Of Hammondsport
Regarding Hammondsport's climate, the village has a summer high of 27.2°C recorded in July and a winter low of -10.5°C in January. The village has an average of 167 sunny days annually and experiences an average of 146 rainy days with 33 inches of rainfall per year. Furthermore, Hammondsport also receives a significant amount of snowfall annually. The village receives an annual average of 47 inches of snow, which is noticeably higher than the US average of 28 inches of snow per year.
Brief History Of Hammondsport
Since its establishment in 1819, Hammondsport has featured a rich history within the fields of winegrowing and aviation. William Bostwick planted the area's first grapevine in 1829. In the 1860s, the area was subsequently settled by French winegrowers. After the village's incorporation in 1871, Hammondsport became well known as New York's center of the wine industry, particularly regarding champagne.
As for the village's contributions to aviation, one must go back to pioneer inventor and aviator Glenn Curtiss, who has born in Hammondsport. In 1902, Curtiss established a motorcycle factory and began conducting early experiments in flying with the help of inventor Alexander Graham Bell. This resulted in the successful 0.6-mile flight of the June Bug in 1908, which earned him the Scientific American silver trophy for the first powered flight in the United States. This led to the launch of his career in building and piloting flying machines of all sorts. He even provided one of the first demonstrations of aerial bombing over Keuka Lake, which showcased the possible use of flying vehicles for wartime use. But perhaps the ultimate highlight of Curtiss' career occurred in 1919 when the US Navy Curtiss NC-4 Flying Boat succeeded in becoming the first aircraft to cross the Atlantic Ocean.
Population And Economy Of Hammondsport
As of the most recent US Census, Hammondsport had a population of only 616 individuals. Since its 2010 population of 661 residents, the village has witnessed a decrease of -6.81%. Moreover, Hammondsport is currently experiencing an annual decline at a rate of -0.32%. With a total area of 0.4 miles, the village has a population density of 1,785 people per square mile. Hammondsport's predominant ethnic group is White, as it accounts for 94.34% of the village's entire population. The remainder of the village's population is formed by individuals of Other races at 0.4% and individuals of two or more races at 5.25%. The village's median age is 53.3 years, with an average of 56 years for females and an average of 46.1 years for males.
The village has a median household income of $59,914, which witnessed a significant increase of 46.2% between 2018 and 2019. Hammondsport reports a poverty rate of 9.09%. One of the village's primary industries is tourism, although the most significant industries are health care and social assistance with 43 people, retail trade with 32 people, and educational services with 28 people. As for Hammondsport's highest paying industries, these are finance, insurance, real estate, rental, leasing, and professional, scientific, and technical services. The village has a median property value of $143,800 and an average monthly rental cost of $783.
Tourist Attractions In Hammondsport
Keuka Lake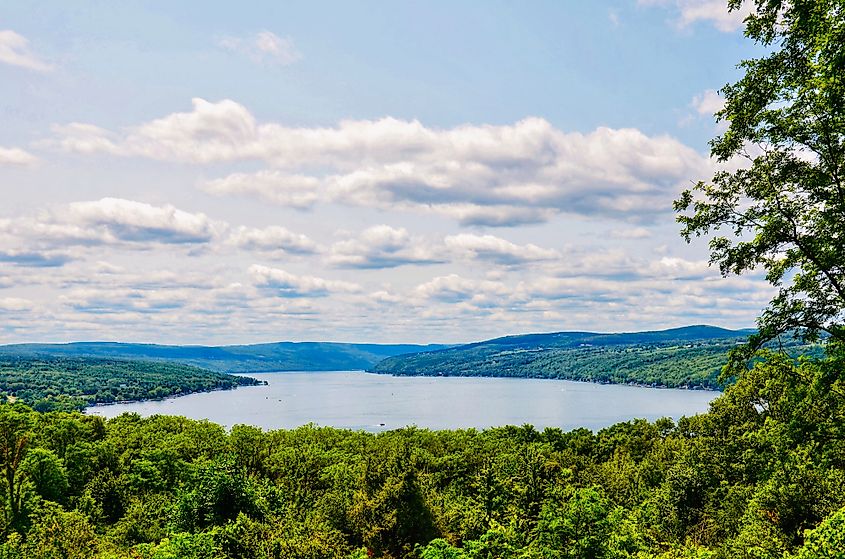 As one of the world's few "Y" shaped lakes, Keuka Lake is often referred to as the most scenic of the Finger Lakes. The lake has been considered a premier destination for leisure travelers and sports enthusiasts alike since the mid-1800s. The lake also provides visitors with many breathtaking views and magnificent panoramas from several vantage points. Sports enthusiasts can find many outdoor activities along its shores and several places that rent paddleboards, kayaks, jet skis, sunfish sailboats, and much more.
Glenn H. Curtiss Aviation Museum
Given Glenn Curtiss' significant impact on not just the field of aviation but on Hammondsport itself, the museum displays a variety of permanent and temporary exhibits that illustrate his career successes and life. The museum also offers several key artifacts from Curtiss' career as well as vintage aircraft, automobiles, and motorcycles that showcase Hammondsport's rich history.
Finger Lakes Boating Museum
Also on offer to visitors of the village is the Finger Lakes Boating Museum, which serves as a nod to Hammondsport's early roots. The museum displays illustrate the various forms of boat and shipbuilding that took place throughout the years since the rise of steamboats in the 19th century.
Wineries and Breweries
Hammondsport has been building its reputation as a world-class wine destination over the past 150 years since that is when the first grapes were planted in the region. The first winery in the region and the first bonded winery in the United States was Pleasant Valley Wine Company, founded in 1860 within Hammondsport. The village also contains the Keuka Brewing Company, which was named New York's "Best Craft Brewery" in 2014. Other award-winning companies include the Finger Lakes Beer Company, which won the silver medal for "Best Craft Beer" in 2015, and Steuben Brewing, which won many awards for "Best Brown Ale" in New York State.
Given its rich history and its profound global impact, the small village of Hammondsport rightly earns the title bestowed upon it of "Coolest Small Town in America." Hammondsport has played a crucial role in developing the greater Finger Lakes region and has cemented itself as a world-class wine destination. Moreover, the village offers itself as the perfect setting for those wishing to experience the lake life for themselves, given its location on the scenic Keuka Lake.