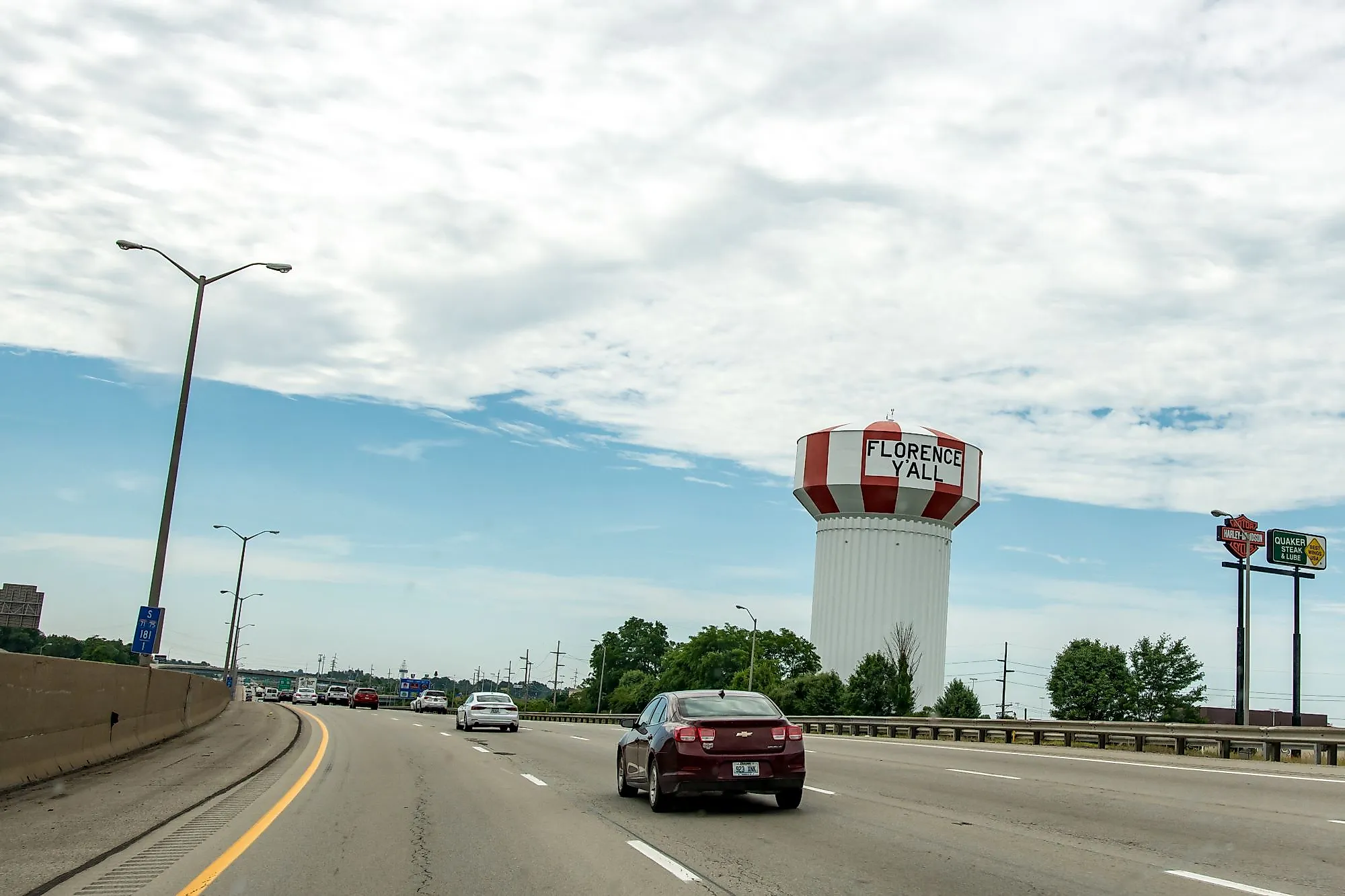 Located minutes from downtown Cincinnati, Florence is Northern Kentucky's second-largest city and one of the fastest-growing areas in the state. The proximity to Cincinnati assures various urban facilities and activities while also offering a rural location with a multitude of recreational choices, such as golfing at Boonelink Golf Course, swimming at Florence Family Aquatic Center, and skating and biking at the neighborhood skate park. Visitors seeking a taste of rural Kentucky will love Florence, which is also home to Florence Nature Park and the Florence Freedom minor league baseball team.
Geography And Climate Of Florence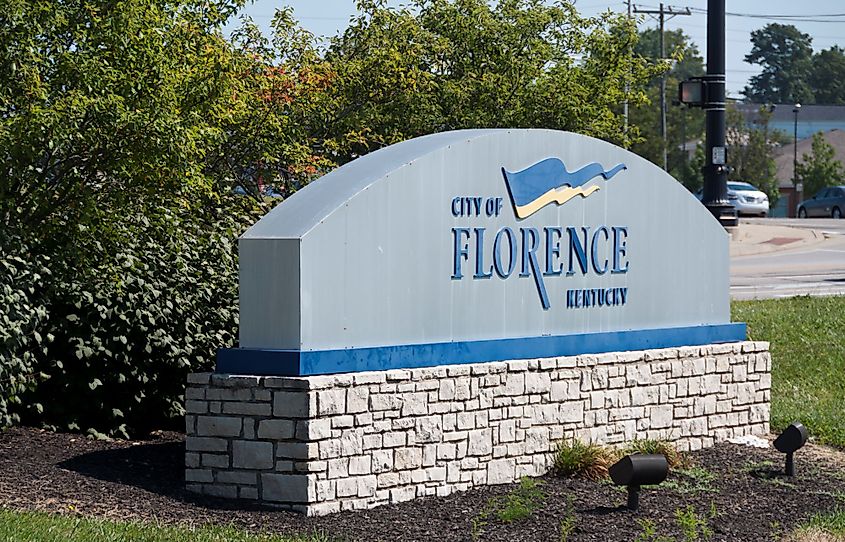 Florence is a small home-rule class city situated in eastern Boone County in the northern portion of the US State of Kentucky. The city is bordered by the communities of Burlington, Oakbrook, Union, Devon, Independence, and Erlanger and is regarded as a part of the Greater Cincinnati Metropolitan Area. Florence, which is conveniently situated 12 miles southwest of Cincinnati, Ohio, is close to the Cincinnati/Northern Kentucky International Airport (CVG). The intersection of US Routes 25, 42, and 127 runs through Florence's city center. The Interstates 75 and 71 travel through Florence's western region. Florence covers a total area of 27.79 sq. km, of which 27.72 sq. km is occupied by land, and 0.07 sq. km is covered by water.
As per the Köppen climate classification, Florence experiences a humid subtropical climate. The average annual temperature is 13°C, with July and January recording the highest (25°C) and lowest (0°C) average temperatures, respectively. On average, Florence gets 1092.2mm of precipitation yearly, with April reporting the highest number. The snowy period occurs between November and March. 
History Of Florence
Because multiple roads from Burlington and Union met at Ridge Road, the Florence region was once known as Crossroads. Thomas Madden, a Covington lawyer who owned a farm on the Burlington Pike, gave the place the name Maddentown in 1821. When Madden moved away, the region became known as Connersville in 1828 for Jacob Conner, a settler who inherited responsibility for the developing town. Connersville was changed to Florence since Harrison County already had a Connersville. Although the precise etymology is unknown, the name is probably a reference to Florence, Italy. After the Covington-Lexington Turnpike was completed in 1836, Florence saw rapid growth after being incorporated on January 27, 1830.
The Population And Economy Of Florence
As per the latest US Census, Florence encompasses 31,946 residents, where 50% are females and 50% are males. The racial makeup of the city is 83.8% white (non-Hispanic/Latino), 5.7% African-American or Black, 4.3% Asian, 3.5% Hispanic or Latino, and 2.7% with two or more races. English is spoken by 88.6% of the population. The rest speak Spanish (3%), Indo-European languages (4.3%), Asian and Pacific Islander languages (2.6%), and other foreign languages (1.5%). Only 30.8% of the population in Florence are naturalized US citizens. And veterans make up 9.3% of Florence's population, of which 92.5% are males, and 7.5% are females.
As per the same Census, the employment rate in Florence is 64.2%, with a poverty rate of 7.5%. The homeownership rate is 54.9%, where the median gross rent cost is $979 per month, with a median household income of $60,018. According to Sperling's BestPlaces, the unemployment rate in Florence is 4.3%. Moreover, over the past year, the job market in Florence has grown by 1.9%. Compared to the US average of 33.5%, future job growth is expected to be 40.0% during the next ten years.
Attractions In And Around Florence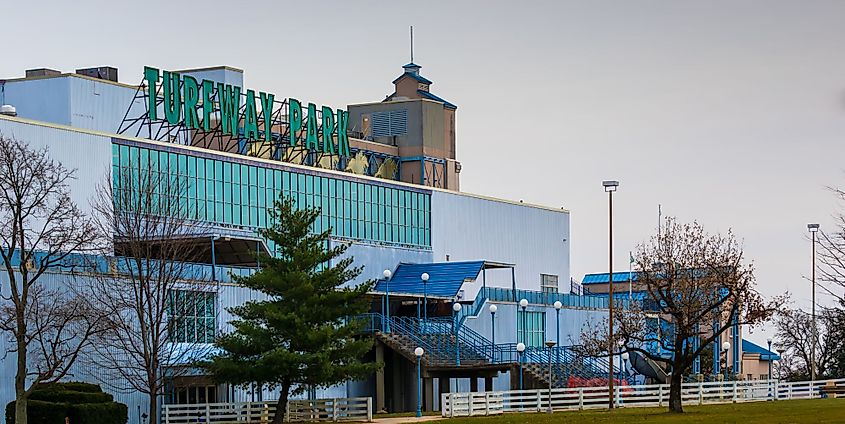 Florence Y'Alls
Since 1994, Florence has been the home of a professional baseball team, which plays its home games at a stunning ballpark that debuted in 2004. The Florence Y'Alls, named for that famous water tower, was the natural choice when the team's name was changed in 2020. The Y'Alls, who play in the Frontier League, have won three league championships and five division championships during the past 25+ years. With 4,500 seats, Y'Alls Ballpark is a great family destination during the season, with themed nights, Friday night fireworks, and a ton of entertainment and activities to keep younger kids engaged.
Big Bone Lick State Historic Site
This amazing natural location, known as "the home of American paleontology," is a must-see excursion close to Florence. This field of megafauna bones was first discovered by Merriwether Lewis in 1803, and he later provided samples to Thomas Jefferson, who then hired William Clark to perform the first vertebrate paleontological dig in the United States at this location. The abundance of Pleistocene megafauna fossils found in Big Bone Luck is thought to have resulted from the sulfur springs, which are still active, serving as a possible salt lick. These creatures probably died after being stranded in the marshy environment, leaving a remarkably high quantity of bones behind. At the visitor center, you may tour the salt springs and take a look at recently upgraded museum exhibits. This park also features a small herd of bison, a campground with 62 sites, and picnic areas.
Florence Nature Park
This tranquil 15-acre park, created exclusively for passive relaxation, is something that could catch you off guard in the middle of the metropolis. Tall trees, well-kept lawns, and flowerbeds are all visible from a paved path. The lifelike granite sculptures of animals, including a rhino, hippo, gigantic tortoise, and crocodile, are perfect for young children. These were a gift from Florence Mall to the city. The stone-built Nature Park Event Center, which can host business gatherings, weddings, receptions, and a variety of other social events, serves as the park's focal point.
Florence, one of Kentucky's fastest-growing towns, provides a variety of family-friendly attractions and activities. The city boasts various parks and green areas in addition to a bustling downtown center full of shops, eateries, and other family-friendly attractions. Discover Florence, Kentucky's charming city, by checking out the great things you can do here!