World Facts
The 10 Biggest Cities In North Dakota
Fargo is the most populous city in the US state of North Dakota.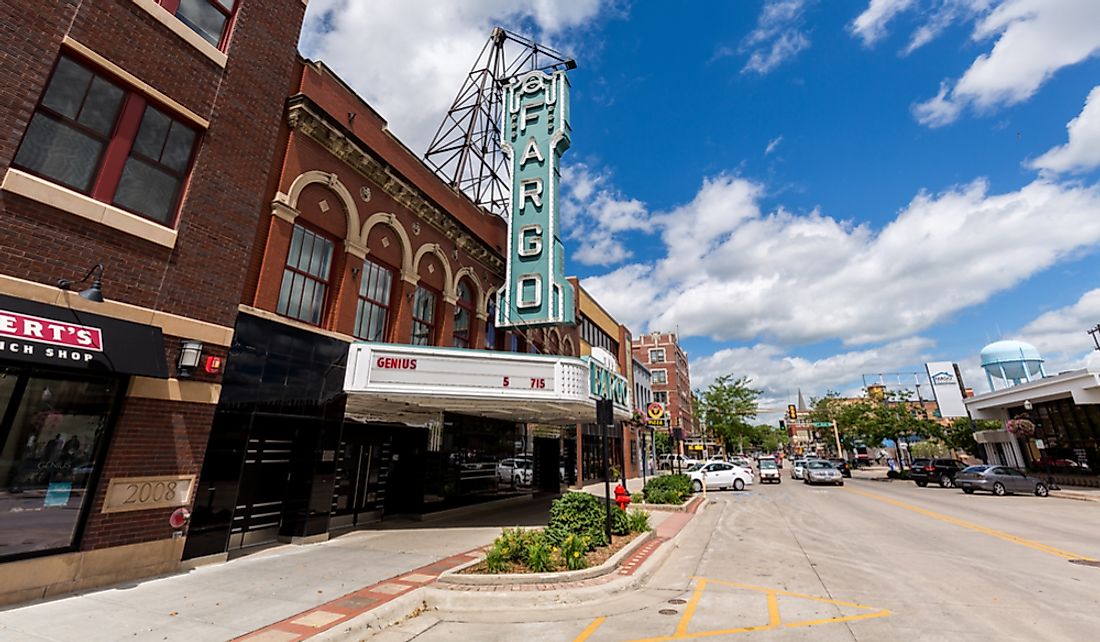 The US state of North Dakota is one of the most sparsely populated states in the country. It is located in the Great Plains region and is the fourth smallest state by population. According to 2017 estimates, North Dakota had a population 755,393. However, the state is relatively large in size. North Dakota occupies an area of 183,843 square km, making it the country's 19th most extensive state. The state has no towns, villages, or hamlets. Instead, all incorporated municipalities are classified as cities. Fargo is the largest city by population, followed by Bismarck, Grand Forks, Minot, and West Fargo.
Most Populous Cities in North Dakota
1. Fargo
With a population of 105,549, Fargo is the most populated city in North Dakota and ranks as the 225th most populous in the country. It is the county seat of Cass County. The population of Fargo accounts for nearly 17% of the state's population. Local on the Red River, the city was established in 1871 and serves as the cultural, industrial, educational, retail, and health care center of eastern North Dakota. Fargo is also the home of North Dakota State University.
2. Bismarck
Bismarck is the second most populous city in North Dakota, with a population of approximately 61,272. It serves as the state capital and the county seat of Burleigh County. Located on the eastern bank of the Missouri River, the city was established in 1872 and has served as North Dakota's capital since 1889. The tallest building in the state, the North Dakota State Capitol, is located in the city. Bismarck is also a hub for health care and retail.
3. Grand Forks
The city of Grand Forks has a population of 52,838. It is the state's third most populous city and the county seat of Grand Forks County. It is situated on the western banks of the Red River of the North and is prone to flooding. The economy of Grand Forks is based on health care, food processing, defense, manufacturing, and scientific research. The University of North Dakota, which is the state's oldest institution of higher learning, is also located in Grand Forks.
4. Minot
Minot is the fourth most populated city in North Dakota, with a population of 40,888. It was established in 1886 and serves as the county seat of Ward County. A large US Air Force base is located near the city, and Minot serves as an important regional trading center. Given its remarkable growth within a relatively short period of time, Minot earned the nickname "The Magic City."
5. West Fargo
Located in Cass County, West Fargo has a population of approximately 25,830. Established in 1926, it is North Dakota's fifth largest city and one of the fastest growing cities in the state.
Why Is North Dakota so Sparsely Populated?
North Dakota has a population density of only 3.83 people per square km, which ranks as the country's fourth-least densely populated state. Although all incorporated municipalities in North Dakota are classified as cities, most are smaller in population than cities in many other US states. North Dakota has vast stretches of fertile soil and rich mineral resources that make agriculture and mining the state's most important economic activities. Additionally, most of North Dakota is covered by farms and ranches. In fact, wheat is cultivated in nearly every county. Therefore, the state has a very small urban population and is sparsely populated.
List of the 10 Biggest Cities in North Dakota
| Rank | City | Population (2010 census) | County |
| --- | --- | --- | --- |
| 1 | Fargo | 105,549 | Cass |
| 2 | Bismarck | 61,272 | Burleigh |
| 3 | Grand Forks | 52,838 | Grand Forks |
| 4 | Minot | 40,888 | Ward |
| 5 | West Fargo | 25,830 | Cass |
| 6 | Mandan | 18,331 | Morton |
| 7 | Dickinson | 17,787 | Stark |
| 8 | Jamestown | 15,427 | Stutsman |
| 9 | Williston | 14,716 | Williams |
| 10 | Wahpeton | 7,766 | Richland |
About the Author
Oishimaya is an Indian native, currently residing in Kolkata. She has earned her Ph.D. degree and is presently engaged in full-time freelance writing and editing. She is an avid reader and travel enthusiast and is sensitively aware of her surroundings, both locally and globally. She loves mingling with people of eclectic cultures and also participates in activities concerning wildlife conservation.
This page was last updated on January 15, 2019.
Citations
Your MLA Citation
Your APA Citation
Your Chicago Citation
Your Harvard Citation
Remember to italicize the title of this article in your Harvard citation.