Claremore is a small city situated at the foothills of the Ozark Mountains in Rogers County in the US State of Oklahoma. The city is well known as the birthplace and residence of early twentieth-century performer Will Rogers. Claremore has many sites and museums listed on the national register of historic places.
Geography And Climate Of Claremore
Claremore is situated in Green Country, a famous nickname for northeast Oklahoma derived from the area's green foliage and a comparatively large number of hills and lakes than central and western Oklahoma. The city is located near the Verdigris River and has an undulating landscape with hills and valleys. Claremore and Oologah Lake, both within the Verdigris River drainage basin, are the city's principal water supplies. Claremore covers a total area of 32 sq. km, of which 0.52 sq. km is covered by water, and 31 sq. km is occupied by land. 
Claremore receives 45 inches of rain and 9 inches of snow on average every year. The best time to visit the city is in May, September, and October, while the worst time to visit the city is during July and August. Claremore's hottest month is August, with an average high temperature of 33.27°C, while the year's coldest month is January, with an average low temperature of -3.83°C.
Brief History Of Claremore
Claremore was founded in 1802 when Chief Glahmo led his band of Osage Indians from Missouri. Along the Verdigris River, he quickly built a fur trade business. The trade station was built atop a 25-acre mound that became known as Clermont, a French term that means "clear mountain." Traders and Indians alike began to refer to the Chief as "Chief Clermont" over time. When the Louisiana Purchase was completed in 1803, the area was recognized as Indian Territory. Soon after, the Cherokee tribe was pushed from their eastern homeland through the historic "Trail of Tears," and the property, including Clermont Mound, was granted to them. The Osage Indians were relocated to a reserve that became known as Osage County. On Clermont Mound, a village consisting of Cherokee Indians was built, beginning with a general store, a blacksmith shop, and a school. The post office was founded in 1874 to name the town in honor of Chief Clermont. However, the name was listed as Claremore owing to a clerical error. Under Cherokee law in 1883, Claremore was incorporated as a town. Claremore has expanded and flourished throughout the years to become the Premiere City in Northeast Oklahoma.
Population And Economy Of Claremore
As per the latest US Census, Claremore has a population of 18,785 inhabitants. The city is now increasing at a 0.07 percent yearly pace, and its population has expanded by 0.91 percent since the 2010 census, which reported a population of 18,615 people. Claremore's ethnic demographics are 69.3 percent White, 15.8 percent American Indian, 11.1 percent Two or more races, 1.7 percent Black, 1.6 percent Other, and 0.6 percent Asian. Furthermore, 6.1 percent of the population is Hispanic. Claremore's job market has grown by 2.6 percent in the previous year. The future growth in the job market is expected to be 32.0 percent during the next ten years. Claremore residents earn an average of $22,343 a year, and the city's largest industries are Retail Trade, Manufacturing businesses, Health Care & Social Assistance. 
Attractions In Claremore
Will Rogers Memorial Museum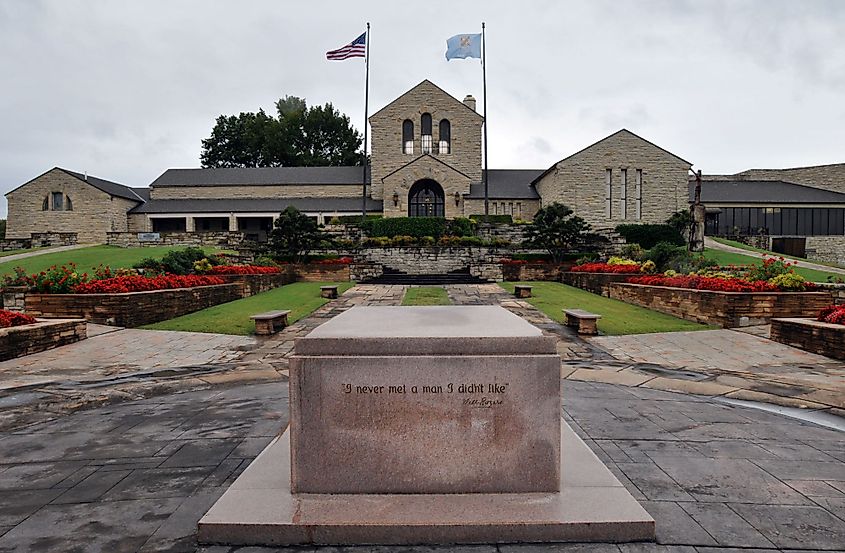 This museum was built to honor performer Will Rogers. Rogers' life is represented with antiques, pictures, souvenirs, and manuscripts in the 19,052-square-foot museum. Rogers' grave is situated on 20 acres of land overlooking Rogers State University and Claremore. The Oklahoma Historical Society owns and operates the museum.
Claremore Museum of History
The Claremore Museum of History, dedicated to preserving Claremore's history, brings the town's past to life. It features Claremore's notable figures as well as antique images and historical items. The museum, which is organized, created, and operated by a group of committed volunteers, is a must-see for all history enthusiasts.
Claremore Lake
Claremore Lake was formed in 1929-1930 by damming Dog Creek in Rogers County, Oklahoma. The dam was erected to supply water to the city of Claremore. It has a boat ramp, fishing docks, a picnic area, and a nine-hole disc golf course. The park features two different playgrounds, plenty of picnic tables and grills, and two covered pavilions with power that may be reserved for private gatherings.
J Farley's Pub
Located on Claremore's North Block, the pub is a famous neighborhood meeting location. This Irish American pub serves a fantastic variety of Irish and other cocktails, beers from around the world, and classic pub grub such as quarter pounder burgers with all the trimmings and, in all variations, a few Irish dishes such as Stoneyford Shepards Pie and Bangers and Mash. The building is usually teeming with activity, but it really comes alive on Bingo and Karaoke evenings or when one of the local bands comes to perform.
Belvidere Mansion
It is a popular historical attraction in the downtown area. John and Mary Bayless began building this house in 1907, the year Oklahoma became a state. Belvidere Mansion offers tours and lunch at the Pink House restaurant, which is located on the first floor. The mansion hosts Christmas at the Belvidere, as well as other yearly festivities every year. Within the mansion lies the Rogers County Historical Society's office.