The city of Cancún is a famous resort area located in southeastern Mexico, on the northeastern edge of the Yucatán Peninsula. This coastal city is fronted by the Caribbean Sea and forms a part of Mexico's easternmost state, Quintana Roo. Cancún is the most visited tourist destination in Mexico. 
Geography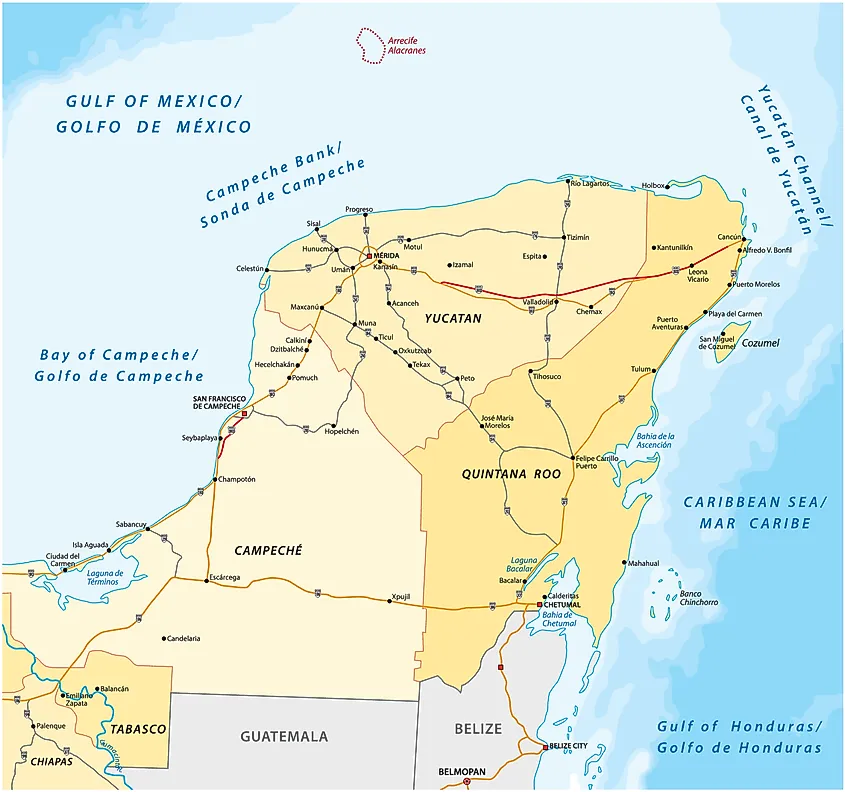 The topography of the Cancún city is mostly flat and similar to the other areas on the Yucatán Peninsula, many Cenotes or sinkholes are found. The city serves as a service town for the resort area of Cancún Island. The island measures about 21 km in length and has a maximum width of 400 m. It is separated from Cancún city by the shallow Nichupté lagoon. The island's "Hotel Zone" is about 23 km long and is connected to the Cancún city by several causeways. The major tourist area is centered on Cancún Island with its hotels, resorts, and many Caribbean-facing white sand beaches.
The resort district of Riviera Maya is situated to the south of Cancún. Many famous Mayan historical sites like Tulum, Muyil, Chacchoben, and Cobá are located near the city of Cancún. Another significant Mayan site, Chichén Itzá, is located about 190 km southwest of Cancún in the neighboring Mexican state of Yucatán. The Cancún International Airport is the second-busiest airport in Mexico.
According to the Köppen climate classification, the city of Cancún experiences a tropical wet and dry climate. The average annual temperature is about 27.1 °C and the city's climate is moderated by the northeast trade winds. The rainy season is from May to late October and the dry season is from December to April. The city is located in Mexico's hurricane zone and the hurricane season is from June to November. Some of the significant hurricanes that have struck Cancún include Hurricane Dean, Hurricane Gilbert, and Hurricane Wilma.
Brief History
Cancún, along with its neighboring Isla Mujeres and Cozumel and the entire Yucatán Peninsula, was originally settled by the Indigenous Mayan people. The city was known to the Mayans as Nizuc. In the early 16th century, Spanish explorers arrived in the Yucatán Peninsula. The European explorers brought diseases like smallpox with them to the area, which destroyed the Mayan population. The name Cancún was first used on the maps of the 18th century. The true meaning of the name is debated but it is likely the name is of Mayan origin. In January 1970, the Mexican government decided to develop the area for touristic purposes and hence financed the construction of the first nine hotels in the area.