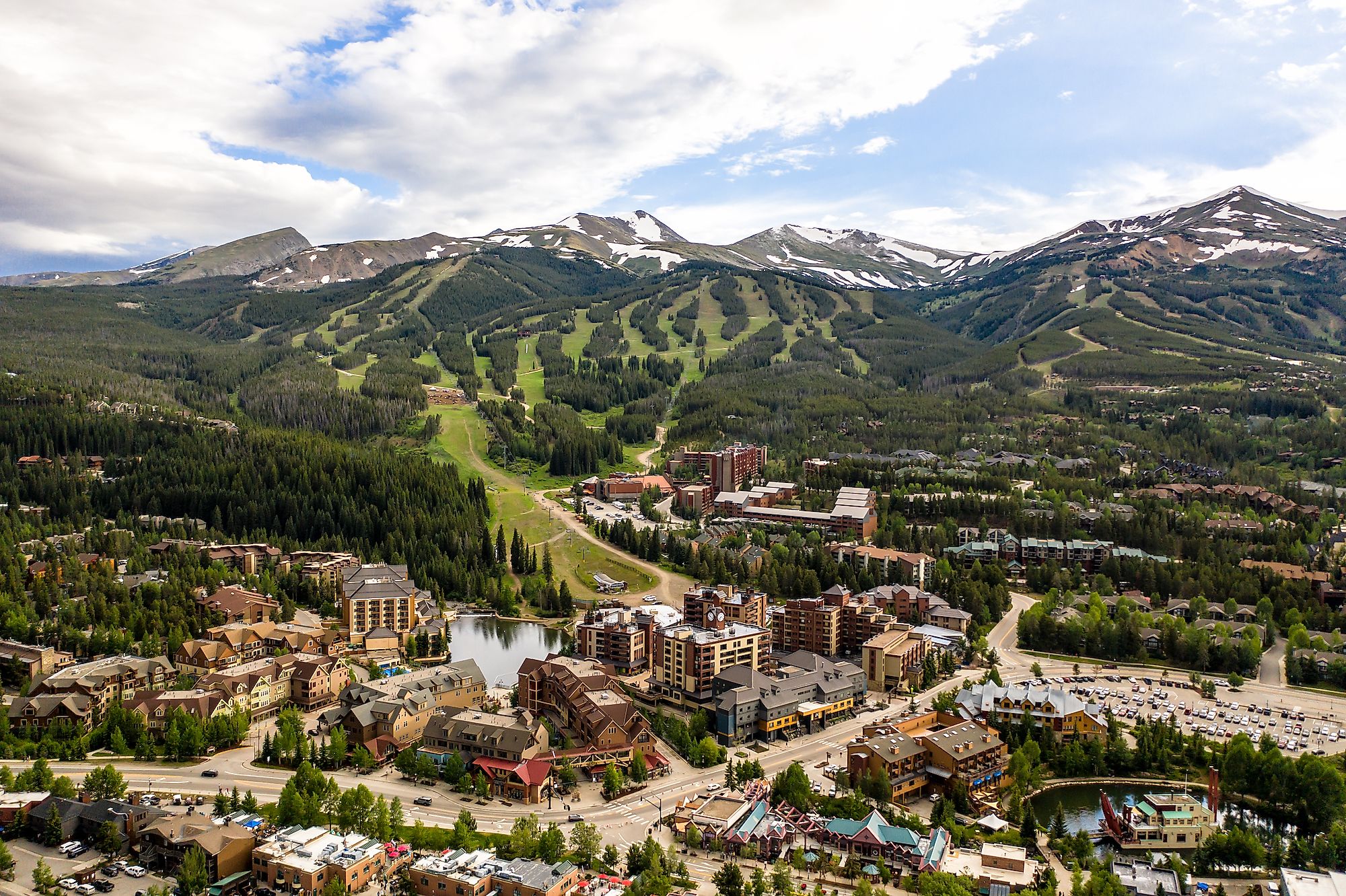 The city of Breckenridge is the county seat and the most populous municipality in Summit County, Colorado, in the United States. Breckenridge was the site of one of Colorado's first gold strikes in 1859. The town grew up around the goldfields and had several fine hotels and theaters within a decade. According to the United States Census Bureau, Breckenridge has a total area of 12.8 km2. Five towering peaks encircle Breckenridge, or "Breck," as locals call it. The downtown center is a swarm of activity, with everything from fantastic restaurants and shopping to high-end outfitters suited to assist visitors in conquering any activity in the region.
History Of Breckenridge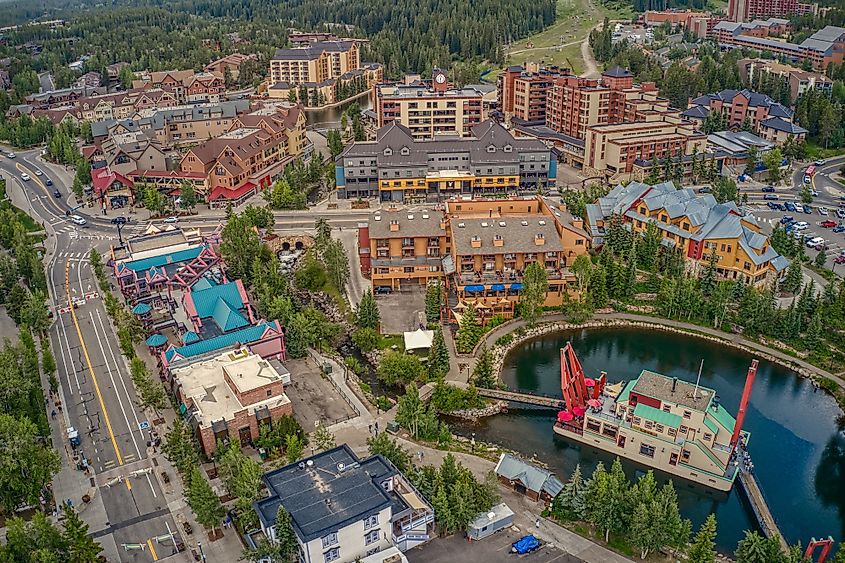 During the Pikes Peak Gold Rush of 1859, soon after the placer gold discoveries east of Breckenridge near Idaho Springs, prospectors entered what is now Summit County. Breckenridge was founded to serve the miners working the rich placer gold deposits discovered along the Blue River. Prospectors followed the gold to its source veins in the hills, and placer gold mining was soon joined by hard rock mining. Hydraulic mining was used to recover gold from upper gravel benches east of the Blue River. Gold production declined in the late 1800s but was revitalized in 1908 by gold dredging operations along the Blue and Swan rivers. The Breckenridge mining district is responsible for producing approximately one million troy ounces (nearly 31,000 kilograms) of gold. All of the gold mines in the Breckenridge area are closed, while some are open to tourists. The gold dredges' distinctive gravel ridges can still be seen along the Blue and Snake rivers, and the remains of a dredge are still floating in a pond off the Swan River.
Edwin Carter, a log cabin naturalist who switched from mining to collecting wildlife specimens, was a notable early prospector. His log cottage, built in 1875, is still standing today, and the Breckenridge Heritage Alliance has recently rebuilt it with interactive displays and a modest viewing room with a short creative video about his life and the early days in Breckenridge.
When many trails were cut on the lower half of Peak 8, connected to town by Ski Hill Road, skiing was introduced to Breckenridge in December 1961. Breckenridge Ski Resort has later expanded onto Peak 9 and Peak 10 on the south end of town, and Peak 7 and Peak 6 on the northwest end of town, during the past 50 years.
Climate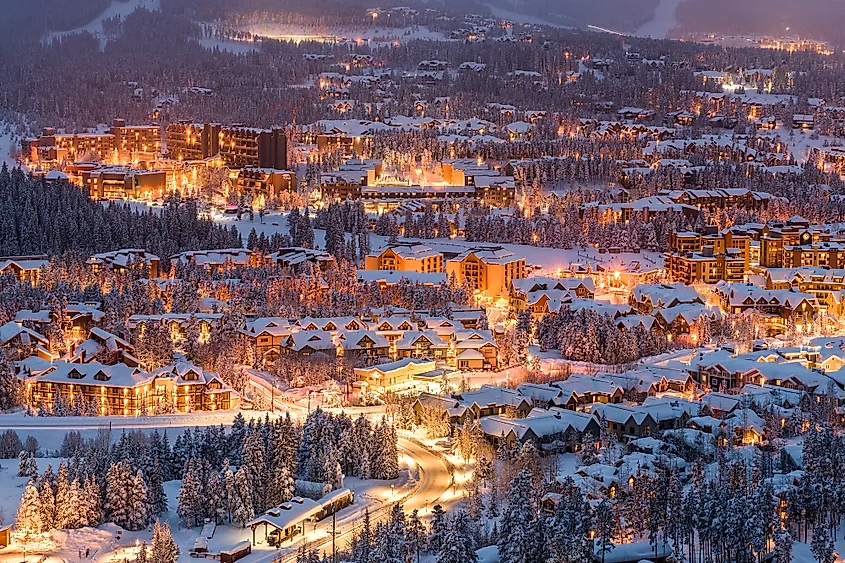 Breckenridge's climate is classified as high-alpine, with the tree line reaching 11,500 feet. Throughout the year, the average humidity remains around 30%. The climate at the weather station could be characterized as a subarctic climate variation because summer means are above 50 °F (10 °C) despite the very cool nights. Winter lows are quite severe, but days with temperatures averaging around freezing help to moderate mean temperatures.
Population And Economy Of Breckenridge
According to the most recent US Census estimates, the current population of Breckenridge, Colorado, is 4,885. Breckenridge's population is currently declining at a -0.41 %, but it has increased by 7.39 % since the 2010 census, which recorded a population of 4,549. Breckenridge's top five ethnic groups are White (Non-Hispanic) (93.5%), Two+ (Non-Hispanic) (2.55%), White (Hispanic) (2.47%), Other (Hispanic) (1.17%), and Black or African American (Non-Hispanic) (0.284 percent).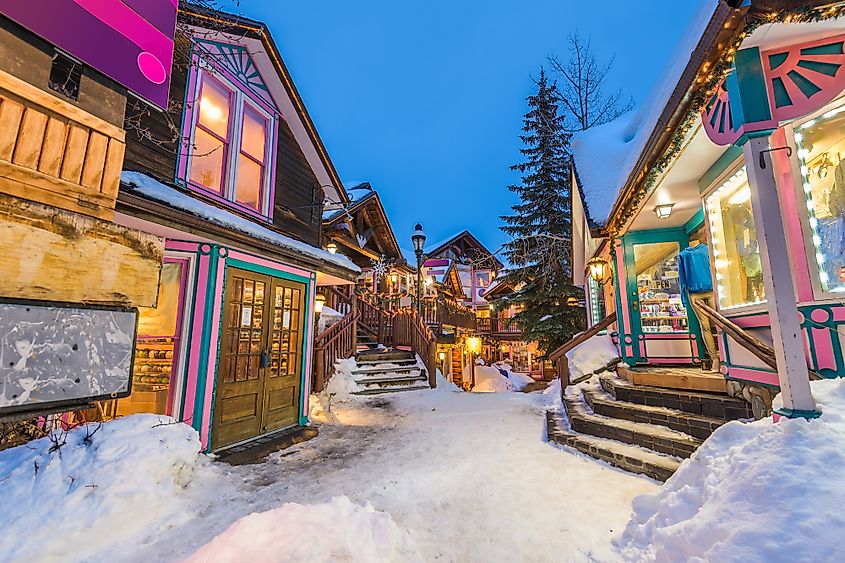 Breckenridge has an average household income of $86,637 and a poverty rate of 2.23 %. The economy is enhanced by year-round tourism, which is fueled in part by the region's enduring natural beauty. Accommodation and food services, arts and entertainment, and construction are the fastest growing industries in the town. Midrange salaries are dominated by jobs in the public sector. Around 30.7 % of all employees reported working in the accommodation and food services industry. Retail trade and arts/entertainment each employ approximately 10% of the population.
Attractions In Breckenridge
Main Street
Breckenridge's main street looks much the same as it did a century ago. Many of the original buildings remain, and their exteriors will remind visitors of a period when Breckenridge was part of the Wild West mining rush. Breckenridge's historic Main Street has over 200 shops selling a range of things, including locally produced or handmade, such as handmade soaps at Milagros of Colorado. Many outfitters and ski shops lease and sell ski equipment to those who want to hit the nearby slopes. Many other clothing, souvenir, food, and general merchandise stores provide numerous shopping possibilities.
Peak 9
Peak 9 at Breckenridge Ski Area is the park's second-oldest peak. The bottom half of the mountain is a novice learning area, while the upper level has intermediate-level blue runs. The North Chutes are located on Peak 9's north face, on the side that faces Peak 8. The North Chutes are double-black diamond-rated chutes for experienced skiers. Peak 9 has several chair lifts to access the ski area and many eateries for people who need to refuel after a long day on the slopes.
Breckenridge Ski Resort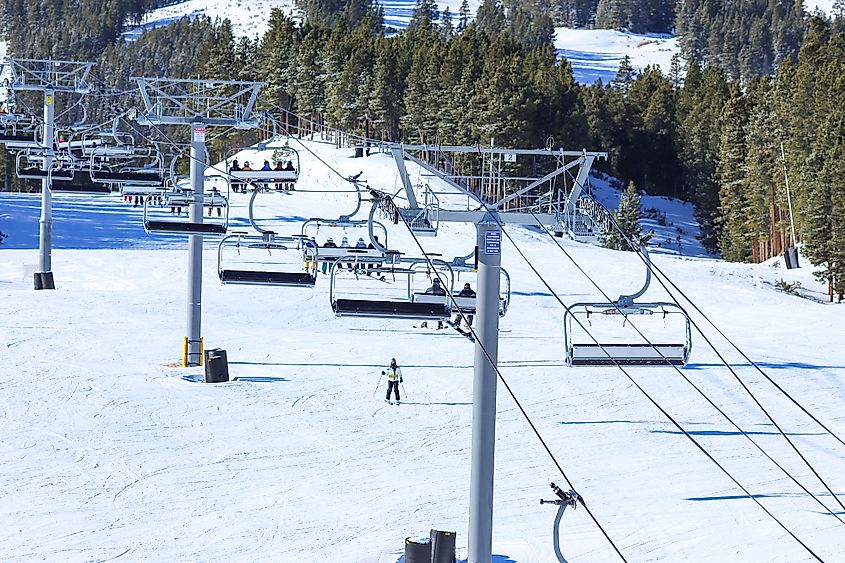 The resort area spans five mountain peaks and is located west of the Continental Divide. Breckenridge's five peaks have 187 trails and 2,908 acres of snowy terrain to explore. It is the highest lift-served terrain on the continent. There are 31 lifts in total, four of which are high-speed and can seat six people. Every year, Breckenridge hosts the Winter Dew Tour, a premier action sports tour featuring many of the world's major action sports athletes. Breckenridge offers ski and ride schools for beginners as well as guided backcountry tours for advanced skiers and snowboarders.
Boreas Pass Road
Boreas Pass, located 11,481 feet above sea level along the Continental Divide, is a high mountain pass in the Rocky Mountains. Known in history as the Breckenridge Pass, it functioned as a route for prospectors crossing into the area during Colorado's gold rush. After serving as a wagon and narrow-gauge railroad route, the pass is now used as a picturesque seasonal drive. The remains of the Boreas Station, which originally stood at the summit of the pass, can be seen by visitors.
Sawmill Reservoir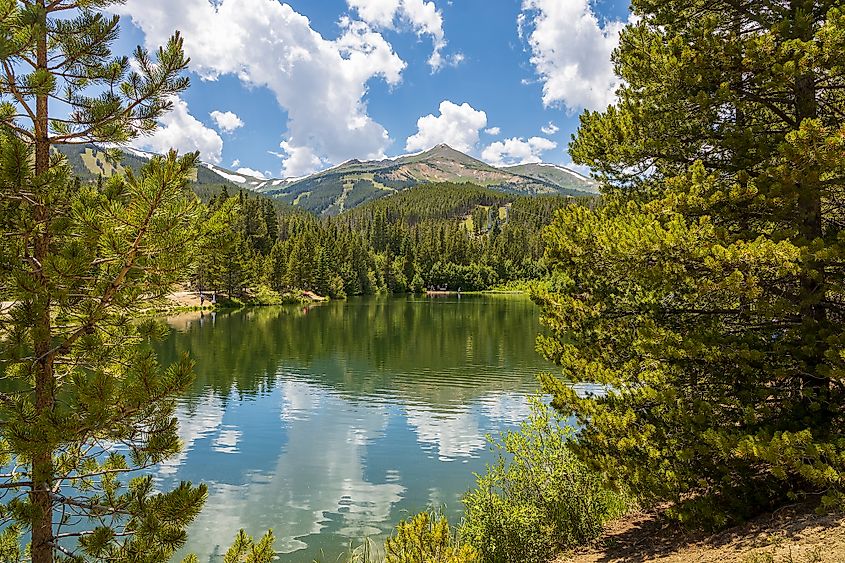 Sawmill Reservoir is a lake located just west of downtown Breckenridge. The lake is 9,938 feet above sea level and is surrounded by White River National Forest. one of the most popular things to do in town is hiking the reservoir, especially during the summer. It is also an easy drive from downtown if visitors are short on time and their main goal is to relax. Visitors 16 and older with a valid Colorado fishing license are permitted to fish in the reservoir. Rainbow trout, as well as a few other trout species, abound in the waters.
Breckenridge Heritage Alliance
The Breckenridge Heritage Alliance is a non-profit designed to preserve Breckenridge's history and heritage. They maintain a number of historical monuments and museums, as well as offering a variety of tours throughout the region. The Alliance offers a variety of walking and hiking tours, featuring historic walking tours, Christmas tea tours, haunted tours, saloon tours, and plenty more. There are also several historic hiking and snowshoeing trails, as well as a Ski Through History Tour.
Mountain Top Children's Museum
It is a hands-on educational museum that fosters learning and enjoyment via interactive exhibits and programming. The museum is intended for children aged ten and under, accompanied by their families. A Rocky Mountain Wildlife Exhibit, which talks about wildlife local to Colorado and the Rockies, as well as a tiny planetarium and plays "lab" where youngsters may experiment with mixing colors, are among the museum's attractions.
Barney Ford Victorian House
It is a house museum dedicated to runaway slave Barney L. Ford. He was born into slavery, but he was determined to pursue a different life. He learned how to read from his mother, fled slavery, and rose to prominence as a wealthy businessman, civil rights activist, and leader. Each room in the museum includes a different exhibit relating to the time period, and each symbolizes a different era in Ford's life.
Backstage Theatre
Backstage Theatre is a small-town theatre company with the kind of production that one would expect to find in a much larger city. The theater has a busy program throughout the year, with many productions ranging from classics to Broadway musicals, children's performances, and the work of local artists. The theater is small and intimate, with good views of the stage from any seating. It has been renovated with comfortable and modern furniture, as well as cutting-edge audio equipment that allows visitors to hear clearly from any part of the room.
No season in Breckenridge disappoints, whether visitors are skiing, snowshoeing, snowmobiling in the winter or camping, hiking, or strolling historic Main Street in the summer. It's one of the highest places in America, about 10,000 feet above sea level, and the views reflect that.