Bonsall is a quaint town situated in San Diego County in the US State of California. The town's climate is favorable for the growth of vineyards and wine production, and the rolling hills are ideal for ranchers to raise livestock. Bonsall is an excellent destination for local families to raise children with proximity to many outdoor amenities.
Geography And Climate Of Bonsall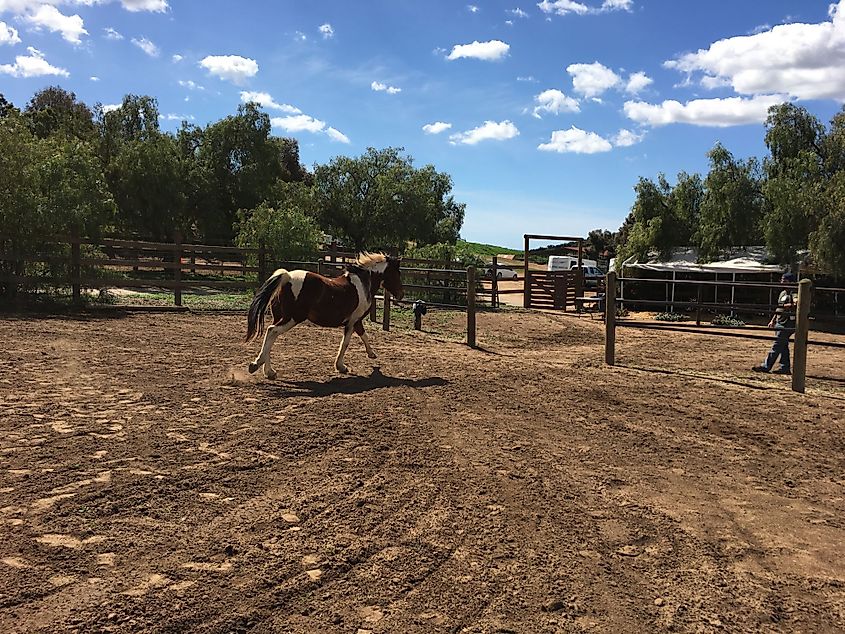 Bonsall is a quiet town between the colossal cities of Los Angeles and San Diego. Tucked away in the hillside of southwestern California, Bonsall stands 53 meters above sea level. The contrast from the sea to the mountains is a great place for adventurers — only a 20-minute drive from the Pacific Ocean and less than an hour from Palomar Mountain State Park. The Mexican border city, Tijuana, is just over 100 kilometers south on the Pacific Highway. Approximately 400 kilometers north is the barren landscape of Death Valley National Park. Bonsall city limits cover an area of 35.74 sq. km from houses, ranches, schools, and parks.
Bonsall experiences a Mediterranean climate with warm and dry summers and mild and cloudy winters. The best time to visit the area is between June and September. Before the high season, spring temperatures are delightful, with low temperatures dropping to 8˚C and highs climbing to 23˚C. March is the wettest spring month, with an average of 67mm of rainfall. Summer is arid, and averaging rainfall is 4mm of rain in August, the wettest summer month. Temperatures can rise to 30˚C in August, and the warm weather sticks around until late autumn. Winters are cool and moist in Bonsall – the coldest day of the year is Christmas Day, with temperatures ranging from 5˚C to 19˚C.
Brief History Of Bonsall
Bonsall was initially called Mount Fairview, as it was the location of the Mount Fairview post office from 1871 to 1880. The post office received a new name, Osgood Post Office, to commemorate Joseph Osgood, the chief engineer of the California Southern Railroad. A petition for a name change arose in 1889, and the name Bonsall beat out its competitors. James Bonsall was a Methodist minister who bought land in the area to construct his home and a nursery. The establishment of Bonsall attracted services to the site, such as a new post office, general store, hotel, a school, and a blacksmith.
Population And Economy Of Bonsall
Bonsall has a population of 4,458 and a population decrease of -0.13% in the past year. The annual household income is $92,544, and the town has a poverty rate of 5.3%. The town has many different ethnic backgrounds, including 63% Caucasian, 28% Hispanic, 1.2% African American, and 0.5% Indigenous. The average property value is roughly $686,000, and 70% of citizens are homeowners. Various industries employ over 1,000 people, but the most prominent enterprises are sales, management, and business and financial operations. There is also an abundance of firefighters, protective service workers, and farming, fishing, and forestry specialties.
Attractions In Bonsall
Wild Wonders
Home to some fantastic wildlife found around the globe, the park's motto is to rescue, educate, and conserve. A team of 120 animal ambassadors and educators helps visitors learn about the preservation of endangered animals. Wild Wonders offer several tours, like the sunset safari, an interactive animal experience, zoo camps, and online virtual programs. It is an excellent place for families and individuals to learn about different species and have an up-close experience with them.
Trúc Lâm Đại Đăng Zen Monastery
Constructed in 2001, the Dai Dang Meditation Center wanted to introduce Mahayana Buddhist practice's advantages to the United States. The grounds are full of spectacular gardens surrounding the picturesque temple that overlooks the valley. Every Sunday morning, an English-speaking Sangha hosts a Buddhist ritual and teaches Zen Meditation. Visitors can expect a free vegan lunch prepared by monks that devote their time to the monastery.
Deer Park Winery And Auto Museum
The grounds consist of a multipurpose estate that can host car lovers and wine connoisseurs. The auto museum has numerous classic cars and antique Americana collectibles from old coca cola exhibits, vintage toys, and displays of historical celebrities. The winery has many award-winning wines, from reds to whites, and guests of the legal drinking age can sample these unique wines in the region.