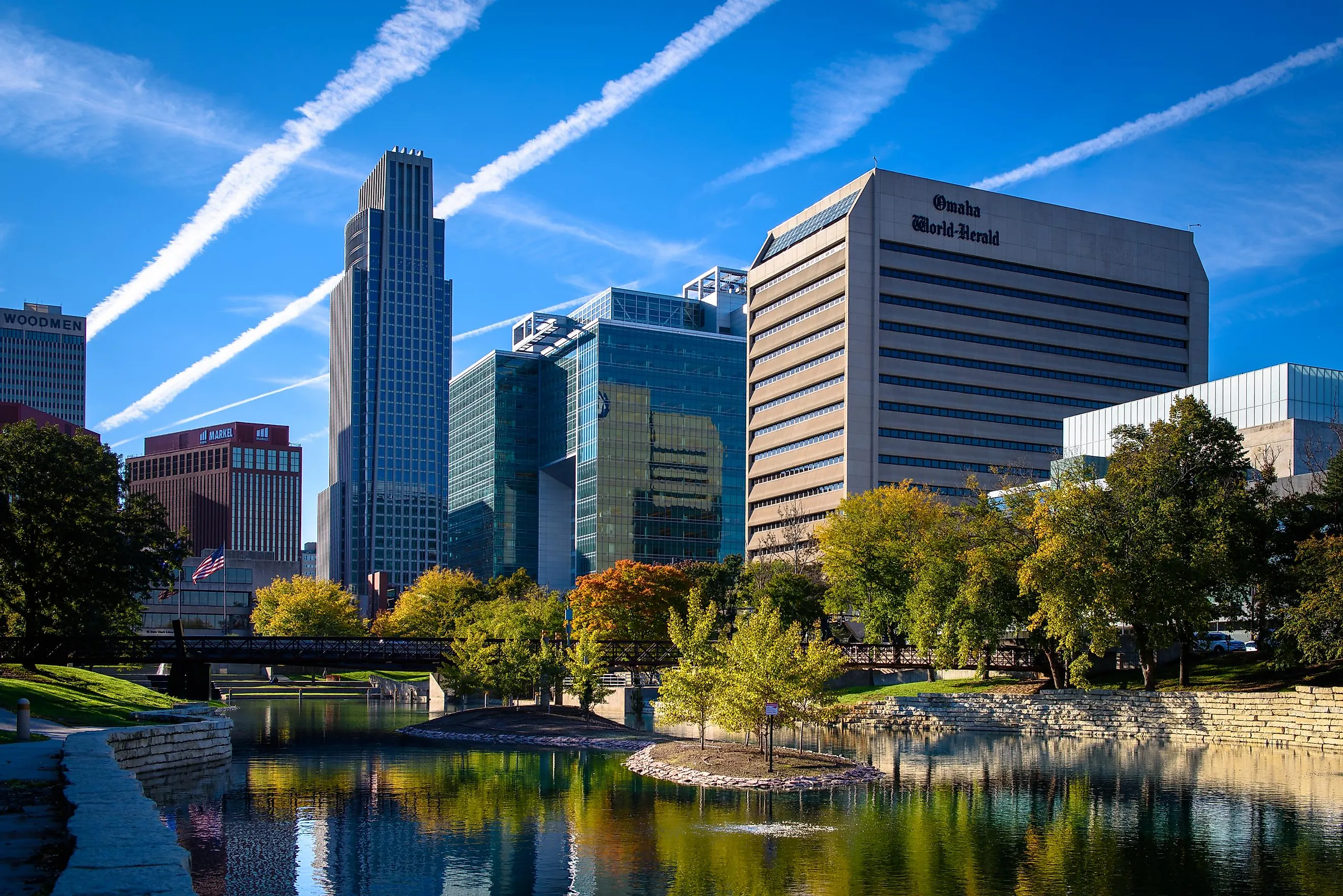 Best Day Trips From Omaha To Take This Summer
Launch your adventure from Omaha and discover the variety of attractions Nebraska offers for summer day trips. From scenic parks and charming towns to historical landmarks and exciting routes, Nebraska provides diverse experiences. This summer, navigate through unique destinations and enjoy the breathtaking landscapes surrounding Omaha. Experience the joy of the journey and the destination and explore all the beauty and culture Nebraska offers.
Lincoln, Nebraska

What better way to explore the beauty of Nebraska than with a scenic drive from Omaha to its capital, Lincoln? Journey along the captivating roads that connect these two vibrant cities and embrace the stunning landscapes that unfold before your eyes. As you take the hour and 10-minute drive, immerse yourself in the picturesque landscapes. Once you arrive in Lincoln, explore its rich history and cultural offerings. Visit the Nebraska State Capitol or indulge in a delicious meal at one of the local eateries like The Green Gateau. Hit up the historic Haymarket District, where charming boutiques and lively farmers' markets await. With its captivating blend of culture, cuisine, and history, a day trip to Lincoln from Omaha promises an unforgettable experience.
Mahoney State Park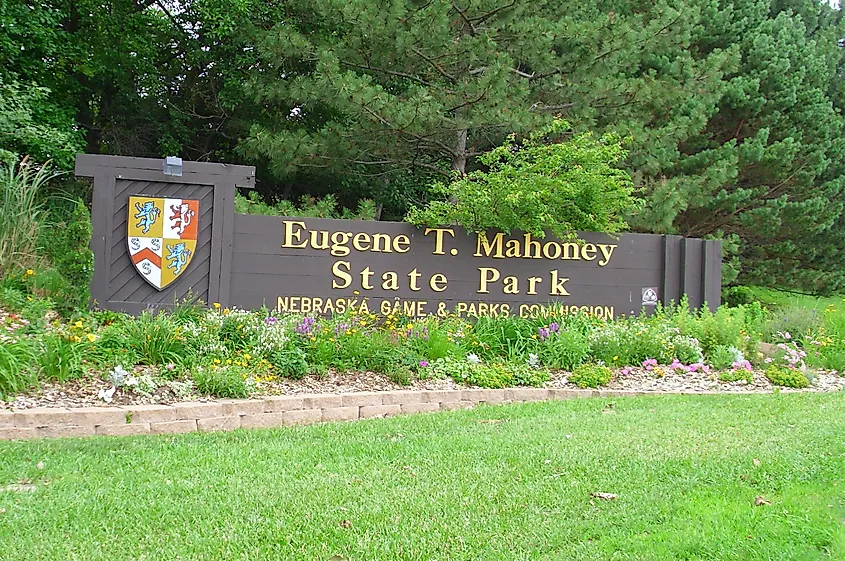 Escape the hustle and bustle of Omaha with a delightful day trip to Mahoney State Park. Just a 45-minute drive away in Ashland, Nebraska, this hidden gem offers a tranquil retreat for nature enthusiasts and adventure seekers alike. Immerse yourself in the lush greenery as you hike through scenic trails, or rent a bike and explore the park on wheels. For thrill-seeking visitors, rock climbing or zip-lining amidst the towering trees is the perfect adventure to endure. A refreshing dip in the park's inviting swimming pool will relieve stress as the sun winds down. With abundant outdoor activities and a serene atmosphere, Mahoney State Park is the perfect destination for a rejuvenating day trip from Omaha.
Fontenelle Forest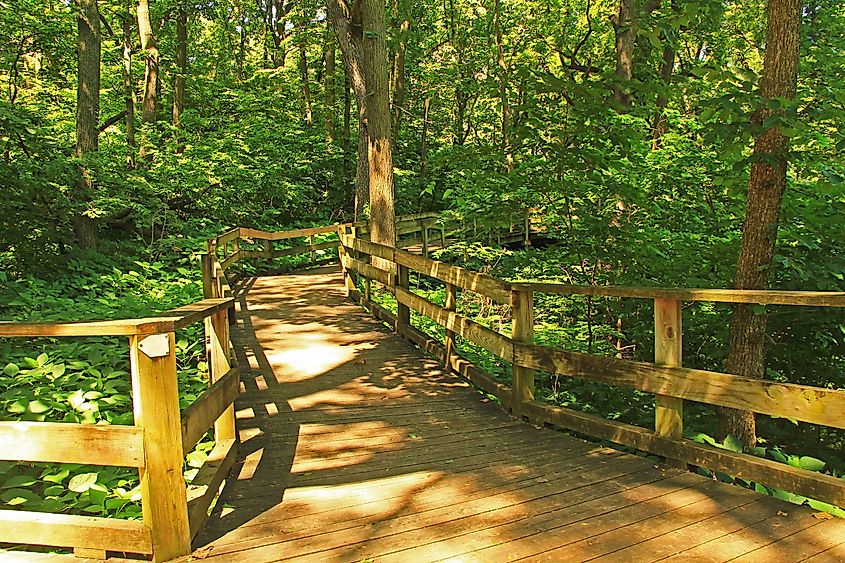 A 25-minute drive from Omaha will lead you to Fontenelle Forest, an exceptional spot to bask in nature's beauty. This captivating destination offers an array of activities for outdoor enthusiasts, from meandering through extensive trails to unveiling stunning views and hidden gems. Engaging with experts can reveal the forest's mysteries, and a visit to the Raptor Woodland Refuge allows observation of majestic birds of prey. A stroll along the serene riverbanks can complete your unforgettable day of wonder and calm in Fontenelle Forest.
Indian Cave State Park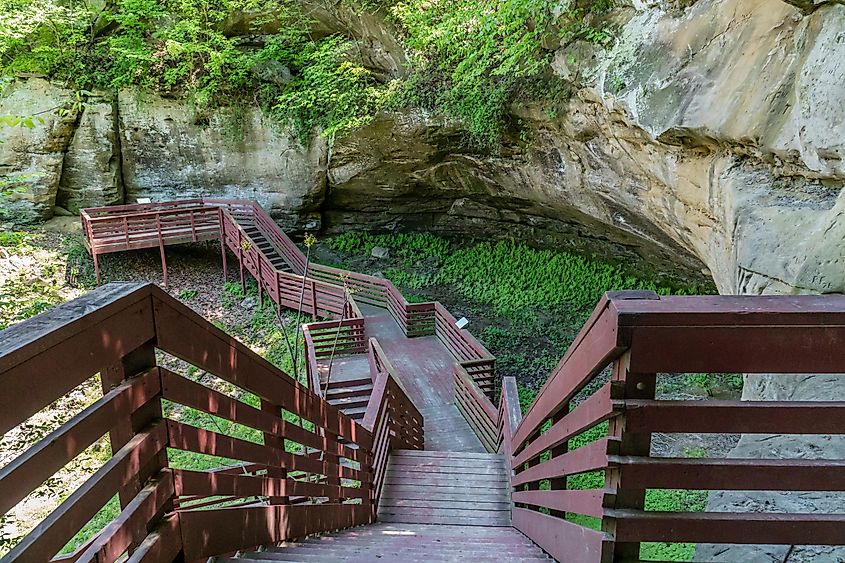 Nestled along the Missouri River in Shubert, Nebraska, Indian Cave State Park, an hour and 30 minutes from Omaha, invites explorers to bask in its natural splendor. Spanning over 3,000 acres, this captivating destination offers a journey through meandering trails that wind through lush woodlands, revealing breathtaking limestone formations and vibrant flora. Kayaking along the river's gentle current provides an unparalleled perspective of the park's rugged beauty. At the heart of the park lies the sprawling Indian Cave, a hollowed-out sandstone formation eroded over centuries by the river's currents. This cavernous marvel stretches over 1,000 feet and houses prehistoric petroglyphs etched into its walls. Witness the sunset's kaleidoscope of colors painting the sky above the river.
Loess Hills State Forest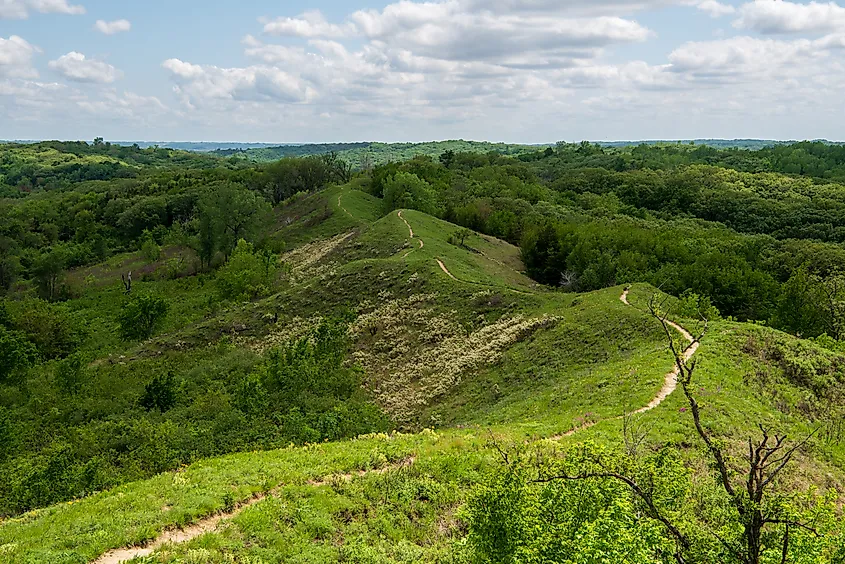 Loess Hills State Forest unveils a hidden sanctuary just miles away from Omaha. Nestled in the heart of the Midwest, this forested haven promises an escape into nature's tranquility. For the curious, bird-watching amidst the forest's diverse avian population offers a chance to reconnect with wildlife. Admire the unique Loess soil formations, evidence of ancient wind-blown deposits. A leisurely picnic beneath the canopy is an invitation to savor the simple joys of the outdoors, while the forest's peaceful ambiance encourages stargazing as the sun sets, providing a perfect finale to a day of reconnection with the natural world. 
Missouri Valley, Iowa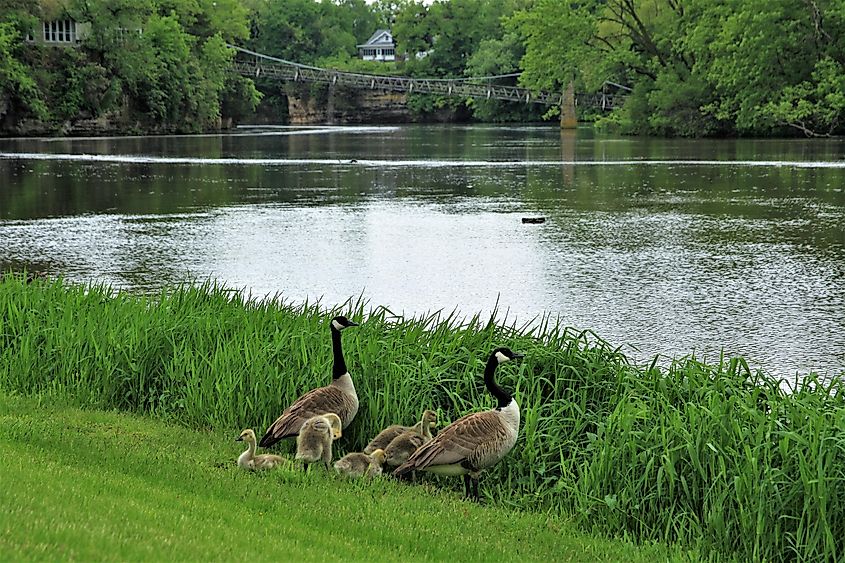 Embark on a whimsical day trip from Omaha to Missouri Valley, Iowa, and discover the hidden treasures beyond the horizon. A mere 30-minute drive northwest transports you from the urban bustle to a quaint haven of charm and exploration. The enchanting gardens of the Desoto National Wildlife Refuge are where time stands still amidst the lush foliage and serene lakeside views. The Harrison County Historical Village & Iowa Welcome Center offers a captivating journey into the past, showcasing pioneer life and timeless artifacts. Dive into culinary delights at local cafes, like Mimi's Cafe, savoring homemade pies and farm-to-table goodness. As the sun dips below the horizon, savor the last moments of this memorable trip before returning to Omaha, your heart full and spirit rejuvenated.
Wabash, Iowa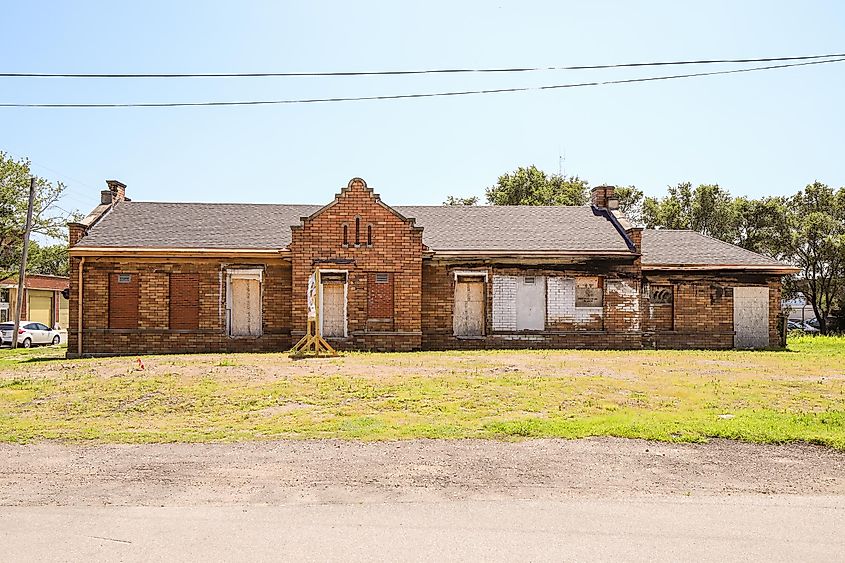 A scenic drive through rolling landscapes and picturesque beauty leads to the hidden gem of Wabash, Iowa, where pastoral charm meets artistic inspiration. Just a short drive of an hour and 15 minutes, visitors can wander through the town's galleries, where local artisans' creations come to life, and stroll down streets adorned with vibrant murals. Adventure awaits as you paddle along the meandering paths of the Wabash River, absorbing the tranquility of the surroundings. Indulge in delectable farm-to-table delights at a cozy cafe, savoring every bite. Wabash beckons with its authentic allure, a unique day trip that promises a touch of magic.
Plattsmouth, Nebraska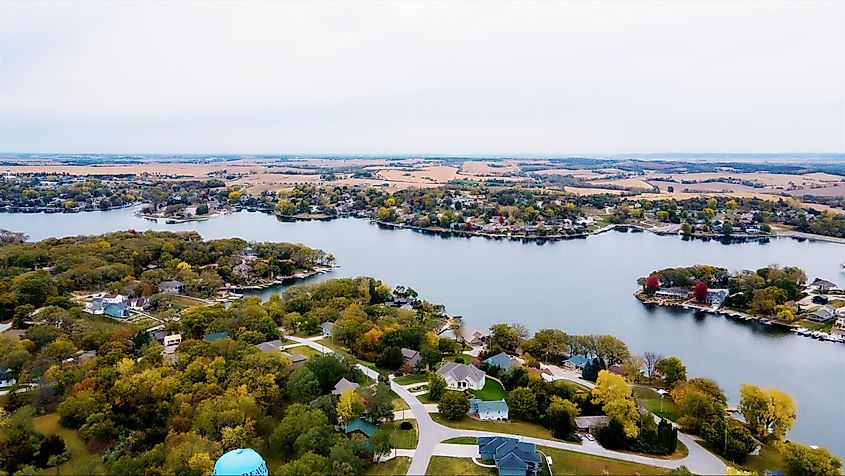 Transport yourself through time and tranquility in a mere 30-minute drive southward from Omaha to Plattmouth, Nebraska. As the cityscape fades into the picturesque countryside, discover Plattsmouth's hidden gems that promise a day of enchantment. Meander along the historic Main Street, where 19th-century architecture whispers tales of yesteryears, and check out some shopping while you are there. Delve into the past at the Cass County Historical Society Museum, where artifacts and exhibits vividly resurrect the region's history. Lunch at a charming local eatery fuels the senses, and as the sun sets on this idyllic escape, you'll return to Omaha with your heart brimming with Plattsmouth's timeless allure.
Embrace the Road: Omaha's Gateway to Exploration
Day trips from Omaha are more than simple excursions; they're opportunities to explore, learn, and connect. Whether you're drawn to the charm of neighboring towns, the tranquility of nature, or the fascination of history, these trips add memorable chapters to your story. As you return to Omaha, you're not just coming home but bringing back enriched perspectives and treasured memories. So, pack your bags, hit the road, and let each day trip contribute to your ongoing adventure.