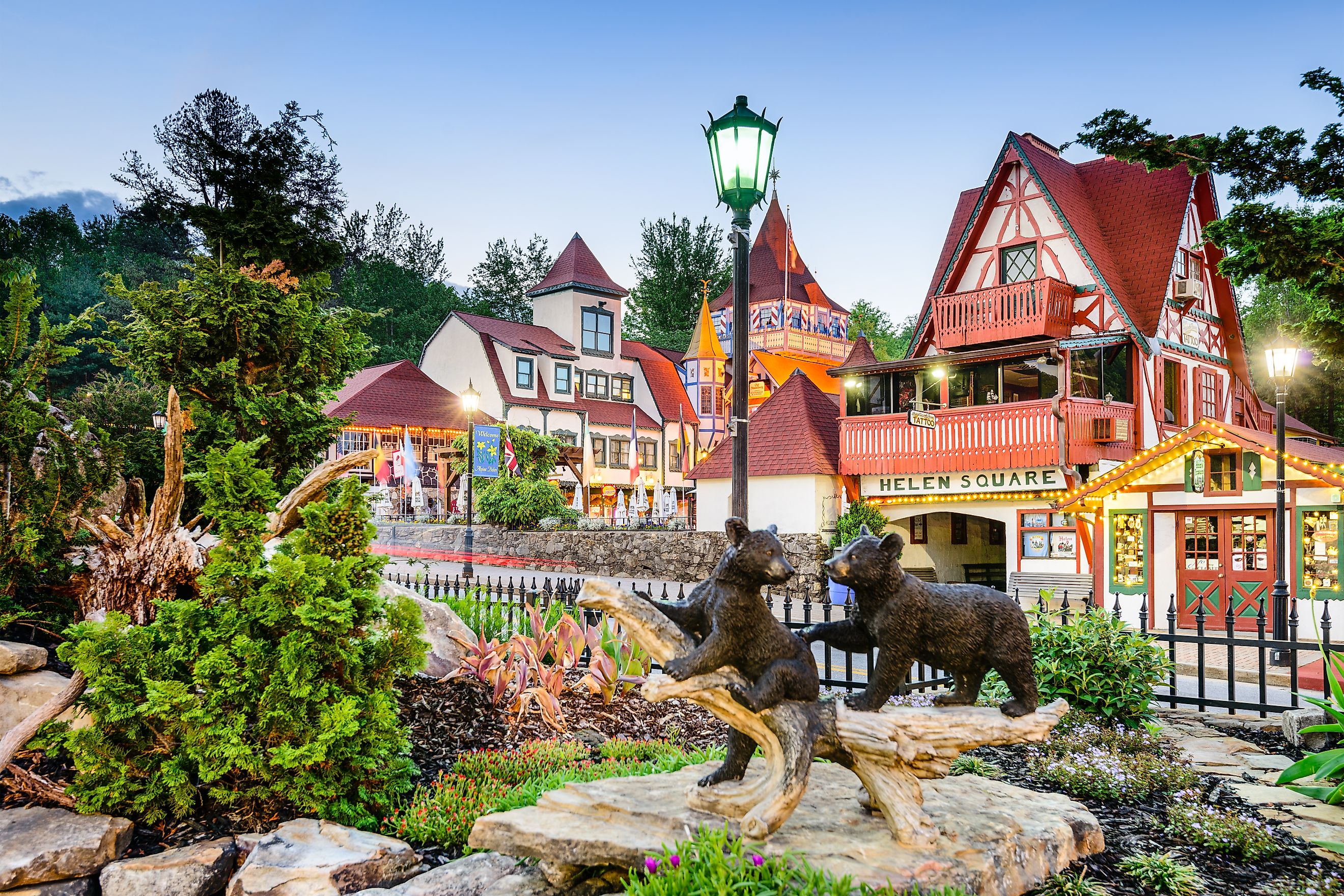 Best Day Trips From Atlanta To Take This Summer
Atlanta, Georgia's thriving capital, is a beacon of culture, history, and natural beauty. From its significant role in the Civil War to the city's instrumental part in the Civil Rights Movement of the 1960s, Atlanta has long been a hub of dynamic activities and vibrant history. Nestled in the scenic foothills of the Appalachian Mountains, the city is more than just a bustling metropolis. Visitors looking for a change of pace during a summer stay in Atlanta have a host of remarkable day-trip destinations to choose from, each offering a unique and thrilling experience. Below, explore some of the charming locales within driving distance from the city that could become the highlight of your trip.
Marietta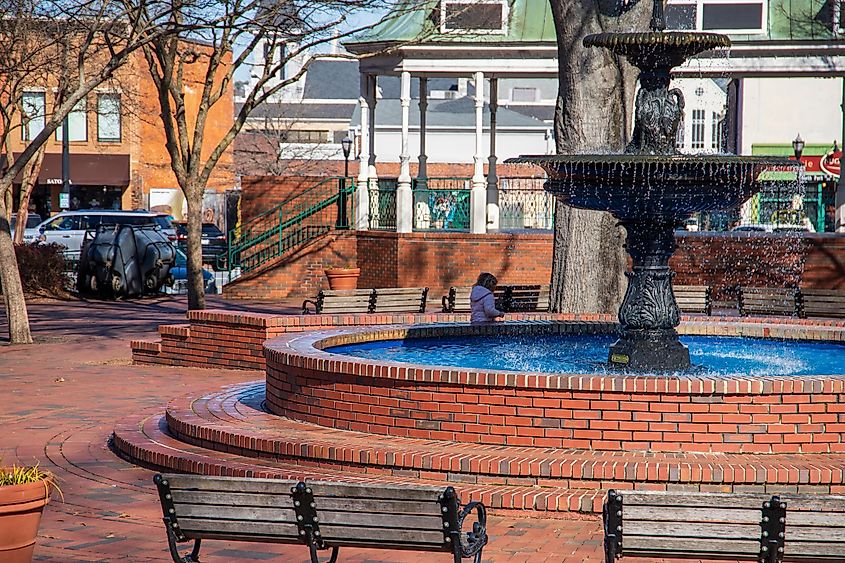 Just a 30-minute drive from downtown Atlanta, Marietta has a quintessential southern small-town feel since the city offers so much to do and see, from outdoor to cultural attractions. Start your trip to Marietta by checking out the Kennesaw Mountain National Battlefield and Park, a 2,965-acre Civil War battleground of the Atlanta Campaign. Begin by watching a park movie to learn about the significance of the battlefield and visit the museum. The national park also has over 22 miles of hiking trails and offers historical reenactments throughout the year.
Movie buffs won't want to miss a visit to the Marietta Gone with the Wind Museum, which is housed in historic Brumby Hall. The museum features an exclusive exhibit filled with memorabilia from the classic film, such as costumes, props, and scripts. After your visit, check out bustling Marietta Square, about a mile from the museum.
Callaway Gardens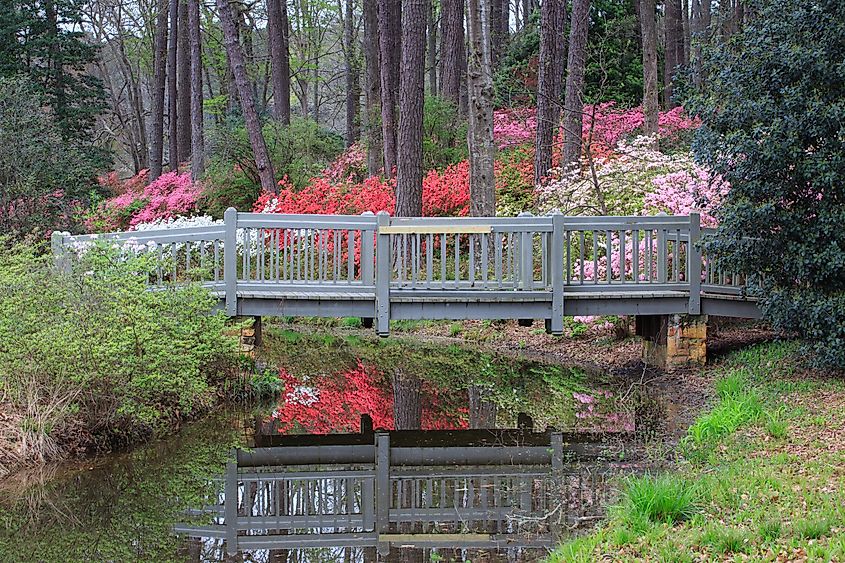 Situated about 90 miles from Atlanta, Callaway Gardens is a collection of scenic botanical gardens filled with local flora, fauna, and wildlife. Begin your journey at the Callaway Discovery Center, a 35,000-square-foot facility that is tucked away in the woods. 
The center houses an auditorium, an education wing for kids, a gift shop, and a cafe. Directly outside the center, visitors can get adventurous on the TreeTop Adventure Zip Line and explore a bug exhibit, among other activities. 
Explore one of the gardens' nature trails on foot or rent a bicycle onsite. Take in the sights and smells of the azaleas and towering pines as you go to Robin Lake, where you can enjoy a picnic lunch.
Dahlonega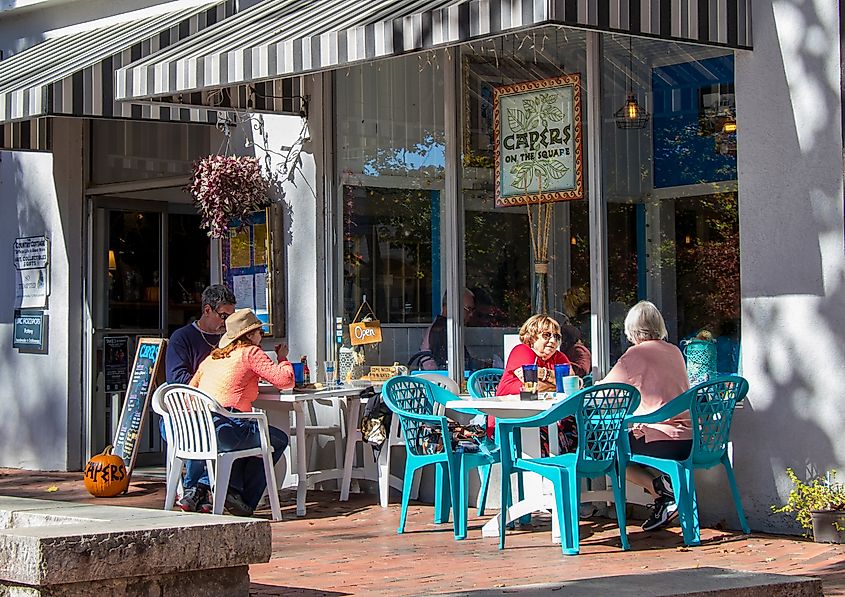 Dahlonega is a small mountain town just over 60 miles outside of Atlanta and is the ideal day trip for those wanting to get out of the hustle and bustle of the city. Nestled in the Blue Ridge Mountains foothills, Dahlonega is also located in the heart of Georgia wine country.
Nature and wildlife lovers won't want to miss the Chestatee Wildlife Preserve and Zoo, which features over 100 animals on 20 acres of farmland. This non-profit organization rescues exotic animals; volunteers are also on hand to answer questions about the animals and preserve them. 
Take a step back in time at the Dahlonega Gold Museum, which is housed in the historic Old Lumpkin County Courthouse, which dates back to 1836. The museum takes visitors on a tour of the United States' first gold rush via exhibits of rare coins and other artifacts and an informative film. 
Lake Lanier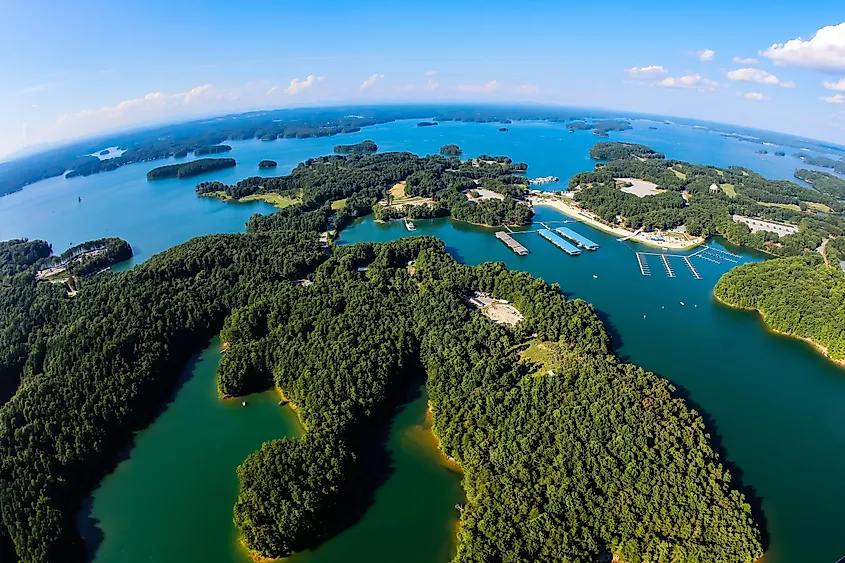 If you're visiting the Atlanta area in the summertime, there's no better place to cool off than in Lake Lanier. The largest lake in Georgia, Lake Lanier, which is about an hour's drive from the city, features approximately 700 miles of scenic shoreline.
Whether you want to swim, fish, go boating and skiing, or relax on a sandy beach, you can do it at Lake Lanier. Lake visitors can also enjoy other types of recreational activities, including wakeboarding, canoeing, and kayaking. If you don't have your boat, you can rent one from an onsite shop.
If you want to stay on land and admire the lake view, go hiking on one of the nearby trails. Campgrounds are available if you decide to stay overnight.
Stone Mountain Park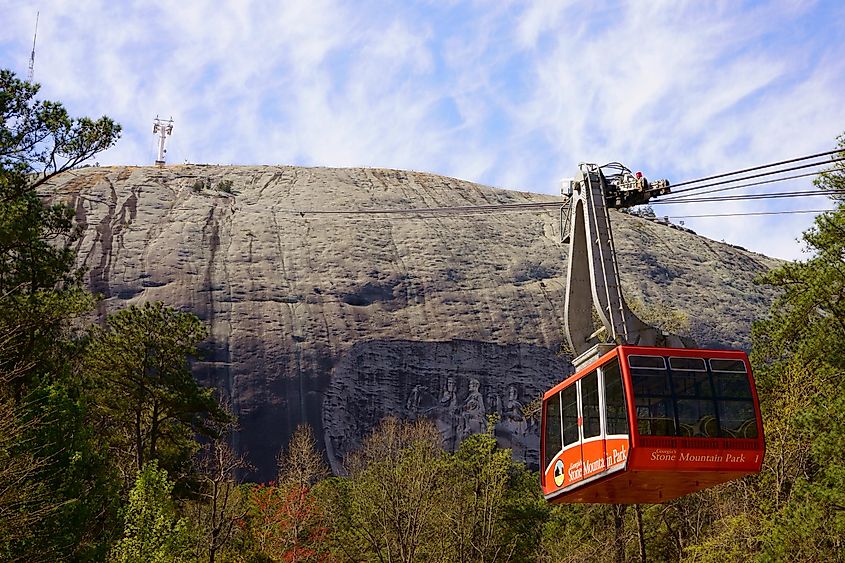 Just 20 minutes from Atlanta, Stone Mountain Park is a day trip destination sure to please everyone in your family. The 3,200-acre nature park offers seasonal outdoor recreational activities, thrilling adventures, and special events and festivals year-round.
Start your visit on the Summit Skyride, a Swiss cable car that gives visitors stunning views of the Atlanta skyline and the Appalachian Mountains from 825 feet above the ground. Then, take a ride around the park on a full-size locomotive dating back to the 1940s. 
Other park activities include miniature golf, a walk through Dinosaur Explore, which features 20 life-size, moving prehistoric creature replicas, and watching a movie in a 4D theater. In the summer, kids can cool off at the onsite splash pad. 
Helen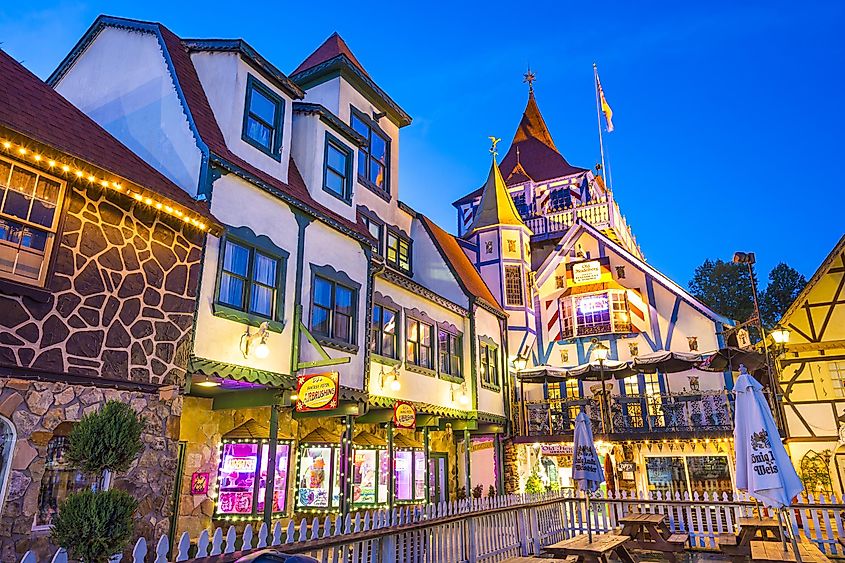 About 90 miles from Atlanta, Helen is a recreated Bavarian village in the mountains of northeast Georgia. The charming town features a thriving downtown and several other day trip-worthy attractions.
Helen resembles an authentic Bavarian Alpine village and features cobblestone streets and hundreds of specialty and import shops offering everything from handmade candles and quilts to blown glass treasures. Local restaurants serve up delicious German fare, among other types of cuisine.
After exploring downtown, go hiking at Unicoi State Park or wine-tasting at the Habersham Winery. Other attractions include Charlemagne's Kingdom and the Russell-Brasstown Scenic Byway.
Amicalola Falls State Park and Lodge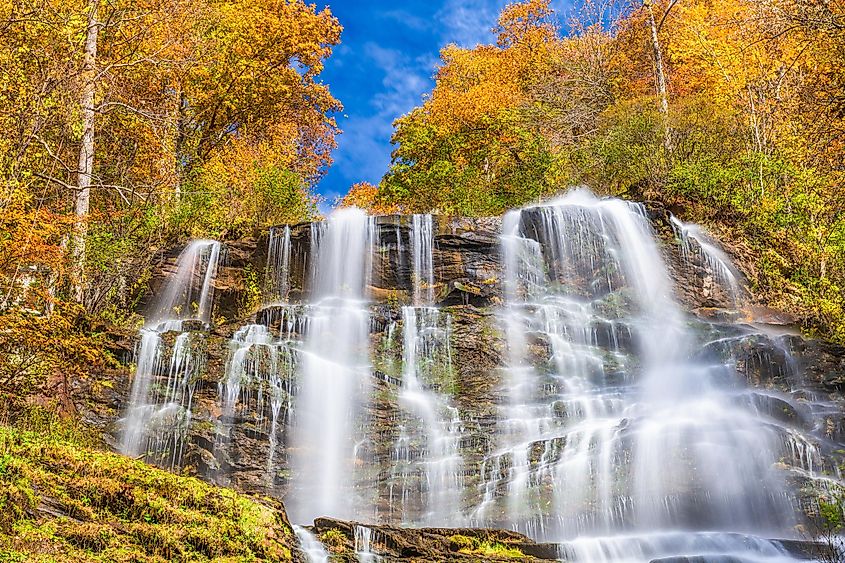 An hour and 20 minutes from Atlanta, Amicalola Falls State Park and Lodge sits within the Chattahoochee National Forest near the North Georgia Mountains. It's also only 8 miles from the Appalachian Trail, making it the ideal day trip for nature lovers of all ages.
Start your journey with a visit to Amicalola Falls, a 729-foot waterfall that is a refreshing treat in the hot summer months. You can take a guided waterfall hike and then soar high above the trees on a zipline adventure.
Other park activities include hatchet-throwing birds of prey and live reptile encounters. The lodge is available for rent for special events, such as family reunions, or just as a place to cool off and relax between park activities. 
LaGrange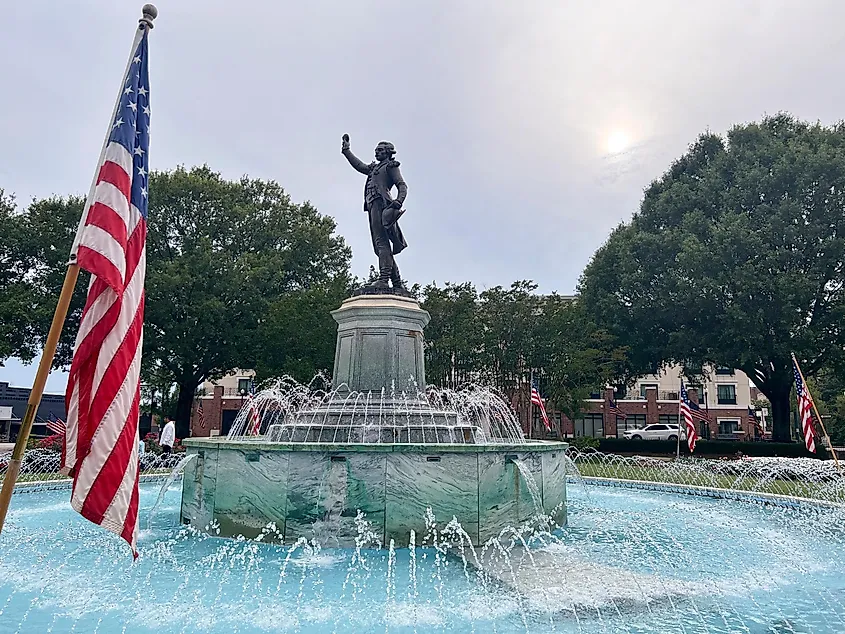 Exactly an hour's drive from Atlanta, the city of LaGrange feels like it's a world away. Named after the French estate of American hero General Marquis de Lafayette, LaGrange offers a small-town feel and big-city cultural and recreational activities.
Immerse yourself in history at the Hills and Dales Estate, which features perfectly preserved 19th-century gardens, museum exhibits, a gift shop, and an informative film. The 35-acre estate is home to an Italian villa built in 1916 and is open for guided tours. 
Summer is the ideal time to visit the estate, as you can see the gardens in full bloom and escape the heat by spending time indoors. The estate also offers special events throughout the year. 
Explore the Surrounding Wonders
Atlanta is indeed a city filled with endless possibilities for excitement, culture, and learning. However, venturing just outside its bounds reveals a world rich with natural beauty, historical significance, and unique small-town charm. Whether it's the quintessential southern feel of Marietta, the azure tranquillity of Lake Lanier, or the authentic Bavarian aesthetic of Helen, there's a day-trip destination for every traveler. Seize the opportunity to delve into Georgia's scenic landscapes and multifaceted culture. A summer visit to Atlanta's surrounding gems will invigorate the senses and enrich your understanding of this diverse and captivating region.