Known for being a beautiful winter wonderland full of snow, Alta is a skiing gem in the state of Utah. Located in the north of the state within the Wasatch Mountains, this small town exudes a peaceful town vibe while offering some of the best winter sports opportunities in the region. Specifically, with the beautiful Alta Ski Area, you can enjoy a massive 11,000 feet high skiing trail system in one of the oldest ski resorts in the country. So, if snow, trekking, or skiing are things you enjoy, this quaint town nestled within the Wasatch Mountain is a must-visit!
Geography Of Alta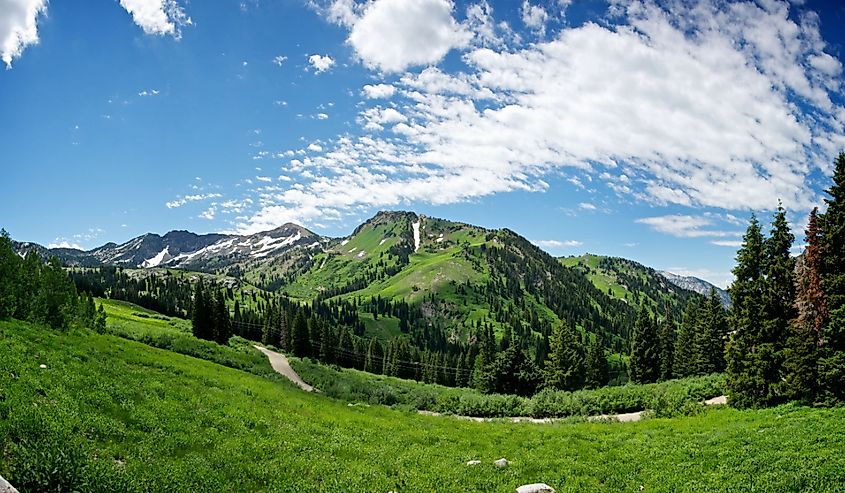 Located in the beautiful Wasatch Mountains, just outside of Salt Lake City, Utah, Alta has many unique geographical features. The town is primarily filled with skiing slopes/trails along the mountainside. Being situated along a mountainous area, Alta also has a high elevation of 8,560 feet, which is 2,400 feet greater than Utah's average, and more than three times the national average. This makes it one of the highest cities in both the state and the country!
In terms of area, the town has a relatively small land area of 4.1 square miles which makes up the majority of the total area. In fact, there is only 0.01 square mile(s) of water within Alta and it is in the Little Cottonwood Creek that runs parallel to many skiing tracks along the mountainside.
Climate Of Alta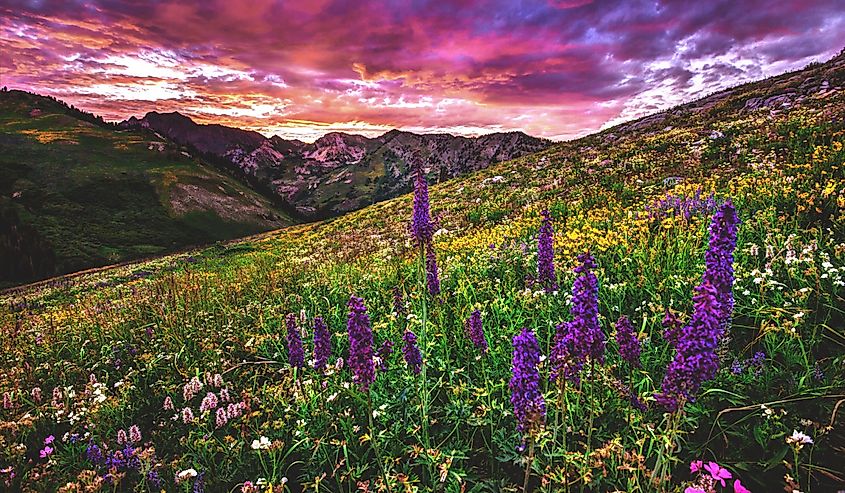 Based on the Koppen Climate Classification, Alta is within a Dsb (Warm-summer Mediterranean continental climate type). This indicates that summers are warm to hot and also quite dry, while winters are cool and moderately wet. To this end, summer temperatures in Alta can reach average highs of 90 °F in the hottest period from June to August. In addition to this, with more than 220 sunny days in a year and a high average UV Index of 4.7, Atla usually feels a lot warmer than the actual temperature. Thanks to its elevation, winters are slightly colder than in many surrounding areas. Specifically, winter lows in Atla peak in January with average temperatures going down to 21.4 °F. So, if you are planning a trip to Alta, the months of March, April, and May tend to have pleasant temperatures within the range of 40 °F to 70 °F, making them ideal for longer stays.
Thanks to its wet winter climate and high altitude, Alta enjoys a lot of snow, which is part of its charm. On average, the town receives 71 inches of snow per year, which is significantly greater than the national average of 28 inches. Although, this is offset by the drier summers as Alta gets a median rainfall of only 22 inches throughout the year.
Brief History Of Alta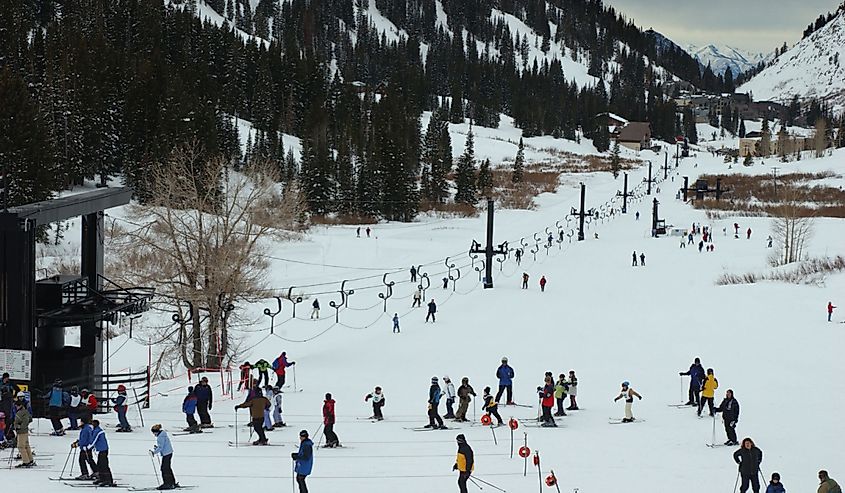 When it comes to Alta, most people know of its rich history as one of the first skiing hubs in the country. While this is true, there is much more to this small town than meets the eye. The town was initially founded as a residence for miners who shifted to the area when the first verified silver claim was staked in 1865. Within the next few years, the town gained thousands of residents looking to make money off of the silver mining in Little Cottonwood Canyon nearby. However, as local mines were exhausted and various political involvements made it a major international issue, the town began to lose its mining charm. Then a major fire in 1878 and an avalanche in 1885 led to the destruction of most of the town's buildings and population. While things seemed dire for Alta, a series of mineral discoveries in the 1900s helped the town sustain its economy and rebuild until the Great Depression in 1929 when things slowed down to a halt.
It was during this time that the town made the shift from a mining hub to a skiing and tourism center. As the only resident left, "Mayor" George Watson, donated a whopping 1,800 acres of his land to the US Forest Service as part of a deal for tax relief, and the budding plan for a ski resort commenced. The following year, in 1938, the first Collins Lift was constructed, making Alta home to the second chairlift in America. Since then, development on the ski resort has been continuous with Norwegian skiing-pro, Alf Engen overseeing construction. By the 20th century, the ski area could house more than 7,000 people per day and became the famous resort it is today. While it may have gained acclaim, Alta was not officially incorporated until 1970, after which it received a planning commission, dispatch office, fire station, and many other vital facilities. This allowed it to bloom into a full-fledged town with a rich history going from silver mining to disaster and finally skiing!
The Population And Economy Of Alta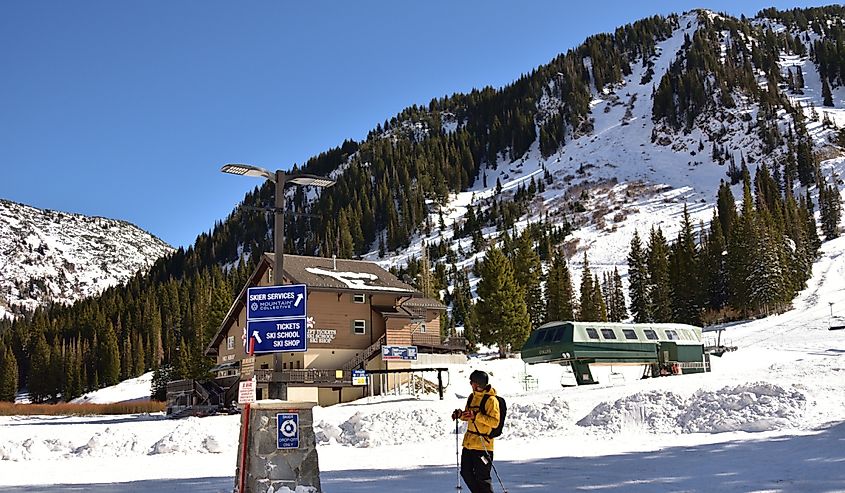 According to the 2020 Decennial US Census, Alta has a population of 228 people, making it one of the smaller towns in the state. This low population is because the town has a tourism-focused economy with a minimal residential area. The median age of the population is 34, and there are a total of 79 families residing in Alta currently. In terms of racial composition, White individuals make up more than 90% (210 people) of the population. The population also consists of 8 individuals who are Hispanic or Latino, 10 people from two or more races, and a few individuals from other racial groups. Alta does not have any African American or Asian individuals residing in it according to the most recent census data.
From an economic standpoint, Alta has a median household income of $52,917, significantly lower than the state average of $79,449. Moreover, with a competitive housing market, Alta has more than 120 vacant housing units, which is more than the number of families residing in the town. Due to this discrepancy between income and expenditure, Alta has a high poverty rate of 20.3% as of 2021, which is nearly double the national average of 11.6%!
Attractions In Alta
Alta Ski Area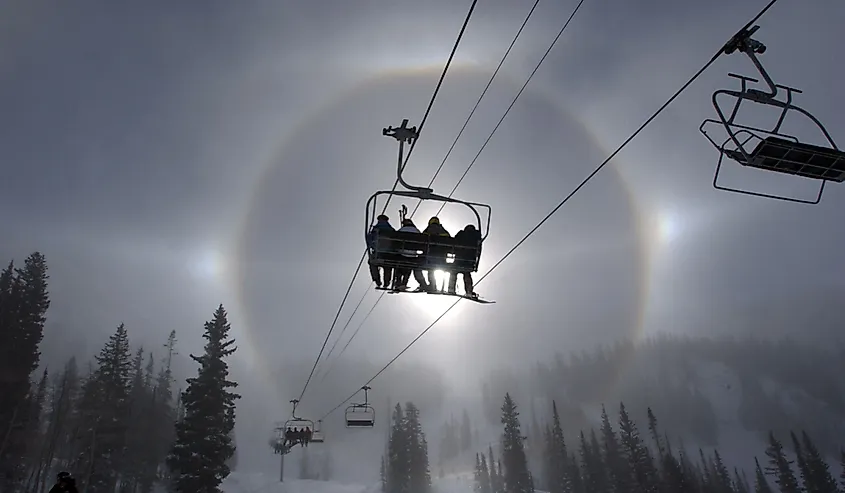 The Alta Ski Area is a staple attraction in the town and the major factor for its tourism and economy. This massive winter wonderland provides visitors with more than 2,500 acres of skiable area spread across the Wasatch Mountains. As the town itself has a high base elevation of more than 8,000 feet, this provides the perfect opportunity for various unique trails ranging from simple slopes to challenging routes through the mountains.
Moreover, as Alta receives large amounts of snowfall during winter, this ski area is perfect for many winter sports. In total, the Alta Ski Area houses more than 116 runs, 7 chairlifts, 1 high-speed six pack, 5 surface tows, and many other unique features and facilities for an amazing skiing experience. So, if skiing is your sport of preference, the Alta Ski Area is a place you must visit in Utah. However, it is also one of the three remaining ski resorts in America which prohibit snowboarding, so be sure to leave your snowboard at home!
Cecret Lake Trail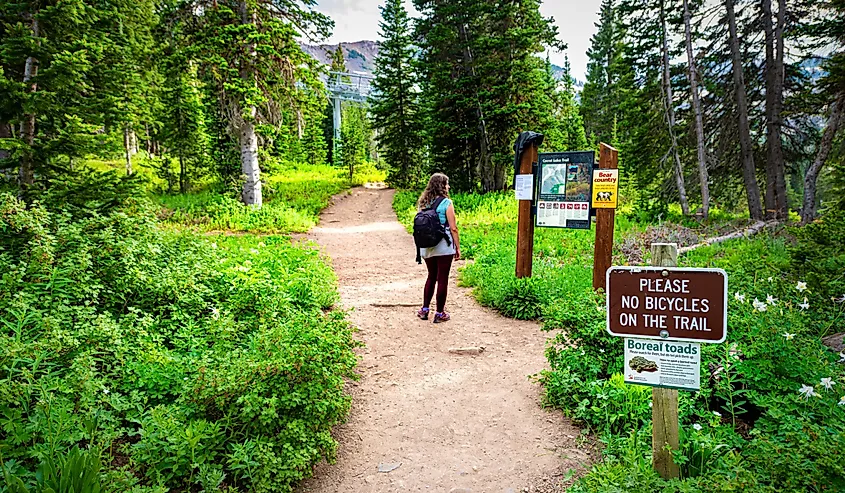 Located near Alta, this 1.8-mile out-and-back trail is perfect for any nature lover in the area who wants a relaxing day. The trail has an easy layout and elevation gain of 400 feet, so it is great for people of all skill levels and ages. On average, it takes about 1 hour to complete so you can plan a camping day out or a trip to the nearby Salt Lake City via the beautiful Cecret Lake Trail. Moreover, if this is not enough, you can continue hiking along the path up to Sugarloaf Peak for a full day's hike and lovely views from the mountains!
Alta's Rustler Lodge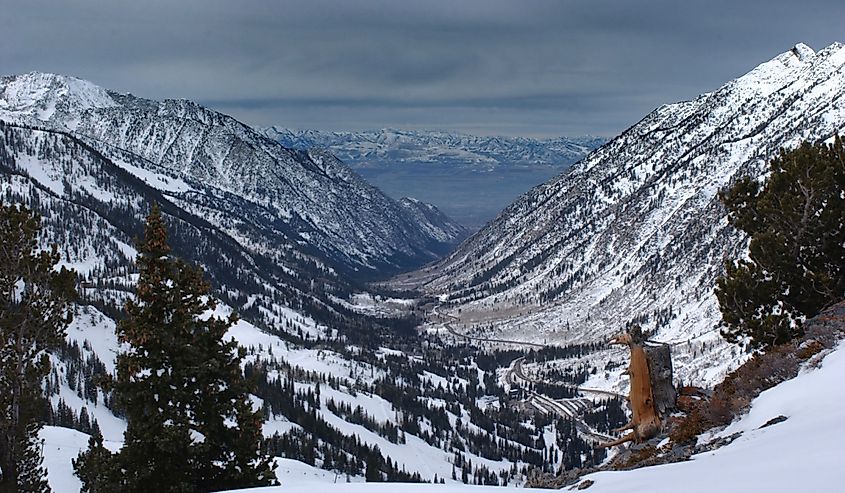 When visiting Alta, the local Alta's Rustler Lodge is one of the best places you can stay at. Completely intertwined with the local ski resort and various trails, this lodge will keep you involved in the skiing fun throughout your trip. Moreover, it has amazing facilities such as an outdoor heated pool, massage therapy, and indoor jacuzzis, as well as amazing dining options. So, no matter what you need during your skiing trip, Atla's Rustler Lodge will keep you warm and cozy so you can spend the day with maximum energy!