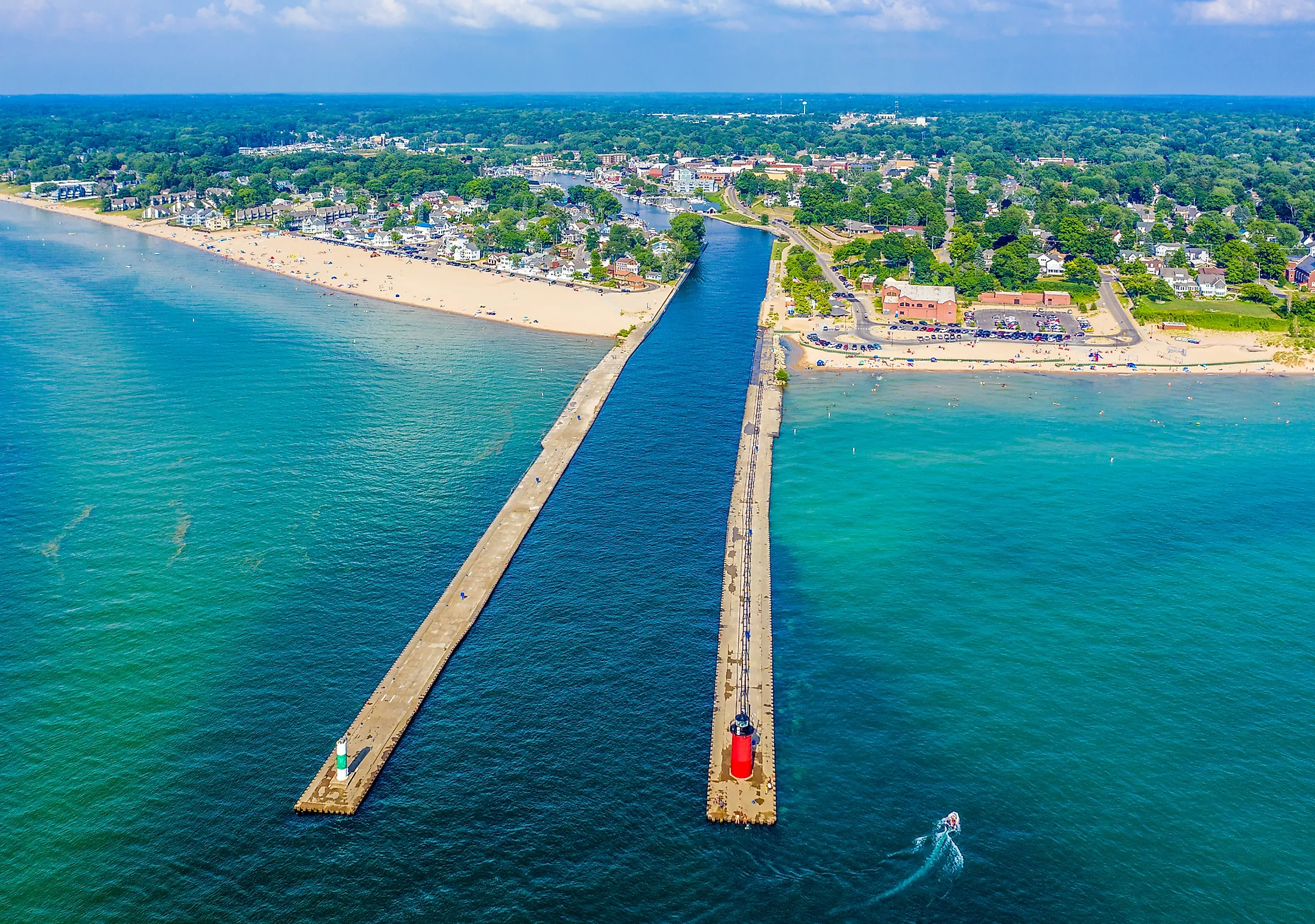 9 Small Towns In Michigan To Visit For A Weekend Getaway
The motto for the state of Michigan, United States, is "Si quaeris peninsulam amoenam, circumspice," which is Latin for "If you seek a pleasant peninsula, look about you." This slogan is quite a fitting one, as the entire landmass is composed of an Upper and Lower Peninsula, both of which have many smaller towns that reach out into three of the Great Lakes: Lake Michigan, Lake Huron, and Lake Superior. Therefore, it will be no surprise that many of the state's prime weekend getaway towns share a shoreline theme. That being said, Michigan does still have many inland layers to explore. Here is a list of nine delightful spots to get you started on your weekend adventure. 
South Haven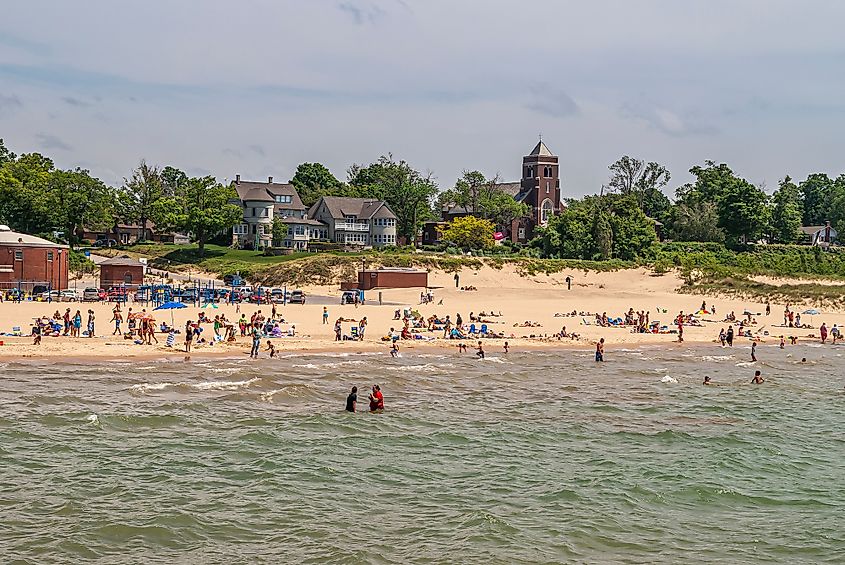 This Van Buren/Allegan County beach-town is situated on the eastern shores of Lake Michigan, in the southwest portion of the state. Though technically a city, the modest population of just over 4,000 residents surely puts it into the same camp as the other small towns on this list. South Haven has an excellent beach setup, with long sandy stretches sub-divided by the South Haven Piers, complete with an eye-catching, red lighthouse. Aside from the shoreline, South Haven also has a captivating downtown core and a wealth of nearby inland lakes and nature trails to explore.  
Saugatuck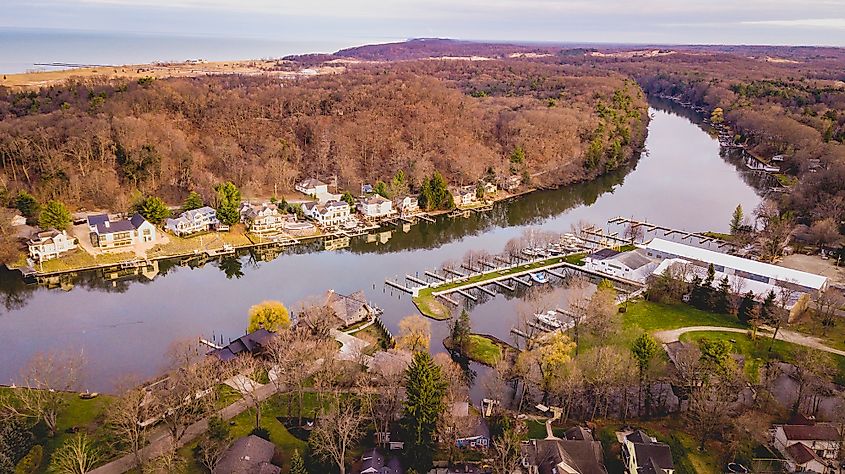 Just 32.18km up the coast from South Haven lies Saugatuck, another city, this time with less than 1,000 residents. Saugatuck continues the waterfront wonder, adding the sizable Kalamazoo Lake to the mix. But Michigan is not just known for its coastline; it also has several humbling sand dune preserves. The Saugatuck Dunes State Park is the most famous place to explore these fascinating beauties. The 4.02km stretch houses dunes as tall as 60.96m. The splendor also continues inland, throughout the soothing forested trails. 
Copper Harbor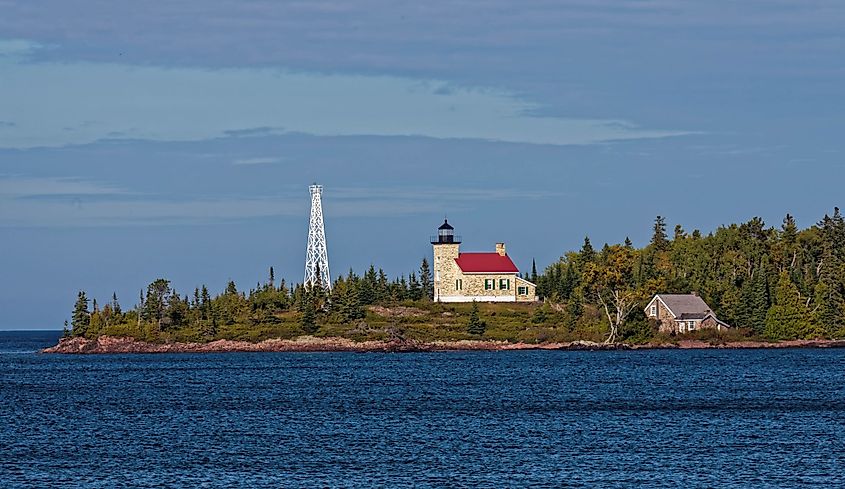 Copper Harbor is a tiny and isolated, unincorporated community. To some, this may be a deterrent. But to the committed, this means an ideal spot for tranquility and adventure following a memorable road trip. Copper Harbor is part of Grant Township, which sits at the northern tip of Keweenaw Peninsula in Keweenaw County. The peninsula juts out into the wild and chilly waters of Lake Superior, the largest and northernmost of the Great Lakes. Copper Harbor is not only Michigan's northernmost community, but it is also the nation's furthest town from an interstate highway. In Copper Harbor, one can take advantage of the smallest of small-town charms by rubbing elbows with the roughly 100 permanent residents. One can also continue the introspective adventure on foot by walking the mile-long crushed gravel trails to either Fort Wilkins State Park (to the East) or Hunter's Point Township Park (to the West). 
Paradise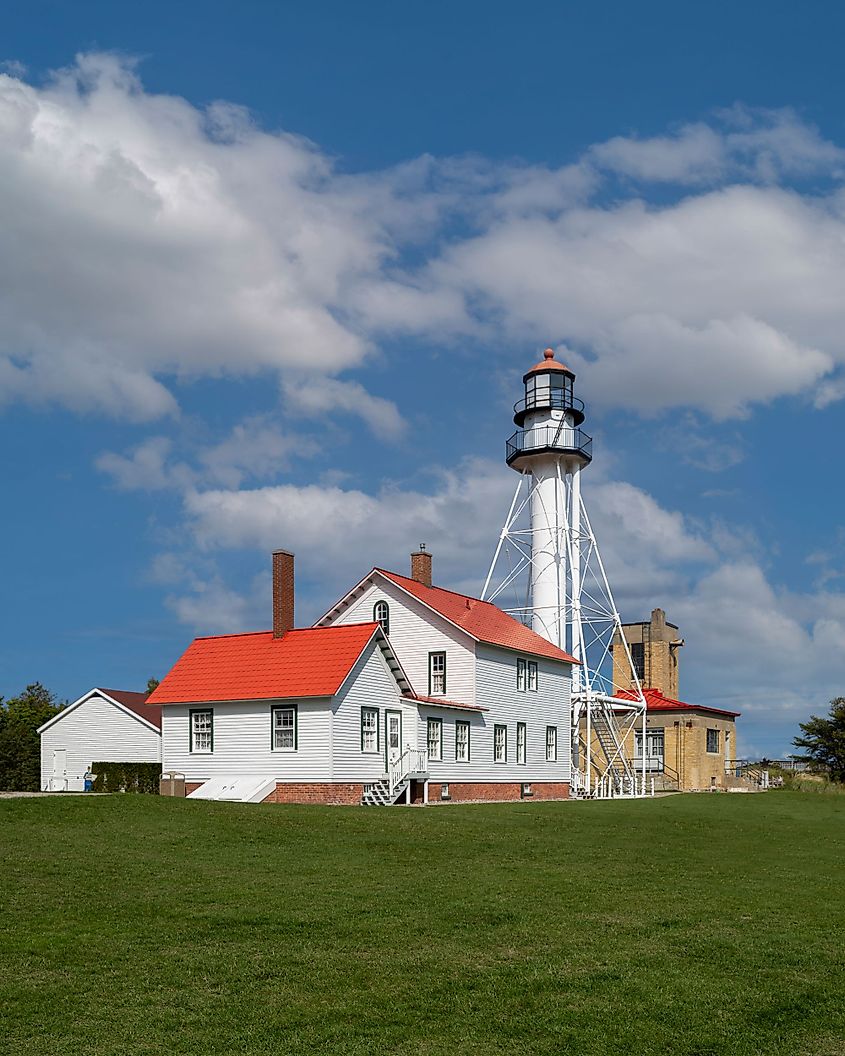 Paradise is another unincorporated community, which this time idles within Whitefish Township, in Chippewa County, on Michigan's Upper Peninsula. The bold name is far from a gimmick for this little slice of heaven on Lake Superior. The state's quintessential shoreline combination of an inviting beach and proud lighthouse holds strong in Paradise. But what other Michigan beach towns cannot claim are the Tahquamenon Falls, which are the focal point of the delightfully underdeveloped State Park of the same name. For those more intrigued by the mysterious maritime lore, float by the Great Lakes Shipwreck Museum to learn about the ill-fated vessels that would give Gordon Lightfoot enough material for several albums. 
Charlevoix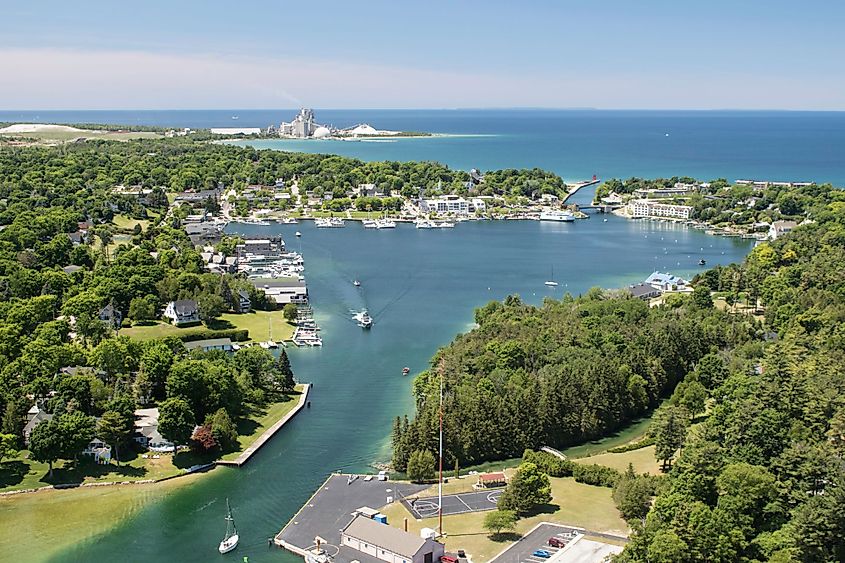 Located in Charlevoix County, this township sits between Lake Michigan to the west, Loeb Bay (an extension of Lake Charlevoix) to the east, and the aptly-named Round Lake that sits smack dab in the middle. Not far from town is the lovely and expansive Boyne Falls. A surprising number of quality breweries, wineries, and distilleries keep the adult beverages flowing in town. No wonder Ernest Hemmingway spent his summers nearby. Charlevoix, of course, also delivers the expected Michigan waterfront beach magic and some memorable quirks, like The Thatch (or Mushroom) House, which large parties or multiple families can rent. 
Mackinac Island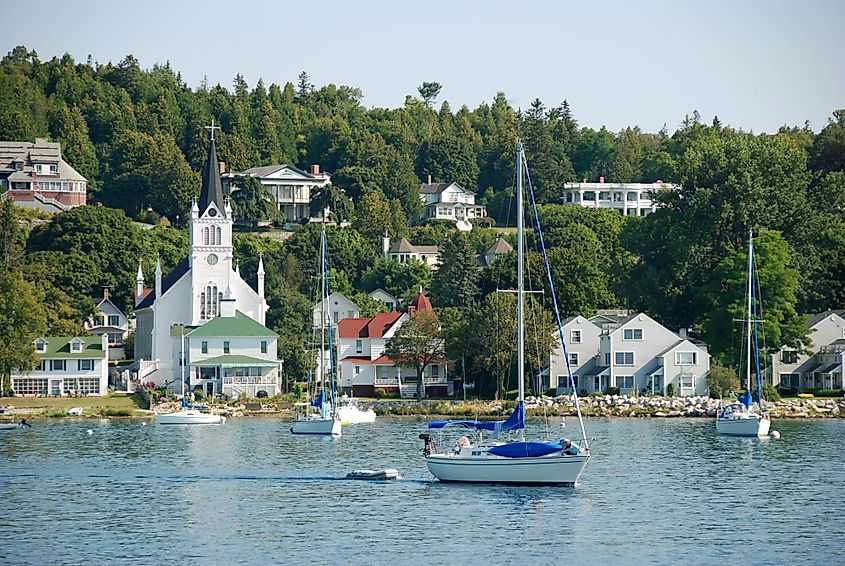 Switch to island time on this 11.3 sq. km car-free resort town in Mackinac County. "Big Turtle," as the island is referred to in the indigenous Odawa and Ojibwemowin languages, is nestled between Michigan's Northern and Southern Peninsulas, surrounded by the waters of Lake Huron. Take the ferry from Saint Ignace (to the Northwest) or Mackinaw City (Southwest), and from there, boot around on foot, rent a bicycle, or take a step back in time with a ride on a horse-drawn carriage. Make sure to indulge in some of Mackinac Island's world-famous fudge, tour Fort Mackinac, enjoy the nightlife, and plan for one of the island's festivals that are scattered throughout the calendar. 
Frankenmuth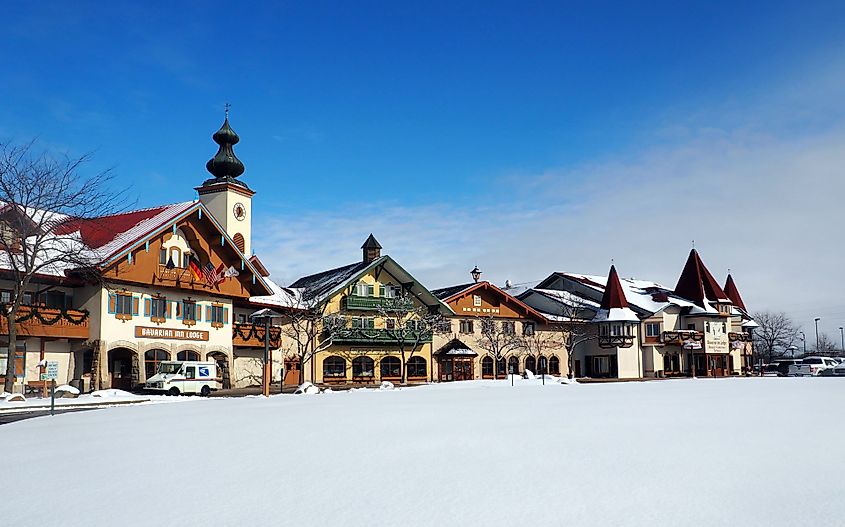 Welcome to "Little Bavaria," a German heritage town in Saginaw County, Southern Michigan. Once again, Frankenmuth is designated as a small city, but with a population of fewer than 6,000 people and such a unique theme throughout, this place more than counts as a small "town" worth visiting. If one is a fan of Bavarian architecture, ambiance, food, and cross-cultural fun, you will feel right at home in Frankenmuth. Aside from the usual good times, the town hosts spectacular festivals every season. 
Ontonagon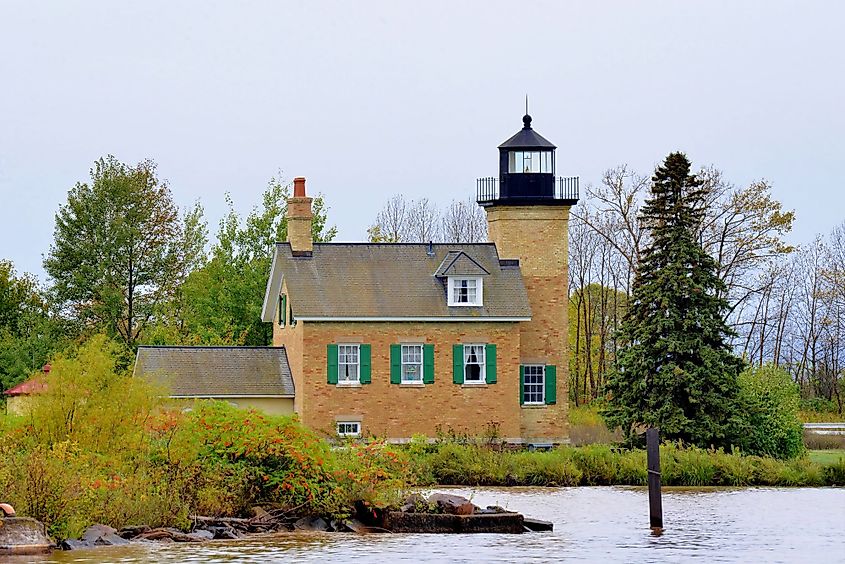 Ontonagon is a rugged and quaint village of just over 1,000 residents, within the Township of Ontonagon, in Ontonagon County. The community is situated in the northwestern section of Michigan's Upper Peninsula. The Superior shoreline is ideal for summer enjoyment, while the nearby Porcupine Mountains are fun all year-round. This area is great for both swimming and skiing and exploring untouched forests. Within the Porcupine Mountains Wilderness State Park, one can hike to the alluring Lake of the Clouds and continue to Summit Peak (one of the highest points in Michigan), both of which are exquisite, and not to forget the Union Mine Scenic Trail, which passes through the decommissioned mining sites.    
Northville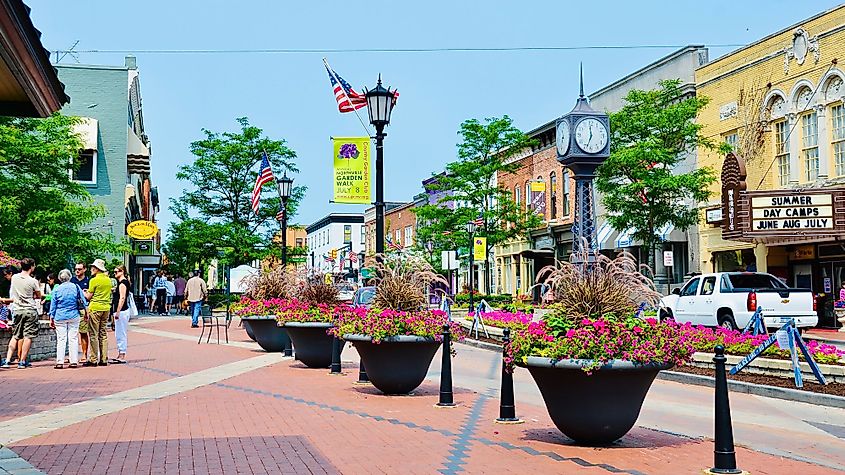 Let us bring it back inland to Northville for this final entry of must-visit small "towns." Located just outside of Detroit (and just south of 8 Mile Road), in Oakland and Wayne Counties, Northville's historic downtown, public parks, and floral/tree-lined streets offer a lovely respite from the hustle and bustle of Michigan's juggernaut city. When not relaxing on a Main Street patio, try heading into Maybury State Park.  
We hope this list inspires your next weekend getaway somewhere in the great blue state of Michigan. Get your smartphone out, start searching for lodging and routes on your next lunch break, and start hitting the road as soon as the Friday afternoon whistle blows. Michigan's many nature-soaked, character-driven small towns await you.