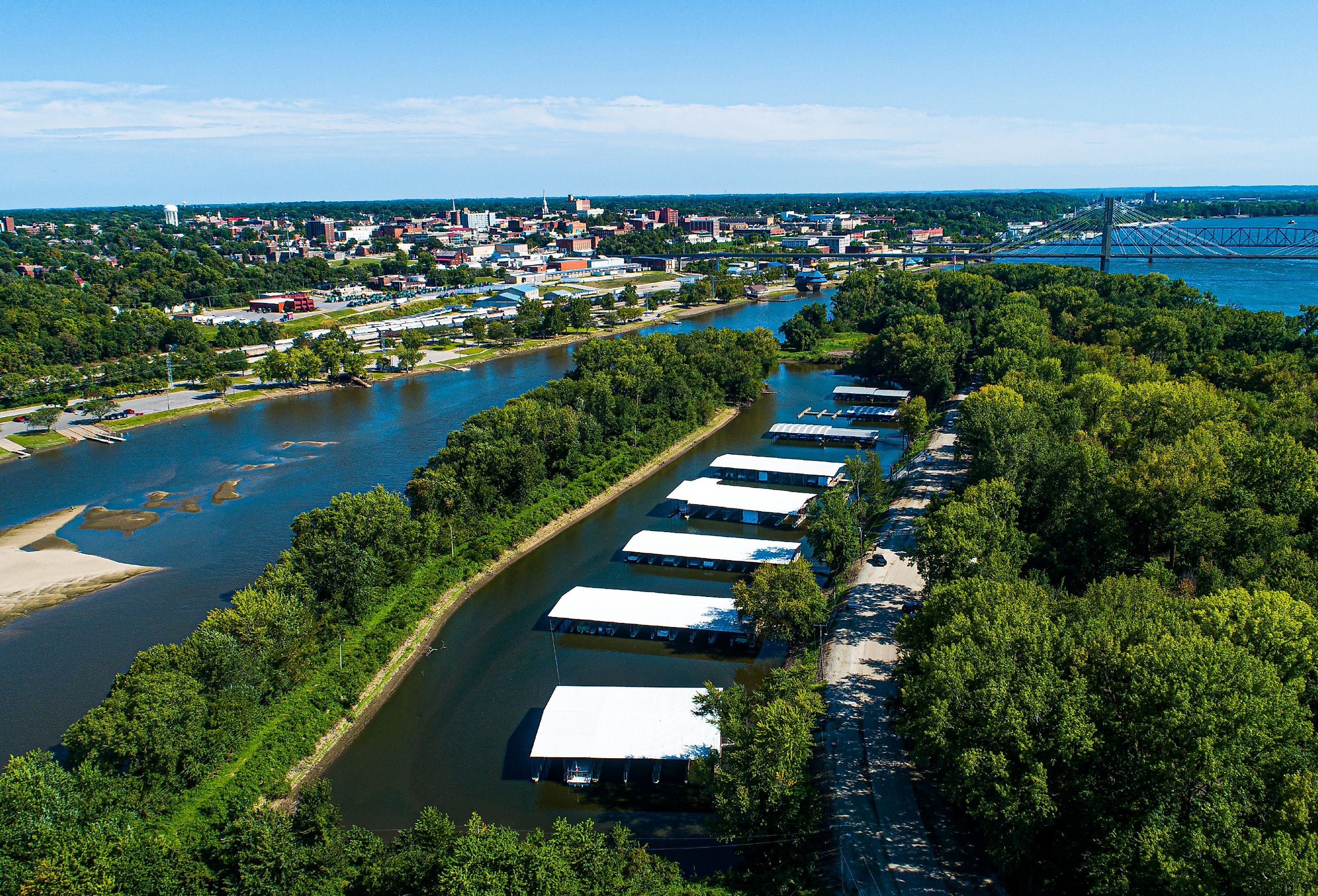 9 Most Scenic Illinois Towns
The Midwestern state of Illinois is home to natural wonders such as Lake Michigan, 575 miles of the mighty Mississippi River, and the massive Shawnee National Forest. In addition, iconic state parks such as Starved Rock State Park and Matthiessen State Park offer more outdoor beauty, perfect for a scenic getaway. Parallel to the scenery, Illinois features stunning towns overflowing with culture and history. Add on the peaceful environment, and a trip to these scenic Illinois towns is ideal for any vacation!
Ottawa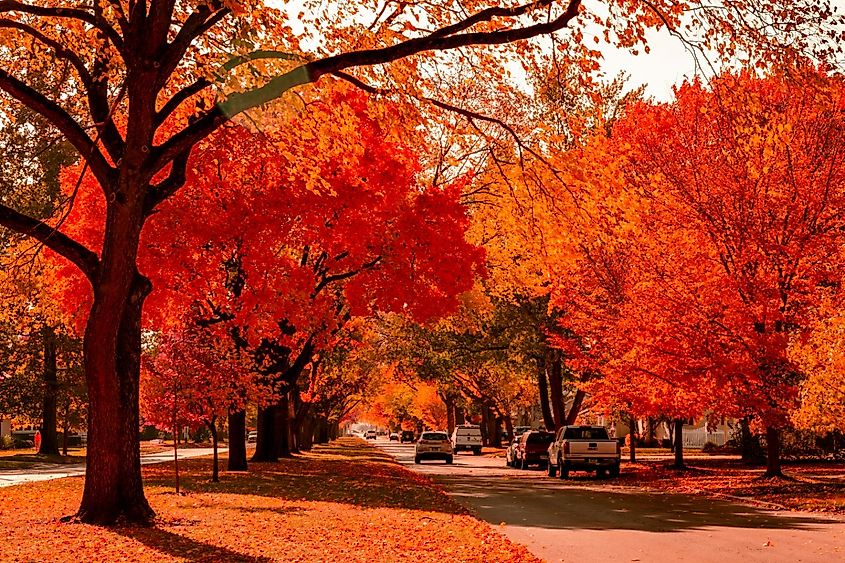 Ottawa, the county seat of Lasalle County, is a gorgeous retreat in Illinois. This town boasts an abundance of stunning outdoor scenery that nature lovers will adore. Attractions such as Buffalo Rock State Park and Catlin Park are perfect for some fun under the sun. With acres of trails, rivers, and forests, one can enjoy a range of activities such as hiking, fishing, and picnicking. Moreover, wildlife is plentiful, so keep your eye out for the animal residents such as frogs, deer, rabbits, and turtles.
Those looking to stay connected with civilization can explore Ottawa's vibrant culture instead. Exuding a homely atmosphere throughout, the streets are lined with an array of quirky places to have fun. For example, hit the darts with a side of beer at the Shakers Sports Bar & Grill. Filled with great conversation and delicious drinks, it is a great place to de-stress. But perhaps the best way to enjoy Ottawa's vibe is at the magical VIP Roxy Cinemas, a rustic establishment downtown. Showing the latest movies coupled with vintage decor, it is a solid place to end the day.
Galena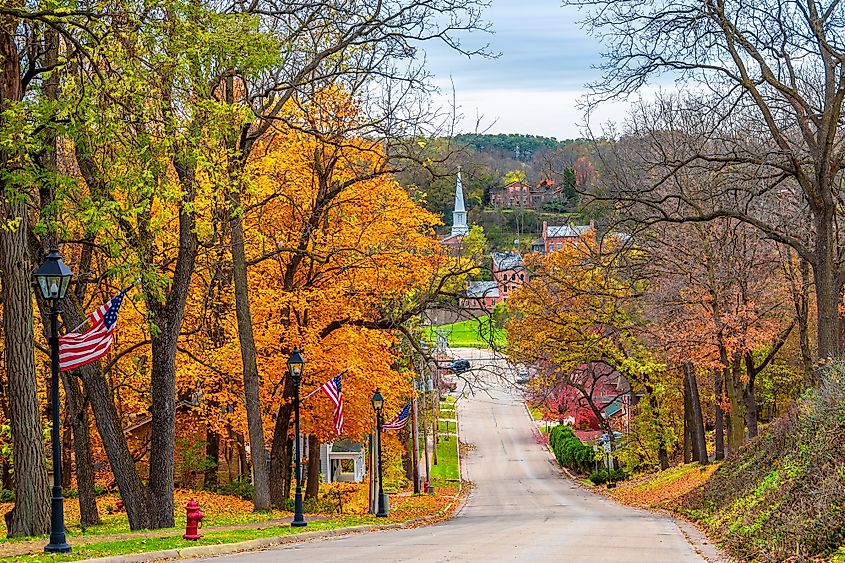 Take a trip into the past from Ottawa to the picturesque town of Galena. Settled in the 1690s as a mining town, Galena features a massive 581-acre historic district, which is listed on the National Register of Historic Places. Walking through the district feels like you are back in the 1800s with iconic buildings, museums, and unique architecture. Learn about the stellar tales intertwined in town with a visit to the Galena History Museum. From the historic rail system to the town's mining past, there are plenty of exhibits to catch your attention.
Similarly, one can opt to visit the Ulysses S. Grant Home, the historic house of the 18th US president. This home is an important part of Galena's culture, helping tourists visualize the life of President Grant with guided tours. If these sights haven't quenched your historic thirst, sites like the Chicago Athenaeum and Dowling House will keep you occupied for days! At Amelia's Galena Ghost Tours, one can delve into the ominous depths of Galena's haunted hotspots. Cemeteries, abandoned buildings, and ghost stories are just some of the places you'll experience on this haunted tour.
Princeton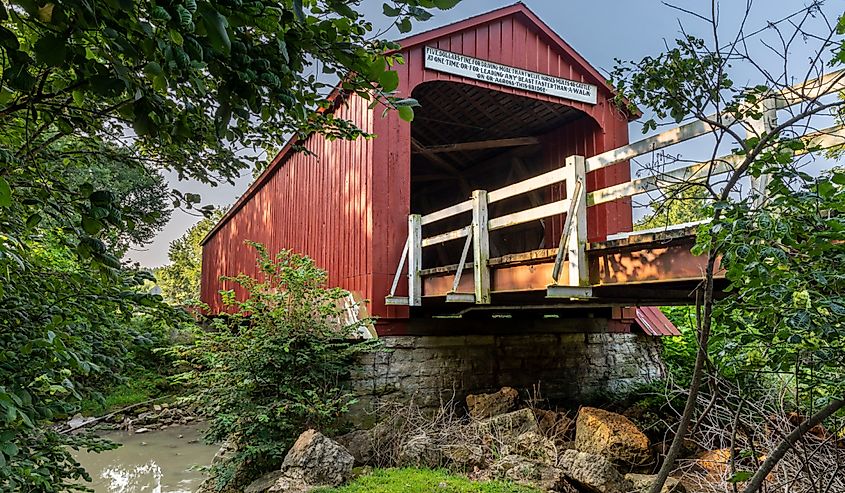 After Galena, Princeton is another vibrant town boasting a happening main street full of life. Spanning two and a half miles of specialty shops, delicious eateries, antique stores, and entertainment, the possibilities are endless. For example, enjoy a hearty Chinese lunch at Oriental Garden Restaurant or spend your evening watching a movie at the vintage Apollo Theater. After the fun, drop by one of the gift stores, such as Beetz Me and juniper & mae, to grab stylish souvenirs to take back home.
One of the most famous spots in town is the Red Covered Bridge, a vital heritage point. Constructed in 1863, this 149-foot (45 m) covered bridge is a rare sight and the embodiment of historic scenery. A short drive away, you will also find the Captain Swift Covered Bridge, another iconic landmark ideal for a photo session.
Quincy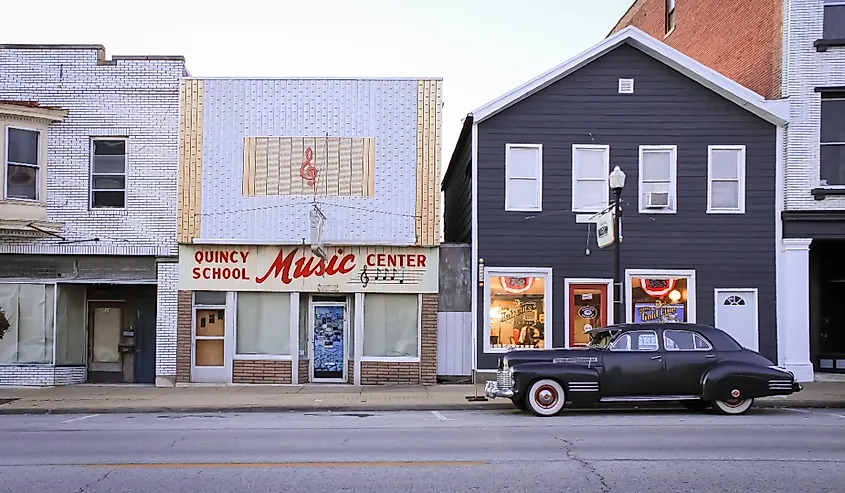 Three hours from Princeton, the pretty town of Quincy is a bustling town home to nearly 40,000 people. To this end, tourists flock from all over to enjoy its scenery, entertainment, and food! Once a thriving transportation center nicknamed the "Gem City," Quincy developed rapidly in the 19th century. Head over to the historic downtown area with attractions such as the Quincy Museum, Villa Kathrine, and John Wood Mansion. From exhibits on local history to Greek Revival architecture from the 1800s, these spots are any history enthusiast's dream.
While Quincy's historical allure is enough to grant it a spot as one of Illinois's prettiest towns, there is still more to see. Check out the Quincy Art Center's 400+ artistic works displayed in rotating exhibits throughout the year. Or, if you're more into theatre, book a seat at the Quincy Community Theatre. Showcasing comedies, musicals, and plays like Frozen and Mamma Mia!, you can capture the essence of live entertainment.
Sycamore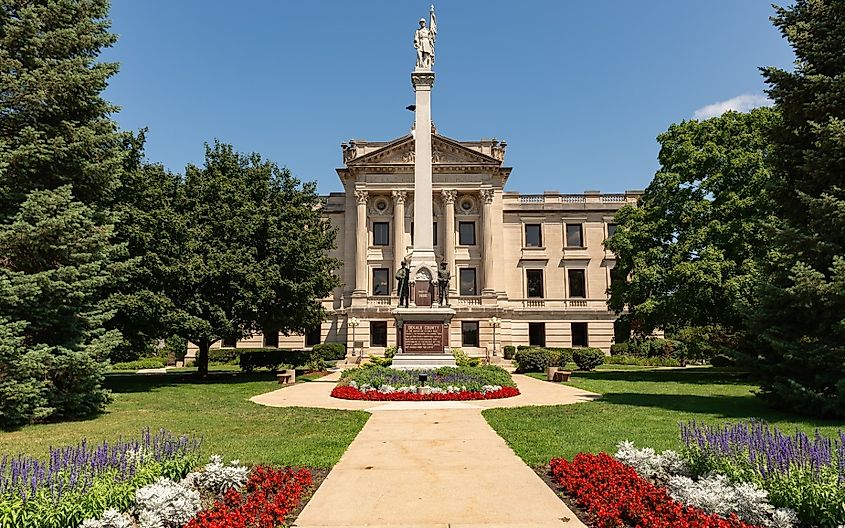 Sycamore is a small town visitors should not miss out on for its remarkable landscapes and outdoor activities. Resting along the tranquil Kishwaukee River, the town is a slice of nature within Illinois. Head over to the riverside for plenty of colorful foliage and amazing activities that anyone can enjoy. For example, canoeing and kayaking are popular pursuits offering firsthand insight into the river's allure. If you want to stay dry, opt for cycling or hiking to appreciate the autumn weather and views of the water. Keep your eyes open as the local rabbits and deer are known to come up on the trail every once in a while.
Those weary of urban hustle and bustle will also enjoy the quaint vibe of Sycamore's streets. As the county seat of DeKalb County, one will notice a combination of small-town charm and urban amenities. With more than 100 listed historic buildings in town, getting to each of them can be quite difficult. So, learn about the local history at the DeKalb County Historical Center, a one-stop shop with everything from old newspapers to interesting tales. If you want to take a piece of history with you, the Sycamore Antiques store can fulfill your requirements. With vintage trinkets, paintings, jewelry, and much more, grab something unique to remember your trip to Illinois!
Bartlett
Similar to Sycamore, Bartlett exudes a charm reminiscent of rural towns engulfed in natural appeal. Most tourists spend their time outdoors at the scenic James "Pate" Philip State Park. The park's Bartlett Nature Center has various natural displays and programs perfect for the whole family to enjoy. Bartlett is a popular town to visit throughout the year, but it turns into a wonderland during Winter. All you need to do is book a room at the Villa Olivia, which is embellished with skiing and snowboarding trails.
As with most Illinois towns, interesting tales and history are intertwined in Bartlett's culture. This is prevalent through various establishments, such as the town's original railroad station from 1873. Pre-dating the founding of Bartlett, this station is now a museum showcasing dozens of artifacts, photographs, and exhibits. Coupled with many other sights and events like the yearly Art Fair, Bartlett is a must-visit town in Illinois.
Geneseo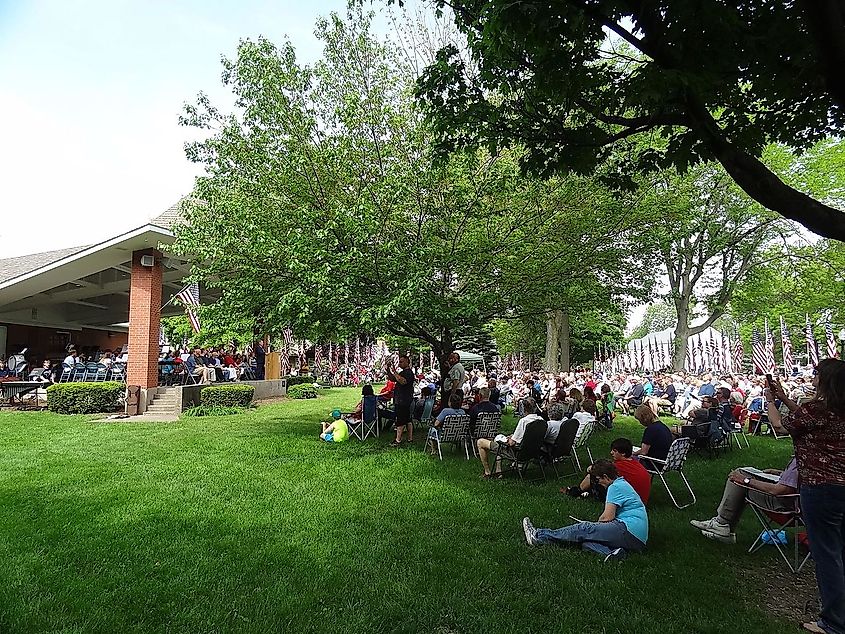 Geneseo is a hidden gem of picturesque landscapes often overlooked by larger cities. Enter the town to reveal a wellspring of green parkland ripe for outdoor pursuits. Among these pursuits, golfing is a local favorite. Hop on a caddie at the Sugar Maple Golf Club, which boasts 18 holes engulfed in lush open land. The club also has a restaurant so you can recharge your mind and body mid-game. On the other hand, one can explore the pure wilderness at Geneseo Prairie Park. Resting along the Green River, tubing, fishing, hiking, and kayaking are just some of the amazing activities in the area.
As you walk back into town, the tight-knit community of 6,500 welcomes visitors with open arms. Learn about local culture and history at the Geneseo Historical Museum. Boasting a vast collection in a restored home, the museum exudes an antique vibe that tourists adore. If antique sounds interesting, the Wirthy Treasures antique store should be next on your list. Check out the antiquities on sale, learn about their interesting stories, and grab souvenirs at this rustic store in Geneseo.
Arthur
Another underrated gem in Illinois, Arthur is a quaint town with immense lineage. Home to the state's largest and oldest Amish community, the town's 2,200 residents are always up for a chat. Explore the Amish countryside with one of Arthur's tour companies. Providing a buggy, guide, and itinerary, it is the perfect way to enjoy the local culture. On your tour, stop by Amish stores such as the Woodloft or Amish Country Heirlooms for cultural antiquities and furniture. Along with shopping, the tour will also take you to delicious Amish restaurants such as Yoder's Kitchen. Grab a bite of home-style cooking or fresh baked goods, and you'll never want to leave.
Parallel to the appeal of Amish culture, Lake Shelbyville beckons visitors with an array of magnificent sights. Lush greenery, glistening waters, and clear skies combine to create a bewitching environment that is ideal for activities such as hunting, boating, fishing, and camping. Meanwhile, hikers can challenge themselves to 50+ miles of varied trails.
Fulton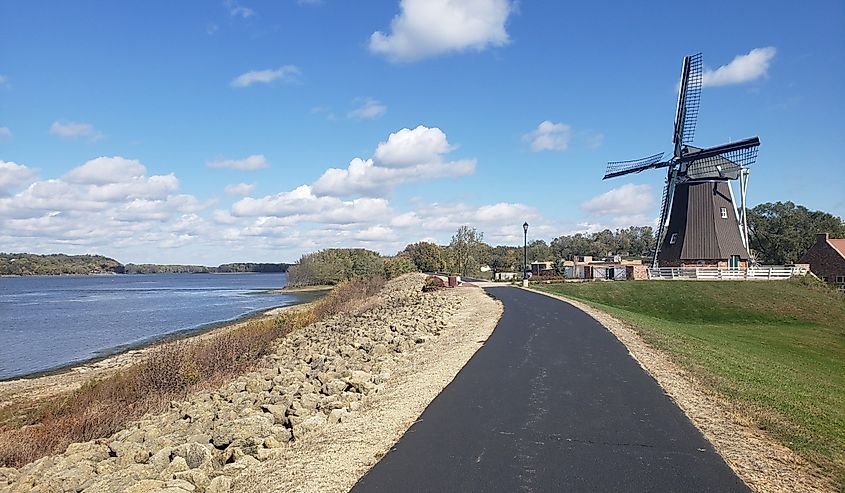 If you enjoyed Arthur's Amish roots, continue the cultural journey with a visit to Fulton. The town is known for its strong Dutch heritage, which is palpable no matter what you do. Take in the historic allure of De Immigrant, a famous Dutch windmill near the town's dike. Constructed in 2001 on the Mississippi River, the windmill is a great spot where you will find tourists getting pictures. Heritage Canyon is another hotspot featuring 12 acres of open land dotted with historic wooded structures. This includes a church, cottage, and trails, creating a scene reminiscent of towns from the Netherlands. While history is an important part of Fulton's appeal, the town doesn't lack natural views. Resting along the Mississippi River, boating, fishing, and bird watching are a few of the activities available. So, cast your line or row your boat to enjoy the mesmerizing flow of water.
Whether you are an aquaphile or a connoisseur of historical landmarks, there is scenery in each of these towns. Presented in different ways, one can appreciate a range of activities, sights, and stories in Illinois. In addition, these towns are distant from the hustle and bustle of urban cities, creating a tranquil environment where you can appreciate the sights.